As the biggest celebration of the largest religion in the world, it's no surprise that Christmas is known by pretty much everyone. However among those who celebrate it, there is a broad range of traditions. Let's explore the origins and different Christmas celebrations around the world.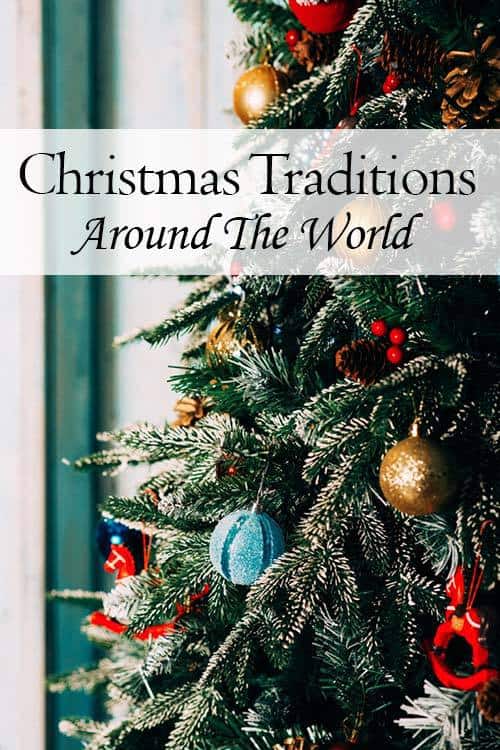 Christmas celebrations as you may know them now are very much the result of an evolution over time. The majority of American and British traditions come from Victorian times, but some have older roots.
Why Do We Celebrate Christmas On December 25th?
If we go right back to the start, there's no definitive Biblical basis for the celebration of Christ's birth on December 25th. However, there are written sources dating from as early as around 204 AD that attribute the birth of Christ to December 25th.
Some arguments go that the date was selected to distract from pagan festivals around the same time. Others believe the timing of Hanukkah influenced the decision to choose that date.
The oldest, and what's now considered the most popular, reasoning is the idea that Christ's death and conception were on the same date, which was taken as March 25th based on various references in the New Testament. This then put the birth 9 months later, to give the December 25th date.
The date most of the world celebrates Christmas is based on the Gregorian calendar, which is the calendar used in the majority of the world today. However Russia, and others in the Eastern Orthodox Church, uses the Julian calendar, which is why they celebrate Christmas on January 7th.
Where Did The Idea Of Christmas Trees Come From?
Evergreens are a common symbol of hope in the cold, dreary, and dark winter season. They were commonly used in Germanic Winter Solstice celebrations and also in Roman Pagan celebrations around the same time.
The first documented Christmas tree is debated as being either in Riga, Latvia, or Tallinn, Estonia. But, it was during the Reformation that the evergreen became used more widely as a Christmas decoration.
German preacher Martin Luther is often credited with being the first to bring Christmas trees into a home. There is also a story that he saw the light shining through the trees in a forest and wanted to re-create the beauty and so lit small candle to decorate the tree. These have evolved into modern tree lights, but it is still common to use small candles in Scandinavia.
Christmas trees came to Britain thanks to Queen Victoria marrying a German, Prince Albert, who introduced the tradition. A drawing of the Queen's tree in a newspaper helped grow the idea's popularity in the UK and US.
Why Do We Give Gifts On Christmas?
It is popularly believed that we give gifts to represent the gifts given by the Wise Men in the Nativity story. However, around the world, there are many variations in who gives the gifts and when they are left.
In much of Europe, shoes or boots are put out to receive gifts on the evening of December 5th, for St. Nicholas' Feast Day.
The idea of stockings comes from the story of St Nicholas, specifically a story in Turkey that says when a poor family was worried they'd never be able to afford to pay dowries for their daughters, St Nicholas threw gold coins down the chimney which landed in their socks that were hanging by the chimney to dry.
In some regions, the gift giving story of St. Nicholas has evolved into a gift-giver on Christmas Day (Santa Claus/Father Christmas). In Germany and nearby areas, however, the gifts are believed to come from the Christkind, an angel representing the Christ child.
In Spain and many other Hispanic countries, gifts are given instead on  January 6th, the Epiphany also known as Three Kings Day, when the Three Wise Men are said to have brought their gifts to the Christ child.
What Are Some Traditional Christmas Foods?
Many of the foods and ingredients traditionally used for Christmas celebrations are those that were expensive and harder to come by to honor the celebration.
Many meals start with expensive appetizers like fois gras and smoked salmon in France, and gravlax in Sweden. Seafood, whether fresh or pickled, as well as fish soups are a popular choice in many places. (Particularly Italy, where they celebrate Christmas with a Feast of Seven Fishes.)
The main dish at a Christmas meal is often ham or turkey – in many countries you'll find both traditions. Some parts of central and Northern Europe have goose, as used to also be eaten in the UK until turkey took over as the meat of choice. You'll find both in Germany and Hungary, along with carp, a local fish, as is the popular choice in the Czech Republic.
Duck is popular in some places like Denmark, while you'll find roast pork (like Puerto Rico's Pernil) in parts of Latin America, and tamales in others like Guatemala.
In Australia, given Christmas falls in the summer, a barbecue is pretty common.
Side dishess range significantly from one family to another but often include stuffings, Brussels sprouts and potato salad, like Ensalada Rusa. Bright dishes boasting festive colors are often common, like Polish Borscht or the Mexican Christmas Even Salad (Ensalada Nochebuena).
Christmas Cakes And Cookies
The use of expensive ingredients is part of what led to the tradition of Christmas cookies and cakes using butter and sugar, then incorporating spices as they were introduced. Dried fruits were another expensive ingredient, hence them being in many of the Christmas cakes and desserts.
You find both dried fruits and spices in the classic British Christmas treat mince pie.
Many countries have a cake or sweet bread as part of their celebrations, often shared with guests visiting in the festive period. Panettone is enjoyed in Italy, with a slight variation being popular in Columbia, Argentina and part of Brazil. In France, you'll find a Bouche de Noel cake, based on the the Yule log of Norse tradition. Germany's Christmas cake is Stollen.
Gingerbread, coming from Germany, is a classic example of spiced Christmas cookies, with the idea of gingerbread houses becoming popular after the Grimm Brother's story Hansel and Gretel was published.
There are many other traditional Christmas cookies across Europe like Dutch Speculaas, Austrian Vanillakipferl, Danish Brunkager, Swedish Pepparkakor, Italian pizelle, Norwegian Fattigman, Finnish Joulutorttu, Swiss chocolate Basler Brunsli, German Pfeffernusse spice cookies, and Greek Melomakarono.
Other places have sweet treat traditions including Nougat in France which is similar to Turron in Spain.
Rice pudding is a popular dessert in both parts of Scandinavia and Latin America, while the UK goes for the heavier Christmas pudding. In Colombia a milk custard (natilla) is commonly eaten with cheese fritters (buñuelos)
There are so many other traditions that make up Christmas celebrations around the world, there are too many to list, but suffice to say most places have a way to enjoy good food with family and usually other traditions as well.
What are some of the traditions in your family?
If you liked this recipe, here are some similar dishes you may enjoy!