Rosca de Reyes is a soft, lightly sweet, orange scented bread that is traditionally eaten with a cup of hot chocolate on the Feast of the Epiphany. 
Three Kings Bread
The French have their King Cakes that we commonly think of as a part of pre-Lenten Mardi Gras celebration, but king cakes originated as a way to celebrate the Feast of the Epiphany on January 6th, when the Maji's visit to the Christ child is celebrated.
Rosca de Reys (or Roscon de Reyes) is the Spanish King Cake, also known as "Three Kings Bread" or "King's Ring". It is traditional to bake a small baby figurine and a dry bean into the bread. The person who finds the baby will have good luck in the following year. The person who finds the bean has to pay for the party!
What we found incredibly interesting while researching this bread is that, in Spain, it is traditional for presents to be given on Epiphany, or Three Kings Day, in commemoration of the presents that the Kings brought to the baby Jesus.
Our Rosca de Reyes Recipe
The dough to this bread is incredibly soft, so take care as you are kneading it and add just as much flour as is necessary to keep the dough from sticking to your hands.
Rosca de Reys are traditionally baked into the shape of a crown and decorated with bright candied fruit (oranges and cherries are most common). If you'd like to make your own candied fruit, you can use the same process as our Candied Orange Peel recipe using whole slices of oranges. Since you will be baking the fruit after it is on the bread, you can skip the final drying step in the candied peel recipe!
The decorations speak nicely to the flavor of the bread itself, which is only lightly sweet but is bursting with a beautiful orange flavor from orange zest and orange blossom water.
What is Orange Blossom Water?
Orange blossom water (or orange flower water) is a natural extract made from distilling orange blossoms. The water is traditionally used in many Mediterranean, French, and Spanish desserts. It is also used in Middle Eastern cooking and in Moroccan coffee.
There are many brands of orange blossom water available, but you will probably need to look for it in specialty stores or you can find Orange Blossom Water on Amazon, just make sure you are getting the orange blossom water that is for culinary (and not perfume) uses!
What is a substitute for Orange Blossom Water?
If you can't find orange blossom water, you can substitute 1-2 drops of orange oil or 2-3 tsp of orange liqueur (like Triple Sec) for each 1/2 tsp of orange blossom water called for in the recipe.
(So in our recipe below, you would need 6 drops of orange oil or 1/4 c of Triple Sec. If using the Triple Sec, you will probably need to increase the flour a bit to keep the dough from being too sticky.)
Happy baking!
Rosca de Reyes (Three Kings Bread)
Yield: 1 (12 inch diameter) loaf
Ingredients
For The Dough
2 ½ - 3

c

unbleached all purpose flour

1/3

c

sugar

1

Tbsp

active dry yeast

½

c

milk,

warmed to 80F

1

whole egg

1

egg yolk

1

large

orange,

zested

1

Tbsp

orange blossom water

1

Tbsp

dark rum

(optional)

4

Tbsp

salted butter,

softened and cubed

½

tsp

salt
To decorate
1

egg,

beaten with 1 Tbsp water

Candied oranges* and cherries

Sliced almonds

Coarse sugar
Instructions
For the Preferment
In a small bowl, mix a ½ cup of flour with 1 tsp yeast. Add 3 Tbsp milk and mix with your hands until a stiff dough comes together. Knead the dough until it smooth, 3-5 min.

Place the smooth dough ball in a large bowl of warm (80-90F) water. Set the bowl aside in a warm, draft free place to ferment until the ball of dough floats, 15 min.
For the Dough
While the preferment is fermenting, mix together 2½ c flour, 1/3 c sugar, and 1 Tbsp yeast in a large bowl.

In a separate bowl, mix the warm milk, egg and yolk, orange zest, orange blossom water, and rum (if using).

Once your preferment dough is floating in the bowl of water, remove it from the water. Pinch small pieces from the dough ball and add them to the flour mixture.

Add the cubed butter and salt to the flour.

Pour in the milk mixture.

Once all of your ingredients have been added, mix the dough by hand (or with a stand mixer) until it comes together into a sticky dough, adding your remaining ½ c of flour, as necessary, until the dough comes together.

Once the dough has come together, turn it out onto a floured surface and knead it until it is smooth, soft, and slightly tacky. (Again, adding flour as necessary.)

Shape the dough into a ball and place it into a large, clean, greased bowl. Cover the bowl with a damp tea towel and place it in a warm, draft free place to rise until it has doubled, 2-3 hours.

Once the dough has risen, knock it back and shape it into a ball again. Using your fingers, make a hole in the middle of the ball and gently enlarge the hole to give the bread a ring shape. Make the bread as large as the platter you plan to serve it on. (Roughly 12 inches in diameter).

Place the ring of dough on a parchment lined baking sheet and brush it with the beaten egg and water egg wash. Let it rise in a warm, draft free place until doubled, 30-60 min.

Near the end of the rising time, preheat your oven to 350F.

Once the dough has risen, brush it again with the egg wash and decorate it with the candied fruit, sliced almonds, and sugar, as desired.

Bake the bread for 20 min, until lightly golden.

Once done, Remove the bread from the oven and let it cool on a wire rack before cutting.
Notes
*If you'd like to make your own candied oranges, you can follow the same concept as our Candied Citrus Peel recipe. Use orange slices instead of just the zest. If you will be using the candied orange sliced on the bread, there is no need to dry them in the oven before using them on the bread.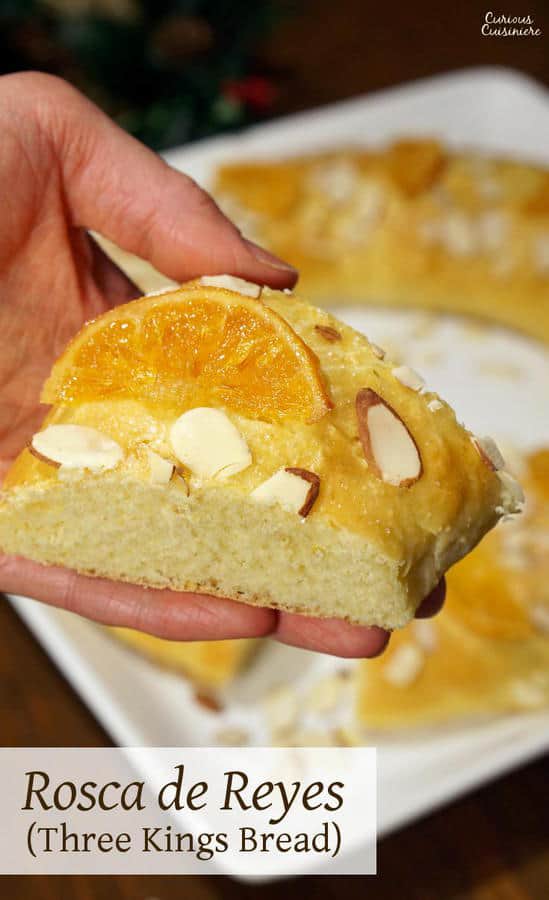 DISCLOSURE: This post contains Amazon affiliate links. These links are provided to help you find some of the more specialty products we mention in the recipe. If you make any purchase clicking through our links, we receive a small commission from Amazon, at no extra cost to you. Thank you for supporting Curious Cuisiniere!
If you liked this recipe, here are some similar dishes you may enjoy!