Moist and buttery cake meets fall apples in Apfelkuchen, the classic German Apple Cake. We've paired it with a deep and dark porter, proving that you can even have beer for dessert during Oktoberfest!
German Apple Cake
While Apfelkuchen (pronounced AP-fel-KUK-en) is literally translated apple cake, you will find the term used to refer to a number of German desserts, some resembling more of a pie or crumble while others more closely fit what we think of as a cake.
Either way, they are all delicious and perfect for fall! But, just to straighten out the confusion, let's look at a few of the most common types of German Apfelkuchen.
Know Your Apfelkuchen
Gedeckter Apfelkuchen literally translates to "covered apple cake". This version is similar to what we think of as a double crusted apple pie, however the top and bottom crust are thicker than a traditional pie crust an more closely resemble a dense sponge cake.
Apfelkuchen mit Mürbeteig means "apple cake with shortcrust". This apple cake is most similar to a one crust apple pie, with the bottom crust being slightly thicker than the American crust, more of a shortcrust pastry. These are traditionally topped with a crumb topping, and the filling could be just apples and spices or a custard mixed with the apples.
Apfel Streuselkuchen is an "apple streusel cake". This version is more like a cake that we would think of, with one interesting twist, it uses yeast rather than baking powder. Yeast was the traditional method of rising German cakes, and while some versions have switched to baking powder, many Apfel Streuselkuchen recipes stick to the traditionally used yeast. For this cake, apples are layered over the (typically short) cake batter layer and then topped with a crumb streusel.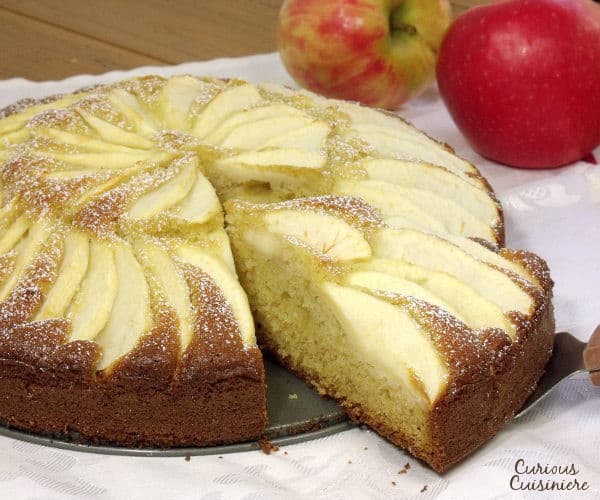 But, none of these are what we're sharing with you today.
Today we're bringing you a recipe for Versunken Apfelkuchen or "sunken apple cake". The cake is called "sunken" because the apples are carefully placed over the batter, which then rises up around them as the cake bakes. The result is a beautiful effect of apples peeking out through the golden brown cake top. Dusted with powdered sugar, this is truly a stunning dessert for any fall table.
The Best Apples For Baking
A recipe for baking with apples wouldn't be complete without a brief look at which apples we recommend for this cake. It seems like everyone has their favorite apple for baking, we like a sweeter apple that won't cook down to mush. Here are a few of our favorites and why:
Pink Lady – Nice balance of sweet and tart. Hold their shape well in baking.
Cortland – Bright white flesh will stay white longer than other apples. They are sweet, but slightly tart, and hold their shape well.
Jonathan or Jonagold – Both are tart and slightly sweet apples that hold their shape well. Because of their tartness, they may benefit from added sugar when used in pies.
Braeburn – Spicy sweet apples that keep their shape well in baking.
Gala – A widely found apple, often the go-to baking apple. Nice and sweet with a hint of tart. Hold their shape well in baking, but the interior does cook down so the chunks will melt in your mouth with each bite.
For our Apfelkuchen today, we used Pink Lady apples. We really like their balance of sweet and tart, and we love that they hold their shape so well during baking.
Apple pie or apple cake? Which would you choose?
Pairing beer with German Apple Cake
Beer pairing, with cake? You bet! It is Oktoberfest after all!
Our beer connoisseur friend Bryan, suggested we pair our German apple cake with the Baltic Porter from Smuttynose Brewing Company out of Hampton, NH. According to Bryan:
Smuttynose's Baltic Porter pours a deep hue of brown, nearly black, forming a full dark-brown head. Taking your first sip you are struck with aromas of chocolate, roasted malts, nuttiness, hints of anise, plums and raisins, and a noticeable sign of the ABV. This creamy porter coats the palate with notes of roasted malts, chocolate, coffee grounds, and dark fruits. Finishes smooth, with a slight coffee bitterness balanced by an alcohol warming, leaving a moist and eager palate.
Being fans of the darkest of the dark beers, we were all in for a porter, and the creamy Smuttynose did not disappoint. But, with cake?
Step back and answer me this: What do you want to drink with a light and fluffy, buttery coffee cake? Your first answer would probably be coffee, but why not take your coffee in the form of beer? It is Oktoberfest after all! (If you answered a big glass of milk, I hear you. And, the Porter's creaminess has you covered there too!)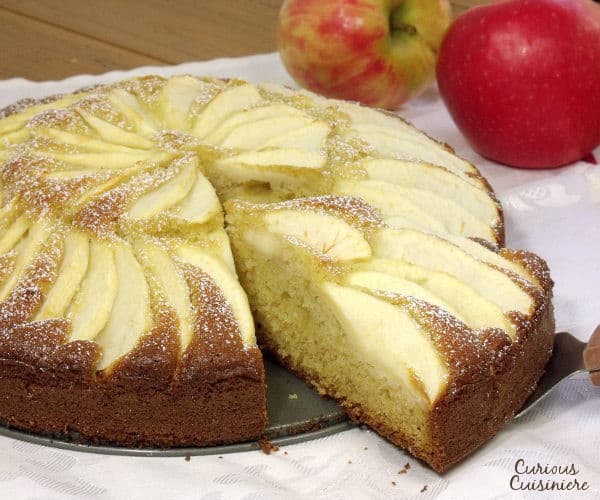 Versunken Apfelkuchen (German Apple Cake)
Moist and buttery cake meets fall apples in Apfelkuchen, the classic German Apple Cake.
Yield: 1 (10 inch round) cake
---
Ingredients
2-3

Gala apples,

peeled, cored, and sliced into thin wedges

1

Tbsp

fresh lemon juice

½

c

unsalted butter,

softened

¾

c

sugar

3

eggs

2

tsp

baking powder

½

tsp

salt

½

c

milk

powdered sugar

(for topping after the cake is cooled)
Instructions
Preheat your oven to 350F.

Toss the apple slices and lemon juice together and set aside.

In a large bowl, beat together butter and sugar using an electric hand mixer, until pale and smooth. Add eggs and beat until fluffy.

Add the flour, baking powder, and salt. Mix until well incorporated.

Slowly add the milk, mixing as you add, until the batter is smooth. (Your batter should be thick but pour-able.)

Nestle the apple halves, flat side down, into the batter, pushing them into the batter lightly.

Bake the cake for 35-40 minutes, until a toothpick inserted in the center of the cake (not into an apple) comes out clean.

Remove the cake from the oven and cool for 15 minutes in the pan. Run a knife around the edges of the cake and remove the spring form edge. Let the cake continue to cool on a wire rack.

Dust the cooled cake with powdered sugar immediately before serving.
---
Recipe Notes
*If your spring-form is 9" in diameter, increase the baking time by 10-15 minutes.
---
Celebrate fall with the Sunday Supper Group! Check out A Guide to Apples plus Best Fall Recipes Ideas for #SundaySupper and this week's recipe collection:
Breakfast
Appetizers and Sides
Main Dishes
Desserts and Cocktails
Plus, A Guide to Apples plus Best Fall Recipes Ideas for #SundaySupper
Join the #SundaySupper conversation on twitter on Sunday! We tweet throughout the day and share recipes from all over the world. Our weekly chat starts at 7 pm ET. Follow the #SundaySupper hashtag and remember to include it in your tweets to join in the chat. To get more great Sunday Supper Recipes, visit our website or check out our Pinterest board.
Would you like to join the Sunday Supper Movement? It's easy. You can sign up by clicking here: Sunday Supper Movement.
DISCLOSURE: This post does include Amazon affiliate links. These links are provided to help you find some of the more specialty ingredients we mention in the recipe. If you make a purchase on Amazon after following our affiliate links, we do receive a small commission from Amazon, at no extra cost to you. Thank you for supporting Curious Cuisiniere!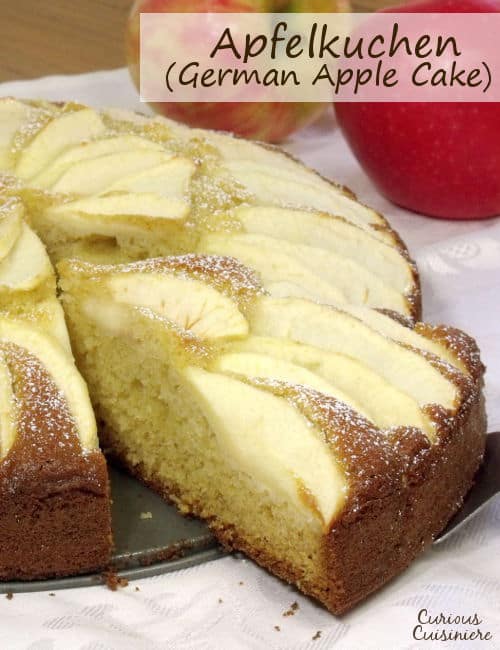 If you liked this recipe, here are some similar dishes you may enjoy!