Moist and buttery cake meets fall apples in Apfelkuchen, a classic German Apple Cake that is the perfect recipe for a fall dessert.
Many Types of German Apple Desserts
While Apfelkuchen (pronounced AP-fel-KUK-en) is literally translated apple cake, you will find the term used to refer to a number of German desserts, some resembling more of a pie or crumble while others more closely fit what we, in the States, think of as a cake.
Either way, they are all delicious and perfect for fall!
But, just to straighten out the confusion, let's look at a few of the most common types of German Apfelkuchen.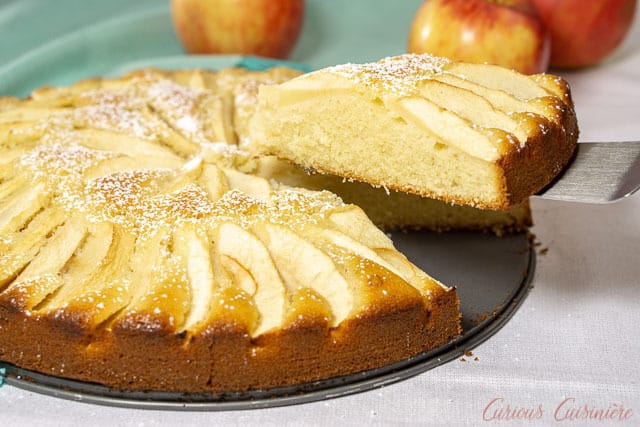 Gedeckter Apfelkuchen literally translates to "covered apple cake". This version is similar to what we think of as a double crusted apple pie, however the top and bottom crust are thicker than a traditional pie crust an more closely resemble a dense sponge cake.
Apfelkuchen mit Mürbeteig means "apple cake with shortcrust". This apple cake is most similar to a one crust apple pie, with the bottom crust being slightly thicker than the American crust, more of a shortcrust pastry. These are traditionally topped with a crumb topping, and the filling could be just apples and spices or a custard mixed with the apples.

Apfel Streuselkuchen is an "apple streusel cake". This version is more like a cake that we would think of, with one interesting twist, it uses yeast rather than baking powder. Yeast was the traditional method of rising German cakes, and while some versions have switched to baking powder, many Apfel Streuselkuchen recipes stick to the traditionally used yeast. For this cake, apples are layered over the (typically short) cake batter layer and then topped with a crumb streusel.
But, none of these are what we're sharing with you today.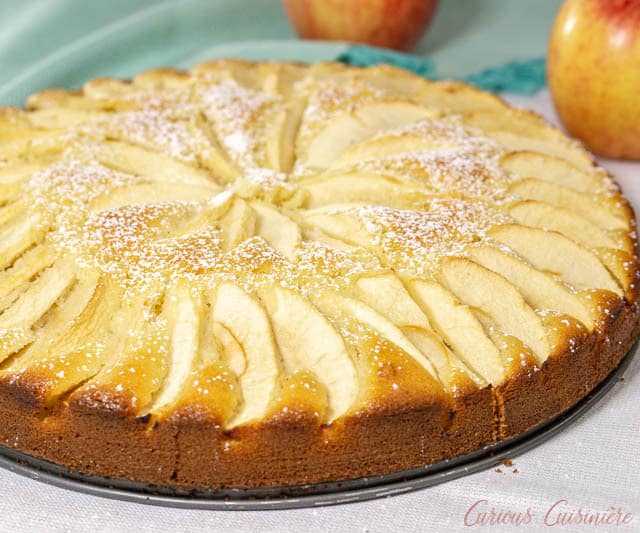 Versunken Apfelkuchen: German Apple Cake
Today we're bringing you a recipe for Versunken Apfelkuchen or "sunken apple cake".
The cake is called "sunken" because the apples are carefully placed over the batter, which then rises up around them as the cake bakes.
The result is a beautiful effect of apples peeking out through the golden brown cake top.
Dusted with powdered sugar, this is truly a stunning dessert for any fall table.
The Best Apples For Baking
A recipe for baking with apples wouldn't be complete without a brief look at which apples we recommend for this cake.
It seems like everyone has their favorite apple for baking, we like a sweeter apple that won't cook down to mush.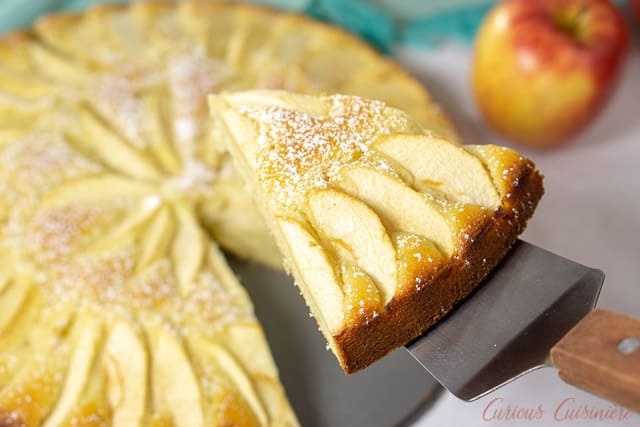 Here are a few of our favorites and why:
Pink Lady – Nice balance of sweet and tart. Hold their shape well in baking.
Cortland – Bright white flesh will stay white longer than other apples. They are sweet, but slightly tart, and hold their shape well.
Jonathan or Jonagold – Both are tart and slightly sweet apples that hold their shape well. Because of their tartness, they may benefit from added sugar when used in pies.
Braeburn – Spicy sweet apples that keep their shape well in baking.
Gala – A widely found apple, often the go-to baking apple. Nice and sweet with a hint of tart. Hold their shape well in baking, but the interior does cook down so the chunks will melt in your mouth with each bite.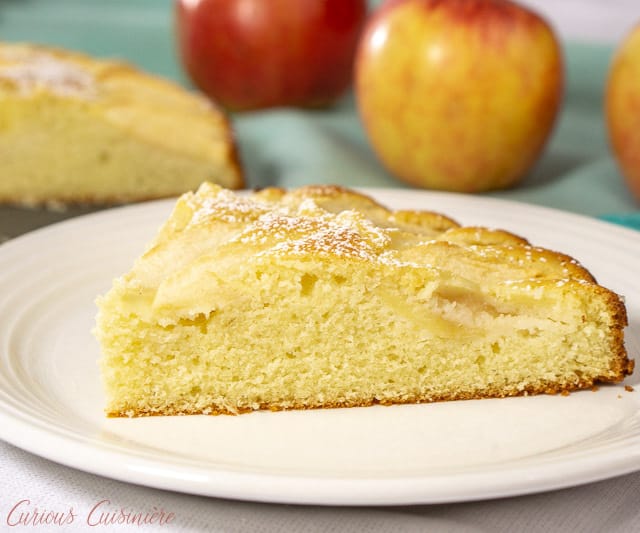 When we make Apfelkuchen, we've used either Pink Lady or Gala apples. We really like they way both have a nice balance of sweet and tart. And, we love that they hold their shape so well during baking.
How To Make German Apple Cake
Versunken Apfelkuchen is incredibly easy to make.
The cake is just a basic butter cake that comes together quite quickly, and is incredibly moist and tender.
Apples are arranged over top of the batter like we described above. Some recipes use slices (like we did), while others will use peeled and cored apple halves.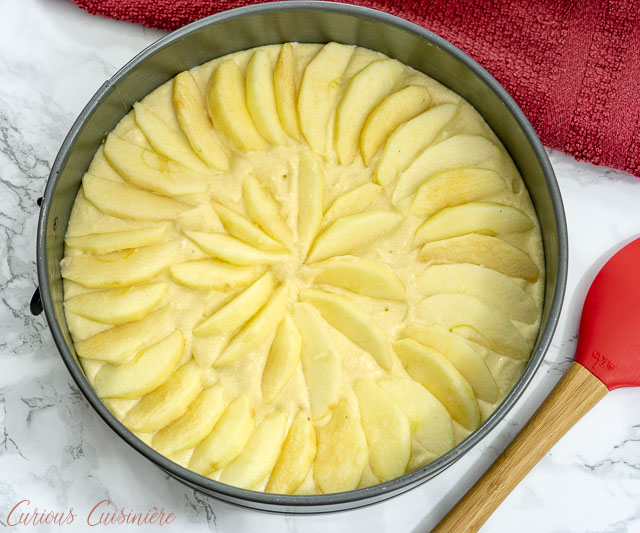 Either way, the presentation is quite fun!
One unique thing about the preparation of this apple cake is that is is baked in a 9 or 10 inch spring-form pan. With the apples on top, you don't want to have to worry about turning this cake out on its top side. So, baking it in a spring-form pan makes for incredibly easy serving!
Apple pie or apple cake? Which would you choose?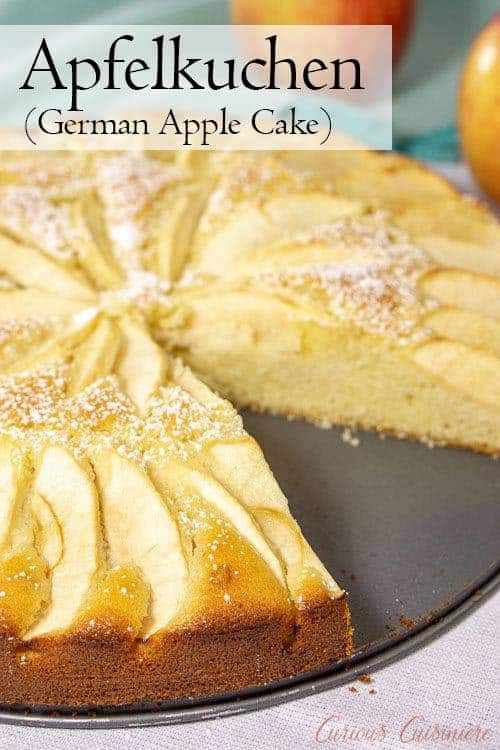 Yield: 1 (10 inch round) cake -- Serves: 8 people
Versunken Apfelkuchen (German Apple Cake)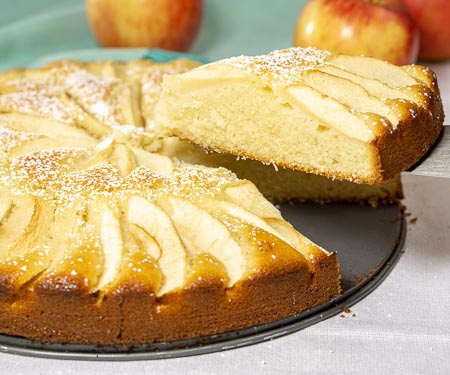 Moist and buttery cake meets fall apples in Apfelkuchen, the classic German Apple Cake.
Ingredients
2-3 Gala apples, peeled, cored, and sliced into thin wedges
1 Tbsp fresh lemon juice
½ c unsalted butter, softened
¾ c sugar
3 eggs
1 ¾ c unbleached all-purpose flour
2 tsp baking powder
½ tsp salt
½ c milk
powdered sugar, (for topping after the cake has cooled)
Instructions
Preheat your oven to 350F.
Toss the apple slices and lemon juice together and set aside.
In a large bowl, beat together butter and sugar using an electric hand mixer, until pale and smooth. Add eggs and beat until fluffy.
Add the flour, baking powder, and salt. Mix until well incorporated.
Slowly add the milk, mixing as you add, until the batter is smooth. (Your batter should be thick but pour-able.)
Pour the batter into a greased 10" spring form pan*.
Nestle the apple slices into the batter, pushing them into the batter lightly.
Bake the cake for 35-40 minutes, until a toothpick inserted in the center of the cake (not into an apple) comes out clean.
Remove the cake from the oven and cool for 15 minutes in the pan. Run a knife around the edges of the cake and remove the spring form edge. Let the cake continue to cool on a wire rack.
Dust the cooled cake with powdered sugar immediately before serving.
Notes
*If your spring-form is 9" in diameter, increase the baking time by 10-15 minutes.
Recommended Products
As an Amazon Associate and member of other affiliate programs, I earn from qualifying purchases.
Nutrition Information:
Yield:
8
Serving Size:
1/8th
Amount Per Serving:
Calories:

405
---
This is one of the recipes from the early days of Curious Cuisiniere. We've updated our pictures since we first shared it, but we've left some originals here, in case you've found us in the past and are looking for that old, familiar image.



If you liked this recipe, here are some similar dishes you may enjoy!