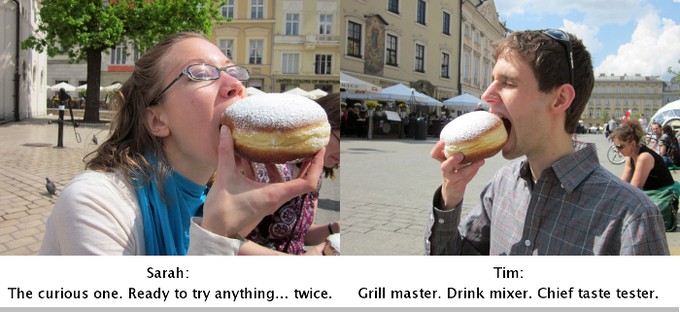 Curious What??
We get that a lot.
Cuisinière (pronounced kwee-ZEEN-yehr) is the French word for a female cook. This site was started when it was just Sarah running the show, but we both believe it's a lot better now that Tim's around to balance things out.
Travel the world from your kitchen.
Sarah and Tim Ozimek are the travel-loving masterminds behind Curious Cuisinière. Our goal is to show you that experiencing new flavors and learning about culture doesn't have to be saved for that once-in-a-lifetime trip. It can happen every day in your own kitchen.
Cultural flavors might seem like they require exotic ingredients or complicated techniques to prepare, but, in reality, the basic elements of cooking remain the same around the globe. By getting a little curious and creative in the kitchen you can discover new dishes and expose your family to cultures far and wide.
Food is a great way to satisfy that wanderlust if you're a travel lover. It also offers a wonderful connection to your heritage and ancestors. We love connecting with where we came from by cooking up dishes that our grandparents or great-grandparents would have enjoyed. And, it is the perfect teaching tool for raising children with an appreciation for global traditions.
Here at Curious Cuisinière, our goal is not just to connect you with tasty global recipes, but we also want to help you understand the cultural history behind the dishes and to provide you with easy to use resources for understanding the ingredients and flavors.
Questions or comments? Reach out and contact us!
What are you waiting for?
Choose a country. Let us and our cultural expert contributors become your guides.
We all know that the best part of traveling is the food!