The flavorful beef and cabbage stuffed in a fluffy roll makes German Bierocks the perfect hand-held food to go along with your Oktoberfest beer.
Oktoberfest in Munich
How we wish we were back in Munich right now.
Saturday marked the start of a huge, two week long celebration of German culture, heritage, and tradition.
Some of you may be thinking, "Wait. I thought Oktoberfest was all about the beer?"
Ok, fine. People from around the world have gathered in Munich to celebrate these things through one more specific thing: BEER.
The World's Largest Fair
This 16-day festival, held each year in Munich, Germany is considered the world's largest fair, bringing over 6 million people to that Bavarian city each year.
To the locals the festival is known as "die Wiesn" after the name of the festival area "Theresienwiese" (literally "meadow of Therese"). The history of this festival goes all the way back to 1810, but we'll go into the rich history later this week.
Of the attendees, almost 3/4 are from the surrounding Bavarian region, with the last 1/4 being made up of visitors from all over the world. These visitors consume liters upon millions of liters of Oktoberfest beer, which must meet special purity requirements.
German Bierocks: The Perfect All-In-One Meal
We thought these bierocks would be a great way to kick off the next two weeks, since, what goes better with beer, than a hand-held all-in-one meal?
The bread that surrounds the cabbage, beef, and onion filling is dense, eggy, and so delicious that it could be a meal in itself, but it is only made better by the savory insides.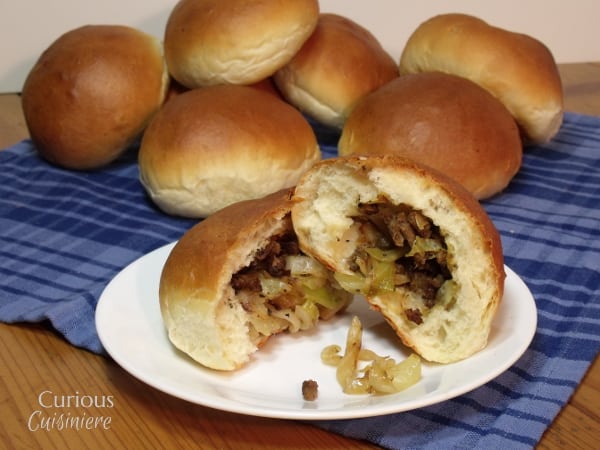 Bierocks (German Stuffed Rolls)
Author:
Sarah | Curious Cuisiniere
Ingredients
For the Dough
1 c milk
2 Tbsp butter
¼ c white sugar
2 ¼ tsp (1 pkg) active dry yeast
4 c flour
1 egg, beaten
¾ tsp salt
For the Filling
½ lb lean ground beef (80% or better)
½ onion, diced (1/2 c)
3 c shredded cabbage (about ¼ of a medium head)
¼ tsp salt
¼ tsp black pepper
Last But Not Least
Instructions
For the Dough
Place milk and butter in a large bowl. Microwave for 30 seconds at a time until butter has melted.
Add sugar and whisk to dissolve. Whisk the mixture until it has cooled to between 100F and 110F. (Liquid over 110F will instantly kill the yeast.)
Sprinkle yeast over the milk mixture and let set 5-10 minutes, until yeast softens and starts to foam. Whisk mixture to combine and whisk in 2 c of flour.
Add egg and salt. Whisk to incorporate.
Stir in remaining flour ¼ c at a time until the dough comes together. Turn dough onto your counter and knead, 10-15 min, until a soft, smooth dough forms, adding flour as needed. (Your finished dough should be tacky, but not stick to your hand or your kneading surface.)
Shape dough into a round; place it in a greased bowl, turning to coat the dough. Cover the dough loosely with plastic wrap or a damp towel and place in a warm, draft-free place to rise until doubled in bulk, about 1 hour.
For the Filling
While the dough rises, make your filling. In a large non-stick frying pan, brown meat over medium high until mostly cooked, 5-7 min.
Drain as much of the grease from the pan as you can, while not losing the meat from the pan. Return the pan to the heat and add onions. Cook 2-3 min, until they begin to soften.
Add cabbage and cook 7-10 minutes, until cabbage is tender.
Remove filling from heat and season with salt and pepper.
Putting it all together
Knock back the risen dough and turn onto your work surface.
Divide dough into 8 balls (roughly 3 oz each). Flatten each ball to a circle 4-5" in diameter. (If the dough springs back, flatten as much as you can, cover, and let the dough rest for 3-5 min before attempting to flatten further.)
Spoon 2 large tablespoons of filling onto the center of each circle, leaving the edges clear. Bring the edges together and pinch them to seal the dough completely. Continue until all the dough and filling has been used.
Place the shaped bierocks on a greased baking sheet and let rise, covered 30-45 min, until roughly 1.5x their original size.
During the last 10 minutes of rising time preheat your oven to 375F.
Brush the bierocks lightly with milk and bake for 20-25 min, until golden brown and hollow sounding when tapped.
Remove from oven and let cook on a wire rack.
Notes
These rolls freeze well. Just take them out of the freezer in the morning and it will be thaw by lunchtime. Warm in the microwave for 1-2 minutes in 30 second increments to heat through.
Nutrition Information
Serving size:
1 bierock
Calories:
362
Fat:
5.9g
Saturated fat:
2.8g
Carbohydrates:
58.2g
Sugar:
9.2g
Sodium:
358mg
Fiber:
2.8g
Protein:
17.7g
Cholesterol:
54mg
If you liked this recipe, here are some similar dishes you may enjoy!