In western Germany, you find a fun grilling tradition known as 'Schwenker'. These juicy, smoky grilled German pork chops are cooked on a swinging grill!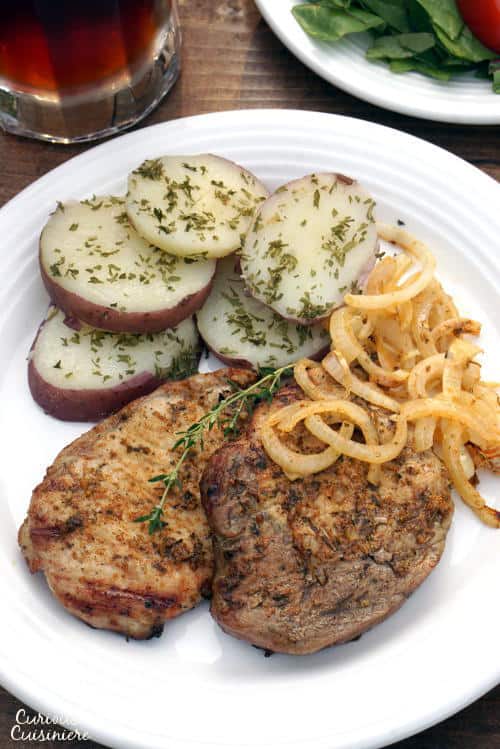 We received a request from a reader (Submit your requests HERE!) for a recipe for Schwenkbraten, a German marinated and grilled pork dish. So, we set to work! And, what we discovered was a fun tradition of grilling that hails from a region called Saarland, on the western border of Germany.
The Schwenker in Saarland
Saarland is a small region on the western German border, right next to France and Luxembourg. In Saarland, they love to gather friends and family together, grab a beer, and spend the afternoon gathered around the grill, cooking up tasty food. (Sounds a lot like Wisconsin!)
But, what makes grilling in Saarland different (and, admittedly, much cooler) than grilling in Wisconsin is their grill.
In Saarland, they use a swinging grill called a "schwenker" (pronounced sh-VEN-ger). A schwenker is a swinging grill grate that is placed over an open fire. You can see it in action in this video and see how to make one here or here.
Now, it gets a bit tricky, because the grill, the pork being grilled, and the person doing the grilling are all called the schwenker. And, typically you wouldn't say that the schwenker is 'grilling,' rather, he's doing the swinging, or the "schwenken".
But, the only thing that really matters is the the schwenker keep the schwenker schwenken constantly. Translated: the grill master must keep the grill moving!
And, there must be beer… or a good Geman Riesling.
Grilled German Pork Chops from Saarland
As with most traditional dishes, the marinade for the schwenker can vary depending on who's doing the cooking. But, the key elements remain: juniper berries, garlic, onions, and oil. (Some regions use German Riesling wine instead of the oil for the marinade, which sounds quite tasty as well!)
The meat is left to marinade at least 24 hours, but many people will leave their schwenker marinading for up to three days, to really infuse the meat with flavor.
The onions used to marinade the meat are often cooked up in a foil packet along side the meat or inside in a skillet. Either way, don't toss those onions! They are a key player in serving the schwenker (which can be done on a bun, sandwich-style, or on a plate, dinner-style).
Our Schwenkbraten recipe
Traditional schwenker (or schwenkbraten) uses juicy pork steaks that have been cut from the neck. Since pork neck can be a bit tricky to find, we used 1 inch thick pork chops for our schwenker.
One thing that we must admit is that we didn't actually construct a schwenker to cook our schwenkbraten. We simply used our charcoal grill that we loaded up with hickory wood chips to give the smoky flavor of a real hardwood fire. Making an actual schwenker is on our list though, because it looks like such a fun way to grill out! If you want to make your own schwenker, take a look at the articles and videos we referenced earlier in the post, they are VERY helpful!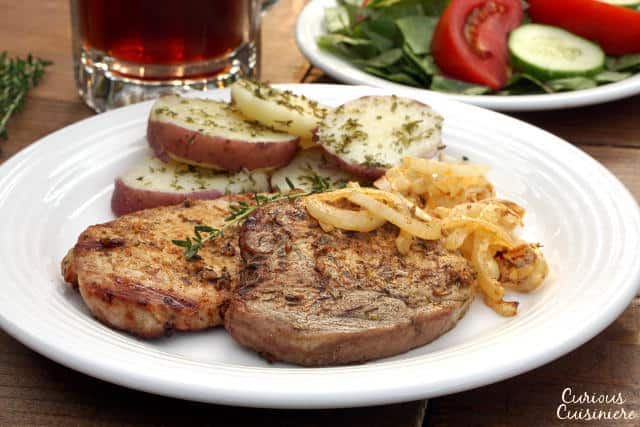 Schwenkbraten (Grilled German Pork Chops)
For best flavor, marinade the meat for at least 24 hours before grilling.
Ingredients
2

lbs

pork loin chops,

cut roughly 1 inch thick

2

onions,

sliced

¼

c

canola oil

or vegetable oil

2

tsp

prepared mustard

2

garlic cloves,

minced

4

juniper berries,

whole

1

tsp

paprika

½

tsp

ground black pepper

½

tsp

oregano

½

tsp

thyme

¼

tsp

cayenne powder

½

tsp

salt

(for grilling)
Instructions
Layer the pork chops and sliced onions in a flat container with a lid.

In a small bowl, mix the oil, mustard, garlic, juniper berries, and other spices (except the salt). Pour the seasoned oil over the meat and onions and mix to coat. Cover the meat and place it in the refrigerator for at least 24 hours, up to 3 days.

Remove meat from the refrigerator 30 minutes before grilling. Start your schwenker fire or preheat your grill to a medium high heat, 400F. (You should be able to hold your hand a few inches from the cooking grate for 4-6 seconds.)

Place the marinated meat on the grill and salt it, lightly. Place the onions from the marinade into a foil packet and place on the grill, or sauté them in a sauté pan over medium high heat until soft and lightly golden, 3-4 minutes.

Grill the pork steaks for 8-10 minutes a side.

Serve the schwenkbraten with potato salad, grilled veggies and a roll. Don't forget the German beer or Riesling wine!
---
More German recipes from some of our favorite bloggers:
Appetizers (Vorspeisen)
Dessert (Nachtisch)
Main Dish (Hauptgericht)
If you liked this recipe, here are some similar dishes you may enjoy!