Clotted Cream is deliciously creamy and the essential companion to a batch of British scones. You don't have to go to England to enjoy your tea-time treats though, because clotted cream is so easy to make at home!
What Is Clotted Cream?
Clotted cream is a staple on British tea-time tables. You'll find it served in a little dish right along side of your scones.
It is a thick, creamy, white spread, the consistency of softened cream cheese. It is ever so slightly sweet, but mostly just incredibly creamy. Like a good, unsalted butter.
But so much more.
Devonshire Cream vs Clotted Cream
Sometimes you may hear "clotted cream" called "Devonshire cream" or "Cornish cream". It really all depends on region you are in.
The making of clotted cream started in Devon as a way to separate the fat from milk to make butter. Centuries later in Cornwall, it became popular to use the cream on its own. At that time, clotted cream and butter were the most popular ways to preserve milk.
Of course, those in Devon and Cornwall each claim that their cream is superior.
We'll have to take a trip to decide for ourselves!
What's The Difference Between Clotted Cream And Whipped Cream?
While at first a bowl of clotted cream might look similar to whipped cream, once you take a taste, you'll know the difference.
Both start with the same basic ingredient: heavy cream. But, for whipped cream you whip that cream into light and fluffy pillows. Often you'll add sweetener and possibly a flavoring, like vanilla, to whipped cream as well.
Clotted cream, on the other hand, is heated and separated, as we'll go into more detail on below. This process produces a thicker, creamy substance.
Another difference is that clotted cream is typically not sweetened. It's loved for the creamy texture it adds, similar to butter, rather than a particular sweetness or flavor.
What's The Difference Between Clotted Cream And Butter?
So, if it has a thicker consistency and is more savory, how is clotted cream different from butter?
Again, it comes down to the process.
Butter is made by churning (or whipping) cream. So, if you over whip your whipped cream, you'll end up with a nice, whipped butter.
Clotted cream, again, has to do with the separation of the fat in your cream. So let's get into the process of how to make clotted cream.

How To Make Clotted Cream
Clotted describes the look of the cream when it is heated ever so gently so that the fat separates to the top and clings together.
Buying jars of imported clotted cream can get quite pricey. But you don't have to worry about that any more, because making it at home is incredibly easy.
Actually, the hardest part about making clotted cream is finding the cream. You see, you have to start with heavy cream that has not been ultra-pasteurized for a longer shelf life. Simply look for a carton of heavy cream that does not say "ultra-pasteurized", and you're good to go!
After you find your cream, the second hardest part to making clotted cream is the wait.
It is not a quick process.
The cream has to be heated slowly for 12 hours, which we find easiest to do overnight. Then it is cooled for another 8 hours (or over the next night).
Finally, you separate the cream from the liquid, and you have the spread that you have been waiting for.
It might take a long time, but it's mostly hands off.
And it's SO worth the wait!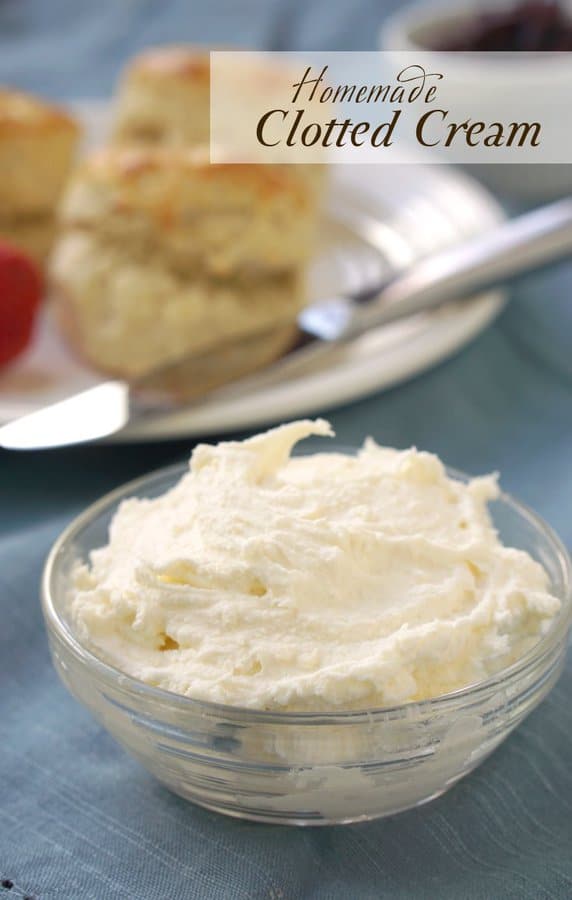 Savory Uses For Clotted Cream
Clotted cream typically lends itself to sweet uses: spread on scones with some jam (or other bread products), used in fudge, as a topping to tarts or ice cream. However, it is rich and creamy and could be used for savory applications as well.
We think it would be delicious as a veggie dip or spread on a cucumber slice as an appetizer. You could also add it to soups or sauces to give them a creamy boost. It can also be added to mashed potatoes, risotto, or eggs to give them extra creaminess, much like you would butter.
Can I Make Clotted Cream In The Slow Cooker?
This is a question that we get often from our readers, so we did some testing to find out.
The answer is yes you can! Have a look at our recipe and process for making clotted cream in the slow cooker.
There are also some nice tips and tricks about making clotted cream in general over there, so even if you're thinking about making it using this oven method, take a look over there for the tips!
Homemade Clotted Cream
To make clotted cream, you will want to start the process 3 days before you plan to serve your cream. It sounds like a lot of time, but most of the process is done while you sleep!
Yield: 1 cup
Ingredients
2

c

heavy cream

(not ultra-pasteurized)
Instructions
Day 1
Preheat your oven to 170-180F.

Pour the cream into a shallow casserole dish or glass baking dish. (The cream should only come up the sides about 1-2 inches. The key here is to have a lot of surface area.)

Place the cream in the oven for 12 hours, uncovered. (This works great overnight.**)
Day 2
After heating for 12 hours, the cream will develop a skin. Carefully remove the dish from the oven and let it cool to room temperature. Once cool, cover the dish and refrigerate it for 8 hours (or overnight again).
Day 3
After chilled, gently skim the thick layer of clotted cream from the surface, leaving the thinner liquid behind. (It will feel like you're pulling a layer of slightly softened ice cream from the top of a layer of milk*. The skin in fine, it will soften as it is mixed into the cream.)

Gently stir the skimmed clotted cream to create a smooth texture. (If your cream is too thick for your liking, you can always stir a little bit of the thin liquid back into your cream, until it reaches your desired consistency.)

Store the clotted cream in a sealed container in the refrigerator for up to two weeeks. (Clotted cream can also be frozen and thawed in the refrigerator, if desired.)
Notes
*The leftover liquid can be used like milk. It's great for baking!
** Oven note #1: Some ovens have a safety feature that shuts them off after extended periods of time. If this is your oven, you may want to do the clotting step during the day, when you can make sure your oven stays on and at a low temperature.
Oven note #2: We have a lot of readers who are discovering as they try this recipe that their oven runs hot. After 12 hours in the oven, their cream has developed a dark brown skin. The skin on your cream should only be a pale tan if it starts to darken. If you think your oven may run hot, check your cream after 8 hours and again after 10 hours to see if the top is darkening. If it is, you may need to cycle your oven between off and on to keep a temperature that is not too hot for the cream. (As a side note, the darkened top on the cream does not mean it is ruined. It simply means your finished cream will have a bit of a deeper flavor, and it will most likely have some flecks of brown and not be a pure creamy white.)
If you liked this recipe, here are some similar dishes you may enjoy!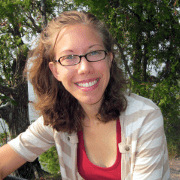 Sarah is one of Curious Cuisiniere's founding duo. Her love for cultural cuisines was instilled early by her French Canadian Grandmother. Her experience in the kitchen and in recipe development comes from years working in professional kitchens. She has traveled extensively and enjoys bringing the flavors of her travels back to create easy-to-make recipes.