Clotted Cream is the essential companion to British scones, and it's so easy to make at home! 
What Is Clotted Cream?
Clotted cream is a staple on British tea-time tables. You'll find it served in a little dish right along side of your scones.
It is a thick, creamy, white spread, the consistency of softened cream cheese. It is ever so slightly sweet, but mostly just incredibly creamy. Like a good, unsalted butter.
But so much more.
Devonshire Cream vs Clotted Cream
Sometimes you may hear "clotted cream" called "Devonshire cream" or "Cornish cream". It really all depends on region you are in.
The making of clotted cream started in Devon as a way to separate the fat from milk to make butter. Centuries later in Cornwall, it became popular to use the cream on its own. At that time, clotted cream and butter were the most popular ways to preserve milk.
Of course, those in Devon and Cornwall each claim that their cream is superior.
We'll have to take a trip to decide for ourselves!
How To Make Clotted Cream
Clotted describes the look of the cream when it is heated ever so gently so that the fat separates to the top and clings together.
Buying jars of imported clotted cream can get quite pricey. But  you don't have to worry about that any more, because making it at home is incredibly easy.
Actually, the hardest part about making clotted cream is finding the cream. You see, you have to start with heavy cream that has not been ultra-pasteurized for a longer shelf life. Simply look for a carton of heavy cream that does not say "ultra-pasteurized", and you're good to go!
After you find your cream, the second hardest part to making clotted cream is the wait.
It is not a quick process.
The cream has to be heated slowly for 12 hours, which we find easiest to do overnight. Then it is cooled for another 8 hours (or over the next night).
Finally, you separate the cream from the liquid, and you have the spread that you have been waiting for.
It might take a long time, but it's mostly hands off.
And it's SO worth the wait!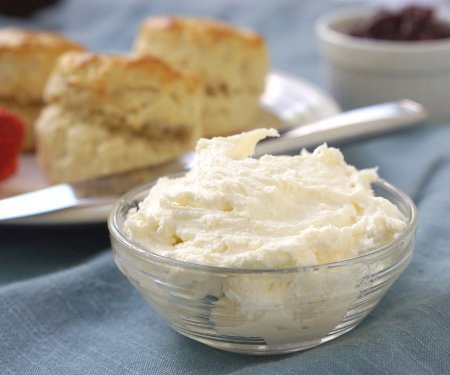 Homemade Clotted Cream
To make clotted cream, you will want to start the process 3 days before you plan to serve your cream. It sounds like a lot of time, but most of the process is done while you sleep!
Yield: 1 cup
---
Ingredients
2

c

heavy cream

(not ultra-pasteurized)
Instructions
Day 1
Preheat your oven to 180F.

Pour the cream into a shallow casserole dish or glass baking dish. (The cream should only come up the sides about 1-2 inches. The key here is to have a lot of surface area.)

Place the cream in the oven for 12 hours, uncovered. (This works great overnight.)
Day 2
After heating for 12 hours, the cream will develop a skin. Carefully remove the dish from the oven and let it cool to room temperature. Once cool, cover the dish and refrigerate it for 8 hours (or overnight again).
Day 3
After chilled, gently skim the thick layer of clotted cream from the surface, leaving the thinner liquid behind. (It will feel like you're pulling a layer of slightly softened ice cream from the top of a layer of milk*. The skin in fine, it will soften as it is mixed into the cream.)

Gently stir the clotted cream to create a smooth texture.

Store the cream in the refrigerator for up to a week.
---
Recipe Notes
*The leftover liquid can be used like milk. It's great for baking!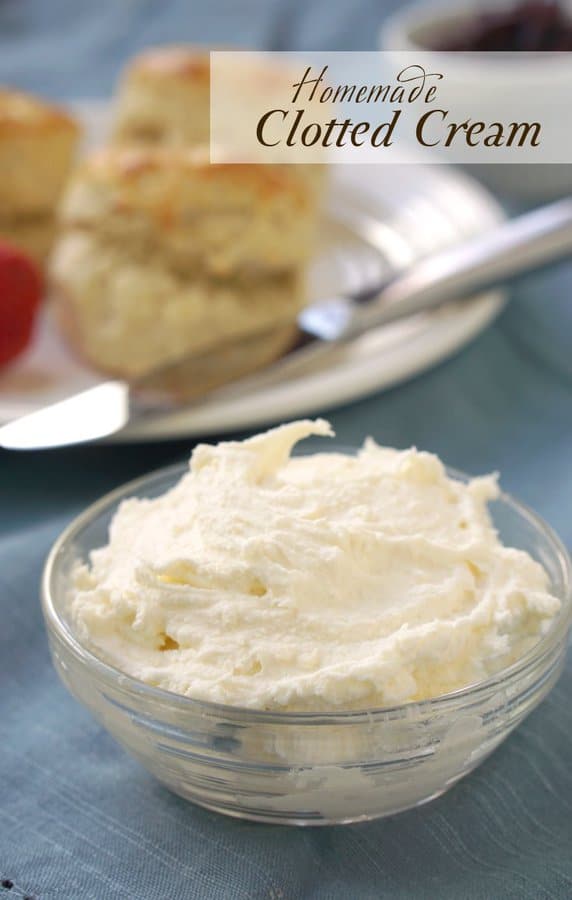 If you liked this recipe, here are some similar dishes you may enjoy!