Mahalabia (Muhallebi) is a creamy milk pudding dessert from the Middle East. It can include a variety of of flavor or topping, but traditionally includes a garnish of nuts and rose petals. This dessert is often served during Ramadan.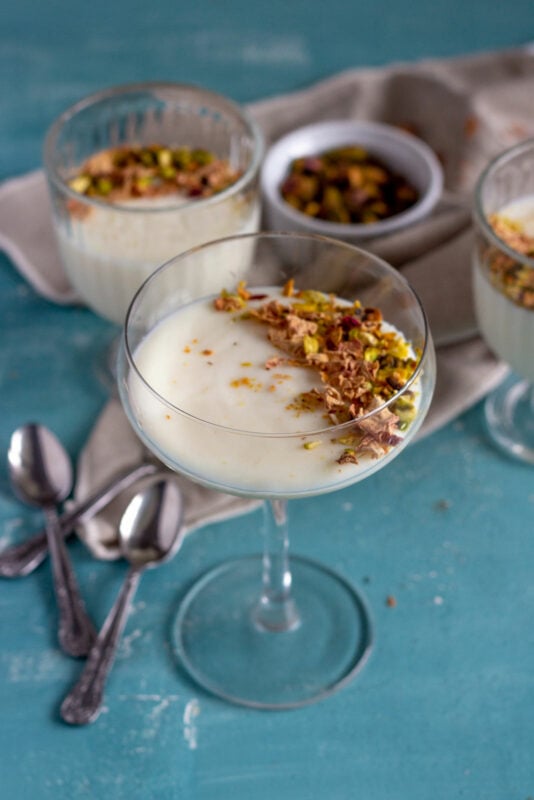 What is Mahalabia?
Mahalabia (also called Muhallebi) is a creamy Middle Eastern milk pudding garnished with nuts, rose petals and/or a sugar syrup.
It is popular in Turkey, Syria, Lebanon, and other Middle Eastern countries.
The dessert is super simple to make and requires only a few ingredients to prepare: cornflour/cornstarch, milk, sugar and flavorings of choice.
It can be served in individual bowls or glasses, or it can be made in a large serving bowl similar to a trifle.
This milk pudding dessert is super popular during the month of Ramadan. It is commonly served at iftar; the sunset meal when Muslims break their fast after a long day of fasting.
How to make Mahalabia milk pudding
Mahalablia is a super quick dessert to make with prep and cooking time taking less than 20 minutes.
To make mahalabia, cornflower/cornstarch is dissolved in a bit of milk. The remaining milk is heated with the other pudding ingredients. Then, the cornflower/cornstarch mixture is added and the milk pudding is cooked until thickened.
After cooking, the pudding is poured into serving dishes and chilled. Once firm, garnishes are added before serving.
Using cornflower/cornstarch vs rice flour for Mahalabia
Mahalabia is traditionally thickened with cornflour/cornstarch, however, there are certain recipes that call for using rice flour.
Either can be used, but cornflour results in a creamier pudding. Rice flour results in a more granular rice pudding.
The use of cornflour/cornstarch instead of gelatin makes the mahalabia vegetarian friendly.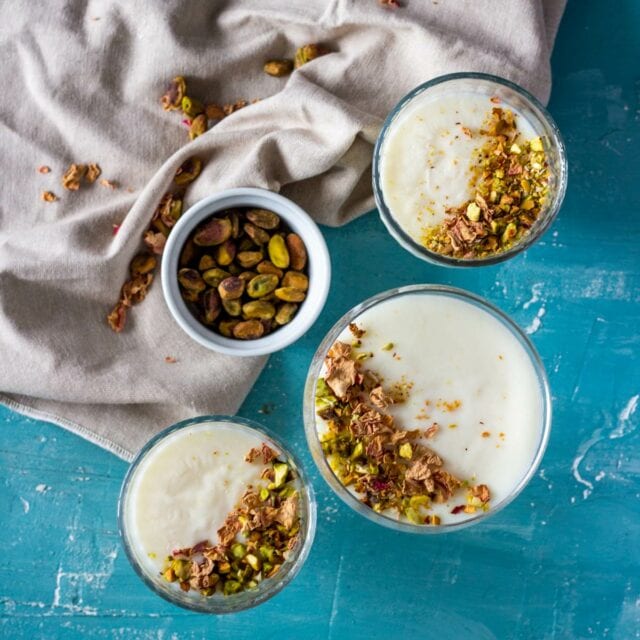 Making a creamy cooked milk pudding
To make a creamy, cooked milk pudding you must dissolve the cornflower/cornstarch with a little cold milk. Then bring the remaining milk to a low boil with sugar and cardamom seeds (or cardamom powder).
After your milk mixture is hot and simmering, then, add the cornflour/cornstarch mixture.
Reduce the heat and simmer over low heat until the pudding thickens. It is important that while cooking you make sure to keep stirring with a whisk, or else lumps will form.
Once the pudding has thickened, ladle it into small bowls (or a large serving bowl).
If the pudding did develop lumps, simple pass it through a sieve before pouring it into the serving dishes. Then, the milk pudding must be placed in the refrigerator to set.
Once chilled, garnish the mahalabia with nuts, and/or rose petals. (See more garnish options below.) Serve the pudding cold.
Flavor variations for Mahalabia milk pudding
One of the best parts about this creamy Middle Eastern dessert is that it is a plain canvas for any flavor combination of your choice.
Traditionally, the mahalabia pudding is flavored with cardamom and rose water or orange blossom water. These ingredients can be found at Middle Eastern, Persian or Indian grocery stores. It is possible to use either crushed cardamom seeds or cardamom powder.
Other flavor combinations include cinnamon, vanilla extract, almond extract or coconut extract.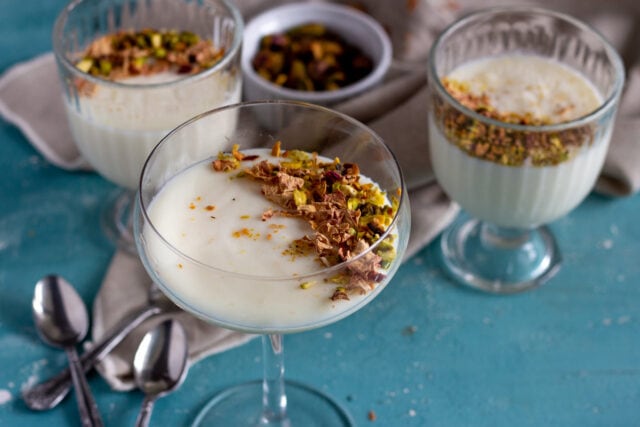 Garnish options for Mahalabia
Another way that you can experiment with the flavor combinations is through the toppings.
Mahalabia is garnished with nuts such as almonds, pistachios or walnuts. It is possible to use one type of nut or a combination of nuts.
It can also be garnished with edible rose petals, shredded coconut or a sugar syrup. The sugar syrup can be plain, or it can be flavored with rose water.
It is also possible to experiment with a drizzle of chocolate sauce, salted caramel sauce or strawberry sauce.
Be creative and create your own unique combination!
How to serve Mahalabia
Mahalabia is a traditional Middle Eastern dessert that is often served at dinner parties, especially during Eid and Ramadan.
This simple make ahead dessert doesn't need any last-minute prep.
It can be served family style in a large serving bowl, or in small bowls or glasses for individual servings.
The advantage of individual servings is that it's possible to cater to different tastebuds in one dessert.
You can prepare a big batch of mahalabia, and then vary the toppings.
Some can have no nuts. Others can have a combination of nuts. Some can be topped with coconut. Others can be topped with rose petals.
Serve the mahalabia at the end of the party with tea or coffee on the side to complement this delicious creamy dessert.
Yield: 3-4 servings
Mahalabia (Middle Eastern Milk Pudding)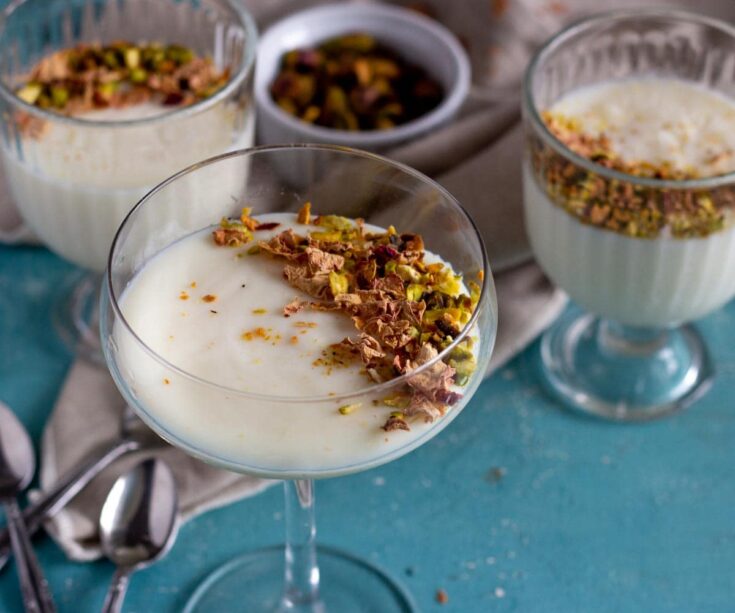 Mahalabia (also known as Muhallebi) is a creamy Middle Eastern milk pudding garnished with nuts, rose petals and/or a sugar syrup. It is super simple to make and requires only a few ingredients which are cornflour / cornstarch, milk, sugar and flavorings of choice. This delicious dessert recipe is super popular during Ramadan and Eid.
Ingredients
2 cups milk*
3 Tablespoon cornflour / cornstarch
¼ cup granulated sugar
2 cardamom seeds, crushed
1 Tablespoon pistachios, crushed
1 teaspoon edible rose petals
Instructions
Combine ½ cup cold milk and cornflour / cornstarch. Whisk till smooth.
In a medium saucepan, add the remaining milk along with the sugar and crushed cardamom seeds.
Turn the heat to medium and add the cornflour / cornstarch and milk mixture. Whisk constantly until the mixture starts to thicken and you see small bubbles along the sides of the pot.
Turn the heat to low and continue whisking until the mixture reaches a pudding consistency. (Whisking is very important at this stage or else the bottom can burn and lumps can form. In case lumps do form, pass the pudding through a sieve to smooth them out.)
Once the pudding has thickened (it will continue to set up a bit too as it cools), remove the pot from heat. Pour the pudding into small dessert bowls. (This quantity will yield 3 – 4 small dessert bowls.)
Refrigerate the bowls for a couple of hours until the pudding is chilled through.
Right before serving, garnish the mahalabia with crushed pistachios and edible rose petals. (Or see the above article for other garnish ideas,)
Notes
*Any type of milk (diary or non) can be used in this recipe, however fuller fat milks (like whole or 2%) will give the pudding a better flavor and consistency.
Recommended Products
As an Amazon Associate and member of other affiliate programs, We earn from qualifying purchases.
Nutrition Information:
Yield:
4
Serving Size:
1/4 of recipe
Amount Per Serving:
Calories:

149
If you liked this recipe, here are some similar dishes you may enjoy!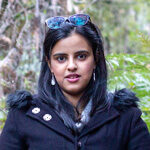 Kiran is originally from Pakistan, and is a food blogger and recipe developer. One of the things that she loves doing is learning about different cuisines and learning how food has shaped culture and history around the world. You can find Kiran on her blog MirchiTales.com as well as on Instagram.