Our homemade Giardiniera recipe gives you the freedom to choose your level of heat. These Italian pickled vegetables are the perfect, crisp sandwich topper and much more! 
What is Giardiniera?
Giardiniera (pronounced JAR-di-NAIR-ah) means "from the garden" in Italian. The concept has quite a long history in Italy, where fresh garden produce was pickled and marinated as a way of preserving it for the winter.
It was the early 1920s that giardiniera started to make a name for itself in the communities of Italian immigrants in Chicago.
Although it grew in popularity throughout the city, if you've never been to Chicago or tasted a Chicato style Italian beef sandwich, you may not have ever heard of this tangy, crunchy condiment.
Giardiniera: Italian Pickled Vegetables
In Italy, giardiniera is served as an antipasto, or appetizer. Fresh, garden cauliflower, celery, carrots, bell peppers, hot peppers are the staples of Italian giardiniera, but sometimes you will see others added.
Since this is considered an appetizer in Italy, the vegetables are cut into one or two bite chunks, making the dish a bulky appetizer or side dish.
The traditional Italian brine and marinade is quite simple, letting the flavor of the vegetables shine with just a bit of vinegar tang and a few herbs to complement the crisp texture.
Chicago Giardiniera
In Chicago, giardiniera takes a smaller and more intensely flavored form.
The vegetables are chopped smaller, although not diced as finely as you would for a relish. The pieces are just small enough that they can be used as a topping or garnish.
The marinade for Chicago-style giardiniera can include a much longer list of ingredients, including garlic, herbs, celery seed, red pepper flakes, and the list goes on. Each version has its own twist, and the marinade is where a lot of flavor variation can happen.
You will find Chicago-style giardiniera labeled as traditional or hot. The hot version typically includes seranno peppers to kick things up a notch.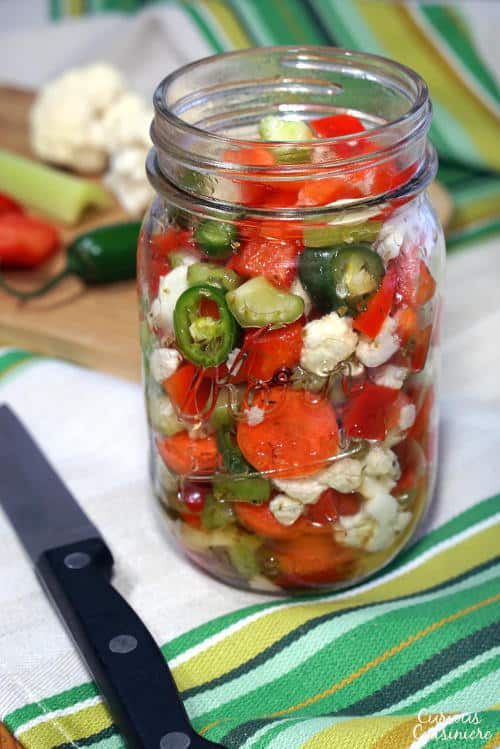 What do you put giardiniera on?
In the Windy City, giardiniera is the classic topping for Chicago-style Italian beef sandwiches and Italian sausage sandwiches. You might find it topping bratwursts, hot dogs, sub sandwiches, even pizza!
We like to throw it on top of salads to add a fun boost of flavor.
Our Homemade Giardiniera Recipe
The process to make giardiniera does take nearly a week, but before you run away to your grocery store's aisles for a jar of pre-made giardiniera, know that nearly all of that time is hands-off on your part.
There are two main steps to making giardiniera: the brine and the marinade.
First, the vegetables are brined in a simple mixture of salt and water. This brine solution draws moisture out of the vegetables, helping them to stay crisp in the marinade.
In the second step, the brined vegetables are marinated in a mixture of oil, vinegar, and seasonings. We give this mixture lots of space to marinate in a covered bowl in the refrigerator for three days, before transferring it to its final resting place in mason jar.
As you can see, the process is quite simple. And, after a few days, you will have your own giardiniera, spiced just the way you like it, all ready for topping everything from Italian beef sandwiches to pizza!
This might just become your new favorite summer condiment!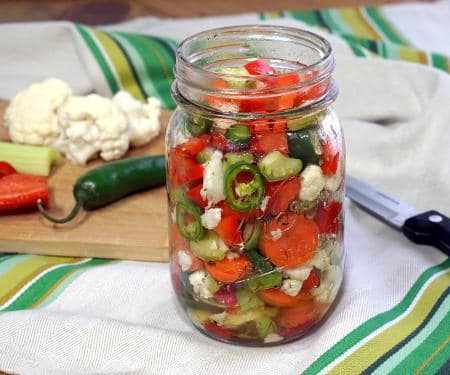 Homemade Giardiniera
This recipe may take 5 days to make, but most of it is hands-off time.
Yield: 3 cups of giardiniera
---
Ingredients
¼

c

salt

1

c

carrots,

sliced

1

c

cauliflower,

cut into small florets

1

celery stalk,

diced

1

red bell pepper,

stemmed, seeded, and diced

2-4

serrano chilies,

sliced (depending on desired heat level)

¾

c

canola oil or extra virgin olive oil

¾

c

white vinegar

2

garlic cloves,

minced

2

tsp

oregano
Instructions
Day One
Mix 2 c water with the salt and stir until dissolved. Add the carrot slices, cauliflower, celery, bell peppers, and serranos. Mix to combine. Cover and refrigerate overnight.
Day Two
Drain and rinse the vegetables.

In a clean bowl, mix oil and vinegar with the garlic and oregano. Add the vegetables to the seasoned oil and mix to combine. Cover and refrigerate overnight.
Day Five
After 3 days in the bowl, transfer the vegetables to a quart jar, pour as much of the seasoned oil/vinegar mixture in as you need to cover the vegetables.

The mixture will keep in the refrigerator for 3-4 weeks.
---
---
Harvesting Summer with the Sunday Supper Group
This week the Sunday Supper tastemakers are sharing recipes to harvest summer's bounty and keep the flavors lingering all winter long. Thanks to Caroline Williams from Caroline's Cooking for hosting this week.
Condiments
Main dishes
Sides
Snacks
Dessert
Beverage
Join the #SundaySupper conversation on twitter on Sunday! We tweet throughout the day and share recipes from all over the world. Our weekly chat starts at 7:00 pm ET. Follow the #SundaySupper hashtag and remember to include it in your tweets to join in the chat. To get more great Sunday Supper Recipes, visit our website or check out our Pinterest board.
Would you like to join the Sunday Supper Movement? It's easy. You can sign up by clicking here: Sunday Supper Movement.

If you liked this recipe, here are some similar dishes you may enjoy!