Giardiniera is an Italian preparation of marinated vegetables that has many uses. This Chicago Style Hot Giardiniera Relish uses diced vegetables and ample hot peppers to create a tangy and spicy topping for sandwiches, hot dogs, and more. 
What Is Giardiniera?
Unless you grew up in Chicago or you have an obsession with Italian Beef Sandwiches, you've probably never heard of giardiniera the way Chicagoans talk about it.
If you're in Chicago, when they talk about giardiniera, they're referring to a flavorful vegetable garnish that can be put on anything from sandwiches to eggs, and much more!
You typically find Chicago giardiniera in two version: hot and mild.
The spicy version that we're sharing today is commonly referred to as "hot mix". The "mix" can vary depending on where it is served, but the concept is always the same: slightly tangy vegetables that add a great pop of flavor to your dish.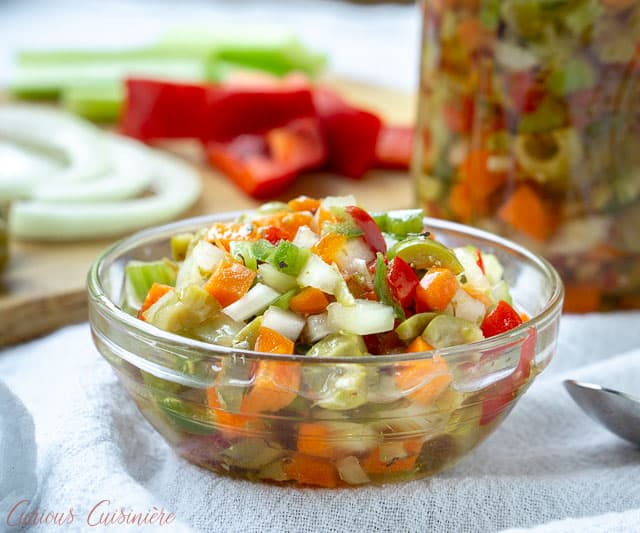 What Ingredients Are In Chicago Style Giardiniera?
Chicago style giardiniera has it's roots in Italian giardiniera, which is an assortment of pickled vegetables that is typically eaten as an antipasto.
However, there are a few differences between the Chicago style and the traditional Italian style of giardiniera.
One big difference is the ingredients.
Chicago-style giardiniera typically includes green olives, which are often not found in the Italian version.
It is also more common to find hot peppers in the Chicago variation than it is to find them in the Italian mix.
Other ingredients you will commonly find in Chicago style giardiniera are:
celery
onions
carrots
red bell peppers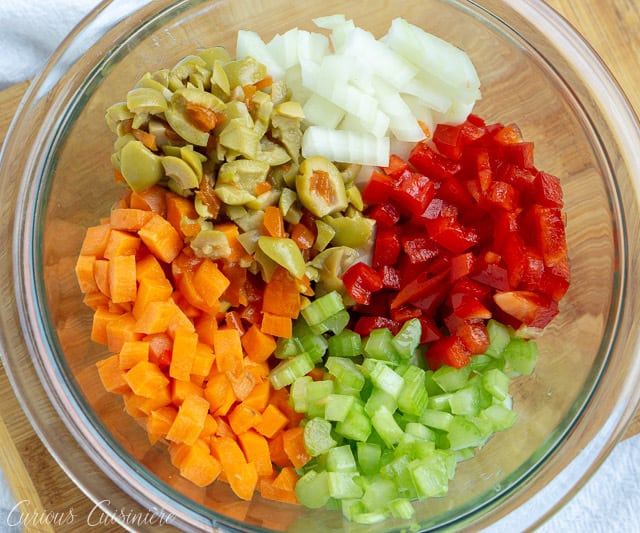 What Is The Difference Between Italian Giardiniera and Chicago Giardiniera?
So, we know the first difference between Italian giardiniera and Chicago giardiniera: the vegetables.
Another big difference between Chicago and Italian giardiniera is the brine that is used to marinate and season the vegetables.
Chicago style giardiniera is made with a mix of oil and vinegar. The ratio of oil to vinegar all depends on who is making the giardiniera and how tangy they like it.
Traditional Italian giardiniera is a way of preserving summer produce by pickling, so it uses only vinegar (no oil).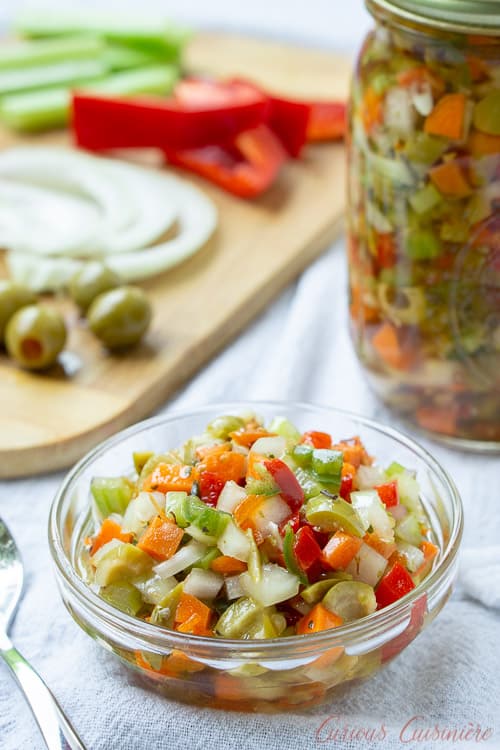 How To Make Our Hot Giardiniera Relish Recipe
Making giardiniera does take a couple of days, but most of the preparation time is hands-off.
First you need to chop your vegetables.
For this recipe, we are going for a giardiniera that is more of the consistency of a relish, so we're chopping our vegetables into a pretty small dice. This way they marinate quicker and are easier to use as a topping and garnish.
The chopped vegetables then need to rest in a saltwater bath over night to pull out some moisture, which will help the vegetables to stay crisp in the marinade.
After the saltwater bath, the vegetables get drained and rinsed before getting a good dousing with their oil and vinegar marinade.
While these marinated vegetables are pretty good right away, they really should set for 1-2 days before using, so that they have time to infuse with lots of great flavor.
How To Use Giardiniera
One final difference between Italian giardiniera and Chicago giardiniera is how they are eaten.
While the traditional Italian giardiniera is served as a salad or appetizer, in Chicago it is more common to find giardiniera used as a condiment.
Giardiniera is wonderful on sandwiches, bratwurst and hot dogs, and even eggs and pizza.
You can even use it to top bruschetta or mix it with pasta for a quick pasta salad!
But you can't talk about Chicago style giardiniera without talking about their MOST common use: a topping for Italian beef sandwiches. The tangy vegetables are the perfect contrast to tender and juicy pulled beef.
If you've never tried one, you need to head on over to our slow cooker Italian beef recipe and get one on your menu soon!
Chicago Style Hot Giardiniera Relish
This Chicago Style Hot Giardiniera Relish uses diced vegetables and ample hot peppers to create a tangy and spicy topping for sandwiches, hot dogs, and more.
For best flavor, giardiniera should be made at least 2 days before serving. (Keep in mind, there is an overnight step here too!)
Yield: 2 c (1 pint)
Servings:
16
(2 Tbsp) servings
Ingredients
The First Day
1

stalk

celery,

diced

1

carrot,

diced

½

red bell pepper,

seeded and diced

½

onion,

diced

½

c

green olives

(pitted, with pimento if desired), diced

2

c

water

¼

c

salt
The Second Day
2

serrano chiles,

diced

2

cloves

garlic,

minced

2

tsp

oregano

1

tsp

red pepper flakes

½

c

white vinegar

½

c

vegetable oil*

Salt and pepper

(to taste)
Instructions
The First Day
Chop all the vegetables to a small dice. Place the vegetables (except the chiles) in a large bowl with a lid.

Mix 2 cups of water with ¼ c salt, stirring until the salt has dissolved. Pour the salt water over the vegetables.

Cover and refrigerate overnight.
The Second Day
Drain the vegetables and rinse them well. Place the vegetables in a large jar (quart size works well.)

Add the chiles, garlic, oregano, red pepper flakes, vinegar, and oil to the vegetables. Mix well.

Taste your mix and add salt and pepper, if desired.

Cover the mixture and let marinate on the counter for up to 2 days.

After marinating, refrigerate the giardiniera until you are ready to use it.
Notes
*Olive oil is the more traditional oil to use in giardiniera, but olive oil will solidify at refrigerator temperatures. If you would like to use olive oil, let the giardiniera come to room temperature before serving.
If you liked this recipe, here are some similar dishes you may enjoy!