Schweinshaxe, or tender and juicy pork knuckle wrapped in a salty and roasted-crisp skin, is a recipe for a quintessential Oktoberfest feast. It makes for the perfect pairing with a big stein of your favorite beer.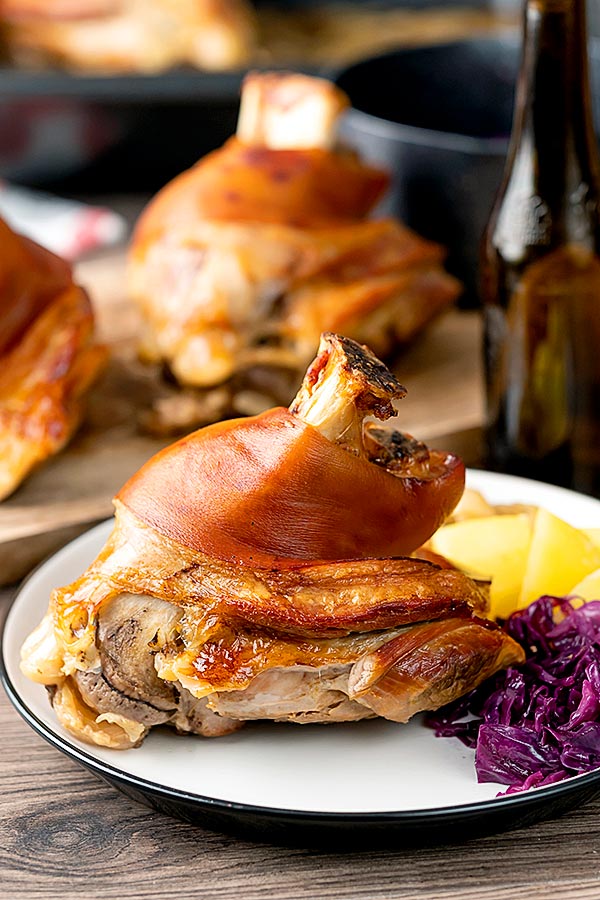 Schweinshaxe (pronounced SH-vines-HAKS-eh), is a German dish particularly popular in Bavaria, the home of Oktoberfest.
That alone is enough to make it an Oktoberfest staple.
Add in the fact that it's a combination of tender, juicy pork and crispy, salty skin. You have yourself Oktoberfest pairing heaven.
What Is a Pork Knuckle?
Schweinshaxe starts with a cut of pork you're probably not too familiar with: the knuckle.
Yes, pigs have knuckles too.
While pork knuckle might sound a bit unappealing, Schweinshaxe, now that just sounds like a fun culinary feat to master.
The bone-in hunk of pork leg is quite impressive, I'm not going to lie.
But it can be a bit intimidating.
Even though each pork knuckle is only enough to feed one person, it just doesn't look like anything that you would typically venture to cook.
But that's about to change.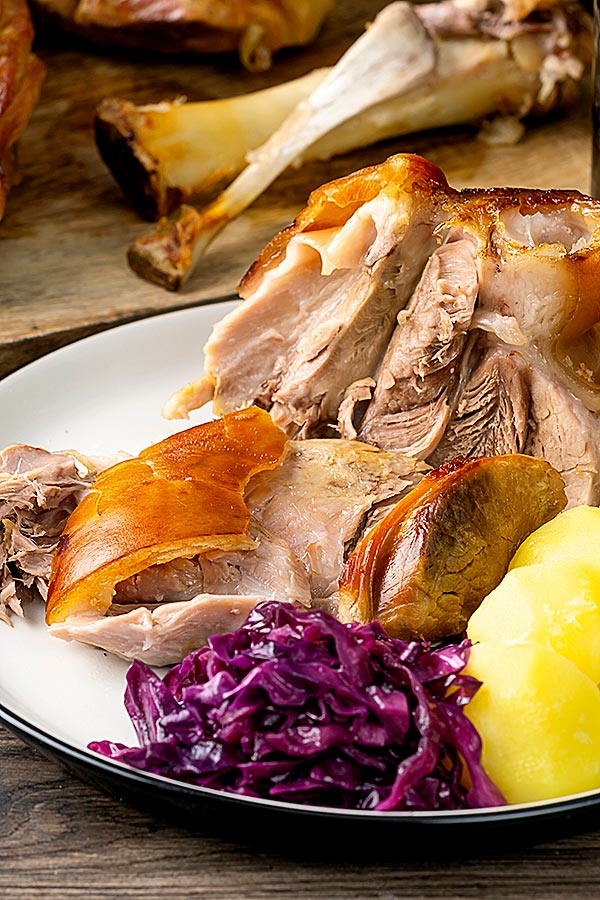 Where To Find Pork Knuckle
You'll probably find pork knuckles in your grocery store's meat section labeled as a "pork hock".
Hock or knuckle, you're getting the part of the pig that is the joint between the foot and shank.
It's a stubby piece of meat, covered in a thick layer of skin and fat.
And, while there isn't a lot of meat on each hock (knuckle), there is a TON of skin.
Once rubbed in salt and roasted, this skin gets super crispy and delicious. So, delicious, it has its own name.
It's known as crackling, and it's pretty much the main reason for diving into a pork knuckle.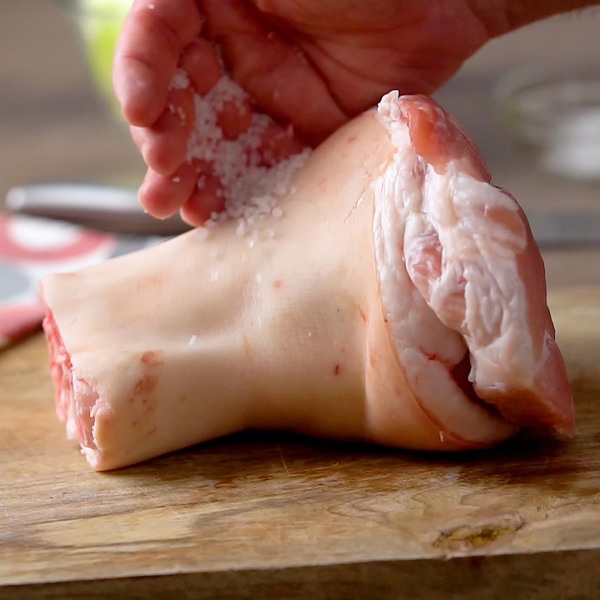 How To Cook Schweinshaxe
As far as cooking goes, the process could not be any more simple.
First, you rub the hock with a garlic clove and salt.
The seasoned knuckle gets placed into a baking dish filled with sliced onions and beer.
Then, you pop it in the oven and forget about it for 3 hours, while the oven's heat works its magic.
Or, you can try to forget about it.
Because, let's face it, as the aroma of beer, onions, and roasted pork fills your kitchen, there will be little else you can think of.
By the time the oven's buzzer rings, the excitement for that crispy pork skin is barely containable.
Just don't forget to pour yourself a big stein of beer before chowing down.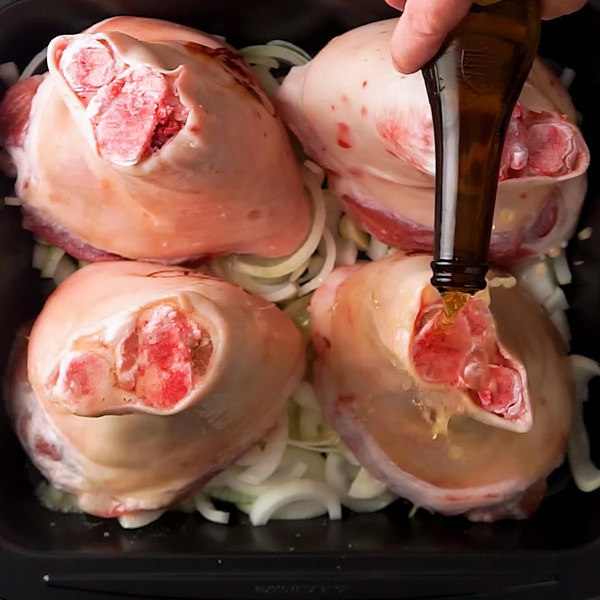 What Beer To Serve With Pork Knuckle?
Honestly, any full flavored (preferably German) beer will do for pairing with this juicy, tender, fall-apart meat and crunchy, salty skin.
But, if you're looking for a really stellar pairing, then read on. Our friend and beer connoisseur Bryan calls for a lighter beer with loads of flavor, like a Berliner Weisse:
With a crystal-clear pale-golden hue, New Glarus' Berliner Weisse is a treat for the eye and the tongue. It welcomes you with aromas of lemon, citrus and a touch of wheat. This beer cleanses the palate beautifully, goes down easily, and the light effervescence cuts through the fatty flavors of the juicy pork.
If you don't happen to be in Wisconsin to get your hands on this New Glarus beer, don't worry, just look for a Gose beer (pronounced GOSE-uh), sour beer, or any other Berliner Weisse.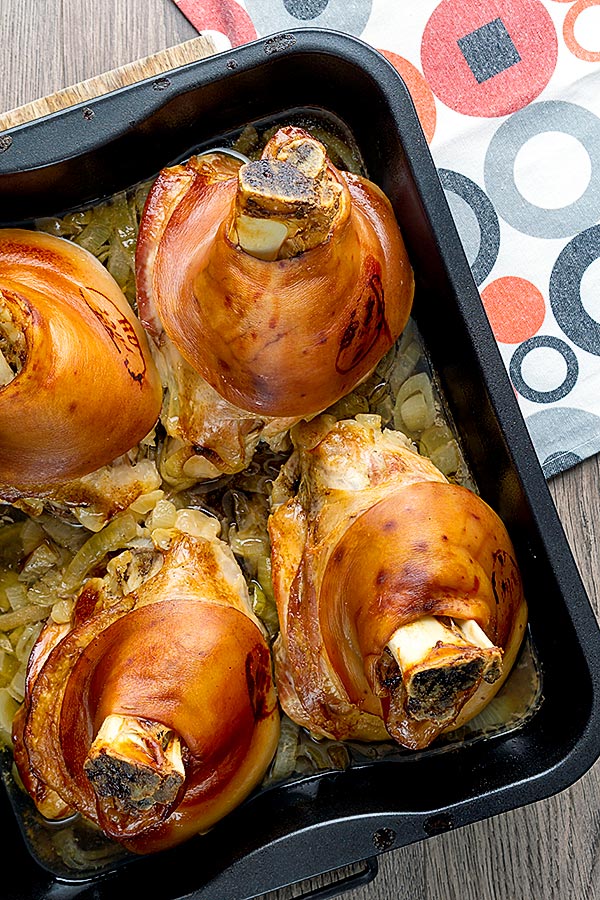 What to serve with Schweinshaxe
If you're cooking a pork knuckle, you may as well go all out!
Serve your Schweinhaxe the Bavarian way with potato dumplings, spaetzel, or boiled potatoes and braised red cabbage or sauerkraut.
Yield: 4 knuckles (one per serving)
Schweinshaxe (German Pork Knuckle)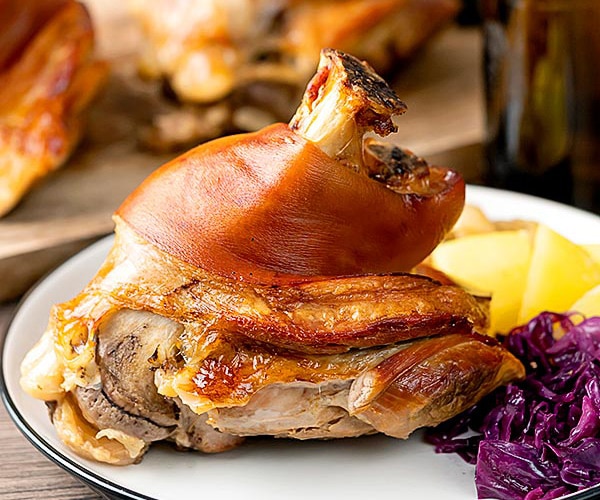 Schweinshaxe, or tender and juicy pork knuckle wrapped in a salty and roasted-crisp skin, is the quintessential Oktoberfest feast, perfect for pairing with a big stein of your favorite beer.
Total Time
3 hours
10 minutes
Ingredients
3 onions, sliced
4 pork hocks (knuckles), look for the meatiest ones you can find
2 garlic cloves, halved
2 Tbsp salt (we like to use a coarse grain)
12 oz beer (any beer will do)
Instructions
Preheat your oven to 350F.
Place the sliced onions in the bottom of a 8x8 baking dish.
Rub the skin of each pork hock with half of a garlic clove. After rubbing, add the garlic to the onions in the baking dish. Rub roughly 1/2 Tbsp of salt into the skin of each pork hock. Nestle the hocks, meaty side down, in the onions.
Pour the beer around the hocks.
Roast the hocks in the preheated oven for 3 hours, until the skin is crisp and the meat is fall-apart tender. (Check the hocks ever hour to be sure they haven't fallen over and there is still enough moisture in the bottom of the pan. Add hot water if the pan seems to be scorching.)
Each hock is traditionally served individually, with a fork and sharp knife, but most people find it easier to enjoy the crisp skin by just digging in with their hands.
Serve with boiled potatoes, potato dumplings, or spaetzle, and braised red cabbage or sauerkraut. (And don't forget the onions from the baking dish!)
Nutrition Information:
Yield:
4
Serving Size:
1 knuckle
Amount Per Serving:
Calories:

274
---
We've updated our pictures since we first shared this recipe on Curious Cuisiniere, but we've left some originals here, in case you've found us in the past and are looking for that old, familiar image.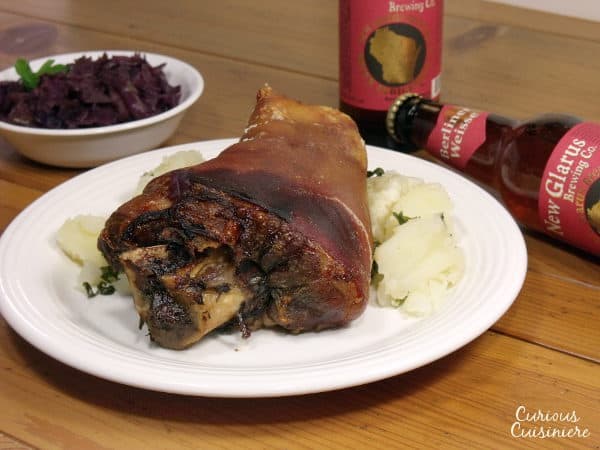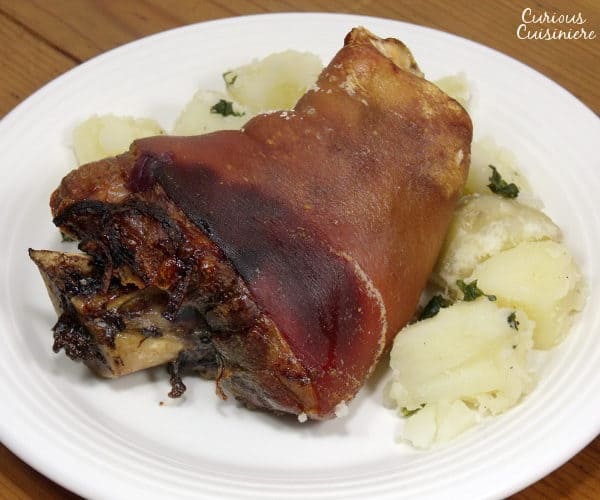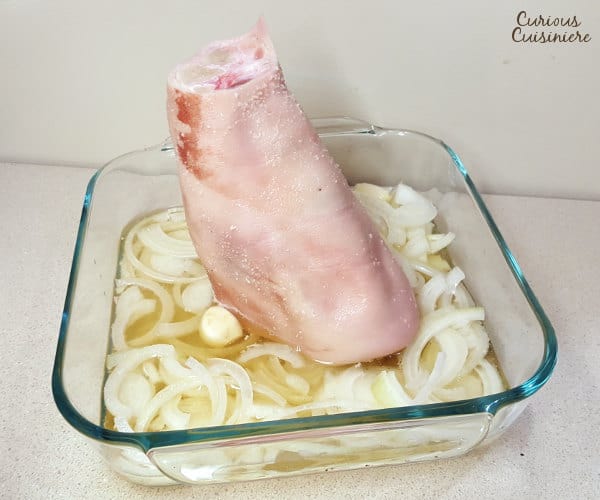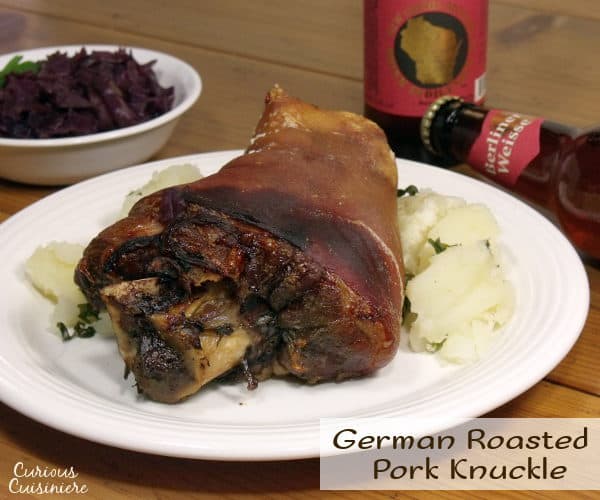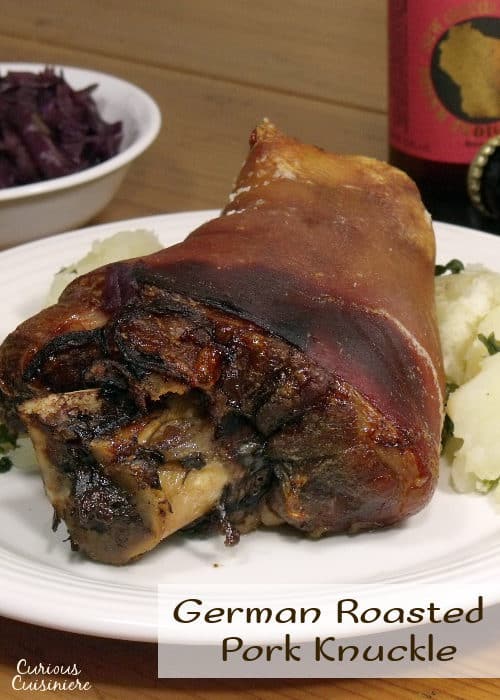 If you liked this recipe, here are some similar dishes you may enjoy!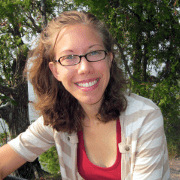 Sarah is one of Curious Cuisiniere's founding duo. Her love for cultural cuisines was instilled early by her French Canadian Grandmother. Her experience in the kitchen and in recipe development comes from years working in professional kitchens. She has traveled extensively and enjoys bringing the flavors of her travels back to create easy-to-make recipes.