Sweet and tangy braised red cabbage, Blaukraut, is a must-have side dish with any German meal and a tasty way to get anyone to enjoy red cabbage.
Braised Red Cabbage
Slow braised, red cabbage is a common German side dish.
It's sweet and sour flavors act as the perfect complement to hearty and meaty dishes like Pork Knuckle and Schnitzel.
Blaukraut, Rotkraut or Rotkohl?
In Germany, you'll find this dish called by different names depending on which region of the country you are in.
Northern Germany calls the dish Rotkohl (pronounced rhot-COAL).
In central and western Germany, it is known as Rotkraut (rhot-CROWT).
While in the southern part of Germany, it is known as Blaukraut (blau-CROWT).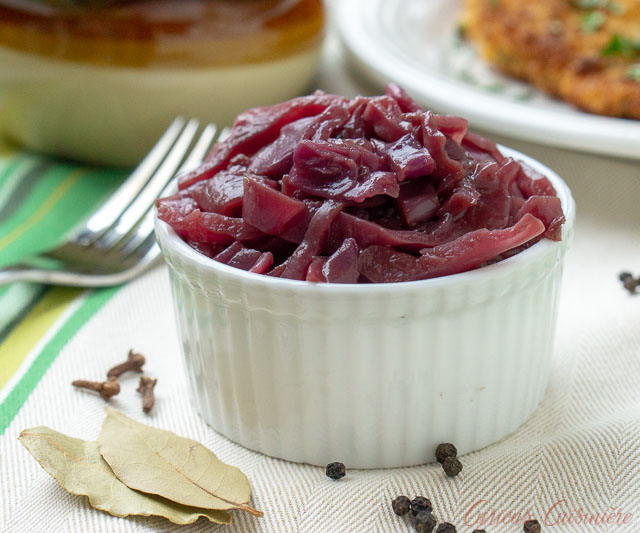 Let's take a little German lesson:
Kohl is the northern word for cabbage, while kraut is the word used in central and southern Germany for the leafy vegetable.
Rot is red and blau is blue.
So, basically, the three names all boil down to a dispute over whether to call the dish blue cabbage or red cabbage.
What color is Red Cabbage?
If you've ever looked at a head of (what we would call) red cabbage. It's really not red.
Is it?
It's actually more of a purple cabbage.
But, here we run into some serious problems. In the Middle Ages, purple was considered the color of royalty. To label a common peasant vegetable with the color of royalty would have been unheard of.
So, the name purple cabbage wasn't an option.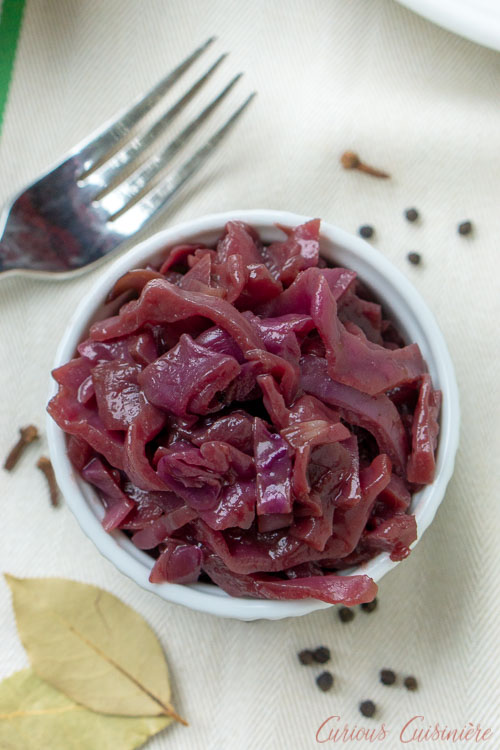 But why can't the north and south of Germany agree on red or blue?
The clue to that answer lies in the dirt.
Literally.
A little cabbage chemistry
You see, the leaf color of red cabbage can vary drastically depending on the pH of the soil.
If the soil is acidic, the leaves will appear more red. If the soil is more alkaline, the leaves will appear more blue.
Northern Germany tends to have more acidic soil. This means that to them, it really was a redder cabbage compared to the folks down south who had cabbage with more blue-hued leaves.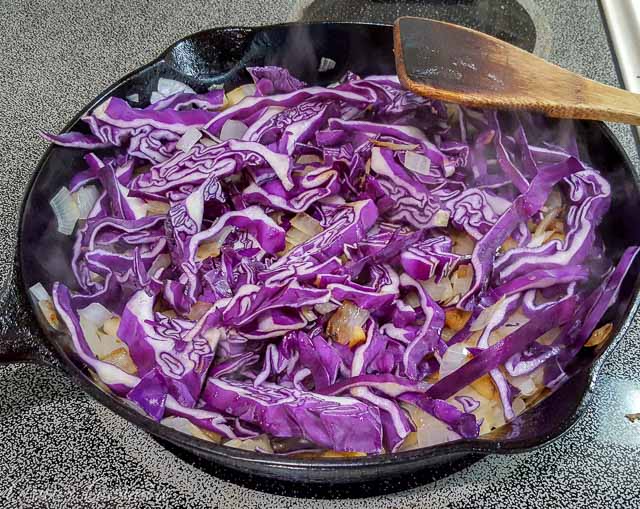 Color changing German red cabbage
Just to make the split more pronounced, the preparation of the cabbage differs between north and south Germany as well.
It turns out, cabbage juice is a natural acid-base tester. This means that it changes colors when subjected to acidic substances verses basic substances. (This makes sense when you think about the fact that the leaves change colors depending on the acidity of the soil.)
So, what happens when you add more acidic ingredients, like lemon juice and vinegar, to your braised cabbage?
It turns a brighter red!
And, that's how they like to cook it in the north.
In southern Germany, they like their cabbage sweeter, rather than more tart. They add apples and extra sugar, rather than extra acid.
Some southern German recipes will even have you add alkaline ingredients, like baking soda, just to ensure that their blaukraut, is, in fact, blau.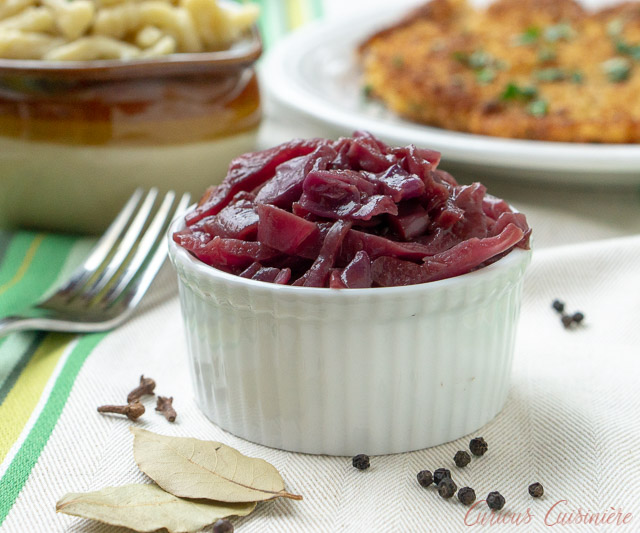 Our Blaukraut (German Red Cabbage) Recipe
The braised cabbage recipe we have for you today uses apples for sweetness, but also includes just a bit of vinegar, giving it a nice, subtle, sweet and sour flavor.
Our cabbage turned out more of a deep purple in color, rather than either red or blue, but that probably has more to do with the Merlot wine we used as a braising liquid.
(The wine gives the cabbage a wonderful deep flavor.)
Red or blue, give braised red cabbage a try for a nutritious, and incredibly easy, side dish.
If you're not a cabbage fan, but you've never tried it braised, we challenge you to give it a try! You just might like it this way!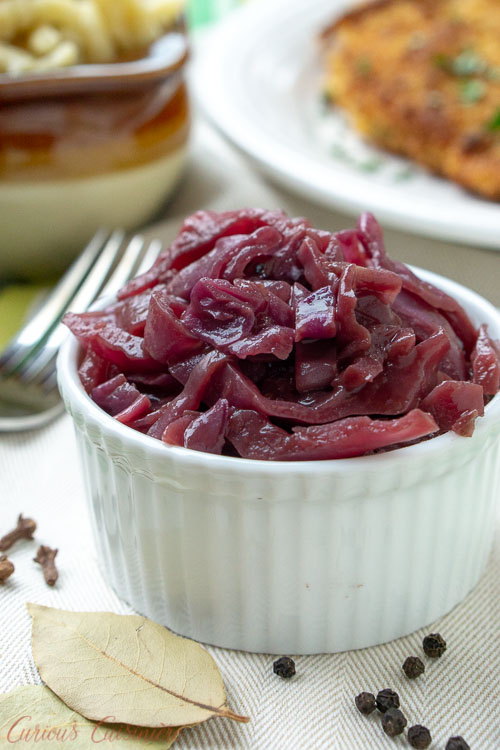 Blaukraut (German Braised Red Cabbage)
Sweet and tangy, slow braised red cabbage, Blaukraut, is a must-have side with any German meal and a tasty way to get anyone to enjoy cabbage.
Ingredients
1

Tbsp

salted butter

1

onion,

diced

1

tart green apple

(like Granny Smith), cored and diced

2

bay leaves

2

whole

cloves

1/2

tsp

whole peppercorns

1

lb

red cabbage,

shredded

1/2

tsp

salt

1

c

dry red wine

(like Merlot)

1/4

c

red wine vinegar

1

Tbsp

unbleached all-purpose flour
Instructions
Melt the butter in a large Dutch oven over medium high heat. Add the diced onions and saute for 2-3 minutes. Add the diced apples and continue to saute 2-3 minutes.

Tie the bay leaves, cloves, and peppercorns together in a cheesecloth. (Optional, but this makes for much easier removal later).

Add the cabbage, spices, salt, red wine, and red wine vinegar. Bring the mixture to a simmer.

Cover and simmer over low heat for 1.5 - 2 hours, checking occasionally to be sure there is enough moisture and the cabbage isn't sticking.

When the cabbage is tender to your liking, sprinkle 1 Tbsp of flour over the cabbage. Mix it in well and continue to cook the cabbage for 1-2 minutes, while any remaining liquid thickens.

This dish can be served immediately (remember to take out the bay leaves, peppercorn, and cloves) or it can be refrigerated for later. Some people swear that the flavor improves with time.
---
We've updated our pictures since we first shared this recipe on Curious Cuisiniere, but we've left some originals here, in case you've found us in the past and are looking for that old, familiar image.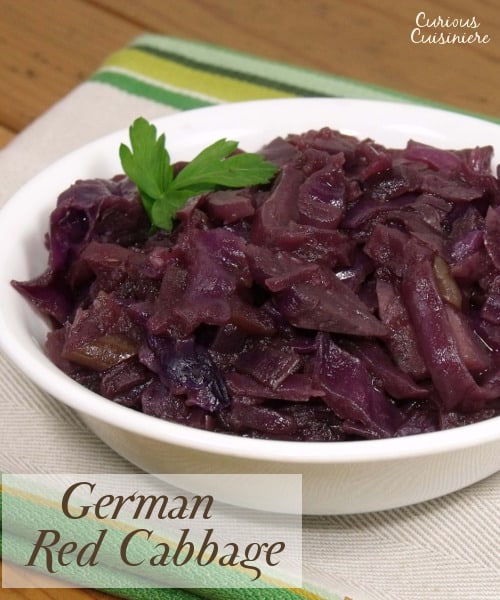 If you liked this recipe, here are some similar dishes you may enjoy!