Have you ever wondered about the different types of wheat flour in the baking aisle? We're breaking down the differences between wheat flour and white flour, self rising and bread flour, even spelt and kamut. This article is everything you could want to know about wheat flour.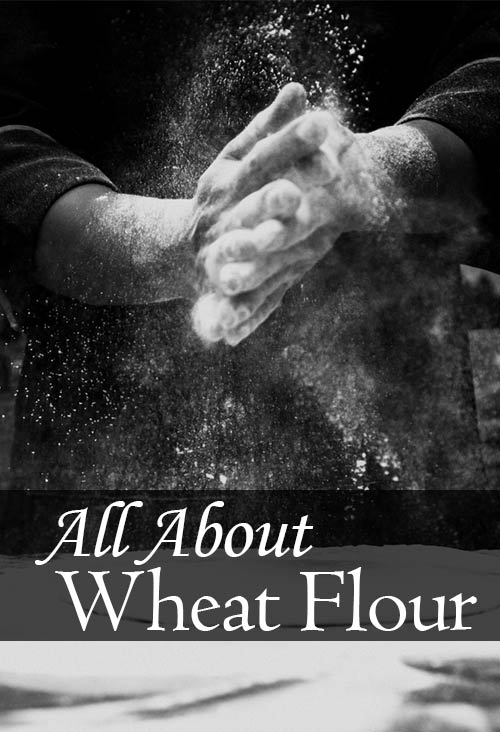 I worked for 5 years at a bread bakery, and while I was there, I was often asked to clear up some confusion or another about flour.
I find, more often than not, people feel silly asking. It seems like such a simple thing. But there is actually quite a bit to learn about flour, and finding yourself confused about all purpose vs bread flour or white wheat vs whole wheat, are to be expected.
For quite some time, all-purpose was the go-to flour for home use.
No one needed to learn about anything more about flour because all-purpose was just that, "all purpose".
Breads, cakes, cookies, pancakes.
It did them all.
But, particularly with the rise in concern and confusion about GMOs (Genetically Modified Organisms) and gluten, people have started looking into their flour and looking into alternative flours.
The increase in a desire to be informed is such a great thing. But, it also means that there are so many conflicting viewpoints, it is sometimes hard to know what is really the truth.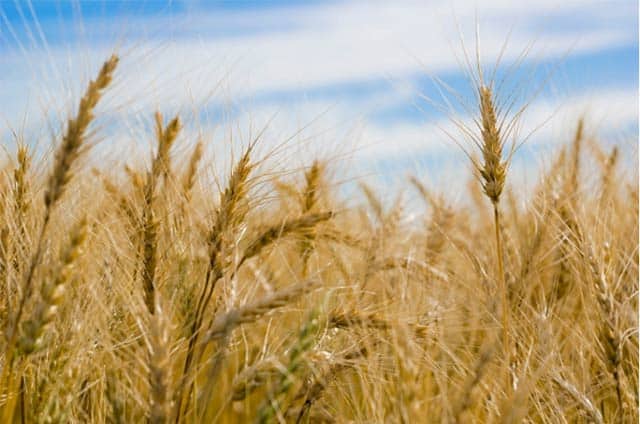 It all starts with a Wheat Berry
A grain of wheat is made up of three parts: the bran, the germ, and the endosperm.
The bran is the hard outer shell, which is made up of mostly fiber.
The germ is the nutrient-rich embryo that would sprout into a new plant.
The endosperm is the largest part of the grain, which is mostly starch.
All-Purpose Flour aka "White Flour"
All-purpose flour (or white flour) is what most people are used to when they think of flour. It is loved for the light color and tender texture that is gives to baked goods.
All-purpose flour is made by separating the endosperm from the germ and bran.
Once separated from the nutrient-rich and fiber-rich portions of the wheat berry, the endosperm is then ground into a powder. (To make up for the nutrient deficiencies, the United States FDA mandates that all all-purpose flour be enriched with vitamins and minerals.)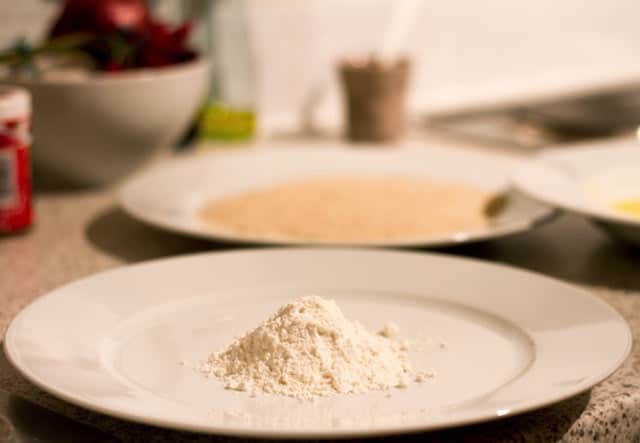 The resulting flour has a yellowish color, which would naturally whiten over time as it was exposed to air (in a process called oxidation).
However, to speed up that whitening process, bleaching and oxidizing chemicals can be added. Some of these chemicals include bromate (a known carcinogen in animals and possibly humans), chlorine dioxide, benzoyl peroxide (which, when baked, creates benzoic acid, a mild skin and eye irritant), and chlorine gas (which decomposes into the poisonous compound hydrochloric acid).
Many producers now offer an un-bleached version of their all-purpose flour. The baking properties for bleached or un-bleached all-purpose flour will be the same. The color of the un-bleached version might just be slightly darker or slightly more yellow.
Whole Wheat Flour
In America, traditional whole wheat flours are ground from the entire wheat berry (the bran, germ and endosperm) of hard red spring wheat.
Whole wheat flour contains all the nutrients of the whole wheat berry and gives a darker color and nutty flavor to breads and baked goods. (Whole wheat flour is sometimes referred to as graham flour.)
All the extra fiber in whole wheat flour does pose one problem for baking. Fiber inhibits gluten (protein) development, which you need for a good rise in your baked goods. This means that whole wheat flour breads won't rise as high as all-purpose flour breads, resulting in a heavier and denser loaf.
White Whole Wheat Flour
The wheat berry used to make white whole wheat flour is a hard white wheat berry.
The bran of this wheat berry lacks the red pigment and some of the hardness of the hard red spring wheat. Many people are switching to using white whole wheat flour in place of all-purpose flour, because it gives the nutritional benefits of whole wheat, with the more tender texture and lighter flavor that we are used to in all-purpose flour.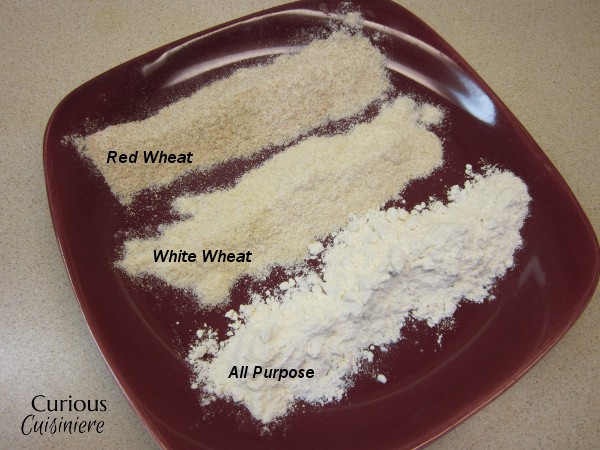 Cake Flour
Cake flour is a fine-textured, white flour with a high starch content and low protein (gluten) content, which keeps cakes and pastries tender and delicate.
It is chlorinated to leave the flour slightly acidic, which helps cakes to set faster. And, this flour is less likely to collapse when used with high ratios of sugar to flour.
You can even make your own cake flour. Make 1 cup of cake flour by measuring 1 cup of all-purpose flour, removing 2 Tbsp of the flour and replacing that with 2 Tbsp of cornstarch.
Pastry Flour
Pastry flour is a soft, white flour with a lower protein (gluten) content (midway between all-purpose and cake flours). This lower protein content causes it to give less rise to baked goods, which is perfect for making pastries which are higher in fat and don't need much rise.
Bread Flour
Bread flour is a white flour with a higher protein (gluten) content that sometimes contains ascorbic acid (which increases the volume and is thought to improve the texture of baked goods that use yeast).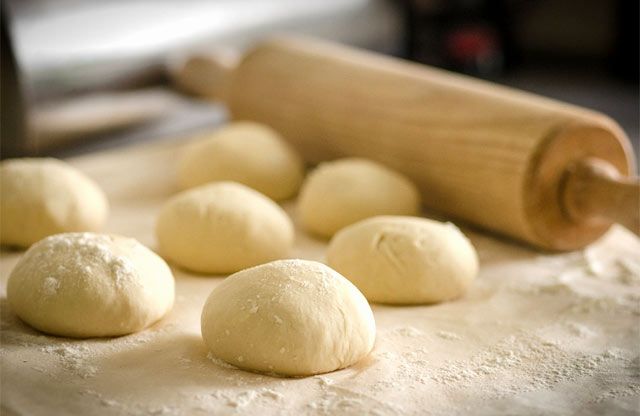 High Gluten Flour
Gluten is the protein that contributes to the chewy texture of breads like bagels and pizza crust. High gluten flour contains a higher level of that protein (even higher than bread flour) to achieve this desirable texture.
High gluten flour is perfect for making chewy things like bagels and pizza crust.
Self Rising Flour
Self rising flour is white flour that already contains baking powder and salt.
You can make your own self rising flour by adding 1 ½ tsp baking powder and ½ tsp salt to each cup of all-purpose flour.
Semolina (Durum) Flour
Semolina flour is made from the hardest kind of wheat, durum wheat. When milled, it creates a more coarse and granular flour that is used primarily in making pasta and couscous.
What Is Kamut?
Kamut is an ancient wheat from Egypt.
It is hard like durum wheat, so it is not typically used in bread baking, but can be use in other baked goods or eaten as whole berries in a pilaf.
What Is Spelt?
Spelt is another ancient strain of wheat from Southeast Asia.
In Italy it is known as 'farro'.
Spelt acts like whole wheat flour in baking and adds a slightly nutty flavor. It can also be eaten as whole berries in a pilaf.
Since spelt is a type of wheat, it does contain gluten.
A Note About Texture When Baking With Whole Wheat Flours
When baking with whole wheat flour, the heavy bran interferes slightly with the gluten development, meaning that your end result will be a bit heavier than what you may be used to with all purpose (white) flour.
This can be eliminated by adding additional gluten (Vital Wheat Gluten) or using half whole wheat and half unbleached all purpose flour.
Keeping Whole Wheat Flour Fresh
While flours that don't contain the germ (white flours) can be stored where it is cool and dry for an indefinite period of time, the oil contained in the germ will oxidize over time, resulting in a rancid flour. Store freshly ground whole grains in a cool and dry place for up to 3 months, in the refrigerator for up to 6 months, or up to a year in the freezer.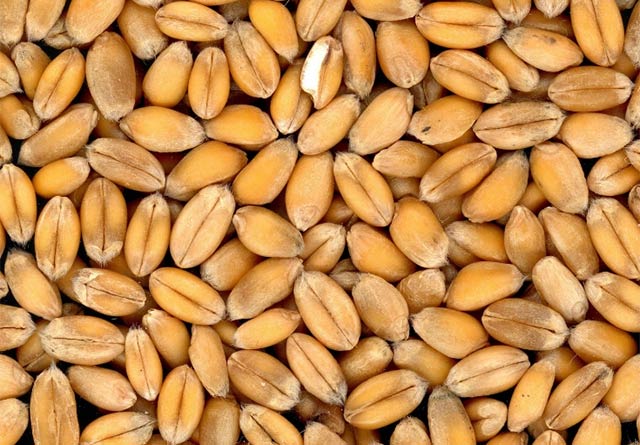 Wheat: Not Just for Flour
Wheat Berries of any variety can be soaked and boiled or sprouted to create tasty dishes or additives to salads.
Cracked Wheat is the whole wheat berry that has been broken into pieces. It adds texture to breads or can be eaten as a cereal.
Bulgur Wheat is cracked wheat that has been partially steam cooked, so it takes less time to cook than cracked wheat.
Wheat Flakes are the wheat equivalent of oatmeal, and can be used as such.
Wheat Bran and Germ are available separately and can be used to increase their individual nutritional properties in your baking.
Wheat Gluten starts as flour that is soaked to activate the gluten. The starch is then washed away, isolating the gluten protein, which is then dried. The end result can be added to low protein flours to increase their tenderness and chewy texture.
If you liked this recipe, here are some similar dishes you may enjoy!