Chinese plum sauce is a lightly sweet, lightly tart, and lightly spiced condiment that is easy to make at home. Our plum sauce recipe is the perfect way to preserve summer plums to be enjoyed all winter long. 
What Is Chinese Plum Sauce?
Chinese plum sauce is a smooth and sticky condiment that brings a nice balance of sweetness, tartness, and spice flavors to whatever dish it accompanies.
It's not quite as sweet and tart as sweet and sour sauce. Rather, plum sauce has a lighter sweetness and tartness. It is also a thicker, more jammy sauce that holds up well to basting and spreading.
Red plums give the sauce a darker purple color, although you can use golden plum for a lighter color.
What Is Chinese Plum Sauce Made Of?
Plum sauce is typically made from a few simple ingredients:
plums
sugar
vinegar
salt
ginger
chiles
Often you will even find plum sauce made from other fruits, most commonly apricot. Or, it will be made from a combination of apricots and plums.
It is also common to add other seasonings to the plum sauce, like garlic, star anise, or Chinese five spice powder. The additional seasonings add different nuances to the flavor of the sauce, and vary depending on the tastes of whoever is preparing it.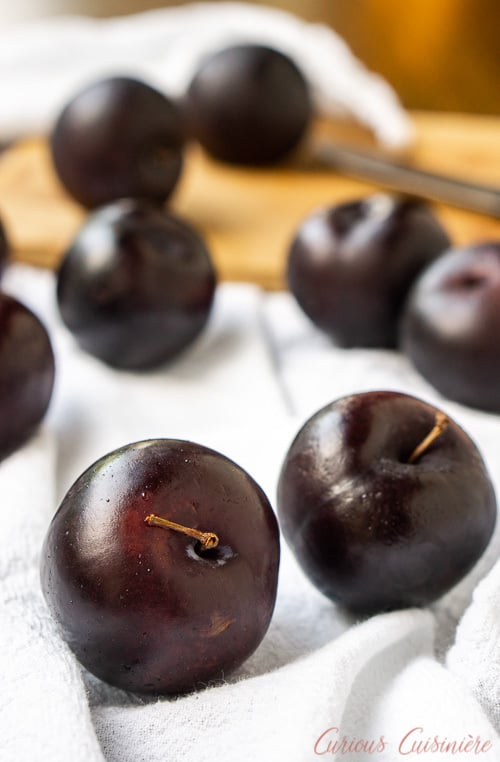 How Do You Make Plum Sauce?
The process to make Chinese plum sauce is quite simple.
Cook your fruit and seasoning
Puree the fruit until smooth
Cook the puree again until thick and jammy
This process is incredibly similar to making any kind of jam, with one exception.
In order to get a truly smooth plum sauce, you need to first cook the plums to soften the skins. Then, the softened plums are pureed, to create a smooth mixture.
This mixture is then cooked like you would do if you make a jam: simmered hard until it is thick and coats the back of a spoon.
Plum sauce can also be canned the same way you would process any jam for canning. So, it is the perfect way to preserve the summer harvest of plums into a condiment that has so many uses.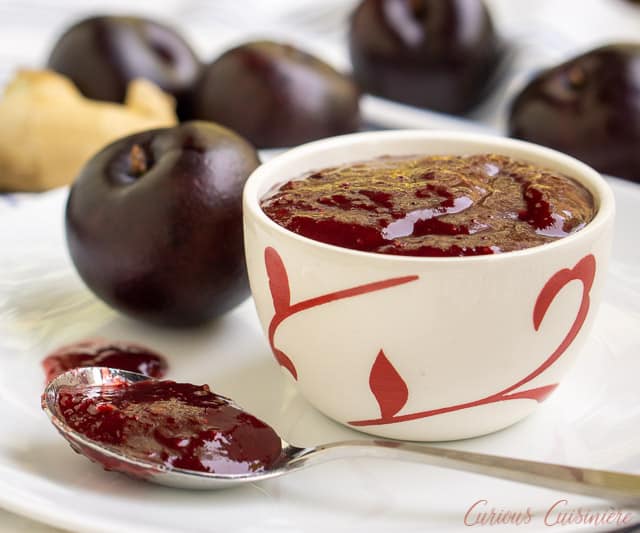 Uses For Plum Sauce
There are so many delicious ways to use plum sauce!
As a sauce for moo shu
A dipping sauce for wontons, egg rolls, spring rolls, and dumplings
A finishing sauce for roasted duck, chicken, shrimp, or pork
With noodles or rice
As a stir fry sauce
A dressing for for an Asian slaw
Basting sauce for duck, chicken, or pork as they cook
Are Plum Sauce And Duck Sauce The Same Thing?
Yes, and no.
Technically, duck sauce is any sauce that is made to go with duck.
And, it is common to eat duck with plum sauce.
However, it's not mandatory.
That's why you'll find a wide range of flavors of sauces that are called "duck sauce".
Are Plum Sauce And Hoisin Sauce The Same Thing?
Plum sauce and hoisin sauce are their own, distinct sauces.
Hoisin sauce is a sauce that is thick like molasses with a similar deep sweetness.
Many of the uses for hoisin sauce and plum sauce are the same, which is probably where the confusion comes.
But, the two are definitely distinct. If you know what to look for, it's easy to tell them apart.
If your condiment is thick, deep, and sweet, more like a Chinese barbecue sauce, then it's hoisin sauce.
If it's lighter, fruity, sweet/tart, and more like a jam, then it's plum sauce.
Our Plum Sauce Recipe
Our plum sauce recipe below makes roughly one cup of sauce. If you'd like to make more sauce for canning, simply scale the recipe up. (We tried to make it easy to scale by using one pound of plums.)
We used apple cider vinegar in our sauce because it gives a nice, fruity flavor and is a common vinegar to have on hand.
However, using rice vinegar would also be a great option and would give the sauce a bit of a lighter, brighter flavor. If you like rice vinegar, definitely give it a try in this recipe!
If you'd like to make this recipe to preserve your summer plums, take a look at our guide to canning, for the basic canning instructions.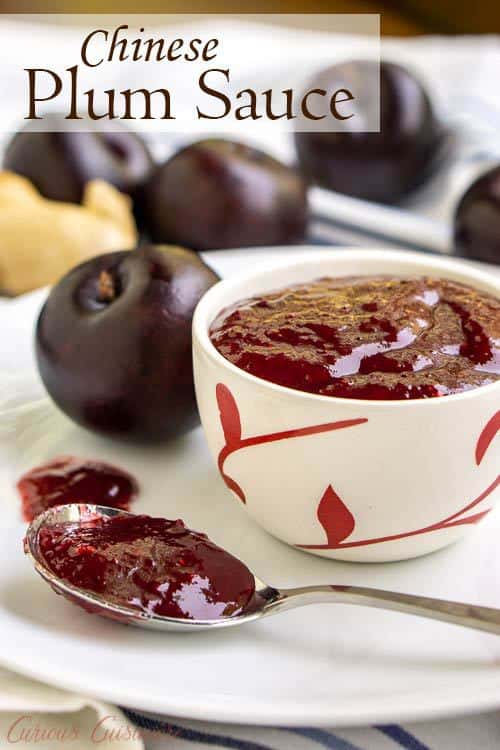 Chinese Plum Sauce
Chinese plum sauce is the perfect recipe to preserve summer plums into a lightly sweet, lightly tart, and lightly spiced condiment that has many uses.
Yield: roughly 1 cup of sauce*
Servings:
8
(2 Tbsp) servings
Ingredients
1

lb

plums,

pitted and chopped

¼

c

apple cider vinegar

½

c

brown sugar

1

Tbsp

soy sauce

1 ½

Tbsp fresh

ginger,

minced

1

clove

garlic,

minced

½

star anise

1/8

tsp dried

chile flakes
Instructions
Combine pitted and chopped plums with the remaining ingredients in a medium saucepan. Bring the mixture to a boil over medium high heat.

Reduce the heat to medium and simmer, uncovered, until the plum skins are very soft, 20 min.

Remove the pan from the heat and remove the half star anise. Puree the mixture with a stick blender until smooth. (Or, let the mixture cool slightly and transfer it to a blender and blend until smooth).

Return the mixture to the heat and bring it to a hard simmer over medium high heat, stirring often to prevent sticking. Cooking until the sauce is thick and jammy, roughly 20 minutes.*

Remove from heat and let cool if refrigerating for up to 3 weeks.
Notes
*Actual cook time and yield will vary depending on the juiciness of your plums and your desired thickness for your sauce.
If you liked this recipe, here are some similar dishes you may enjoy!