Baked Vegetable Egg Rolls are a healthier alternative to that family-favorite take-out treat. Great to freeze for later so you always have some on hand!
Healthier Family Favorites
Today we are very excited to be partnering with American Family Insurance as a part of their #ChooseDreams campaign to help promote healthy, quality living. The Sunday Supper members today are coming together to turn their family favorites and comfort foods into healthier choices that the family will love.
Sounds like a fun challenge. Doesn't it?
Tim and I had such a fun time reminiscing about old favorite recipes that we could make healthier by sneaking in veggies, going with a leaner meat, or finding other substitutions that would be tasty, but still satisfy that nostalgic longing.
The cool thing was, as we went through these family favorites, many of them either didn't need too much remaking or we had already made over. Like Shepherd's Pie that we have made lean with turkey, Stuffed Peppers vegified with beans, and Spaghetti with Homemade Meatballs that use spices rather than a fatty meat for flavor. (Thanks for teaching us to love healthier food mom!)
But, what to make for today?
Healthier Homemade Egg Rolls
Then, I thought about the easy Asian nights my family would have. My mom would pop some frozen egg rolls into the oven and whip up a batch stir fry or fried rice with extra veggies to balance out the egg rolls. We knew they weren't the best for us, but they were a treat.
Tim's family didn't eat egg rolls much, only occasionally when they ordered takeout. But, in recent years, my obsession with them has definitely worn off on him, and they have become a family favorite in this house too.
If you managed to dig through our freezer right now, you would find a box of frozen egg rolls. But, only until that box is gone. I promise.
There really is no point to buy them any more, because, these Baked Vegetable Egg Rolls are lower in calories, fat, sugar, and salt than the store-bought version that we currently have in our freezer.
And, they're not difficult to put together at all.
Making Baked Vegetable Egg Rolls
We used our own Homemade Egg Roll Wrappers for these. (Actually, we had some frozen from our last Egg Roll post, and they thawed like a dream!) But, you could purchase Egg Roll Wrappers (or the large, 5″, Wonton Wrappers) from the store to save time. The wrappers are typically found in the produce section of your grocery store, near the ginger, sprouts, and greens.
Once you have the wrappers out of the way (and making your own really only takes an extra 20 minutes), all that is needed is to saute up your veggies, roll them up, and bake them to a crisp.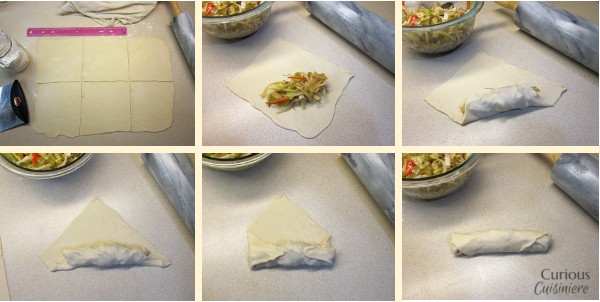 Sure, you can't quite get that deep-fried golden crunch, but these Baked Vegetable Egg Rolls do deliver a smooth crispness that satisfies just as well.
And don't forget the Sweet and Sour Sauce! (You don't even have to tell your family that this version is primarily fruits and vegetables!)

Baked Vegetable Egg Rolls
Yield: 24 Egg Rolls
Author:
Sarah | Curious Cuisiniere
Ingredients
For the Filling
2 tsp oil (peanut or canola)
2 garlic clove, minced
1" fresh ginger, peeled and chopped
½ sweet onion, sliced
1 celery stalk, sliced
2 carrots, sliced into matchsticks
½ red pepper, sliced
½ lb cabbage, sliced thin
¼ lb bean sprouts
2 Tbsp rice vinegar
2 tsp soy sauce
1 tsp white sugar
For the Rolls
24 (5") Egg Roll Wrappers
1 Tbsp oil or cooking spray (for greasing the pan and brushing the rolls before baking)
Instructions
(If making your own Egg Roll Wrappers using This Recipe, make the wrapper dough first and allow it to set while you prepare the filling.)
For the Filling
Heat oil in a large wok or frying pan.
Add ginger and garlic, and sauté until fragrant, 30 seconds.
Add onion, celery, carrots, and red pepper, and sauté 1-2 minutes, until the onions begin to soften.
Add sliced cabbage, bean sprouts, vinegar, soy, and sugar. Toss well and continue to sauté for 1-2 minutes, until the cabbage begins to soften.
Remove the filling from the heat and let cool slightly before filling egg rolls.
For the Rolls
Preheat oven to 450F.
Place one egg roll wrapper on the counter with a point facing you.
Spread 1 Tbsp of filling in a line, slightly below center of the wrapper.
Start by rolling the bottom corner over the filling, tightly, until you reach just above half of the wrapper. Then, fold in the two side corners. Lightly brush the final corner with some water to help it stick better, and finish rolling up the rolls away from you.
Place, seam-side down, on a greased baking sheet.
Continue with the remaining wrappers and filling.
Brush with oil or spray with cooking spray.
Bake for 15-20 minutes, until golden and crisp.
Nutrition Information
Serving size:
1 egg roll
Calories:
112
Fat:
1.5g
Carbohydrates:
20.5g
Sugar:
.9g
Sodium:
214mg
Fiber:
1.1g
Protein:
3.6g
Cholesterol:
3mg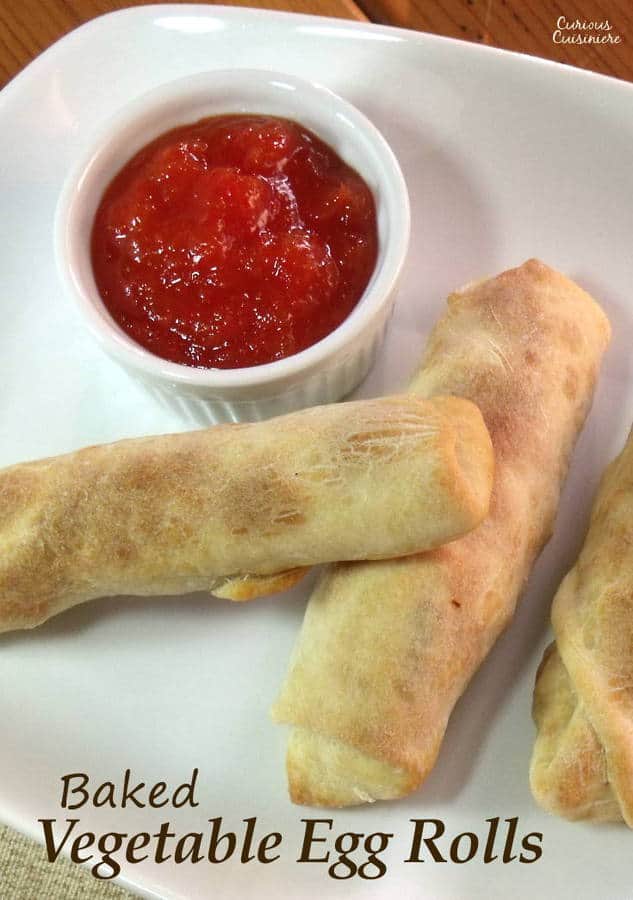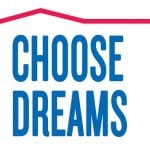 Be sure to follow American Family's Family Favorites Turned Healthy #ChooseDreams Pinterest board for more healthy meal inspiration!
For more information on American Family Insurance, visit their Facebook, Twitter, Pinterest, Google +, Youtube and LinkedIn pages!
Then, take a look at how the Sunday Supper crew is lightening up their family favorite recipes. Maybe you'll discover your family's new favorite!
Thanks to Katie of Ruffles & Truffles for hosting this week's event. 
Savory
Angel Hair & Zucchini Noodles with Fresh Tomato Sauce by Ruffles & Truffles
Baked Vegetable Egg Rolls by Curious Cuisiniere
Beef Stroganoff by Country Girl in the Village
Buffalo Cauli-Tots by Cupcakes & Kale Chips
Corn and Crab Chowder by The Dinner-Mom
Crab Cake Salad by Family Foodie
Grilled Portabella Mushrooms On Red Pepper Slaw with Cucumber Dressing by Seduction In The Kitchen
Healthy Chicken Salad by Run DMT
Lighter Beef Tacos by Alida's Kitchen
Meatballs with Vegetable Noodles and Fresh Tomato Sauce by The Girl In The Little Red Kitchen
Roasted Cauliflower Mac & Cheese by The Messy Baker
Spaghetti Squash with Mushrooms and Spinach by Cindy's Recipes and Writings
Superfood Pancakes by girlichef
Tex Mex Enchilada Skillet Lasagna by Neighborfood
Zucchini Meat Lasagna by Peanut Butter and Peppers
Sweet
Chewy Coconut Granola Bars by Savvy Eats
Enlightened Southern Banana Puddings by The Weekend Gourmet
Mom's Fruit Salad by Magnolia Days
Strawberry Vanilla Canapés by The Not So Cheesy Kitchen
Zucchini Carrot Snack Cake by The Foodie Army Wife
Join the #SundaySupper conversation on twitter on Sunday! We tweet throughout the day and share recipes from all over the world. Our weekly chat starts at 7:00 pm ET. Follow the #SundaySupper hashtag and remember to include it in your tweets to join in the chat. Check out our #SundaySupper Pinterest board for more fabulous recipes and food photos.
Would you like to join the Sunday Supper Movement? It's easy! You can sign up by clicking here: Sunday Supper Movement.
This post is sponsored by American Family Insurance. All opinions are my own.
If you liked this recipe, here are some similar dishes you may enjoy!