All the flavor of a Reuben sandwich in a little hand-held appetizer, these Baked Reuben Egg Rolls are the perfect recipe for a St. Patrick's Day party or any party!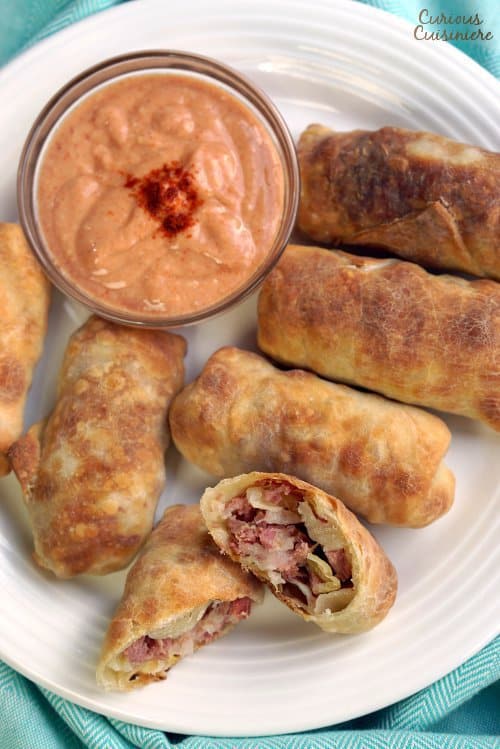 We've mentioned before how much we love St. Patrick's Day. The food, the beer, and the whole atmosphere makes people happy and brings friends together.
Everyone's Irish on St. Patrick's Day. Right?
Authentic Irish Food
Some say traditional Irish food is a bit bland, but Irish-Americans have really taken to the St. Patrick's day celebration as an excuse to go wild with Irish-inspired culinary creativity.
We have shared some traditional Irish dishes like Potato Pancakes, Dublin Coddle, and North Ireland Soda Bread. And, of course, you can't forget the Irish-American St. Patrick's Day classic, Corned Beef and Cabbage.
We've also shared some Irish and Irish-American inspired fusion dishes like Corned Beef Cabbage Rolls and Guinness Baked Beans.
Today, we have another serious fusion dish for you: Corned Beef Egg Rolls, also known as Reuben Egg Rolls.
Corned Beef Egg Rolls
We were first introduced to Reuben egg rolls at the Irish pub where we had the rehearsal dinner for our wedding. Tim's parents planned a wonderful party, and everyone raved about the food, particularly the corned beef egg rolls.
One bite of the crispy and super flavorful corned beef appetizer, and Tim and I knew that we had to try making these at home.
Our Baked Reuben Egg Roll Recipe
True to our fashion, we wanted our Reuben egg rolls, but we didn't want to mess with the mess of deep frying. We wanted them baked.
And, we decided this would be the perfect way to put our homemade wonton wrappers to a very good use.
Take a look at how easy these Reuben egg rolls are to put together!
Reuben Egg Rolls: Don't Forget The Sauce!
So, how did our baked egg rolls stack up?
Crispy on the outside with the perfect flavor of a Reuben sandwich from ample corned beef, Swiss cheese, and sauerkraut in the filing.
In a word, they were fantastic!
Sure, you do trade in the more delicate, crispy, deep-fried crunch for a more firm crispness when baking these corned beef egg rolls.
But, cutting the deep fried calories and eliminating that frying hassle, means you don't have to feel guilty about reaching for a second… or third.
And please, don't forget to whip up some homemade Russian dressing! You have to have Russian dressing on a Rueben!
Baked Reuben Egg Rolls
All the flavor of a Reuben sandwich in a little hand-held appetizer, these Baked Reuben Egg Rolls are the perfect recipe for a St. Patrick's Day party or any party!
Yield: 1 dozen (3-4 inch) egg rolls
Instructions
Preheat oven to 425F.

In a medium bowl, mix corned beef, cheese, and sauerkraut.

Spread ¼ c of the filling in a line in the center of each wonton wrapper, leaving the corners empty. Fold the bottom corner up over the filling.

Moisten the unfolded edges of the wrapper with a little water. Then fold in the two sides. Finally, roll the egg roll towards the last corner to tightly wrap the filling.

Place the egg rolls, seam side down, on a greased baking sheet. Spray the tops with cooking spray or lightly brush the tops with oil.

Bake 20-25 minutes, until golden and crisp.
Notes
Recipe updated March 2017. We made the Reuben Egg Rolls even better! Enjoy!
Nutrition
Serving:
2
egg rolls
|
Calories:
318
kcal
This is one of the recipes from the early days of Curious Cuisiniere. We've updated our pictures since we first made it, but we've left the original images here as a fun throwback and shout out to how far we've come. Enjoy!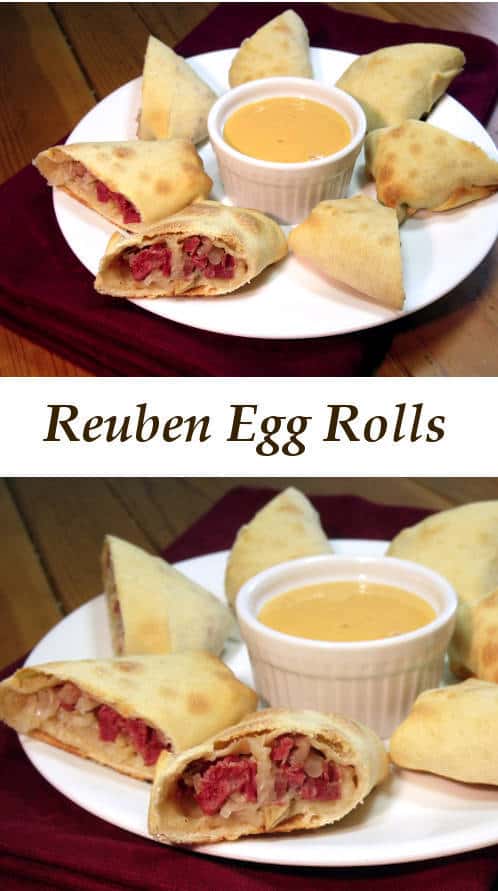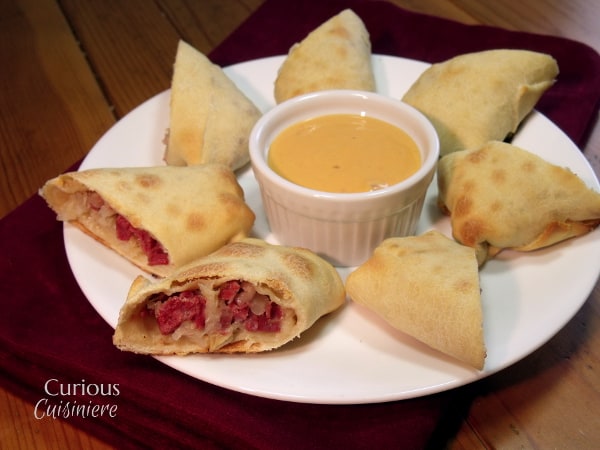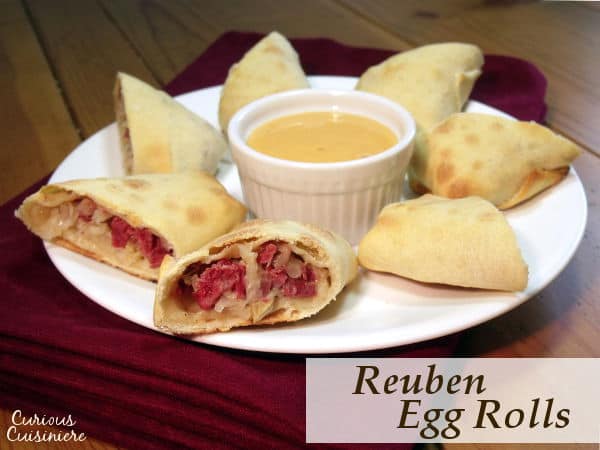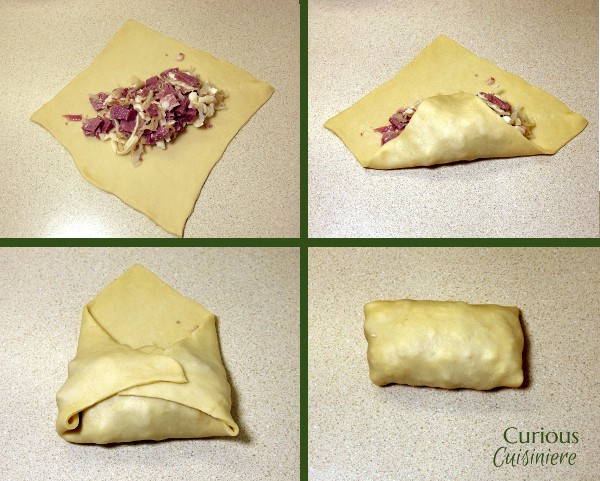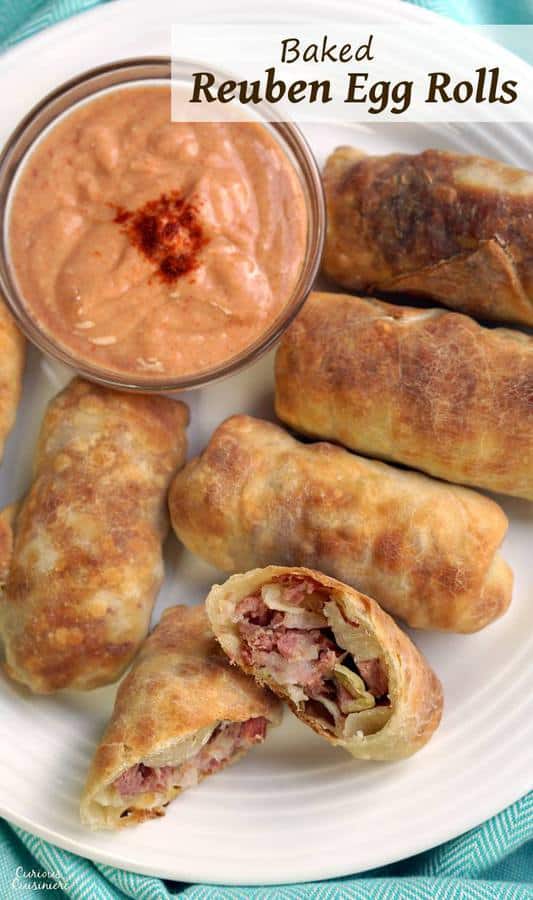 If you liked this recipe, here are some similar dishes you may enjoy!