A unique, meatless meal, Salmon Pie is a seafood take on the classic French Canadian meat pie. With its flavorful filling, you're sure to be asking for a second piece! 
Canadian Salmon Pie
Salmon pie is a variation on a classic Canadian Christmas meat pie from Quebec called a tourtiere. Tourtiere is a savory pie with a flavorful filling of ground pork loin and mashed potatoes.
Salmon pie takes the same meat pie concept, but uses flaked, cooked salmon that is seasoned and mixed with mashed potatoes.
New England Gets Salmon Pie
This pie brings back fond memories for me from my childhood. It was always a special treat when Mom would make savory pies for dinner, and this was one of her specialties from her New England and French Canadian roots.
With all the flavor that greets you upon your first steaming bite of salmon pie, you would think that the filling was some difficult combination of ingredients and techniques. When I received the recipe from my Mom, I looked at it and said, "Really, that's all?"
It doesn't boast any fancy ingredients or complex spicing. It simply lets the light, yet distinct, flavor of salmon encased in a flaky crust speak for itself.
Using Mashed Potatoes In Your Salmon Pie
For the mashed potatoes in the filling of your salmon pie, you can use anything you have leftover in the fridge, seasoned or not. Either works well.
The neat thing about this recipe is that the flavor profile can change slightly depending on what potatoes you use. Garlic mashed potatoes give the pie a nice garlic kick. Seriously herbed mashed potatoes give the pie a bit more savory robustness.
It's nice to change things up, but it's nice that the pie is just as tasty with plain, simple, unseasoned mashed potatoes too.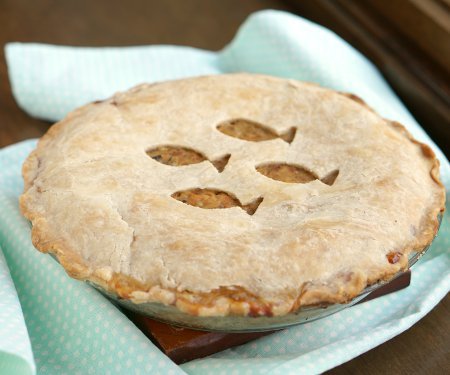 Salmon Pie
A unique, meatless meal, Salmon Pie is a seafood take on the classic French Canadian meat pie. With its flavorful filling, you're sure to be asking for a second piece!
Yield: 1 (9 inch) pie
---
Ingredients
For the Crust (Or use your favorite pie crust.)
1 1/2

tsp

salt

3/4

c

canola oil or light olive oil

6

Tbsp

ice cold water
For the Filling
1

Tbsp

butter

1

onion,

diced

1

garlic clove,

minced

2

(15 oz) cans

salmon

(drain and reserve the liquid) flaked and skin and bones removed

3

c

mashed potatoes

1/4

tsp

ground black pepper

Salt

(to taste)
Instructions
For the Crust
In a large bowl, mix together flour and salt.

Mix in the oil with a fork until no dry flour remains and the mixture is about the consistency of peas.

Add the water and mix with a form until the dough comes together and cleans the sides of the bowl. (If it doesn't come together nicely, add more oil, 1 tsp at a time.) Press the dough firmly into a ball and wrap it in plastic wrap until you are ready to use it.
For the Filling
Heat butter in a large skillet. Add the onion and garlic. Sauté over medium heat until the onions soften, 3-5 min.

Remove the pan from the heat. Add the flaked and de-boned salmon, mashed potatoes, and pepper. Mix well, until an even mixture forms. Add the reserved canned salmon liquid as necessary so that the filling is not dry, but not too wet either. (You will probably need about half of the canned salmon liquid.)

Taste the filling and add salt as desired.
Putting It All Together
Preheat your oven to 425F.

Divide the pie crust dough into two portions. Set one aside, covered, for later. Roll the other, between two pieces of wax paper, into a 12 inch circle.

Place the crust into a 9 inch pie pan.

Spoon salmon filling into bottom crust, making sure the top is even.

Roll out the remaining crust dough, between two pieces of wax paper, to a 10 inch circle. Cut steam slits into the crust.

Dampen the edge of the bottom crust with a little cold water, and place the top crust over the pie. Press the edges firmly together, and flute as desired.

Cover the pie loosely with aluminum foil and bake for 30 minutes.

Remove the aluminum foil and bake for an additional 10-20 minutes, until the crust is golden.

Remove the pie from the oven and let it stand for 10 minutes before serving.
---
---
This is one of the recipes from the early days of Curious Cuisiniere. We've updated our pictures since we first made it, but we've left the original images here as a fun throwback and shout out to how far we've come. Enjoy!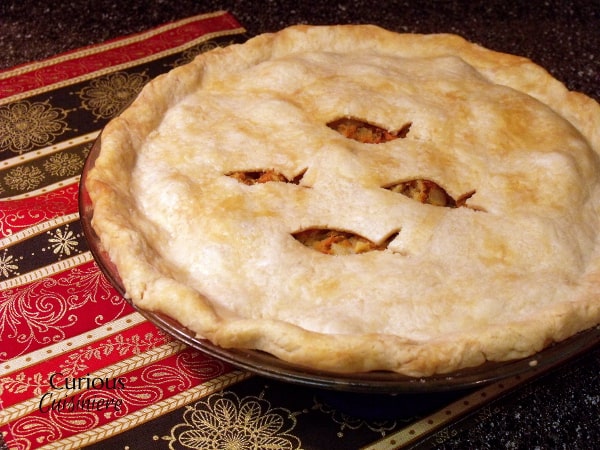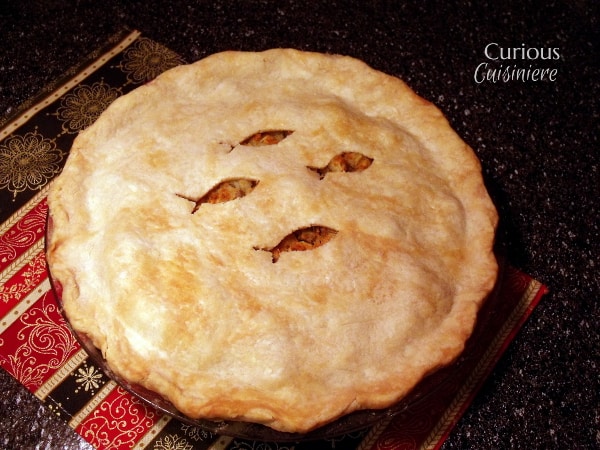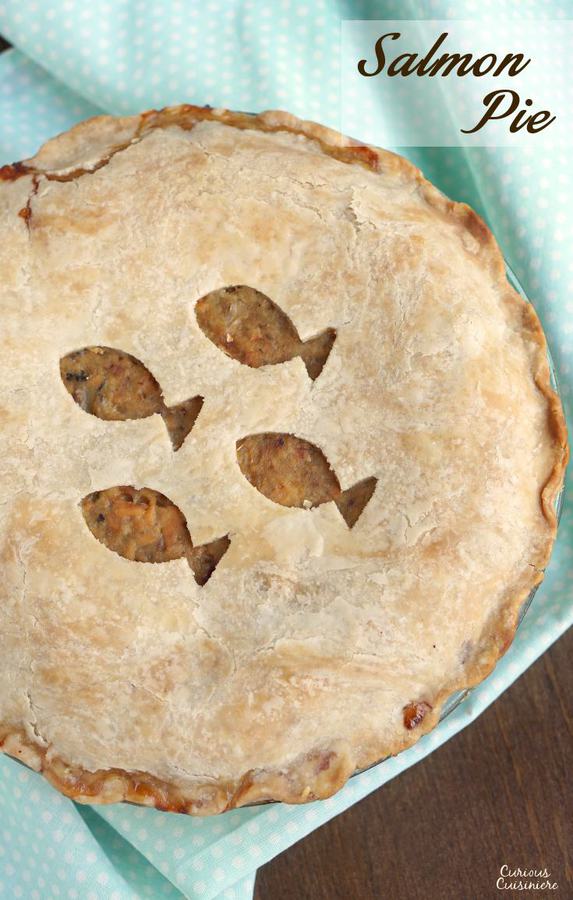 If you liked this recipe, here are some similar dishes you may enjoy!