Our Cajun Blackened Salmon is bursting with robust, New Orleans flavors and finished off with a crispy garlic skin.
How Do You Like Your Fish?
One of our new years 'foodie' resolutions, if you will, was to start cooking more fish.  It's not that we don't like fish, because we really do.  I think we just find it a bit intimidating, since we're not used to cooking it.
We love salmon, so it's a perfect place for us to start getting more familiar with cooking seafood.
Our Easy Cajun Blackened Salmon Recipe
"Blackened" is a Cajun cooking technique where food is coated in a layer of spices and/or herbs and then cooked in a very hot skillet.
The seasonings toast, and sometimes even char, but they form a protective skin around the meat so that it remains perfectly cooked.
In this very simple preparation, we've seasoned our salmon with our Cajun seasoning mix, it brings classic New Orleans flavors together using spices that you probably already have in your pantry. So, there's no need to get a special bottle of seasoning when you're craving some New Orleans flavor!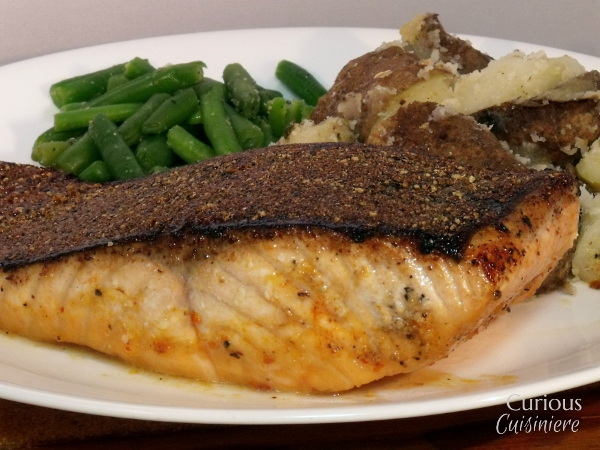 Cajun Blackened Salmon
Author:
Sarah | Curious Cuisiniere
Instructions
In a small bowl, whisk together 2 Tbsp olive oil and the Cajun seasoning.
Place salmon in a flat-bottomed dish and rub the seasoned oil all over the non-skin side. Let fish marinade, covered, for 1 hour in the refrigerator.
When you are ready to cook the fish, heat 1 tsp of oil in a non-stick skillet over medium-high heat.
Place salmon in the hot skillet, skin-side up. Cover the skillet and cook for 3-5 minutes, until the fish is cooked ⅓ of the way up.
Flip fish in the pan, adding more oil if necessary. Cover the pan and continue to cook the fish for 5-7 minutes, until the salmon is firm and flaky.
Serve immediately.
Notes
This recipe was updated February 2017. Enjoy!
If you liked this recipe, here are some similar dishes you may enjoy!