You might not be able to spell the name of these festive German Spice Cookies, but Pfeffernusse are a Christmas treat for anyone who enjoys gingerbread.
German Pfeffernusse Cookies
This year, we decided to make a classic German Christmas cookie, Pfeffernüsse.  Think of these cookies like the German version of a molasses cookie, but spicier, like a gingerbread.
They are soft, dense and chewy. I can't stop thinking of gingerbread when I eat them, which is strange, because there isn't any ginger in there. Rather than ginger, the spiciness in these cookies comes from a mix of cinnamon, anise and pepper.
Pepper? In cookies?
That's right, there is pepper in these cookies. Don't give up on them yet. They're sure to win you over with their warm spiciness.
Pfeffernusse actually means "pepper nuts," so the spice in these cookies comes as no surprise. Contrary to the name's suggestion, there are no nuts in these cookies. They get that part of their name from the fact that they are small cookies, about the size of whole nuts.
German Spice Cookies with a loving sugar coating
The warm cookies are tossed in powdered sugar to give them a snowy coating that brightens the spice with just the right amount of light and airy sweetness. It is the perfect deep and soft, dense and light contrast for this holiday cookie.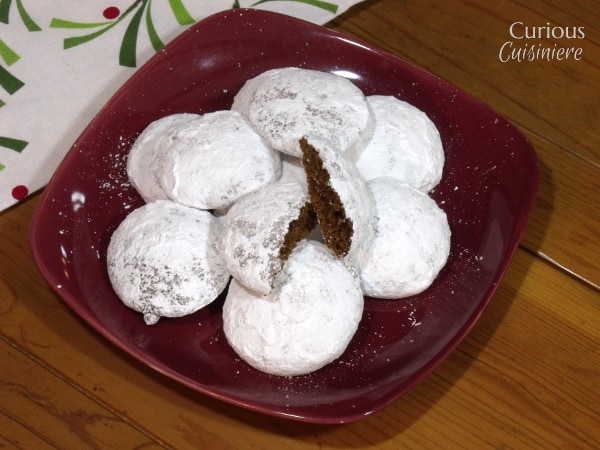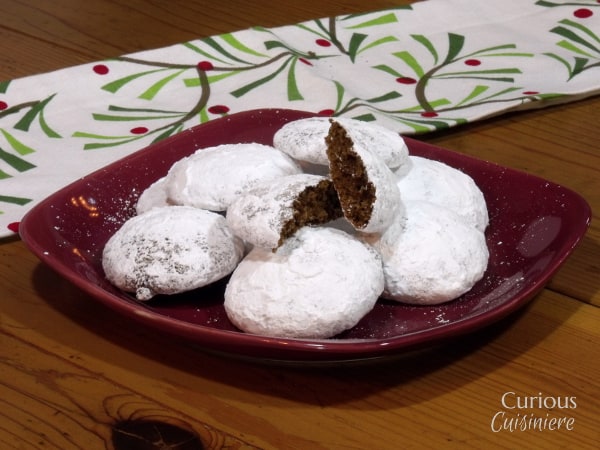 Pfeffernüsse (German Spice Cookies)
Refrigerating this dough overnight lets the flavors come together and mellows the spiciness of the pepper.
Yield: 3 dozen
---
Ingredients
½

c

brown sugar

½

c

molasses

2

Tbsp

salted butter

2

tsp

fresh orange zest

(roughly ½ of a large orange)

2

eggs

½

tsp

cinnamon

½

tsp

ground black pepper

½

tsp ground

anise

¼

tsp

baking soda

1 ½

c

powdered sugar

(for topping)
Instructions
In a large bowl, cream together brown sugar, molasses, butter, zest and eggs. Beat until light and creamy.

Add flour and spices to the wet ingredients. Mix until well combined.

Shape the dough into a ball. Wrap the dough in plastic wrap and refrigerate it overnight. (This allows the flavors to come together and the peppery-ness of the dough to mellow.)

When you are ready to bake your cookies, preheat your oven to 350F.

Remove the dough from the refrigerator and shape into 1" balls. (If the dough is too sticky, slightly grease your hands to shape.) Place the dough balls 1" apart on a greased baking sheet.

Bake for 15 minutes, until puffy and firm.

Remove immediately from the baking sheet and let cool for 10 minutes on a wire rack.

Place the powdered sugar in a paper bag. Add the cookies 2-3 at a time and toss them in the powdered sugar. (The cookies should be cool enough that the powdered sugar doesn't melt, but warm enough that it slightly sticks.)

Return the coated cookies to the wire rack to finish cooling.

Store in an air-tight container for up to a week.
---
If you liked this recipe, here are some similar dishes you may enjoy!