You might not be able to spell the name of these festive German Spice Cookies, but Pfeffernusse are a Christmas treat for anyone who enjoys gingerbread.
Christmas In Germany
In December in Germany, you will often find Advent calendars counting down the days to Christmas.
You'll also find Christmas markets selling Christmas decorations, gluhwein (mulled wine), stollen, gingerbread, and other treats.
Christmas trees were first used in Germany during the Middle Ages.
Families often set up the Christmas tree on Christmas Eve as a way to start the Christmas celebrations. Presents are also typically exchanged on Christmas Eve, when Christkind (a cherub angel representing the Christ child) brings presents for the children.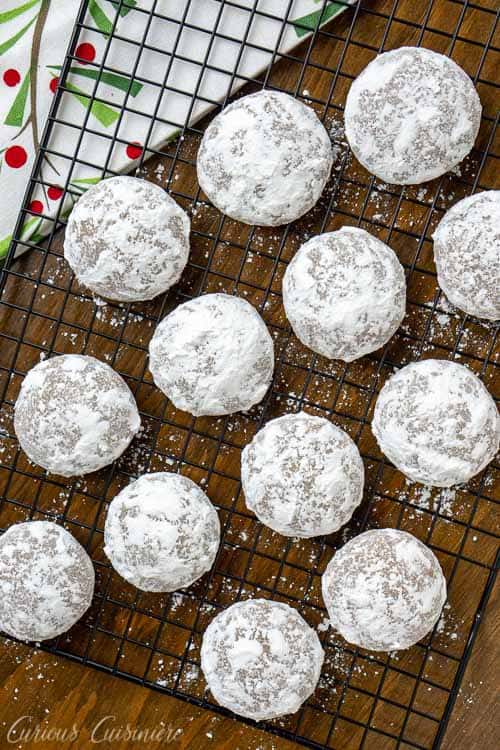 Christmas Day is time to enjoy a large meal celebrated with family.
In Germany December 26th is also a Holiday, to relax or celebrate with family you weren't able to see the day before.
German Pfeffernüsse Cookies
This year, we decided to make a classic German Christmas cookie, Pfeffernüsse.
Think of these cookies like the German version of a molasses cookie, but spicier, like a gingerbread.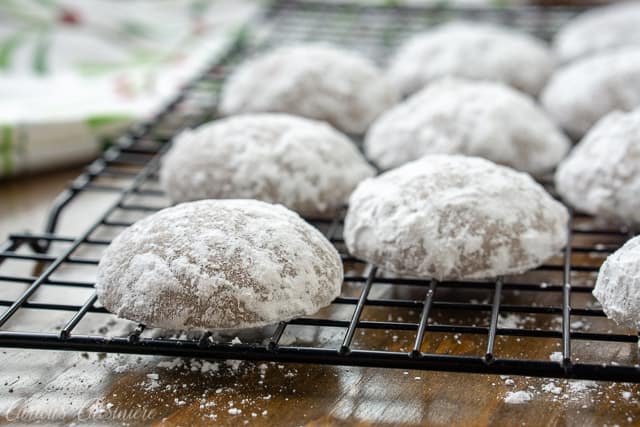 These spice cookies are soft, dense and chewy.
I can't stop thinking of gingerbread when I eat them, which is strange, because there isn't any ginger in there. Rather than ginger, the spiciness in these cookies comes from a mix of cinnamon, anise and pepper.
Pepper? In cookies?
That's right, there is pepper in these cookies. Don't give up on them yet. They're sure to win you over with their warm spiciness.
Pfeffernüsse actually means "pepper nuts," so the spice in these cookies comes as no surprise.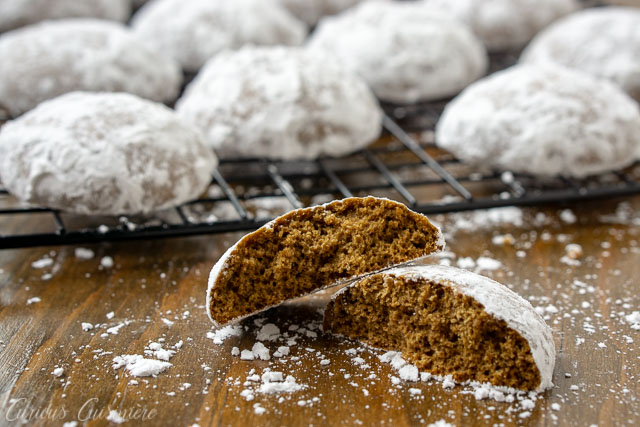 Contrary to the name's suggestion however, there are no nuts in these cookies. They get that part of their name from the fact that they are small cookies, about the size of whole nuts.
German Spice Cookies with a loving sugar coating
You will often find Pfeffernüsse coated one of two ways, either with a hard icing coating or a powdered sugar coating.
We've gone the powdered sugar route, for the simple fact that it's a bit easier than the hard icing glaze, but either way, the light sugar coating adds a nice contrast to the spicy cookie.
To get a nice powdered sugar coating, still slightly warm cookies are tossed in powdered sugar, giving them that beautiful snowy coating that brightens the spice with just the right amount of light and airy sweetness.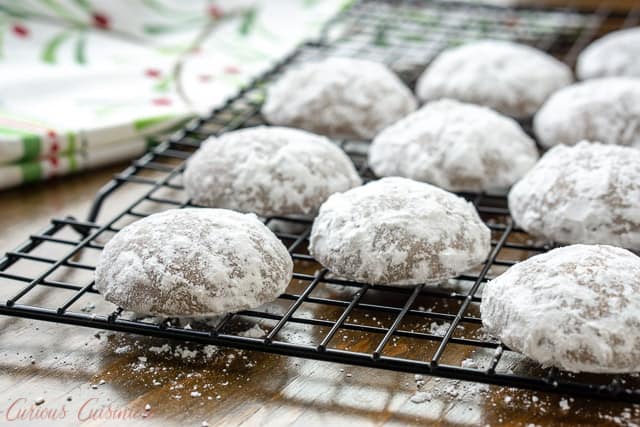 It really is the perfect deep and soft, dense and light contrast for this Christmas cookie.
Yield: 3 dozen cookies
Pfeffernüsse (German Spice Cookies)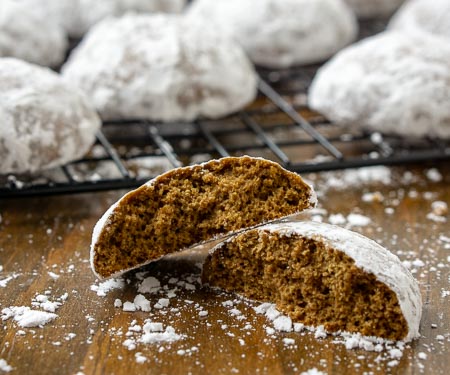 Pfeffernüsse are a classic German Christmas cookies. This spice cookie is a must-try for any gingerbread lovers!
While not 100% necessary, refrigerating this dough overnight does help the flavors of the cookie really come together.
Ingredients
½ c brown sugar
½ c molasses
¼ c salted butter
2 tsp fresh orange zest, (roughly ½ of a large orange)
2 eggs
½ tsp cinnamon
½ tsp ground black pepper
½ tsp ground anise
¼ tsp baking soda
½ - 1 c powdered sugar, (for coating)
Instructions
In a large bowl, cream together the brown sugar, molasses, butter, zest and eggs. Beat until light and creamy.
Add the flour and spices to the wet ingredients. Mix by hand until well combined.
Shape the dough into a ball. (It will be slightly sticky.) Wrap it in plastic wrap and refrigerate it overnight. (While not a 100% necessary step, resting allows the flavors to come together and the peppery-ness of the dough to mellow.)
When you are ready to bake your cookies, preheat your oven to 350F.
Remove the dough from the refrigerator and shape into 1" balls (roughly 1 Tbsp of dough). (If the dough is too sticky, slightly grease your hands.) Place the dough balls 2" apart on a greased baking sheet.
Bake the cookies for 12-15 minutes, until puffy and firm to the touch.
Remove the cookies immediately from the baking sheet and let them cool for 10 minutes on a wire rack.
Place the powdered sugar in a paper bag. Add the cookies 2-3 at a time and toss them in the powdered sugar. (The cookies should be cool enough that the powdered sugar doesn't melt, but warm enough that it slightly sticks.) If necessary, toss the cookies twice in powdered sugar, to get a nice coating.
Return the coated cookies to the wire rack to finish cooling.
Store the pfeffernusse an air-tight container for up to a week.
Notes
This recipe from 2014 was updated in 2018. We made the cookies even better! Enjoy!
Recommended Products
As an Amazon Associate and member of other affiliate programs, We earn from qualifying purchases.
Nutrition Information:
Yield:
18
Serving Size:
1 cookie
Amount Per Serving:
Calories:

150
We've updated our pictures since we first shared this recipe, but we've left some originals here, in case you've found us in the past and are looking for that old, familiar image.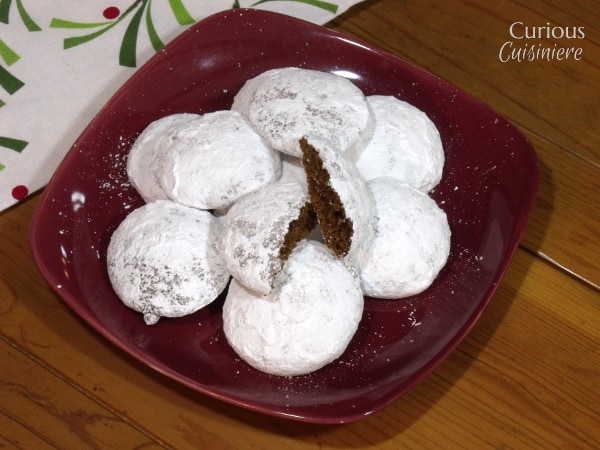 If you liked this recipe, here are some similar dishes you may enjoy!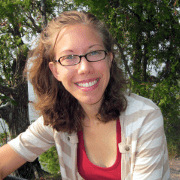 Sarah is one of Curious Cuisiniere's founding duo. Her love for cultural cuisines was instilled early by her French Canadian Grandmother. Her experience in the kitchen and in recipe development comes from years working in professional kitchens. She has traveled extensively and enjoys bringing the flavors of her travels back to create easy-to-make recipes.