This German Stollen recipe makes a rich, fruit-studded loaf that is a festive and tasty German Christmas bread, perfect for celebrating with family or bringing to a holiday party!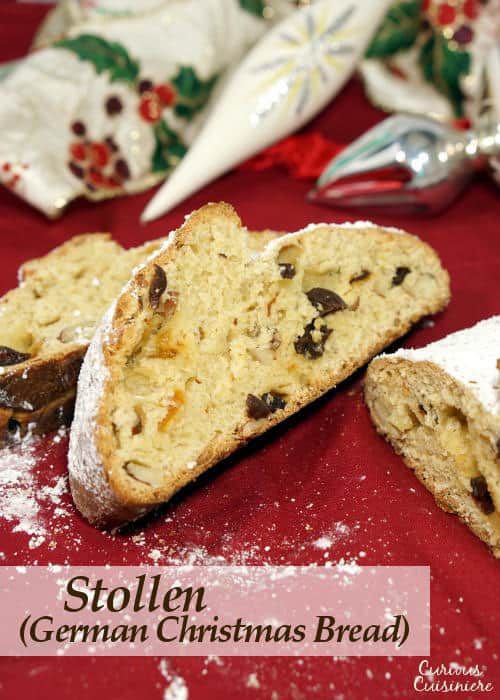 German Stollen: An age old Christmas Bread
Stollen (pronounced SH-tohl-in) traces its history back to the 1400's in Dresden, Germany. However, at that time, people of the Catholic Church did not eat butter during Advent (the four weeks preceding Christmas) as a part of their fasting preparation for the special celebration of Christ's birth. With the abstinence from butter and rich foods, early Christmas breads were made from only flour, yeast, oil, and water. A far cry from the rich, fruited bread we know today, for years Stollen was a very dry and dull bread.
Towards the end of the 1400's, Lord Ernst of Saxony petitioned Pope Innocent VII to lift the Advent fast from butter, so that it could be used in their Christmas bread. An allowance was made, but for only Dresden, and they began the process of changing their traditional Christmas bread into the Stollen that we know today. Since the 1500's, Stollen has been sold at the Dresden Christmas market, which is the oldest known Christmas market in Europe.
German Christmas Bread today
Today, this German Christmas bread is colorfully studded with nuts, raisins, and candied orange and lemon rind. The traditional shape and white, powdered sugar topping symbolize the Christ Child wrapped in swaddling clothes. Another legend holds that the traditional ridge down the top of the loaves represents the humps on the backs of the camels that the Wise Men rode, carrying their gifts to the Christ Child. The candied fruits represent the precious jewels that adorned these Wise Men.
Stollen: An interesting name
Miners thought the shape of the bread looked like the tunnels of their mines, which is where the bread actually gets its name. "Stollen" literally means "tunnel." But, as the bread gained popularity, that name stuck, becoming the common term for this fruited Christmas bread.
Our German Stollen Recipe
Our Stollen recipe creates a rich and dense, pound cake-like bread. It is sweet and eggy, with hints of rum and a nice citrus flavor. The bursts of sweetness from the raisins and the occasional crunch of almond nuttiness give a fun mix of textures as you eat a slice and make it perfect for serving with a warm cup of coffee or spiced wine.
Making your own Candied Citrus Peel
You could use store bought candied orange and lemon peel in the bread, but we find that sometimes these can be hard to track down. And, when we do, they are inevitably highly dyed, pumped with artificial flavoring, and full of high fructose corn syrup.
It is so easy to make your own candied citrus peel at home, and there's really no comparison to the flavor of real citrus. If you'd like to make your own, you can check our our Candied Lemon and Orange Peel Recipe. We suggest making your peel the day before you start the bread to give it a chance to dry out and cool properly.
Stollen (German Christmas Bread)
Yield: 1 (14-15 inch) loaf
Ingredients
For the Dough
2

Tbsp - ¼ c

milk,

warmed to 80F

¼

c

sugar

1

Tbsp

active dry yeast

½

c

butter,

unsalted, at room temperature

2

eggs,

at room temperature

½

tsp

salt

¼

tsp

pure vanilla extract

½

c

almonds,

chopped
Instructions
Day 1
Mix raisins, lemon peel, orange peel, lemon zest, rum, and water. Let stand overnight.
Day 2
Drain the raisins, reserving the soaking liquid. Place the soaking liquid in a liquid measuring cup and add milk to reach ½ c + 2 Tbsp of liquid.

In the bowl of a large stand mixer, fitted with a dough hook, mix together milk and fruit soaking liquid mixture, sugar, yeast, flour, softened butter, eggs, salt, and vanilla. Mix with the dough hook 7-10 minutes, until a smooth dough forms.

Add the drained fruit and chopped almonds. Knead on low speed until the fruit and almonds have been incorporated, 5-7 minutes. (If necessary, add a tablespoon or two of flour to help the dough come back together in a smooth ball.)

Take the dough hook off of the mixer and cover the dough in the bowl with a damp tea towel. Let it rise in a warm, draft-free place until doubled, 2 hours.

Turn the dough out onto a lightly floured surface and shape it by rolling it into a 12 x 8 inch rectangle (roughly ½ inch thick). Fold the two long sides towards the middle, going 1/3 of the way, so that the middle 1/3 of the bread is now slightly higher (with 3 layers of dough). Place the shaped dough onto a greased baking sheet and press the long edges slightly to accentuate the bump down the center. Cover it loosely with your damp towel and let rise one final time, until doubled, roughly 1 hour.

Near the end of the rising time, preheat the oven to 350F.

Once risen, brush the top of the dough with melted butter and bake for 40-45 minutes, until golden and hollow-sounding when tapped.

Once partially cooled, dust with powdered sugar. Let cool completely on a wire rack. Dust again with powdered sugar before serving.
If you liked this recipe, here are some similar dishes you may enjoy!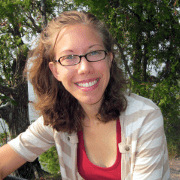 Sarah is one of Curious Cuisiniere's founding duo. Her love for cultural cuisines was instilled early by her French Canadian Grandmother. Her experience in the kitchen and in recipe development comes from years working in professional kitchens. She has traveled extensively and enjoys bringing the flavors of her travels back to create easy-to-make recipes.