An authentic British Scone is the perfect accompaniment to your warming cup of tea, particularly if you have some clotted cream and jam to serve it with!
What Is A Scone?
When you hear the word "scone" do you think of a fancy British tea-time spread? Or do you think of the sugar-dusted pastries in the Starbucks display case that you might be tempted to grab to go along with your morning coffee?
Authentic British scones aren't eaten for breakfast. Rather, they are served with tea as a light snack during "cream tea" (not to be confused with "afternoon tea", which includes more savory nibbles to hold you over between lunch and dinner).
British scones are small nibbles that are fairly plain on their own, but are classically eaten with jam and clotted cream, making for a real treat.
Is A Scone A Biscuit?
When you first try an authentic British scone, you might be tempted to think of it as a biscuit. (Unless, of course, you're from the southern US, where biscuit-making is an art. No real scone would fool a Southerner as a biscuit, that's for sure.)
But, you can't deny that the two are similar.
The basic ingredients for biscuits and scones really are the same: flour, leavening, a little salt, some fat, milk, and maybe a little sugar. The process too is similar: cut the fat into the dry ingredients, add the liquid, roll, and bake.
The difference comes down to a subtly in texture and how they are served.
British scones are more dense, slightly drier, and more crumbly than biscuits. They typically contain much less butter that biscuits as well.
While biscuits most likely originated from the British scone, they have been transformed and are now the scone's buttery cousin. Because of the extra butter, biscuits should be light and fluffy with tender layers.
While scones are spread with jam and clotted cream (which you can make yourself as oven clotted cream or as slow cooker clotted cream), biscuits more commonly find themselves in savory applications, like with sausage gravy or an egg and bacon.
An American Scone vs A British Scone
If you walk into a coffee shop in the States, you're bound to come face to face with some tasty treat labeled "scone". It will probably be sweet, most likely filled with any number of sweet add ins, and possibly even covered with a sugary glaze.
It might be biscuit-like in texture or it might be more cakey, depending on the establishment. And, it probably will be about the size of your hand.
By now you know better.
These are not traditional British scones! They're too big, too sweet, and too stand-alone. Not to mention all the flavor add-ins that are unheard of when it comes to a traditional scone. (Which might get some raisins tossed into the batter, but that's about as crazy as things get.)
Besides, when was they last time you ventured to put jam on your American scone? (As if it needed the extra sugar.)
How To Make British Scones
That being said, if you can make biscuits, then you can make scones.
Scone dough is made from simple ingredients that you probably keep your pantry stocked up on. So, you can have a batch of scones turned out dangerously fast.
The one difference we take between making biscuits and making scones is that for scones, we use our hands to massage the butter into the dry ingredients. Doing this creates a fine, sandy consistency that helps give the scones their classic texture. (For biscuits we cut the butter into the dry ingredients, which leaves larger chunks of butter in-tact, creating those tasty, buttery layers.)
Whether you call it a biscuit or a scone, these tasty treats are great for breakfast or for an afternoon nibble.
Just don't forget the jam and clotted cream!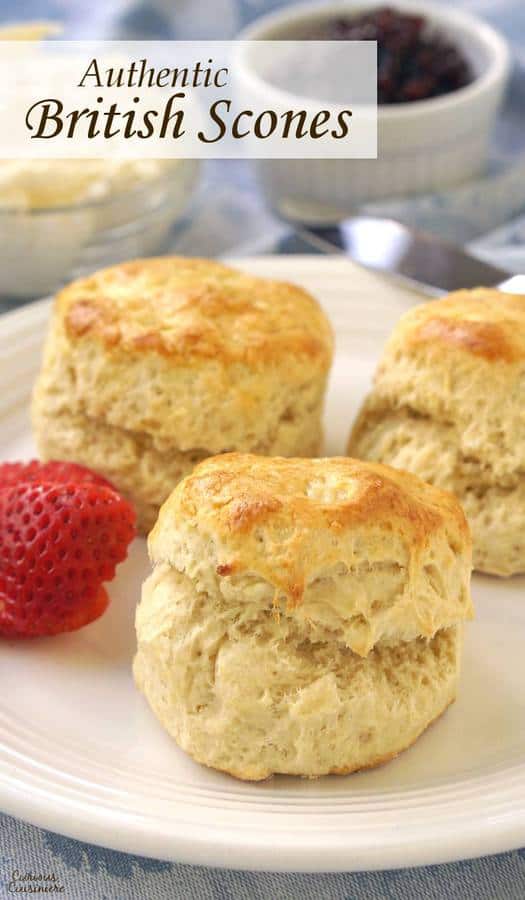 Authentic British Scones
An authentic British Scone is the perfect accompaniment to your warming cup of tea, particularly if you have some clotted cream and jam to serve it with!
Yield: 10 (2 inch) scones
Ingredients
2

Tbsp

sugar

4

tsp

baking powder

½

tsp

salt

3

Tbsp

unsalted butter

, cold

⅔

c

milk

1

egg yolk beaten with 1 Tbsp milk

(to glaze)

Strawberry jam

(to serve)

Clotted cream

, at room temerature (to serve)
Instructions
Preheat your oven to 425F.

In a medium bowl, place the flour, sugar, baking powder, salt, and butter. Rub the mixture together with your fingers to break up the butter, until the mixture resembles fine breadcrumbs.

Add the milk slowly, mixing as you add, using enough of the milk to get your dough to come together with no lumps remaining. (Your dough should be quite sticky.)

Spoon the dough out until a well-floured surface. Generously dust the top of the dough and knead the dough 2-3 times to coat it with flour and smooth the surface. Press the dough into a round that is roughly 1 inch thick.

Using a well-floured cookie cutter, cut the dough into 2 inch circles. (Be sure to press the cookie cutter straight down and up. Twisting the cookie cutter will impact the amount of rise you get on your scones.)

Place the rounds onto a greased and floured baking sheet. Brush them gently with the egg yolk and milk mixture.

Bake the scones for 12-15 minutes, until golden and firm.

Remove the baked scones from the oven and let them cool for 30 minutes (if you can resist). If you like softer scones, cover them with a clean tea towel as they cool.
Notes
This scone batter freezes well. We like to freeze pre-cut rounds of dough for easy baking (just thaw and bake as directed).
Alternately, freeze the baked scones and reheat in a low oven for 5-10 minutes after thawing on the counter.
Want to convert to WEIGHT measurements? Have a look at our ingredient conversion guide.
If you liked this recipe, here are some similar dishes you may enjoy!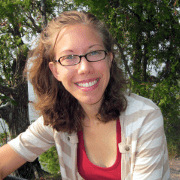 Sarah is one of Curious Cuisiniere's founding duo. Her love for cultural cuisines was instilled early by her French Canadian Grandmother. Her experience in the kitchen and in recipe development comes from years working in professional kitchens. She has traveled extensively and enjoys bringing the flavors of her travels back to create easy-to-make recipes.