If you like this dish, sign up for our newsletter to get tasty, cultural inspiration straight to your inbox. Where will you travel this week?
Italian Panettone is a rich, citrus-scented, fruit-studded, cake-like bread. Our easy Panettone recipe creates the perfect loaf of this Italian Christmas Bread.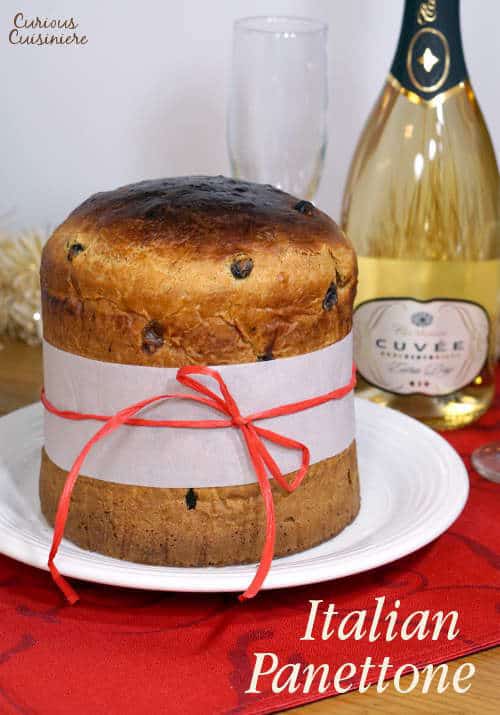 Also known as Panettone di Milan and Italian Christmas Bread, this traditional Italian sweet bread is studded with brandy soaked fruit and bursting with festive citrus flavors. Panettone's impressive shape gives it a distinctive and extra-special presentation, making it a perfect bread recipe for the holidays.
Panettone: The Bread Of An Italian Love Story
This bread comes from Milan, Italy from the 15th century. Its name means "bread of Toni" (literally "el pan del Toni"), and there are many legends about how it came about. In classic Italian fashion, most involve a love story.
The most popular legend involves Ughetto, a wealthy hawk breeder, who fell in love with a baker's daughter, Adalgisa. Due to the class differences between them, the love was forbidden by Ughetto's family.
So, like any lovers whose family disapproves do, they met in secret. But, the bakery came upon hard times and Adalgisa had to work more, meaning the love birds couldn't see each other. Not to be discouraged, Ughetto disguised himself and took a job as the baker's boy. And, in an effort to bolster the bakery's sales, Ughetto though to improve the bread by adding butter to the dough, butter that he purchased by selling some of his hawks.
As in anything you add butter to, the bread was a hit. He continued making tweaks: adding a little sugar, a little eggs and candied citron, and the people started to rave about his bread. At Christmas time, he wanted to make it extra special and added some raisins.
Of course, in the end the bakery began to thrive again and Ughetto and Adalgisa got married.
How to make Italian Panettone
Panettone is wonderful with your morning coffee, but rich enough that is could also pass as a dessert. The egg yolks and butter give it an almost cake like texture. It is sometimes called a cake bread, and when you taste it, you immediately know why.
You can purchase specific paper molds to give your Panettone its characteristic look and an extra special presentation, but we made our own mold out of a coffee can that was 6 inches in diameter and 7 inches high. By buttering the can and lining it with buttered parchment paper, the bread slides right out and you don't need any extra special equipment.
As you look at the recipe, it may seem long and involved. But, the steps are quite easy, with a lot of waiting time in-between. We've made the process as simple as possible, but you will need to start your bread about 24 hours before you want to eat it. And, while not essential, having a stand mixer makes working with the dough even easier. The dough is soft, quite sticky at points in the recipe, and needs some quality time with a firm dough hook to really come together.
All you wanted to know about Sparkling Wine
In honor of the holiday season, the Wine Pairing Weekend crew is celebrating all things sparkling today.
It can be a little intimidating buying sparkling wine, and the tendency is to go with what is familiar. But, one glance at the shelf of bubbly in the store will tell you that there is so much more than the classics that you may be familiar with. Understanding one key factor about sparkling wine will go a long way towards making you a pro at picking out that bottle of holiday bubbly.
What is that one thing?
Sweetness.
Like all wines, sparkling wine comes in varying levels of sweetness. What makes it complicated is that 'sweet' in the sparkling world is labeled 'dry'. So, here's the breakdown:
'Extra Brut' = very dry
'Brut' = dry
'Extra Dry' = slightly sweet
'Demi Sec' = sweet
See how that could get confusing?
But, now that you know, all you have to know is what sweetness you're looking for, and then, you're off to a good start at choosing a sparkling wine that you will enjoy.
Pairing Sparkling Wine and Our Panettone Recipe
For our pairing, we chose Col Mesian, Spumante Extra Dry "Nove Cento Dieci". The wine was fruity with a clean finish, making it very well-balanced. Its bright citrus notes were perfect for pairing with the citrus-scented Italian Panettone. The effervescence of the sparkling wine and its slightly dry characteristic cleansed the palate after each bite of rich bread, while the citrus  flavors  of the bread and wine mingled to create a perfect, bright harmony. As if that's not enough, the contrast between the rich smoothness of the bread and the crisp, tingling bubbles of the sparkling wine created a unique complementary dance, making for one perfect pairing all around.
Italian Panettone
This bread makes use of a starter called a 'biga' and soaked raisins. Both of these need to be started the night before you will be making your bread.
Yield: 1 panettone (5 in diameter by 6 ½ inches high)
Ingredients
For the Soaked Fruit
1

c

dried fruit

(raisins, golden raisins, cherries, chopped apricots)

¾

c

water

2

Tbsp

brandy

(optional)

1

tsp

pure vanilla extract

1

lemon,

zested (roughly 1Tbsp fresh zest)

1

orange,

zested (roughly 1 Tbsp fresh zest)
For the Dough
1

Tbsp

active dry yeast

4

egg yolks

(reserve 1 egg white for brushing the dough)

½-¾

c

water,

warmed to 80F

½

c

sugar

1

tsp

salt

½

c

butter,

unsalted, softened, but cold, cut into cubes
Instructions
For the Biga (Starter)
In a medium bowl, combine biga flour, water, and yeast. Knead until a smooth and sticky dough forms. Cover the biga and let stand in a warm place for 12 hours (overnight).
For the Soaked Fruit
Mix dried fruit, water, brandy, orange and lemon zest, and vanilla in a medium bowl. Cover and let stand on the counter overnight, for the fruit to plump.
For the Dough
Drain the soaked fruit, reserving any excess liquid. Pour the liquid into a liquid measuring cup and add water to reach ¾ c.

In the bowl of your stand mixer, mix 3 c flour, 1 Tbsp yeast, egg yolks, ¾ c raisin liquid and water mixture, and all of the biga. Mix with a dough hook on medium-low speed until a smooth dough has formed, 4-5 min.

Add sugar and salt. Mix until combined, 4-5 min.

Add the butter, and mix until all the butter has been incorporated and the dough does not feel greasy, 8-10 min.

Cover the dough in the mixer with a lightly damp towel and let it rest for 1 hour.

Prepare your mold while the dough is resting. Butter the mold and line the sides and bottom with buttered parchment paper. (We used a coffee can with a 6" diameter bottom and 7 inch high sides.)

After the dough has rested for 1 hour, add the drained fruit and mix on medium-low speed until it is incorporated, 3-4 minutes. Shape the dough into a ball (it will be sticky) and place it into the prepared mold. The dough should only fill the mold ¼-1/3 of the way.

Cover the mold with a damp tea towel and let the bread rise until it fills the mold ? of the way, roughly 2 ½ -3 hours.

After 2 hours of rising time, place your oven rack in its lowest position and preheat your oven to 375F.

When the dough has risen to 2/3 of the way up the can, remove the towel and brush the top of the dough with lightly beaten egg whites. Bake the bread for 60-70 minutes until deeply golden brown and a long wooden skewer inserted into the center comes out clean.

If you can, invert the loaf to cool by placing a wooden skewer through the side of the bread, near the bottom and hanging it, upside down, propped by pint glasses or cans. If that doesn't seem practical, lay the can on its side to cool the bread, turning it occasionally. Let the bread cool completely, roughly 2 hours before removing it from the can/mold.

Slice into wedges to serve.

The bread will keep in a sealed container on the counter for up to 2 weeks.
Notes
If using a smaller Panettone mold be sure to adjust the baking time accordingly. It is better to check/test your Panettone often than to end up with a dry and over-baked loaf.
DISCLOSURE: This post does include Amazon affiliate links. These links are provided to help you find some of the more specialty ingredients we mention in the recipe. If you make a purchase on Amazon after following our affiliate links, we do receive a small commission from Amazon, at no extra cost to you. Thank you for supporting Curious Cuisiniere!
---
Check out these great pairing recipes for sparkling wine! 
David of Cooking Chat started this event in June of 2014, and every month since then this group of wine and food lovers have had a great time! For more background, check out the original post announcing Wine Pairing Weekend. You can see the full list of past and upcoming #winePW events here.
If you liked this recipe, here are some similar dishes you may enjoy!