These Cranberry Brie Bites bring creamy brie cheese and Wisconsin cranberries together in a fluffy biscuit bite. Perfect for pairing with a glass of bubbly!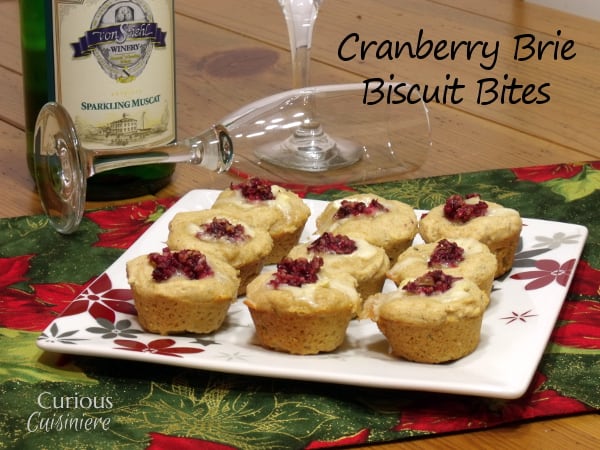 As much as we love wine, we haven't ventured much into the sparkling version. But, when we found out this month's Wine Pairing Weekend was centered around sparkling wine and appetizer pairings, we knew we needed to start learning!
The strange names and fancy bottles that make up a store's sparkling wine selection can seem like a mysterious realm of unknown, but they don't have to be intimidating. As we've learned, there just a few things to know before you're sorting through the shelves with confidence.
What's the difference between Sparkling Wine and Champagne?
Sparkling wine is simply a wine that contains carbon dioxide, which gives it those fun bubbles. The grapes for sparkling wines are typically picked earlier than grapes for non-bubbly (or 'still') wines, since younger grapes have a higher acidity. But, the grape varieties can be the same as a still wine, such as Chardonnay and Pinot Noir.
Champagne is a type of sparkling wine that is produced only in the Champagne region of France and made by a specific set of guidelines.
Other types of sparkling wine you may have heard referenced are Cava, from Spain and Asti, from Italy.
Which will I like? 
Sparkling wines are typically white or rose, but you can find some red versions.
You can tell the sweetness of the sparkling wine by the label: Extra Brut (very dry), Brut (dry), Extra Dry (slightly sweet), or Demi Sec (sweet).
It all depends on your taste and how you like your wines, but as a guide, Demi Sec sparkling wines are typically served with dessert. Extra Dry and Brut are good for sipping or with appetizers. Brut and Extra Brut work well with food to round out the dryness.
What do I pair with sparkling wine? 
Sparkling wine is naturally high in acidity, making it perfect for pairing with cheeses, creamy sauces, meats and fruit.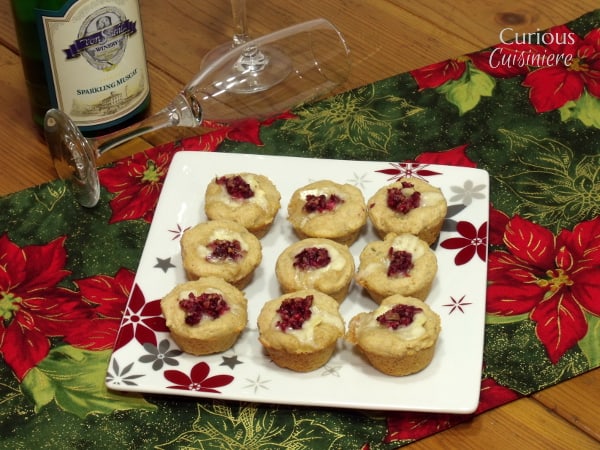 For today's pairing, we wanted to go with a locally produced sparkling wine, but, let me tell you, there are not a lot of Wisconsin wine makers who have tackled a sparkling wine. We found only four different Wisconsin-made sparkling wines, and only two were available near by: the Sparkling Muscat from Von Stiehl Winery and the California Sparkling from Stone's Throw Winery, both in Door County, WI.
We opted for the sweeter of the two, the Sparkling Muscat.
This is an incredibly fruity sparkling wine, giving it a nice sweet tone, but it has hints of dryness, making for an incredibly balanced wine that is great alone or with food.
Pairing Sparkling Wine with our Cranberry Brie Bites
Wanting to continue the Wisconsin theme, we decided cheese and cranberries were a must for our appetizer. Brie's light creaminess is a perfect complement to the wine's bubbles, and the sweet acidity of the cranberries matches the acidity of the wine.
You've probably seen brie bites that use store-bought puff pastry sheets or phyllo dough, but we opted for an easy and from-scratch version with a light biscuit as the base for these bites.
Fresh from the oven, the biscuits have a nice crispness to the outside, giving you a bit of a crunch before diving into the soft cheese and bright cranberry top.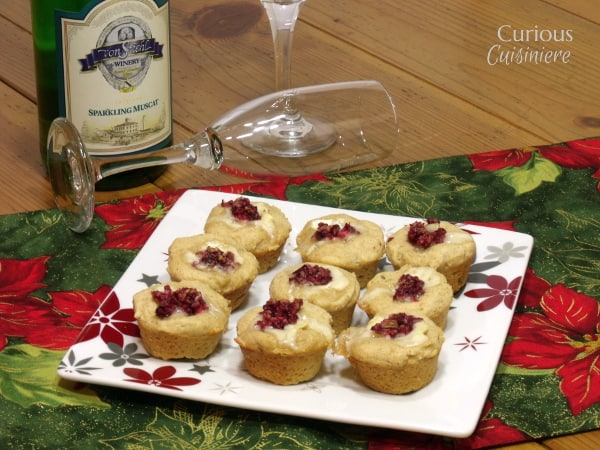 Cranberry Brie Bites
Creamy brie cheese and Wisconsin cranberries together in a fluffy biscuit bite.
Yield: 16 bites
Ingredients
For the Cranberries
1

Tbsp

fresh cranberries,

minced

½

Tbsp

pecans,

minced

¾

tsp

brown sugar
For the Biscuits
1

c

white whole wheat flour*

or unbleached all-purpose*

1

tsp

baking powder

2

tsp

brown sugar

½

tsp

rosemary

¼

tsp

cream of tartar

3

Tbsp

unsalted butter,

softened

½

c

milk

2

oz

brie cheese
Instructions
Preheat your oven to 400F.
For the Cranberries
Chop cranberries and pecans together with brown sugar until the mixture is combined and the pieces are very fine. (If you are making a double batch, you can do this in the food processor.)
For the Biscuits
In the bowl of your food processor, mix flour, baking powder, 2 tsp brown sugar, rosemary and cream of tartar. Pulse to combine.

Add butter and pulse until the mixture resembles wet sand.

Add milk and pulse until the dough is moistened.
Putting It All Together
Scoop 1 Tbsp of biscuit dough into each well of a greased, mini muffin pan. With moist fingers, press the biscuit dough up the sides of the well, forming a cup of dough.

Place roughly ½ tsp of brie (with or without the rind) into each biscuit 'cup'.

Top each brie section with ¼ tsp of the cranberry mixture.

Bake the bites for 10 minutes, until the biscuit is puffy and the cheese is bubbly.

Let cool for 5-10 minutes in the pan before removing from the pan to cool on a wire rack.

Serve warm or at room temperature.
Notes
*If using all purpose flour, you may need to add an extra Tablespoon or two of flour to the mixture.
Nutrition
Serving:
2
brie bites
|
Calories:
133
kcal
|
Carbohydrates:
12.9
g
|
Protein:
3.6
g
|
Fat:
7.8
g
|
Saturated Fat:
4
g
|
Cholesterol:
18
mg
|
Sodium:
69
mg
|
Fiber:
1.7
g
|
Sugar:
2.2
g
---
Celebrate the holidays with some great sparkling wine and appetizer pairings! 
David of Cooking Chat started this event in June of 2014, and every month since then this group of wine and food lovers have had a great time! For more background, check out the original post announcing Wine Pairing Weekend. You can see the full list of past and upcoming #winePW events here.
If you liked this recipe, here are some similar dishes you may enjoy!