The flavors of a bratwurst, grilled and served like a burger. If you haven't had this Wisconsin classic, you need to!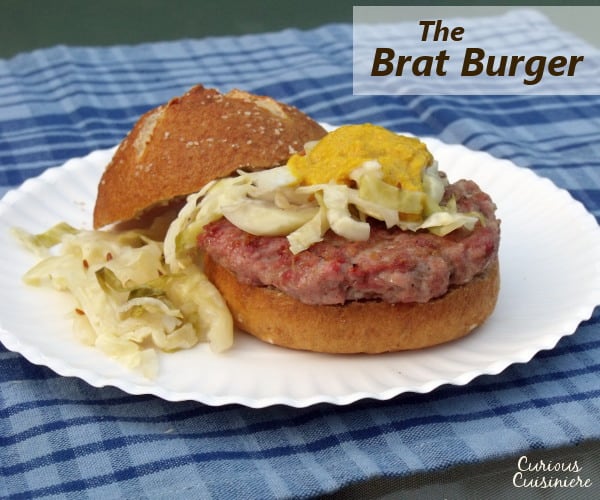 No state tailgates like Wisconsin tailgates.
I know that's a bold statement. But, I'm confident it's true. When hoards of people show up in the early morning before a late afternoon game to set up camp in a foot (or more) of snow: that's tailgating dedication.
Wisconsin: A Beer State?
When you think of Wisconsin, you tend to think of beer, but I'll tell you a secret: I've seen my share of wine bottles un-corked at a Wisconsin tailgate too. And, with Gallo Family Vineyard's mini bottles, you don't even have to worry about remembering the corkscrew.
Enjoying some wine with your tailgating fare becomes just as easy as cracking open a beer.
And, really, who wants an ice cold beer when the outside temperatures are flirting with freezing? Wouldn't you rather have a full bodied red wine to warm you down to your toes?
I know I would.
Wisconsin Tailgate Food
When it comes to tailgating in Wisconsin, it's all about the meat: burgers, brats, chili. We're talking food that sticks to your ribs and sustains you for a long, enthusiastic game. If you're enjoying the game at home, some people like to break out a spread of hearty finger foods that can be munched on throughout the game. But, true Wisconsin tailgating happens outdoors, in the parking lots and fields surrounding the stadium. And, once football season really gets going, you're lucky if you're tailgating above 60ºF.
As Tim puts it: you can't eat finger food with gloves on.
What Is A Brat Burger?
Bratwurst is probably the most quintessential Wisconsin tailgating food, but brats don't stop at the traditional grilled sausage. Some people love the brat flavor, but would rather have their meat in patty form.
That's where the brat burger comes in.
Making Homemade Brat Burgers
It's easy to make your own brat burgers. Ground pork replaces ground beef as the base for the patty. (If you don't have a meat grinder, ask your butcher to grind a pork shoulder for you.) The pork is then seasoned with classic bratwurst seasonings, which infuse the patty with all of that glorious brat flavor.
Just like in a classic brat, sauerkraut and mustard are the only toppings you need. (But, if sauerkraut isn't really your thing, these are just as tasty with ketchup or un-adorned.) And, if you're really feeling like channeling your inner Wisconsinite, you'll put your brat burger on a salty and chewy pretzel bun.
If you love a good brat, you'll be head over heels for this burger version.
(And, it is definitely glove-approved!)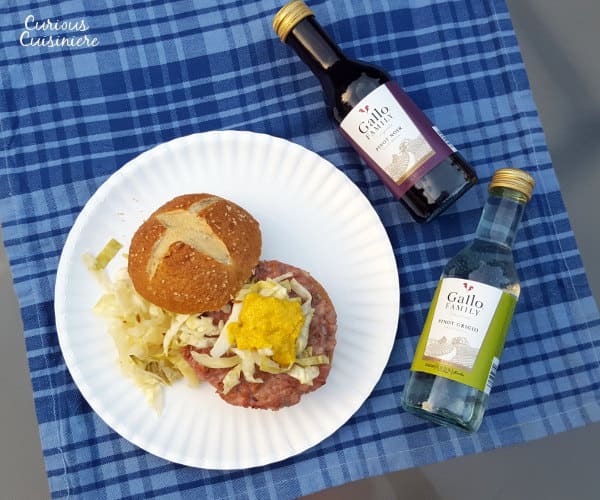 Pairing Bratwurst With Wine
We paired our brat burger with Gallo Family Vineyards Pinot Noir and Pinot Grigio. The Pinot Noir has a deep juiciness that pairs wonderfully with the brat spices and smoky grill flavors. The Pinot Grigio is a perfect, light wine for sipping as you hang out with fellow fans, and its brightness brings a nice balance to the pork and chewy pretzel bun.
Brat Burgers
For best flavor, let the seasoned pork rest for at least 3 hours before shaping your burgers.
Yield: 8 brat burgers
Ingredients
2

lbs

ground pork shoulder

(if you don't have a meat grinder, ask your butcher to grind it for you)

1

tsp

ground white pepper

1

tsp

salt

½

tsp

caraway seeds,

ground

½

tsp

marjoram

½

tsp

nutmeg

¼

tsp

ground ginger

8

hamburger buns or pretzel buns

Sauerkraut and mustard

(to top)
Instructions
In a large bowl, mix together meat and seasonings. Let the meat mixture rest for 3 hours, up to overnight.

When you are ready to grill your burgers, preheat your grill to medium high. (You should be able to hold your hand a few inches from the cooking grate for 6-7 seconds.)

Divide the meat into 8 roughly even sections and shape them into patties slightly larger than your bun. (The pork will shrink a bit as it cooks.)

Grill the burgers for roughly 4 minutes per side, until they are firm and cooked through.

Serve the brat burgers on a bun with

sauerkraut

and mustard, if that's your thing. If not, they're just as good with ketchup, or any other burger topping for that matter.
---
More great tailgating inspiration and wonderful Gallo Family Vineyards wine pairings for tailgate season, check out the recipes from other bloggers below.
Pre-Game Appetizers
Game Time Mains
The Victory Desserts
Disclosure: Compensation was provided by Gallo Family Vineyards via Sunday Supper, LLC. The opinions expressed herein are those of the author, and are not indicative of the opinions or positions of Gallo Family Vineyards.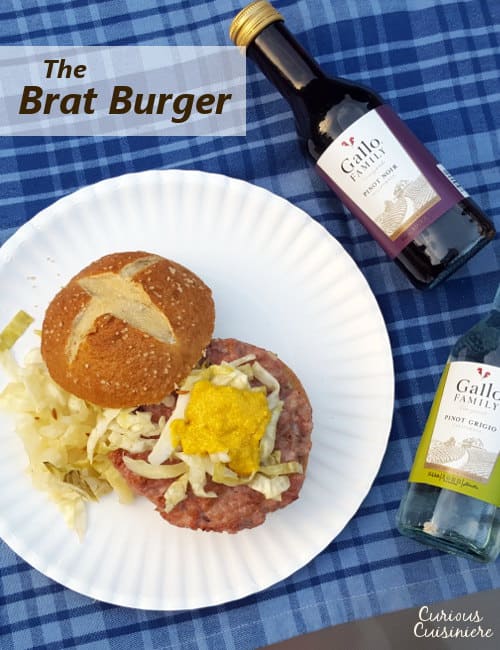 If you liked this recipe, here are some similar dishes you may enjoy!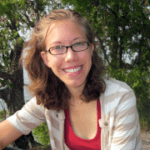 Sarah is co-owner of Curious Cuisiniere and the chief researcher and recipe developer for the site. Her love for cultural cuisines was instilled early by her French Canadian Grandmother. Her experience in the kitchen and in recipe development comes from years working in professional kitchens. She has traveled extensively and enjoys bringing the flavors of her travels back to create easy-to-make recipes.