Our Harvest Wild Rice and Apple Stuffed Squash recipe combines sweet apples and crunchy pecans with a hearty wild rice pilaf for a tasty fall dish. 
Fall Squash Love
I don't know about you, but squash gets me excited.
Acorn and butternut are our favorites.  (Aside from pumpkin of course, but that tends to fall into a category all on its own.)  Butternut squash is so versatile and small acorn squash is perfect for roasting and experimenting with stuffings.
This time, we decided to take some Native American inspiration and fill the acorn squash with a wild rice stuffing.
Native American Wild Rice
Wild rice isn't technically rice, rather, it's a seed from a type of North American water grass. It was eaten quite frequently by the Native Americans, and it has now become something of a specialty item in the States (particularly because of its high protein and fiber content).
We've heard over and over from people who don't like wild rice because it's tough. Wild rice DOES takes much longer to cook than traditional rice.  And, unfortunately, many people don't cook it long enough to release all the tender nuttiness that it has to offer.
How to Cook Wild Rice
We always cook straight wild rice in a ratio of 1 cup of rice to 3 cups of water, wild rice blends seem to need anywhere from 2-3 cups of water per cup of rice, depending on what is in the blend. (Look to the package instructions for your guide.) But, do keep in mind that wild rice absorbs more water than normal rice, and it does so SLOWLY. Get ready to cook your wild rice for 40 minutes to an hour.
While the cooking time will vary depending on the wild rice, there is a foolproof way to tell that your wild rice is done. Those firm, black grains will pop open revealing a white center.
Once nearly all your wild rice grains have popped open, then you know that your wild rice is tender and ready for you to enjoy.
Our Harvest Wild Rice and Apple Stuffed Squash Recipe
Bright acorn squash is loaded up with hearty wild rice, bright apples, and crunchy pecans. This apple and wild rice pilaf is a texture explosion! And, it's not lacking on the flavor front either, between the sweet apples, savory onions, fall scented sage, this combo just sings fall in a way that plays the line between sweet and savory perfectly.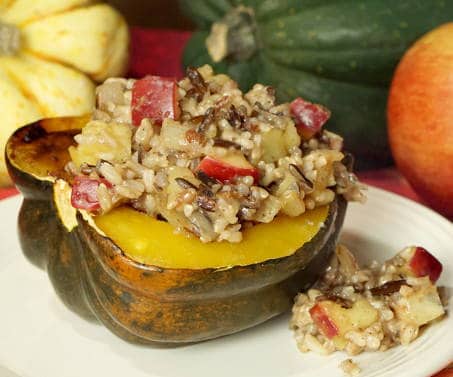 Harvest Wild Rice and Apple Stuffed Squash
A hearty and easy squash dish, full of sweet and nutty fall flavors.
---
Ingredients
2

medium

acorn squash,

cut in half, seeds and innards removed

1

c

wild rice blend,

dry

1/2

c

pecans,

chopped (extra for topping, if desired)

½

tsp

salted butter

1/2

sweet onion,

diced

1

tsp

sage

1

tsp

cinnamon

½

tsp

salt

¼

tsp

nutmeg

¼

tsp

ground white pepper

1

Gala apple,

chopped
Instructions
To Roast the Acorn Squash
Preheat your oven to 400F.

Place the squash halves, cut side down, on an aluminum foil lined baking sheet.

Place squash in the oven and roast for 20-30 minutes, until tender when pricked with a fork.

When they are done, remove them from oven to cool slightly.
To Make the Pecan Apple Wile Rice Pilaf
While the squash cooks, place the rice in a medium saucepan and cook according to the package instructions. (It should take around 30-40 minutes to cook.) Once the rice is cooked, remove it from the heat and let it stand, covered, for a few minutes.

While your rice is simmering, heat a small, non-stick sauté pan over medium heat. Add the pecans toast, stirring frequently, until the pecans are fragrant (4-5 min). Transfer pecans to a separate bowl.

In the (now empty) sauté pan, heat the butter. Add the diced onion and sauté over medium heat until softened, 3-4 minutes.

Add the seasonings and the diced apple to the sauté pan. Sauté for 2-3 minutes, to heat the apples through.

Remove the mixture from the heat and add the contents of the sauté pan to the cooked rice. Add the toasted pecans and mix with a fork to combine.
To Serve
Place a cooked squash half, cut side up, on your serving plate. Fill with rice mixture. Top with extra chopped pecans, if desired.
---
If you liked this recipe, here are some similar dishes you may enjoy!