Smooth, sharp cheddar meets sweet, crisp apples in this flavor-explosion Cheddar Apple Slaw that is sure to be the star of your next summer cookout.
What's the deal with apples and cheddar cheese?
Cheddar cheese and apples. It's a classic combo, but to those who have never tasted it, it sounds a bit out there.
I'll admit, for a long time I've been reluctant to join the apple and cheddar band wagon. Sharp, smooth, almost salty-savory cheddar against a sweet, crisp, slightly tart apple. It just seemed so… odd. And, it was always talked about in the context of apple pie.
Apple Pie with Cheddar Cheese
I just couldn't wrap my mind around it. Ice cream is the only thing that belongs on your apple pie. Period.
Tim, on the other hand, is a HUGE fan of the combo. (If he has a slice of apple pie, you'd better believe he's looking for the nearest cheese slicer.) So, when we were brainstorming ideas for the Wisconsin Cheese sponsored recipe contest for the 2015 Food and Wine Conference, he insisted our entry include this classic combo.
When a native Wisconsinite says, "There's nothing that says Wisconsin cheese more than cheddar. And, if we've got cheddar, we have to have apples." Well, you just can't dispute that logic. Particularly when the contest is all about Wisconsin cheese.
So, I decided that it was time to broaden my horizons and give apples and cheddar a shot.
Cole Slaw for Summer Cookouts and Parties
The theme for the contest is Easy, Shareable, Summer Recipes. When I think summer, I think cookouts and big tables laden with food. Burgers, brats, potato salad, and always coleslaw.
We decided a slaw would be the perfect compromise recipe, combining Tim's ingredient Wisconsin-based requirements with my (ever so slight) obsession with slaw.
Our Cheddar and Apple Slaw Recipe
The result of our mad fusion was a fresh and oh-so-flavorful slaw that would be my go-to on any cookout table. It's a perfectly sweet and rock-your-world sharp flavor combo delivered in a playful balance of crisp and smooth textures.
Every bite blew my mind. And, I don't say that about just anything.
The beautiful flavor of a 3 year aged sharp Wisconsin cheddar cheese is accented by Dijon mustard and a smattering of red onions. Those distinctly intense flavors make the crunch of the cabbage and crisp apples so much more pronounced. Just when you think you're about to hit flavor and texture overload, you get the sweetness of the apples to lighten things up and the smooth sweetness of honey that mellows everything into a perfect balancing of flavors that linger on your tongue.
And, yes. Tim got his "I told you so" moment when I exclaimed, "I guess there is something to this apple and cheddar thing after all!"
I will no longer cringe inside when I hear mention of apples and cheddar cheese. No. I'll think fondly of this slaw. And, I'll probably head to the store to load up on all the ingredients I need to make a big batch.
(But, for all of my new-found love of this crazy combo, if you happen to serve me a slice of apple pie, I think I'll still take it with ice cream. Anything else, just wouldn't be right.)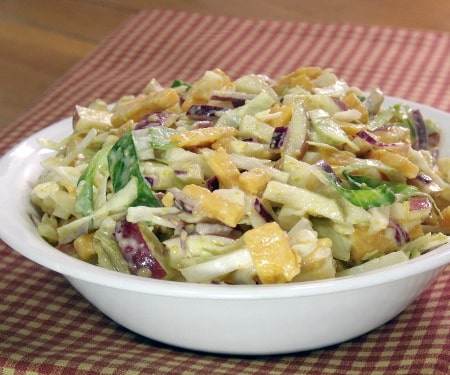 Cheddar Apple Slaw
Smooth, sharp cheddar meets sweet, crisp apples in this flavor-explosion Cheddar Apple Slaw that is sure to be the star of your next summer cookout.
Yield: 8 cups
---
Ingredients
4

c

cabbage,

shredded

2

large

apples,

cored and diced (about 3 c)

1

large

red onion,

diced

6

oz

Wisconsin sharp cheddar,

3 year aged, diced
For the Dressing
3

Tbsp

mayonnaise

3

Tbsp

plain yogurt*

2-3

Tbsp

Dijon mustard

(depending on how much you like a mustard kick)

2

Tbsp

honey
Instructions
Mix cabbage, onion, apples, and cheddar in a large bowl.

In a small bowl, mix together mayonnaise, yogurt, mustard, and honey. Add the dressing to the slaw mixture and mix until incorporated.

Refrigerate at least 1 hour before serving to let the flavors come together.
---
Recipe Notes
*Sour cream or additional mayonnaise can be used instead of plain yogurt.
Disclosure: This recipe was entered in the Wisconsin Cheese sponsored recipe contest. We were ambassadors for the 2015 Food & Wine Conference and received a commission each time our discount code was used to purchase a ticket. The contest is an equal opportunity for all attendees of the 2015 Food and Wine Conference, and we receive no advantage for being an ambassador. As always, all opinions are our own. 

If you liked this recipe, here are some similar dishes you may enjoy!