Crispy battered fish, served with a side of chips and mushy peas. Do you call it "fish and chips" or "fish fry"? Either way, British fish and chips is a recipe for some serious comfort food!
The History of British Fish and Chips
Claims for the invention of the classic British fish and chips meal are made in both Lancashire, in northern England, and London, in the south.
By the 1800s potatoes had come to the British Isles from the New World. They quickly became a cheap, staple food of the northern England working class, mostly in the form of chips (fries to those of us not in England).
The concept of frying fish was first introduced to England in London in the early 18oos, brought by Jewish refugees from Spain and Portugal.
Put the two together and you have one tasty dish that the English working class took to quite passionately.
The first fish and chips shop in northern England and the first fish and chips shop in London both opened around the same time in the 1860s. These were family businesses that were often run out of peoples homes.
During WWII, fish and chips were among the few foods that were not rationed, so they became an even more important part of the everyday diet.
Fish and chips has become a staple take-away food in England, where at one time they could be found served in a wrapping of old newspapers! Now you don't often find the fish and chips wrapped in newspaper, but it is a dish more loved than any other fast food or take-away chain restaurant.
Our British Fish and Chips Recipe
For our British fish and chips recipe below, we're using a classic beer batter for the fish.
You can use any type of beer that you like, but we prefer a lighter beer without too much hops flavor. The beer is mixed into the dry ingredients for the batter, adding just enough to get a smooth batter. If the batter it too thin, it won't stick to the fish, but if it's too thick, it won't coat the fish properly.
In order to save ourselves a ton of oil for clean up, we only fill our skilled 1/2 inch with frying oil. This means there's less mess, and using a wide skillet means that you can fry more fish at a time.
Choosing Fish for Beer Battered Fish and Chips
When choosing fish for fish and chips, you want to be sure to choose good, sturdy, firm fish, like cod or halibut.
Choose fillets that are 1/2 – 1 inch thick, no more. The fish will fry up nicer and hold its crispyness better if the fillets aren't too thick.
Making Oven Chips
While we are frying our fish, we decided that one fried element was enough for a meal. So, below you will find our recipe for oven baked chips.
We find that baking chips is a much easier way to enjoy crispy potatoes, in a lighter, more guilt-free fashion. (And, if you're not already frying something, who really wants to break out the frying oil just to make chips?)
British Fish and Chips vs Wisconsin Fish Fry
We could't talk about British fish and chips without mentioning how popular fried fish dinners are in the States. In many parts of the country you will find the meal still called "fish and chips" after the British heritage.
But, don't even think of asking for "fish and chips" in  Wisconsin and other parts of the Northeast and Upper Midwest. Around these parts, you'll find fried fish and potatoes known as a "fish fry."
Fish fries are staples of Catholic parishes on Fridays during Lent across the Midwest. But, in Wisconsin, you'll find restaurants on every corner touting their Friday fish fry year 'round.
What can we say? We like our crispy fish and potatoes!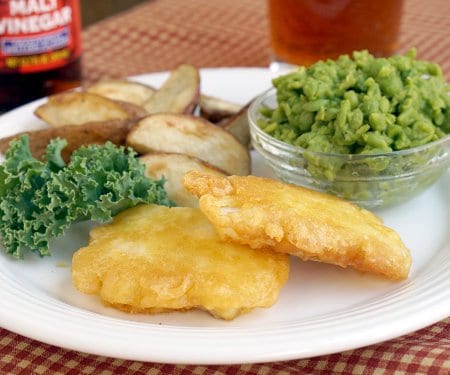 Beer Battered Fish
Crispy beer battered fish. Whether you call it "fish and chips" or "fish fry" it's some tasty comfort food!
---
Ingredients
For the Batter
1 ½

tsp

baking powder

1

tsp

salt

½

tsp

ground white pepper

¼

tsp

turmeric

(optional, for color)

1

c

beer
For the Fish
2

lb

fish fillets

(cod or haddock) ½ thick fillets patted dry, cut into 2-3 inch pieces

Oil

(for pan frying)
Instructions
Mix dry batter ingredients together.

Add enough beer to form a smooth batter.

Pour ½ inch of oil into a cast iron skillet. Heat the oil to 375F. (Or until a little batter dropped into the oil sizzles and turns golden in 2 minutes.)

Dip the fish pieces in the batter, coating well.

Place battered fish pieces into the hot oil, being careful not to crowd them.

Cook the fish for 2-3 minutes per side. (The fish is done when the pieces are golden and firm.)

Remove the fried fish to a plate lined with paper towels. Continue with the remaining fish.
---
Recipe Notes
Recipe updated March 2017. We've made the fish and chips even tastier! Enjoy!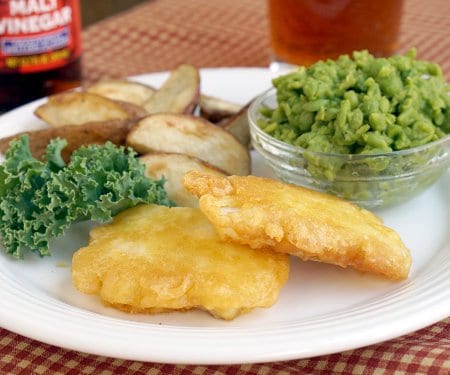 Oven Baked Chips
No need for a deep fryer to make your own oven baked chips (wedge fries)!
---
Ingredients
6-7

large

potatoes

, cut into thick wedge 'chips'

olive oil cooking spray

salt

or seasoned salt
Instructions
Preheat your oven to 450F.

Line a cookie sheet with aluminum foil. Grease the foil with cooking spray and place the cut potatoes on foil. Spray the potatoes with cooking spray and mix to coat them.

Sprinkle the potatoes with salt or seasoned salt, to taste.

Bake the potatoes for 15 minutes.

Remove the potatoes from oven and turn the chips with a spatula. Return the potatoes to the oven to bake an additional 10 – 15 min.

Chips are done when crisp and golden.
---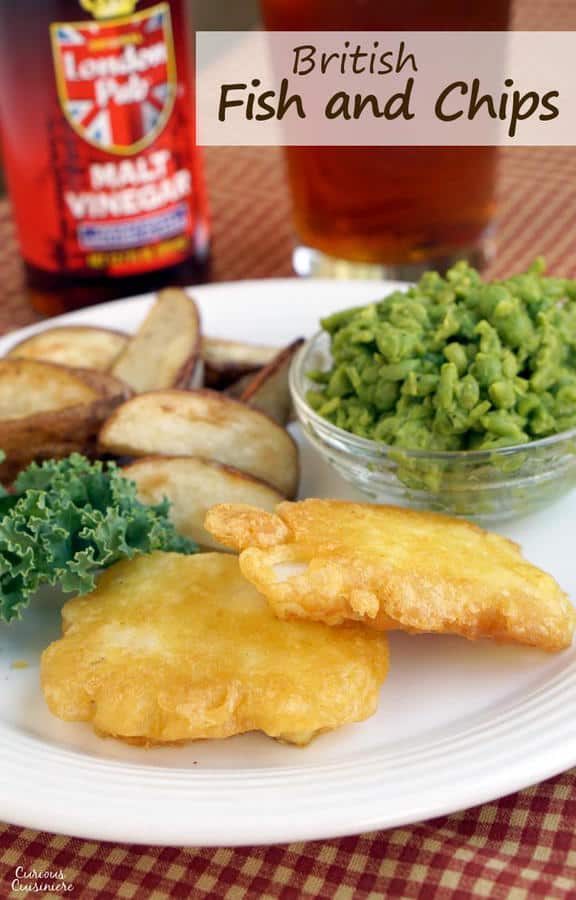 ---
This is one of the recipes from the early days of Curious Cuisiniere. We've updated our pictures since we first made it, but we've left the original images here as a fun throwback and shout out to how far we've come. Enjoy!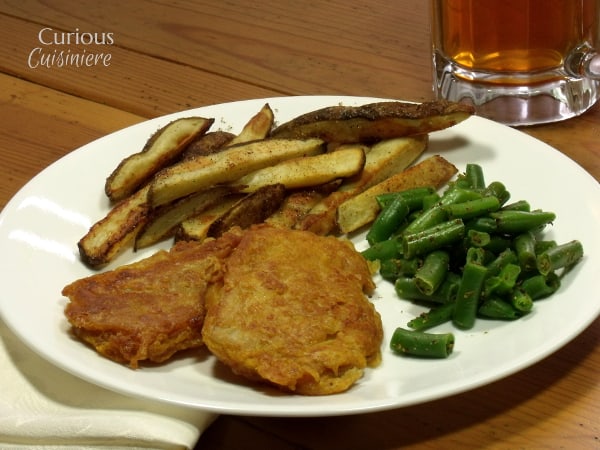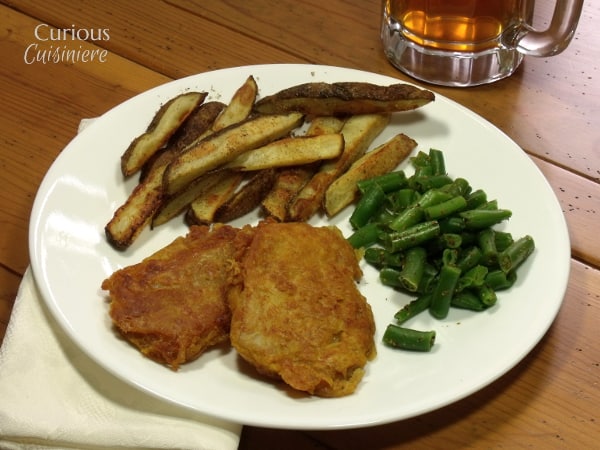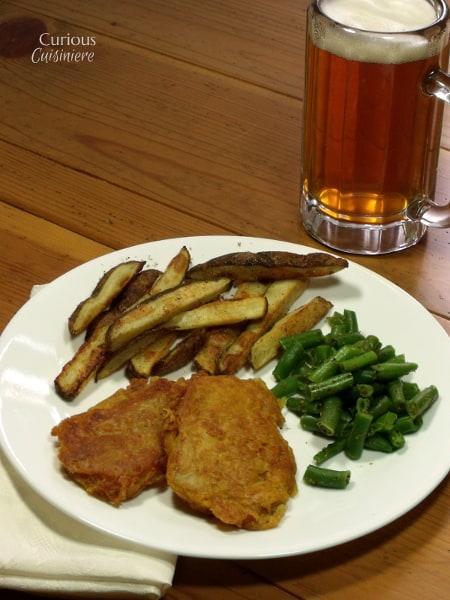 If you liked this recipe, here are some similar dishes you may enjoy!