Individual Beef Wellington are an easy way to bring an over the top, classy feel to any special dinner. Our recipe pairs perfectly with a glass of smooth Merlot wine.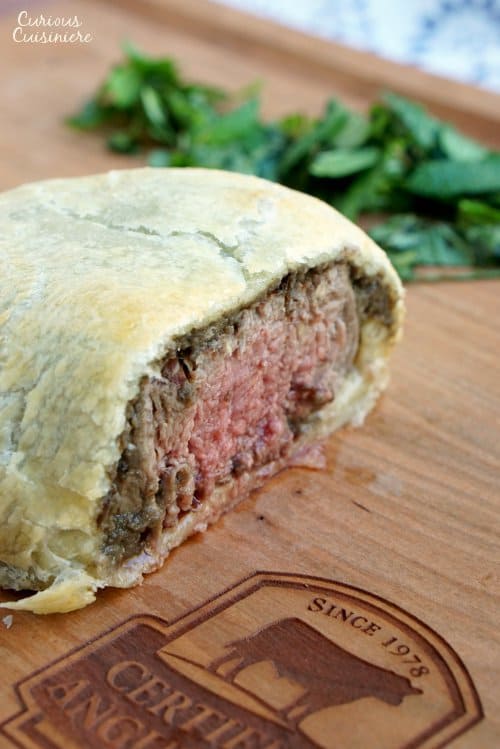 Today we're partnering with #MerlotMe and #WinePW to bring you a recipe pairing featuring the array of Merlot wines from Duckhorn Vineyards.  Be sure to check our our wine and pairing notes before the recipe!
(DISCLOSURE: We were provided with samples of Duckhorn Wines mentioned below. As always, all opinions are our own.)
What Is Beef Wellington?
Beef Wellington is an elegant, British main dish. Traditionally, it combines the most tender cut of beef, rich paté, and earthy duxelles (a sauteed mushroom paste).
The beef is wrapped in puff pastry before being baked to crispy, golden perfection.
The result is beef so tender, you barely need a knife to cut through the crackly pastry and into the perfectly pink fillet.
Each bite is a beautiful play of melt-in-your-mouth meat, crisp and buttery pastry, and earthy mushrooms.
It tastes as elegant as it looks.
But, like any super classy meal, it also sounds like a bit of a complicated kitchen undertaking.
We have a surprise for you.
It's not.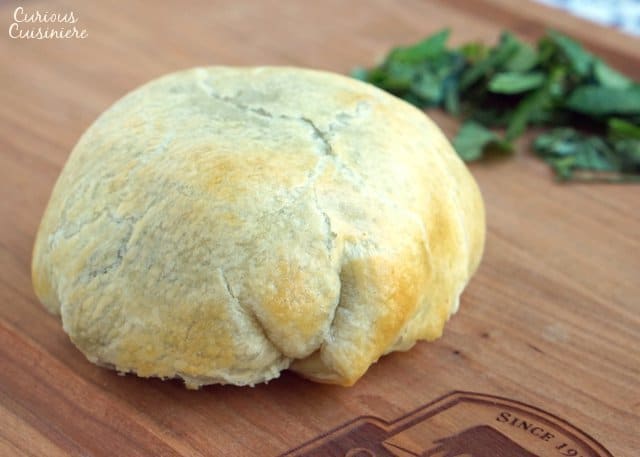 The History Of Beef Wellington
Main dishes of meat baked in a pastry crust were common in early English and French cuisine. So it wasn't a new culinary breakthrough when the Duke of Wellington decided he wanted a dish of beef, mushrooms, and flaky pastry to be served at any large dinner party he gave.
But, his obsession with the dish is probably what made it so famous, and earned this particular variation a name that pays him tribute.
What Cut Of Meat Do I Use For Beef Wellington?
Traditionally, beef Wellington is made with a whole beef tenderloin fillet. This makes for one stunning centerpiece of a main dish, that is beautiful to slice into at the table.
The beef tenderloin is the most tender beef cut. It is lean, yet juicy with an incredible melt-in-your-mouth texture.
It is simply perfect for wrapping in delicate puff pastry for an elegant meal.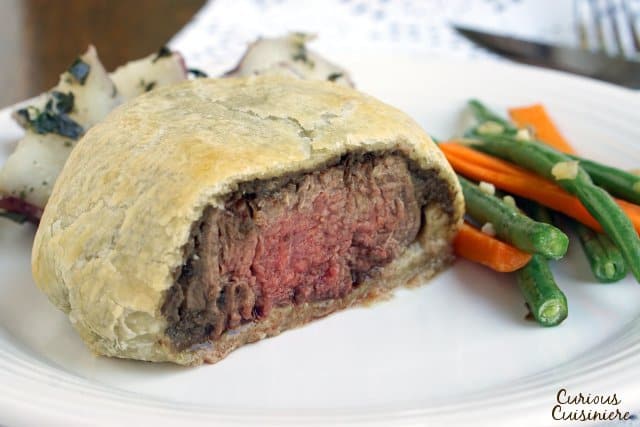 And The Mushrooms: What Are Duxelles?
Duxelles are a French preparation of mushrooms from the 1800s.
The mushrooms are finely minced and sauteed with onions (or shallots) and herbs. The goal is to cook this mushroom mixture until it forms a nearly dry paste.
This cooking caramelizes the sugars and intensifies the mushroom flavor. The result is a spread that is very earthy and flavorful.
Our Easy Individual Beef Wellington Recipe
More recently, it has become popular to prepare individual beef Wellington, rather than a family-style, whole loin.
The individual Wellington are a great way to have easy, individual servings for a dinner party!
These mini versions are a bit easier to make too, since you're not dealing with a whole tenderloin. Instead, you are using tenderloin filet steaks to create neat little pastry parcels.
For our individual Beef Wellington, we used Certified Angus Beef®brand tenderloin steaks (otherwise known as filet mignon). My-oh-my did these steaks melt in your mouth!
Sometimes it is difficult to find meat that is lean and still juicy, but the Certified Angus Beef filets delivered on all accounts!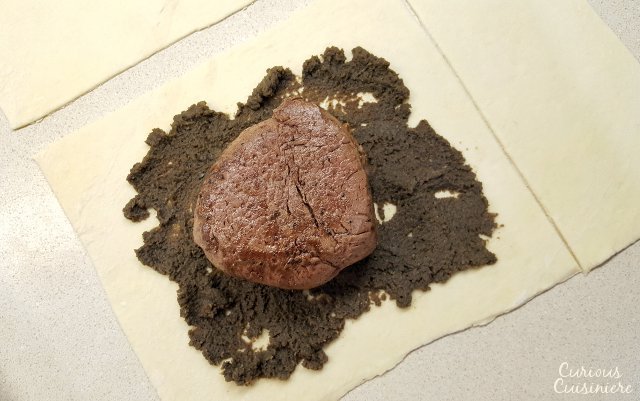 We find that it can be tricky to find a good paté, and some people just aren't a fan, even if it is a good paté. So, for our individual beef Wellington, we left out the paté, sticking with the simple combo of beef and duxelles.
And, honestly, this dish is plenty flavorful and juicy without it.
Wine Pairing: Duckhorn Vineyard Merlot
(DISCLOSURE: We were provided samples of the Duckhorn wines mentioned below. As always, all opinions are our own.) 
And now, on to the wine!
We were sent Merlot wines from Duckhorn Vineyards to celebrate October as Merlot Month. We loved the complexity and flavor of Duckhorn Napa Valley Merlot that we have had in the past, so we were very excited to get to try three of their Merlot side-by-side for this pairing.
The first wine we sampled was Duckhorn Vineyards' 2015 Decoy Sonoma County Merlot. It is a big-bodied Merlot with marked acidity and smooth finish. We found the wine to have notes of black cherry that lingered on our tongues after each sip. The acidity of this Merlot would make it wonderful for pairing with a rich meal, like osso buco, or even a big and juicy mushroom Swiss burger.
The second wine we tried with our meal was Duckhorn's 2014 Napa Valley Merlot. Like the Sonoma County Merlot, this Napa Merlot features a blending of grapes from different locations in the region. This wine has a bit of a darker profile than the Decoy, bringing subtle flavors of coffee and raspberry to our palates. This Merlot was voted the favorite of the three we sampled for simply drinking on its own, because of its full flavor, balanced acidity, and smooth finish.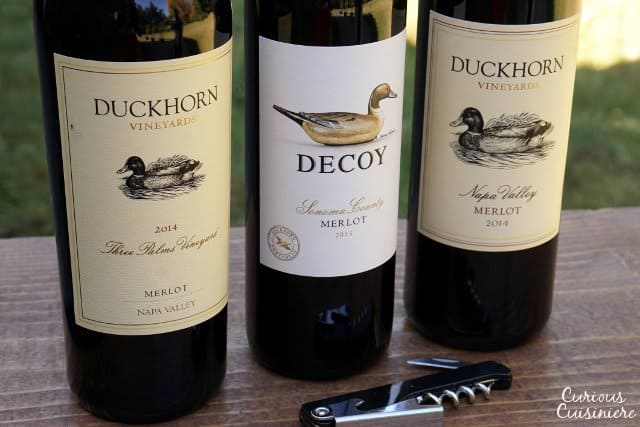 The final wine we tried was Duckhorn's 2014 Three Palms Vineyard Napa Valley Merlot. Unlike the other two, this is a single vineyard Merlot, meaning that the grapes come exclusively from the Three Palms Vineyard. We found this wine to be the most aromatic of the three. It boasts a very complex flavor with a juicy, fruit-filled front end, a beautifully balanced acidity towards the middle, and a smooth finish. The wine was so well balanced that we could even taste the subtle vanilla notes from the French Oak barrels it was aged in.
While all three wines were exceptional, the Three Palms Merlot was voted the best pairing with the Beef Wellington by our dinner guests. Its smoothness perfectly complemented the smooth texture of the beef and the earthiness of the mushrooms mingled wonderfully with the deeper notes of the wine.
Our experience tasting these wines side-by-side really drove home for us that within a particular wine varietal there can be so many, subtle and blatant, differences. Every wine is so unique!
Pairing Wine With Beef Wellington
When you go looking for wine to pair with your Beef Wellington, our suggestion is to to look for a dry, earthy red that has a balanced acidity.
A low and well balanced acidity in your dry red will be key to creating a pairing that doesn't overwhelm the Beef Wellington, but rather accentuates the flavors of your beautifully baked parcels.
Individual Beef Wellington
Individual Beef Wellington are an easy way to bring an over the top, classy feel to any special dinner. Our recipe pairs perfectly with a glass of smooth Merlot wine.
Yield: 4 (7-8 oz) wrapped tenderloin steaks

Ingredients
For The Beef
4

(7-8oz)

beef tenderloin steaks

Salt and pepper
For the Duxelles
16

oz

button mushrooms,

cleaned and quartered

1

shallot,

chopped

1

tsp

thyme

¼

tsp

salt

⅛

tsp

pepper

1

Tbsp

unsalted butter
Instructions
Season the beef lightly with salt and pepper. Then, place the steaks in a hot skillet to sear, roughly 30 seconds a side. Remove the beef from the pan and let cool slightly.

Place the mushrooms, shallot, thyme, salt, and pepper in the bowl of your food processor. Process until everything is finely minced and nearly a paste.

In the same pan you seared the beef, melt the butter. Add the mushroom mixture and saute over medium heat for 10-15 minutes, stirring often, to cook the moisture from the mushrooms. Remove the pan from the heat and spread the duxelles on a plate to cool.

Preheat your oven to 450F.

Roll each thawed puff pastry sheet into a large rectangle at least 7x14 inches. Cut each rectangle into 2 (7 inch) squares. (You will have excess pastry.)

Spread the duxelles on top of puff pastry, leaving an ½ inch border.

Place one fillet in center of the pastry square and brush the bare pastry edges lightly with the beaten egg. Fold the pastry up over the fillet to create a nicely wrapped parcel. Place the parcels, seam side down, on a baking sheet. Brush the pastry all over with the egg wash.

Bake the Wellington for 10-12 min for medium-rare or 15-17 minutes for medium. (You can double check your steaks' done-ness by inserting a thermometer into the side of the parcel. Medium-rare will be 130F. Medium will be 140F.)

When the parcels are golden and the meat is done, remove the Wellingtons from the oven and let rest for 5-10 minutes before serving.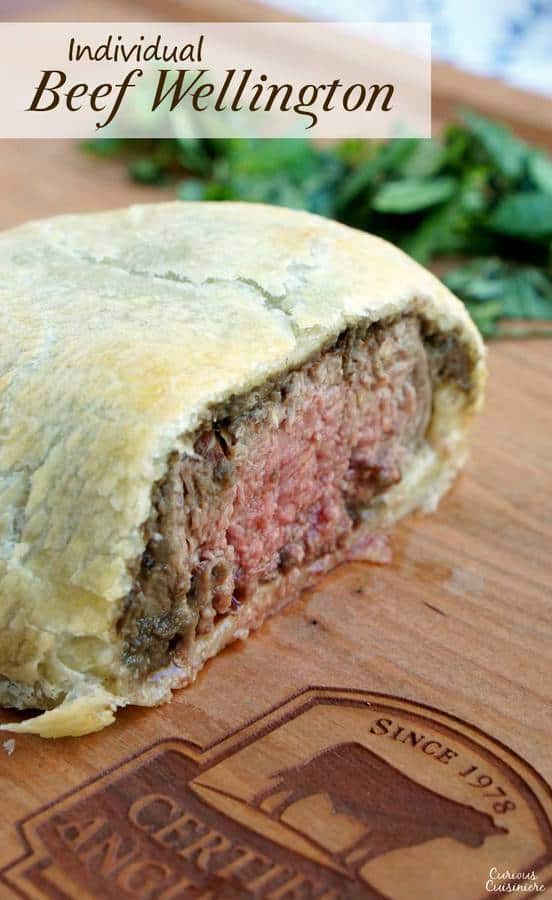 ---
Take a look below for the #WinePW bloggers' excellent pairing ideas for Merlot.
---
If you liked this recipe, here are some similar dishes you may enjoy!