Fall apart, tender, wine-braised Beef Osso Buco pairs perfectly with a juicy and robust Merlot wine, making for a comforting and elegant dinner recipe.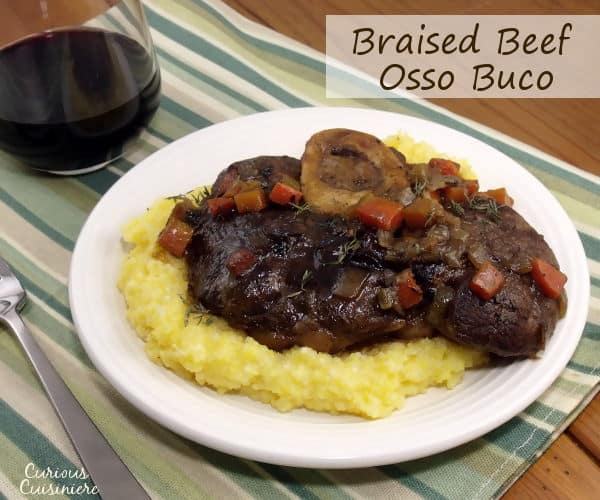 October is a month to celebrate Merlot wine, so today the Wine Pairing Weekend crew is teaming up with #MerlotMe to bring you a lavish celebration of Merlot. We paired our Merlot tasting with a beef version of classic Italian comfort food recipe for one incredible meal!
Merlot Wine
Merlot is a darkly colored wine grape whose names comes from the French word merle, meaning blackbird. The grape originates from the Bordeaux region of France, but its popularity has spread throughout the world. Merlot styles can vary widely, but it is characteristically slightly dry with a soft tannin and a medium to full body that is heavy on the dark berry flavors.
While we love Merlot, we've never done a side-by-side tasting to really get a feel for what makes a Merlot tick and the subtle variances that make each Merlot unique. So, we were incredibly excited to receive bottles from three different American wineries to taste for #MerlotMe.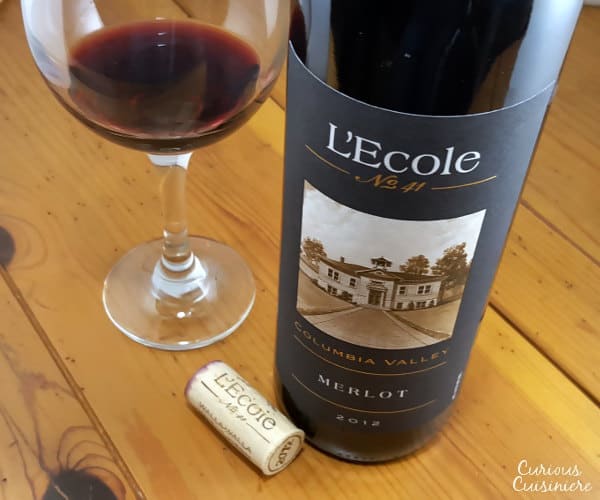 L'Ecole No 41 is a French-inspired winery in Lowden, Washington. This family-owned winery was founded in 1983, and is the third oldest winery in the Walla Walla Valley. They are recognized as one of Washington State's top producers of Merlot. We received their 2012 Columbia Valley Merlot 2012, a blend of 80% Merlot, 17% Cabernet Franc, 3% Petit Verdot. We found the wine to be drier on the front end with a nice acidity and a smooth finish. It is an incredibly complex wine that boasts robust, black cherry flavors.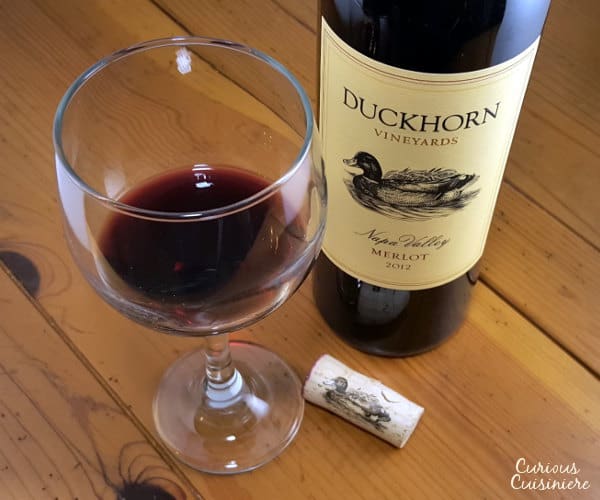 Duckhorn Vineyards is a Napa Valley winery founded in 1976 by Dan and Margaret Duckhorn. When they started, they had one focus, to create exceptional Merlot wine. They appreciate the soft qualities of Merlot and its ability to pair with many different foods. We received their 2012 Napa Valley Merlot which is a blend of 88% Merlot, 7% Cabernet Sauvignon, 2% Petit Verdot, 2% Cabernet Franc, 1% Malbec Cooperage. We found this wine to be a wonderfully smooth and subdued with hints of plum and vanilla flavors that linger on your tongue. While some Merlot are better when paired with food (in our opinion), we would have been content sipping on this one all night long.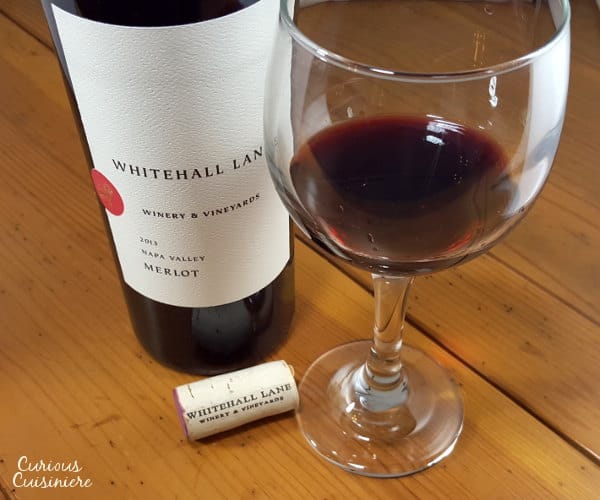 Whitehall Lane Winery and Vineyards is a small Napa Valley winery just down the road from Duckhorn. It was founded in 1979 and was purchased by the Leonardini family in 1993 and ever since has been producing chart-topping wines. We received their 2013 Napa Valley Merlot which is a blend of 80% Merlot, 12% Cabernet Sauvignon, 8% Syrah. We found this wine to have beautiful blackberry notes on the nose that carry through in the wine's flavor. You really get the burst of juiciness and spiciness that the Syrah adds to the blend. It finished off the driest of the three wines we tasted, leaving you with lingering hints of tannin and oak.
Pairing food with Merlot wine
When pairing food with Merlot, look for dishes full of deep, caramelized flavors, like roasted veggies and hearty, beefy dishes. A more medium-bodied Merlot pairs well with creamy sauces, think cheesy dishes or a butter sauce over steak. Merlot is also a wonderful wine to use in cooking, where it becomes the perfect complement to tomato sauces and casseroles.
For our pairing dinner, we decided to go with a beefy spin on a classic braised Italian dish: Osso Buco.
What is Osso Buco?
Osso Buco (pronounced OH-so-BU-ko) literally translates from Italian to "bones with holes" or "hollow bones". It is a traditional dish from Milan in the north of Italy that is most commonly made with veal shanks. You will find the dish made in one of two ways: bianco, or white, with white wine, cinnamon, bay leaves, and a parsley-lemon gremolata, is more traditional, while the more modern version is deeper in color because it includes tomatoes and more vegetables.
Our Beef Osso Buco recipe
We're taking a spin on the modern version today and using beef shanks, a more economical and easily found cut. The shank is the cut of meat at the top of the leg of the animal. Since it is a much-used muscle, it tends to be tough, which is why braising, or wet cooking, like we are doing in this Beef Osso Buco recipe is the perfect treatment to make it fall-apart tender.
You can typically find beef shanks in the meat section of your grocery store, look for thick slabs of meat with a cross-section of bone in the middle. These marrow-filled bones give the dish an incredibly robust, meaty richness, while the wine, tomato paste, and a touch of vinegar that we add to the braising liquid act to balance and complete the flavors of the comforting Beef Osso Buco.
Osso Buco is traditionally served with risotto, polenta or mashed potatoes. We served our Beef Osso Buco with polenta, seasoned only with a little salt and Parmesan cheese. It was the perfect, simple complement to such a deeply savory and full-flavored dish.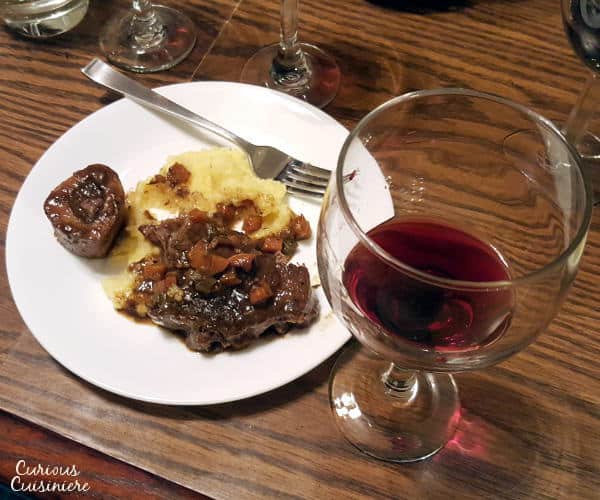 Merlot and Beef Osso Buco Wine Pairing
We thought the caramelized, flavors of the Beef Osso Buco would be a perfect match for the tannin and full-mouth flavor of Merlot, and we were right! All three wines paired incredibly well with the dish, but they all paired in a different way, making for an incredibly interesting dinner experiment.
The berry notes of the L'Ecole 41 Merlot became incredibly pronounced when paired with the dish, as did the oak. The dish seemed to smooth the edges of tannin in the wine, creating an incredibly flavorful and complete complement.
While the L'Ecole's fruit notes were highlighted by the dish, the Whitehall Lane Merlot seemed to lose it's fruity sweetness when paired with the dish, becoming very dry and silky. That dryness cut the fat and richeness of the Beef Osso Buco perfectly, creating a contrasting pairing that left you ready for another bite.
The Duckhorn Merlot's acidity also acted to cut the richness of the dish, and while the pairing worked with the meat, we found that where it really belonged was paired alone with the cheesy polenta or the creamy dressing of the salad we served along side our meal. The creamy elements complemented the Duckhorn Merlot's smooth flavors, creating a perfect balance.
It all goes to show that even different wines of the same 'type' can take on different flavor profiles and will stand out in different ways when paired with food.
Do you have a favorite Merlot or dish to pair with your Merlot? We'd love to hear about it in the comments below!
Beef Osso Buco
Fall apart, tender, wine-braised Beef Osso Buco pairs perfectly with a juicy and robust Merlot wine, making for a comforting and elegant dinner recipe.
Ingredients
2

Tbsp

olive oil,

divided

3

lbs

bone-in beef shanks,

sliced 3" thick (roughly ¾-1 lb each)*

1

tsp

salt,

divided

1

tsp

ground black pepper,

divided

2

carrots,

diced

2

ribs,

diced

1

onion,

diced

4

garlic cloves,

minced

½

c

dry red wine

(Merlot works well)

1 ½

c

beef broth

(we prefer low sodium)

1

Tbsp

tomato paste

1 ½

tsp

balsamic vinegar

2

bay leaves

1

tsp

thyme

½

tsp

ground sage

Pinch

ground cloves
Instructions
Preheat your oven to 325F and heat 1 Tbsp oil in your Dutch oven over medium high heat.

Place the flour on a large plate and mix in ½ tsp each salt and pepper. Dredge the beef shanks in the flour, until lightly coated. Place the shanks in the Dutch oven one or two at a time, so they are not crowded, and let them brown on each side, roughly 2-3 minutes. Reduce the heat to medium, if necessary. Remove the browned shanks to a plate and continue until all the meat has been browned. Place the meat in your preheating oven to stay warm.

Add 1 Tbsp oil to the, now empty, Dutch oven, and after letting it heat for a minute, add the carrots, celery, onions, and garlic. Sauté over medium low heat until the onions begin to turn golden and caramelize, roughly 5 minutes.

Increase the heat to medium high and deglaze the pan with the red wine, scraping up any stuck bits.

Add the remaining ingredients, including the ½ tsp each salt and pepper, to the Dutch oven, stirring to mix well and dissolve the tomato paste.

Nestle the beef shanks into the vegetable mixture, covering with sauce as best you can. (It is ok if the beef shanks are not completely submerged at this point, they will shrink as they cook.) Cover the Dutch oven and place in the preheated, 325F oven to braise.

After 1 hour, check the meat. Re-adjust it so that as much meat as possible is covered by the braising liquid. If there is a lot of liquid in the Dutch oven, leave the lid slightly cocked open when you replace it into the oven. Cook for an additional 1 – 1 ½ hours. Meat is done when it is fall-apart tender.

Remove the Dutch oven from the oven and let it stand for 10 minutes before serving. (If you have too much sauce, remove the meat and keep it warm on a plate in the oven. Simmer the liquid in the Dutch oven, uncovered, over medium heat until reduced to a thick sauce.)

Serve over mashed potatoes, polenta, or risotto.
Notes
*For serving purposes: figure one ¾ - 1 lb (raw) beef shank per person.
DISCLOSURE: We received samples of the Merlot that we featured in this post. We were not compensated for our time. As always, all opinions are our own.
---
Celebrate #MerlotMe with the #WinePW crew! Pop the cork on a bottle of Merlot, and explore the wines and pairings the rest of the group cooked up this month!
David of Cooking Chat started this event in June of 2014, and every month since then this group of wine and food lovers have had a great time! For more background, check out the original post announcing Wine Pairing Weekend. You can see the full list of past and upcoming #winePW events here.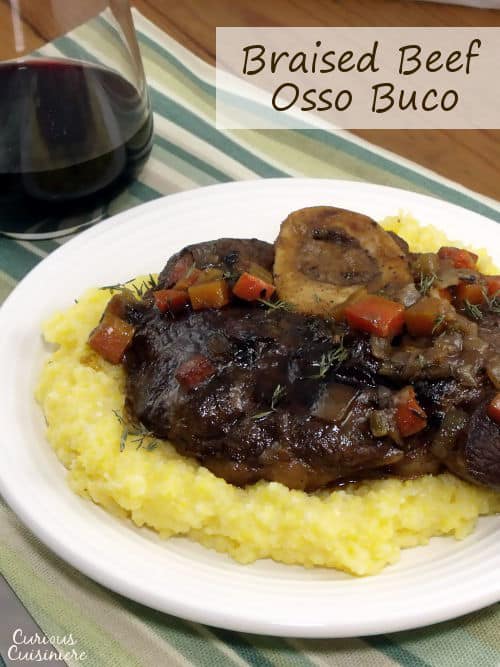 We received the bottles of wine mentioned in this post as a part of our involvement with #MerlotMe. As always, all thoughts and comments are our own.
If you liked this recipe, here are some similar dishes you may enjoy!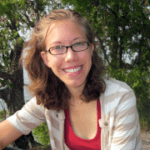 Sarah is co-owner of Curious Cuisiniere and the chief researcher and recipe developer for the site. Her love for cultural cuisines was instilled early by her French Canadian Grandmother. Her experience in the kitchen and in recipe development comes from years working in professional kitchens. She has traveled extensively and enjoys bringing the flavors of her travels back to create easy-to-make recipes.