This loaded Australian burger is not for the faint of heart. But, if you're up for the challenge, you will be rewarded by the stellar combination of flavors that is an Aussie Burger. When you load a burger with egg, bacon, onion, pineapple, pickled beets, and more, you get a combo that is unlike anything you have ever tasted!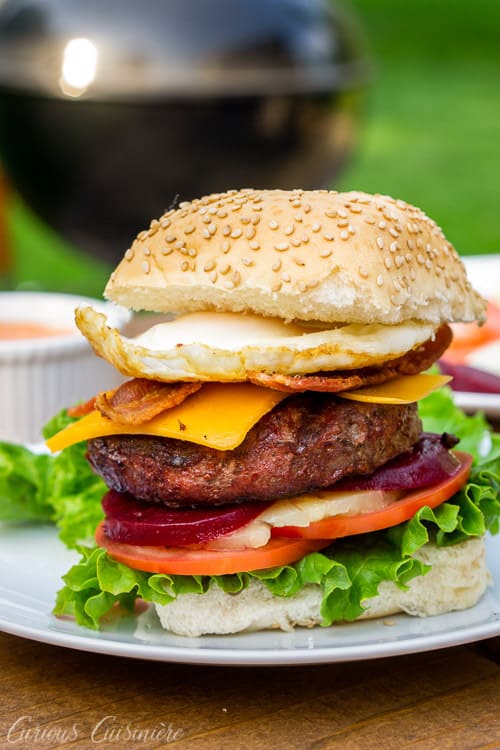 DISCLOSURE: We received samples of the Certified Angus Beef ® brand hamburger patties mentioned in this post. Honestly, we would have used Certified Angus Beef ® brand beef even if we hadn't been given the patties. We just love their beef that much. You can read about why below.
What Is A Traditional Australian Hamburger?
Turns out, Australians really like their burger toppings.
I mean REALLY.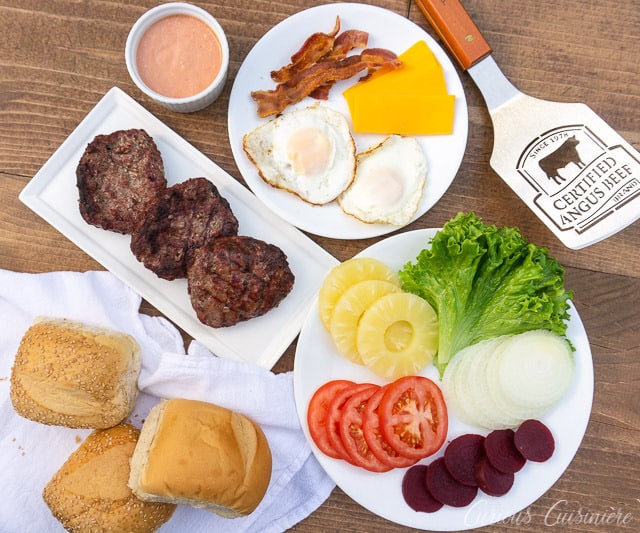 Now, we love a good loaded burger.
Blue cheese, bacon, avocado, mushrooms, grilled onions. Give us the works!
But, when we saw the list of toppings for a traditional Australian hamburger with the works (also known as "the lot", we stopped dead in our tracks.
Lettuce, tomato, and cheddar cheese. Sounds like a good standard so far.
Onions, bacon, and a chili mayo sauce. Bring it on.
Grilled pineapple. Sure, why not?
A runny fried egg. We've seen it done before. We're still on board.
Pickled beets…. Sorry. You lost us.
Don't get me wrong, I have a mild obsession with anything pickled, and beets top that list, but on a hamburger, with pineapple, bacon, cheddar cheese, and a fried egg?
I just couldn't wrap my mind around it.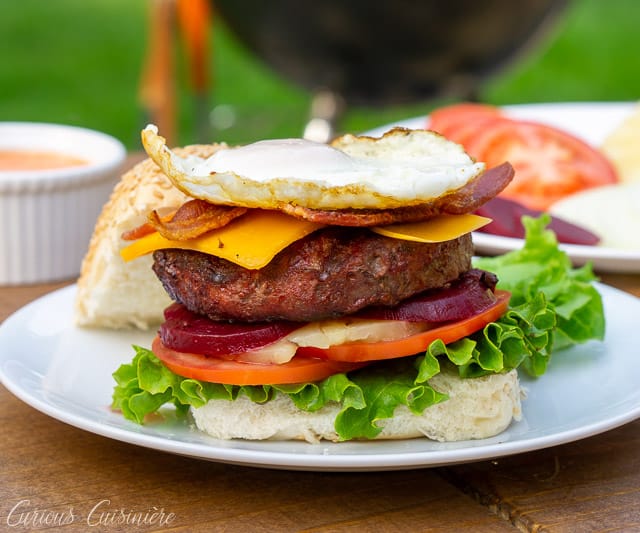 But, we refuse to be bested by any burger.
So, we vowed to give it a try, in its full glory, before we formed any opinions.
Turns out, wrapping our mind around the concept of flavor combinations in this Australian burger was the least of our worries.
As we piled our sturdy bun high with toppings, we started to wonder how we were going to wrap our mouths around the six-inch tower.
Starting With A Good Burger
Now, some people would argue that all these toppings just take away from the flavor of a good ol' hamburger patty.
I mean, why do you need quality beef with all those other flavors going on?
But, we'd argue just the opposite.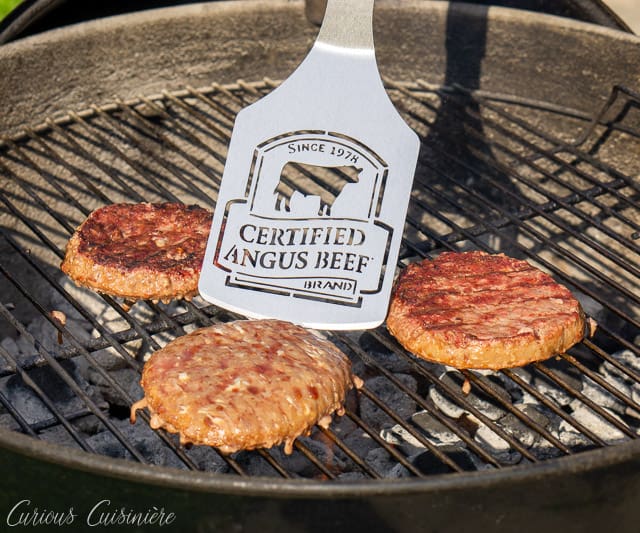 Good beef, a good hamburger patty, is what anchors all the other flavors in this hamburger together.
The robust meaty flavor of a good beef patty anchors the acid of the pickled beets and the sweetness of the pineapple.
A beef patty with quality beef has the perfect texture to complement the melting cheese and crisp lettuce.
And, the juiciness of a perfectly cooked hamburger patty is just what you want to mingle with the runny goodness of the fried egg.
We typically make our burgers from scratch using Certified Angus Beef ® brand beef, because we know that their beef is always going to be incredibly flavorful and juicy. Basically the two most important things when it comes to a burger.
We typically stay away from frozen patties because they come out dry and seriously lacking in the flavor department. But, when we were sent these Prime Beef Patties from Certified Angus Beef ® brand, we were excited to see what a different Certified Angus Beef ® brand beef would make, even in a frozen patty.
And, after tasting them, we knew that they would be the perfect base for this glorious Aussie burger.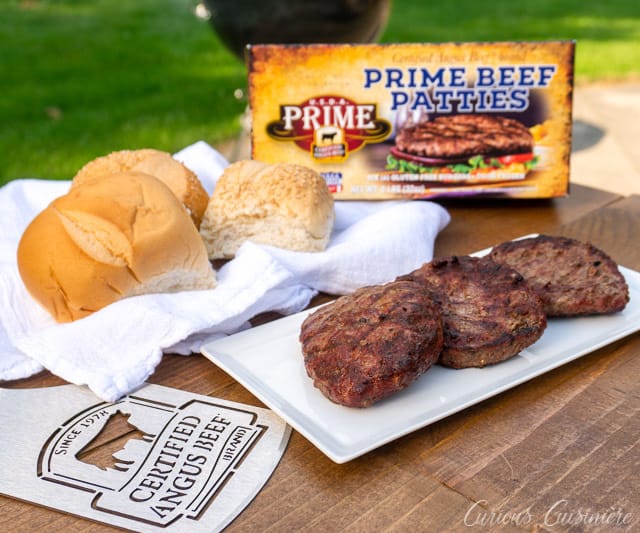 We give you instructions for making your own burger or using a pre-made burger in the recipe below. But, if you choose to use a pre-made, frozen burger patty, do your Aussie burger a favor and look for a Certified Angus Beef ® brand patty.
You won't be sorry.
Tasting An Aussie Burger With The Lot
So how does this monstrous, loaded burger taste?
One bite in, and we couldn't form any words but "wow." (And, that's not because our mouths were stuffed so full of this Aussie burger goodness.)
Each bite was the perfect combination of sweet and tangy, fresh and meaty, creamy and sharp flavors.
The pickled beets add a bright sweetness and sharp acidity, like you would get from a sweet cucumber pickle.
The flavors of the beets mesh perfectly with the pineapple and cut through the robust and rich flavors of the beef and bacon.
The cheddar cheese adds a sharp creaminess, while the egg and chili mayo add additional layers of creamy goodness.
The spice from the chili mayo is just enough to add a flavor undertone, but not enough to add a whole lot of heat.
And, let's not forget the saltiness and crunch of the bacon that, although almost lost in the sea of toppings, adds supporting flavor and a bit of texture to this sea of creamy goodness.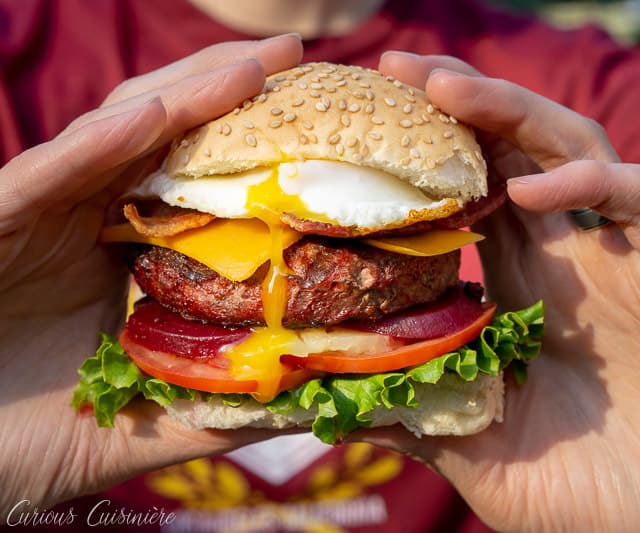 It's a burger you have to get your whole face into.
But, oh my goodness, it is worth it.
Aussie Burger With The Lot
This loaded Australian Burger is a mile-high burger with egg, bacon, cheddar cheese, pineapple, pickled beets, and more. If you love burger toppings, this one is for you!
Yield: 4 burgers

Ingredients
For The Chili Mayo Sauce
¼

c

ketchup

¼

c

mayonnaise

1

tsp

hot sauce

(Sriracha or your favorite)
For The Burger
4

slices

bacon

4

eggs

4

Certified Angus Beef ® brand

hamburger patties

*

4

oz

sharp cheddar cheese,

sliced

1

sweet onion,

sliced into thick rings **

4

pineapple rings,

patted dry **

¾

c

pickled beets,

drained, sliced, and patted dry

1

tomato,

sliced

4

lettuce leaves,

washed and patted dry
Instructions
Preheat your grill to a medium heat.

In a small bowl, mix together ketchup, mayonnaise, and hot sauce. Set aside.

Fry your bacon in a medium skillet over medium high heat until cooked to your preferred done-ness. Remove the bacon from the skillet and place on a paper towel lined plate.

Crack the four eggs into the hot bacon grease and fry the eggs until the whites are cooked, but the yolks are still jiggly, 2-3 minutes. Remove the fried eggs from the pan.

Place the burger patties on the pre-heated grill. Cook for 5-7 minutes on each side, until firm and cooked to your desired done-ness. (Actual cooking time will depend on the thickness of the burgers and the heat of your grill. If using packaged burgers, refer to the package instructions.) Remove the burgers from the grill and let rest for 2-3 minutes, covered with aluminum foil to keep warm.

Construct the burgers by layering lettuce, tomato, pineapple, beets, and onion on one half of the bun, followed by the burger patty. Continue, layering the cheese, bacon, and finally the fried egg. Top everything off with the top bun, slathered with the chili mayo.

Un-hinge your jaw and get ready to enjoy this epic tower of a burger!
Notes
* To Make Your Own Burger Patties:
INGREDIENTS 1 lb ground beef, 85% fat, 1/4 tsp salt, 1/8 tsp ground black pepper.
INSTRUCTIONS In a medium bowl, mix together beef, salt, and pepper. Divide the meat into four portions and shape each portion into a 3 ½ - 4 inch patty. Set the patties aside.
** If you like, you can grill your onions and pineapple rings. -- Take a toothpick and push it through the side of the onion slices to hold the rings together on the grill. Brush the onion slices and pineapple rings with a little olive oil and grill until you get nice grill marks.
---
This is one of the recipes from the early days of Curious Cuisiniere. We've updated our pictures since we first shared it, but we've left some originals here, in case you've found us in the past and are looking for that old, familiar image.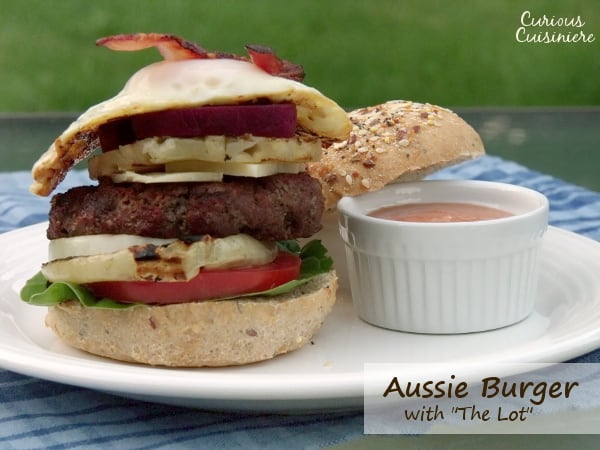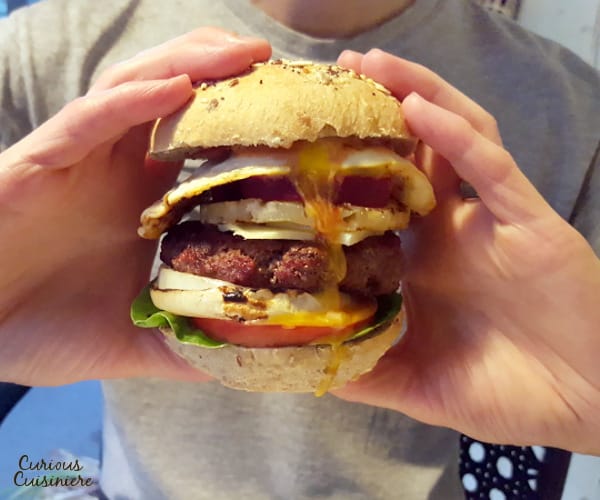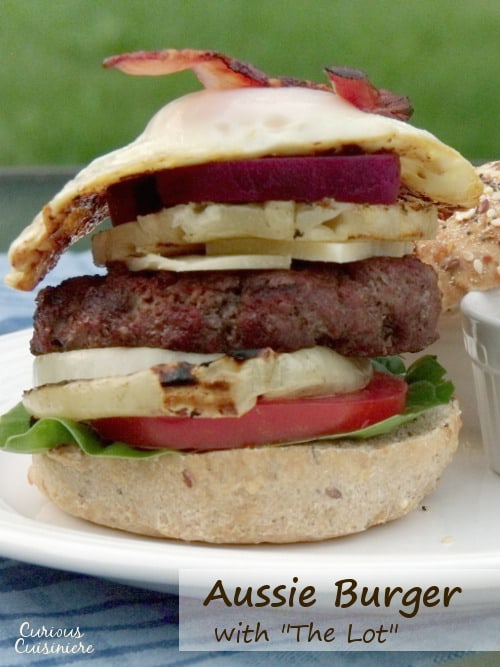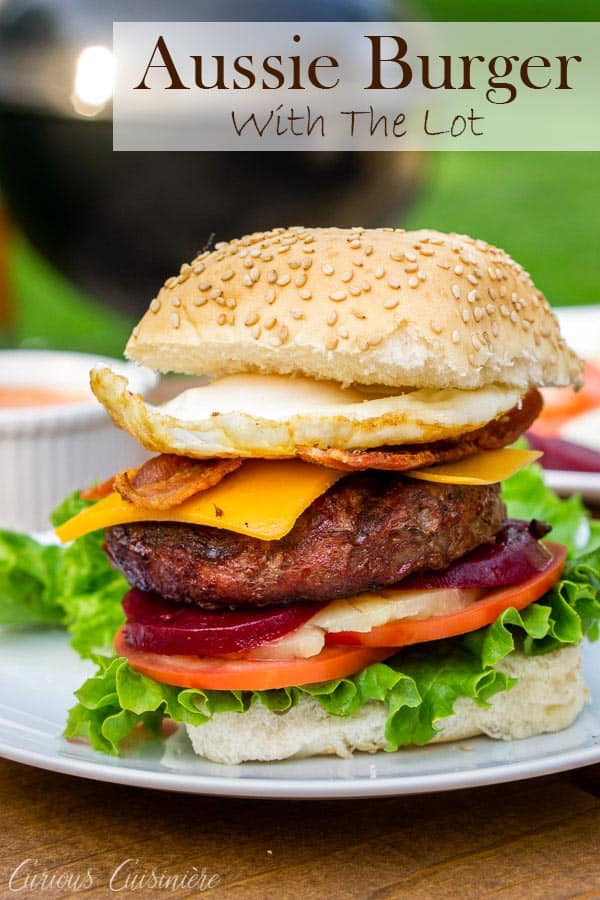 If you liked this recipe, here are some similar dishes you may enjoy!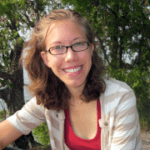 Sarah is co-owner of Curious Cuisiniere and the chief researcher and recipe developer for the site. Her love for cultural cuisines was instilled early by her French Canadian Grandmother. Her experience in the kitchen and in recipe development comes from years working in professional kitchens. She has traveled extensively and enjoys bringing the flavors of her travels back to create easy-to-make recipes.