Bright lemon and parsley marinated shrimp paired with a crisp Australian chardonnay make for a perfect summer appetizer.
Wines from Volcanic Soil
Today's Wine Pairing Weekend theme comes from Camilla of Culinary Adventures with Camilla. She challenged the group to explore wines made from grapes grown in volcanic soils. For some reason, we had a bit of trouble finding wines that fit the category. So, we were so excited when we finally found a Robert Oatley Margaret River Chardonnay from Australia that seemed to fit the bill.
After purchasing the wine and doing more digging, we came to find out, to our dismay, that, while Robert Oatley does have vineyards planted in the volcanic soil along the southeastern edge of Australia, the grapes for this particular wine come from the southwestern region, a region which is, sadly, not volcanic. Camilla kindly invited us to participate in today's sharing anyway. And, we're excited to see the volcanic wines that the other members were able to find.
An Australian Chardonnay
Even though the wine turned out not to be volcanic, it was still incredible, as was the pairing. The Chardonnay was brighter than most Chardonnay we have had, with a pronounced fruit flavor that we found heavy on the lemon, making it perfect for pairing with our lemon marinated shrimp. Even in the brightness of the wine, it still retained the classic chardonnay depth. And the slight oaking of the wine accented the earthy flavors of the parsley and grill smoke in the shrimp. We found the wine just as tasty slightly chilled or at room temperature. Chilled, the citrus flavor became more pronounced, while warmer the wine took on more mellow and deep tones.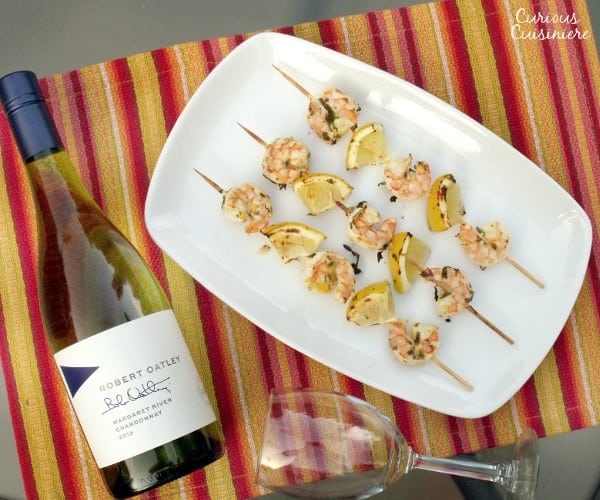 Shrimp on the Barbie… Or Not
In the States, "shrimp on the barbie" is one of the dishes that we often associate with Australia. It's sad, but true. I say sad, because it's one of those widespread stereotypes that would make any native cringe.
So, let's set the record straight. The phrase was coined in a 1980's TV ad that was run in the US sponsored by the Australian Tourism Board. The commercial starred Paul Hogan, before he had made a name for himself in the film Crocodile Dundee.
Shrimp vs Prawns
Say "shrimp" in Australia, and that's a dead giveaway that you're an outsider. In Australia they call those small crustaceans "prawns". They are abundant in Australia, making them great for a barbecue.
What's the difference between a shrimp and a prawn? You'd probably be hard pressed to tell them apart by taste alone. The two are actually different species, that look incredibly similar. Probably the biggest difference is that shrimp have two sets of claws on their five sets of legs, while prawns have three. But, if you're close enough to a prawn or shrimp to be able to look at its claws, then you probably already know which one you're eating. Typically, prawns are harvested from fresh water, while shrimp come from saltwater. And, prawns will typically be larger than shrimp (but, both do come in a variety of sizes). In many parts of the world it's simply a matter of terminology. We call them shrimp in the States; in Australia and Britain, they're known as prawns.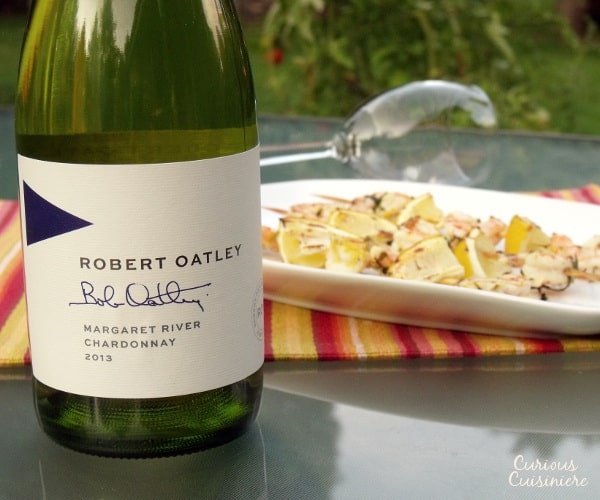 Australian Style Grilled Shrimp
We marinated our shrimp (and yes, they were actually shrimp) in a combination of lemon juice, garlic, and parsley. The lemon brightens them, while the parsley adds a nice earthy dimension that pairs incredibly well with the smoky flavor from the grill.
The only other thing you need for a relaxing summer afternoon is a nice glass of wine!
---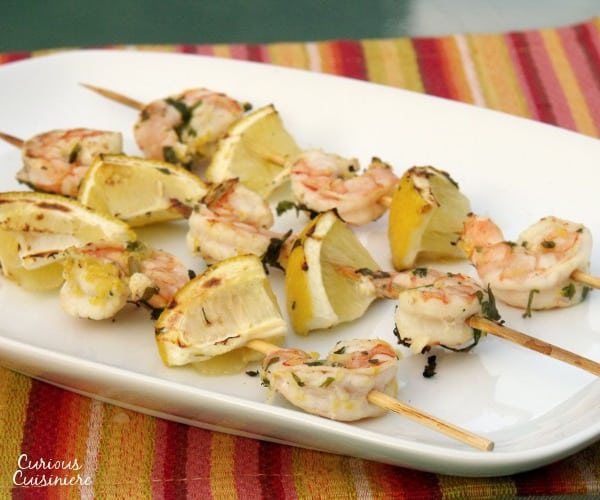 Australian Style Grilled Shrimp
Shrimp should marinate for at least 1 hour (up to overnight) for best flavor.
---
Ingredients
2

lemons

3

garlic cloves,

minced

3

scallions,

chopped

¼

c

fresh parsley,

chopped

¼

tsp

salt

Dash

ground black pepper

½

lb

shrimp,

peeled and veined

Wooden skewers

(soaked)
Instructions
Juice and zest one lemon into a small bowl. Add the minced garlic, chopped scallions, parsley, salt, and pepper.

Place peeled shrimp in a shallow dish and pour the marinade over shrimp. Cover and let the shrimp marinate for at least 1 hour (up to overnight).

When you are ready to cook your shrimp, preheat the grill to medium heat. (You should be able to hold your hand a few inches above the cooking grate for 5-6 seconds.)

Cut one the remaining lemon into wedges and cut each wedge in half. Skewer the shrimp and lemon pieces, until all the shrimp has been skewered.

Grill the shrimp for 2 minutes. Then flip the skewers and grill them for an additional 2-3 minutes, until the shrimp is opaque and firm.

Remove from the grill and serve immediately.
---
---
Learn more about volcanic wines with these great pairings!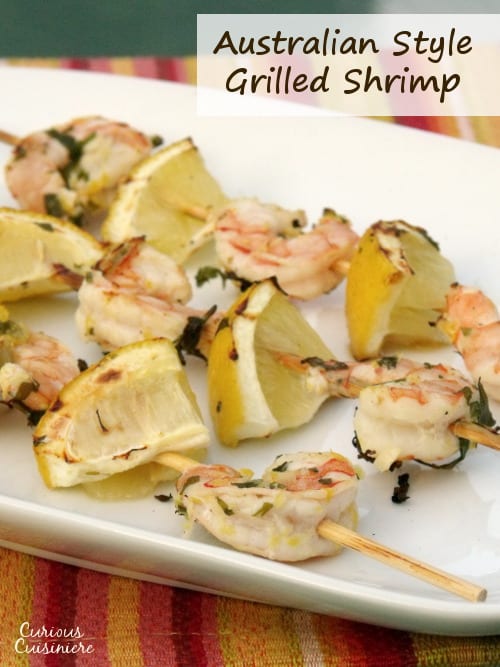 If you liked this recipe, here are some similar dishes you may enjoy!