Thick and hearty Cowboy Chili, also known as Texas Red Chili, is sure to stick to your ribs and satisfy any meat lover.
Give Me "A Bowl Of Red": What Is Texas Red Chili?
In America, there are as many variations on chili as there are people who love to dive into a hearty bowl.
The most simple version, and probably the one that started it all, is Texas Red Chili.
No tomatoes. No beans. Just meat.
That's what makes Texas Red Chili stand out from other versions.
Some chili lovers will balk at the idea that chili could be made without beans or tomatoes. But, if you head down to Texas, they'll tell you that a soup with tomatoes and beans is DEFINITELY NOT CHILI.
This thick, stick-to-your-ribs chili is also known as Cowboy Chili because it comes from the days of chuck wagons and cattle drives. A look into the origins of the chili tells us a lot about how this meal came about.
Cowboys and Cattle Drives In The Wild West
Imagine it.
It's 1870, and you're headed from Texas to a railway town in Kansas with 2,000 longhorn cattle in hopes of selling the herd so you can bring some money back to your family.
There are 20 or more cowboys in the group, traveling 10-12 miles a day with these cows in a journey that will take 2-3 months to complete.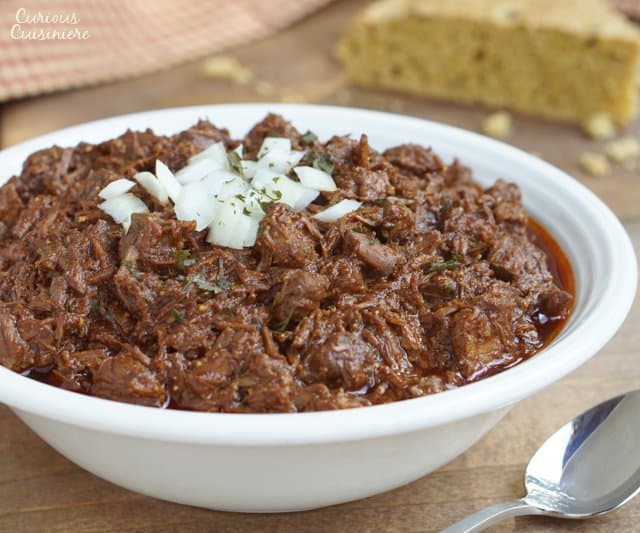 While the cowboys play a crucial role in the journey, the trail cook was probably the most important member of the group.
All those hungry boys had to eat! And, how do you attract and keep the best cowboys for your team?
Good food!
Chuck Wagon Cooking
With the help of his trail cooks and an old military wagon, Col. Charles "Chuck" Goodnight designed a mobile kitchen that could hold up to life on the trail.
The "Chuck" wagon concept was so successful, that it began to be adopted by cattle drivers throughout the west.
Ingredients that would spoil, like dairy, eggs, or fresh vegetables weren't to be found in the chuck wagon. (No refrigeration on the trail!)
This left the cook with a small variety of ingredients to keep his hungry crew well fed and happy. Hearty meat stews and skillet breads were some of the most loved forms of sustenance.
If you need a meal that would stick to your ribs and keep you going, Texas chili is definitely the answer!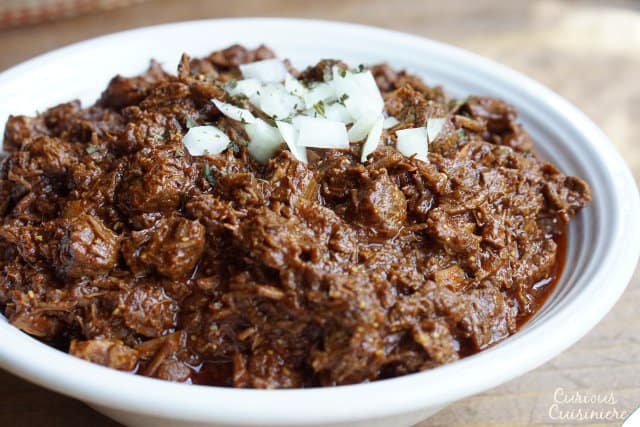 Choosing Beef For Your Cowboy Chili
Meat.
That's really what Texas cowboy chili comes down to.
Some people use ground beef for this chuck wagon chili and others use a cubed roast.
We used a Certified Angus Beef® brand top round roast, but a chuck roast would have worked just as well. These roasts are great for braising, which is effectively what we are doing in this chili recipe. The long, slow cooking makes them incredibly flavorful and tender!
When choosing your roast, you want to be sure that there is a good amount of marbling (white flecks) in the lean of the muscle. That marbling leads to lots of flavor, particularly when the chunks of these roasts are cooked nice and slow.
We really liked the way the small cubes of meat cooked down to an incredibly tender consistency after a few hours. You'd almost swear you had started with ground beef!
Cowboy Chili (Easy Texas Red Chili)
This really is a hearty chili, so we find that smaller serving sizes are best with some good
skillet cornbread
. If you are cooking for hearty eaters, you may want to double the recipe.
Yield: 4 c
Ingredients
3

lbs

Certified Angus Beef® brand chuck roast,

trimmed of excess fat and cut into 1 inch cubes

1

onion,

diced

4

garlic cloves,

minced

6

Tbsp

chili powder

1

tsp

cumin

1

tsp

salt

½

tsp

ground black pepper

2

c

water

(more if necessary)

6

Tbsp

Masa Harina

(or cornmeal)
Instructions
In a heavy bottomed soup pot (preferably cast iron) brown the beef cubes over medium high heat, 2-3 minutes.

Add the onion and garlic and sauté until the onions have softened, 3-5 minutes.

Stir in the chili powder, cumin, salt, and black pepper. Add the water and bring the mixture to a boil. Reduce the heat to medium low and simmer, covered, for 3-4 hours, until the beef is incredibly tender and the chili is thick. (Check the chili occasionally and add more water if it looks too dry.)

Just before serving, mix in the Masa Harina slowly, stirring to let any excess moisture be absorbed, creating a nice, thick chili.

Serve with cornbread or sourdough bread.
Notes
This chili is wonderful after it has set overnight. If desired, make it a day ahead of time (don't add the Masa Harina) and refrigerate overnight. When you would like to serve it, skim any fat that may have risen to the surface, reheat over medium low, and mix in the Masa Harina when warmed if the chili looks too thin.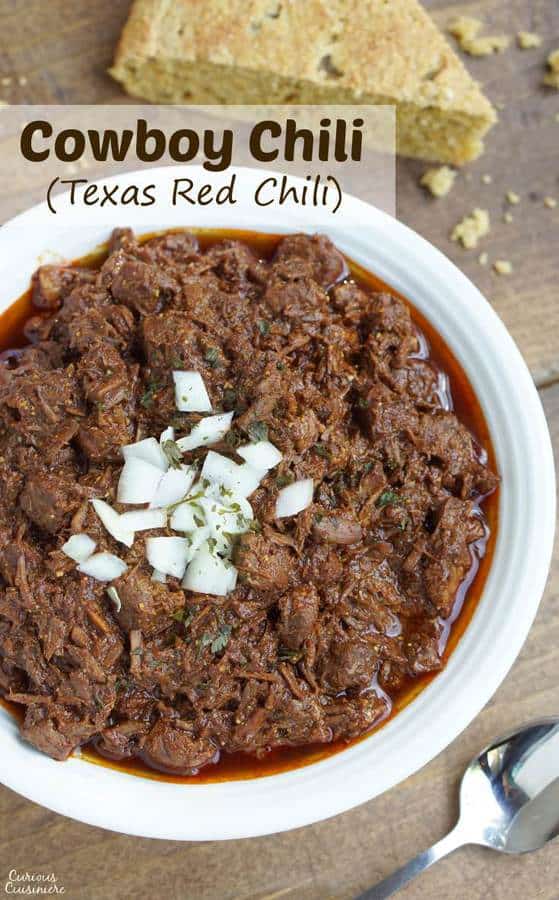 ---
Check out these other great chuck wagon inspired dishes from some of our favorite bloggers:
Beefed Up Main Dishes
Sizzling Sides
Substantial Steaks
If you liked this recipe, here are some similar dishes you may enjoy!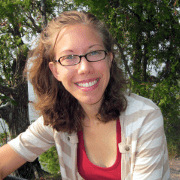 Sarah is one of Curious Cuisiniere's founding duo. Her love for cultural cuisines was instilled early by her French Canadian Grandmother. Her experience in the kitchen and in recipe development comes from years working in professional kitchens. She has traveled extensively and enjoys bringing the flavors of her travels back to create easy-to-make recipes.