Our slow cooker Irish Beef Stew recipe brings simple ingredients together to create an incredibly comforting meal.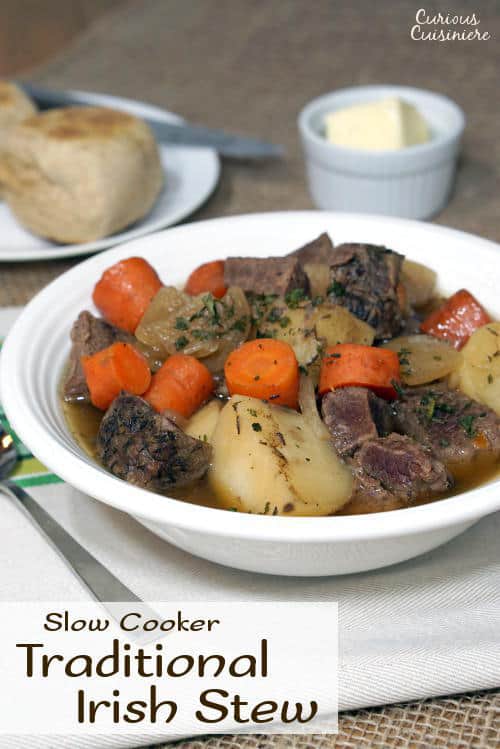 Simple and comforting Irish fare
One thing we have learned about traditional Irish food is that it is incredibly simple. There are no frills and fancy sauces like French cuisine. No un-ending list of topping and flavor combinations like Italian dishes. No intense spice like Indian food.
Irish food is comfort. Pure and simple comfort. It's not complicated, but it is sustaining. It doesn't employ a long list of ingredients, but it is robust and flavorful. It doesn't take someone with an advanced culinary degree to make,  but it IS all about bringing those you love together around a cozy table.
Irish stew embodies everything that is wonderful about Irish cuisine.
Traditional Irish Stew
As with anything, there are heated debates about what 'really' should go into an Irish stew. And, honestly, for ages we thought that Guinness was a staple ingredient. But, we have come to the conclusion that, in traditional Irish cooking, the beer would have been saved for drinking and not thrown into the pot. (That's not to discount the incredibly tasty versions that use Guinness. We're just talking traditionally speaking here.)
But, if you're going strictly traditional, you'd probably have to find yourself some old, tough mutton to thrown in too, since that's what would have needed the long stewing time to create the original Irish Stew. But, since mutton is pretty pricey in the States, and the whole point of this stew is to be a hearty, economical dish, beef is acceptable.
As for seasonings, we were blown away by the lack of them in nearly every recipe we came across. Salt and pepper, maybe a little thyme or parsley (not both). That was all.
Simple. This is a simple dish.
Flavorful Slow Cooker Irish Beef Stew
I must admit, we were a bit skeptical when preparing this stew. We wondered if it would be as rich and flavorful as those Guinness-spiked Irish stews we love. But, we stuck to it and let the slow cooker do its work.
The result was incredible! This slow cooker Irish beef stew is such a testament to what a few well-chosen ingredients and a little heat love can do. It was hearty, robust, and incredibly flavorful. (And, incredibly tasty served with a dense Irish Soda Bread!)
So, don't be afraid of simplicity folks. Crack open an Irish beer and enjoy how tasty it is!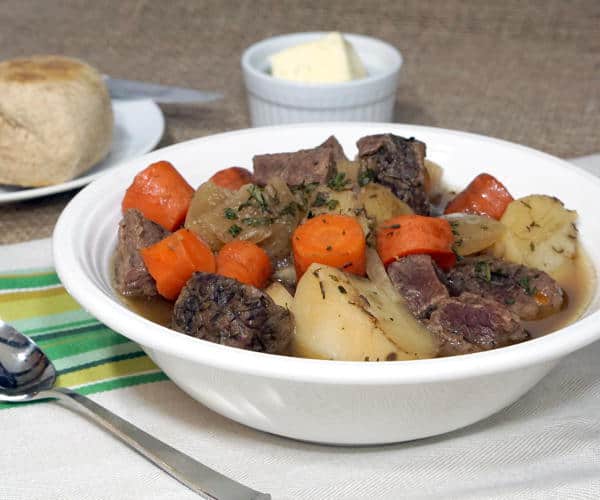 Slow Cooker Irish Beef Stew
---
Ingredients
1 ½

lb

beef roast

(rump, chuck, shoulder roasts), cut into 1 inch chunks

1

tsp

salt

¼

tsp

ground black pepper

2

onions,

cut into eights

4

carrots,

cut into bite-sized chunks

1 ½

lbs

waxy potatoes

(Red or Yukon Gold), peeled and cut into chunks

1

tsp

thyme

3

c

water
Instructions
Preheat a large skillet over high heat. Season the beef chunks with salt and pepper and add them to the hot pan. Sear the meat on all sides, 2-3 minutes. Transfer meat pieces to slow cooker.

Add the onion pieces to the skillet. Sear them over high heat for 1-2 minutes, until they start to develop dark, golden marks. Add the onions to the slow cooker along with the carrots, potatoes, and thyme.

Pour 1 cup of water into the hot skillet to deglaze. Scrape the bottom of the skillet with a spatula to pick up any stuck bits. Pour the mixture into the slow cooker along with the remaining water.

Cook the stew on high heat for 4-5 hours or low for 6-7 hours.

Taste before serving and adjust salt and pepper as desired.

Serve hot with crusty bread.
---
If you liked this recipe, here are some similar dishes you may enjoy!