This Cracked Pepper Caraway Irish Soda Bread recipe creates a savory Irish soda bread that is quick to make and perfect for pairing with a hearty stew.
The History Of Irish Soda Bread
While we attribute Soda Bread to Ireland, it is most likely that the concept did not start there, since baking soda wasn't introduced to Ireland until the early-middle part of the 19th century.
It is believed that American Indians were actually the first to make a soda-leavened 'cakes' using Pearl Ash or Potash (natural soda found in wood ashes) even prior to 1800.
But, we do find a 'recipe' for Soda Bread in Ireland as early as Farmer's Magazine from 1836:
…[P]ut a pound and a half of good wheaten meal into a large bowl, mix with it two teaspoonfuls of finely-powdered salt, then take a large teaspoonful of super-carbonate of soda, dissolve it in half a teacupful of cold water, and add it to the meal; rub up all intimately together, then pour into the bowl as much very sour buttermilk as will make the whole into soft dough (it should be as soft as could possibly be handled, and the softer the better,) form it into a cake of about an inch thickness, and put it into a flat Dutch oven or frying-pan…

(from http://www.sodabread.info/oldest-reference-to-soda-bread/)
Using soda to rise bread was a great find for Ireland because the most common type of wheat grown in their climate is a soft wheat, which doesn't rise as nicely as a hard wheat when mixed in a traditional yeast-bread manner.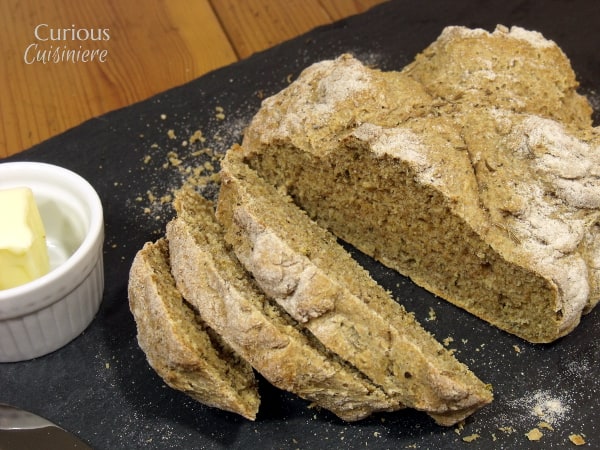 Our Cracked Pepper Caraway Savory Irish Soda Bread Recipe
While the most traditional version of Irish soda bread is a very simple bread with no add-ins, we decided to mix things up a bit by adding some cracked pepper and caraway seeds. The pepper brings just a hint of darkness and spice to the bread, while the caraway gives a flavor faintly reminiscent of rye bread.
This savory Irish soda bread is delicious warm, slathered with some salted butter. It also makes the perfect accompaniment to a hearty stew. And, while we haven't tried it yet, we'd bet it would make some pretty killer Reuben Sandwiches.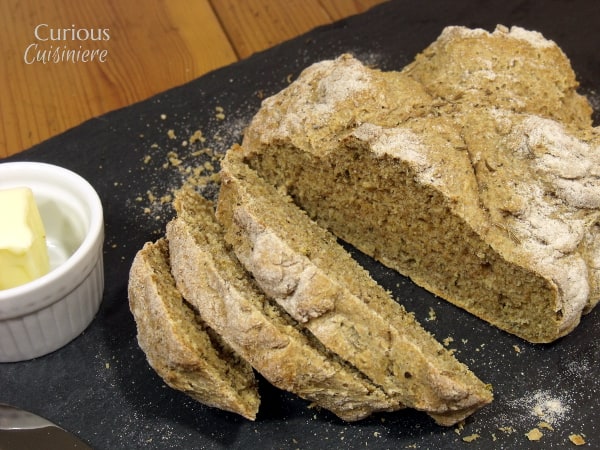 Cracked Pepper Caraway Irish Soda Bread
This Cracked Pepper Caraway Irish Soda Bread recipe creates a savory Irish soda bread that is quick to make and perfect for pairing with a hearty stew.
Yield: 1 (2 lb) loaf
---
Ingredients
2

Tbsp

caraway seeds

2

tsp

baking soda

1

tsp

salt

½

tsp

ground black pepper

2

c

buttermilk
Instructions
Preheat your oven to 400F. (If you have a baking stone, preheat it with your oven.)

In a large bowl mix flours, caraway seeds, baking soda, salt, and pepper.

Slowly stir in buttermilk, until the dough comes together. (Your dough should be fairly sticky.)

Turn the dough out onto a floured surface and gently knead it (the best you can) 4-5 times. Shape it into a round and place it on a greased baking sheet (or floured baking stone).

Make a cross in the bread, cutting nearly ¾ of the way down with a serrated knife. (Don't be afraid of cutting the dough here. The deeper the slashes, the more room the bread has to rise in the oven. And, the more pronounced the quarters will be.)

Bake the bread for 25-30 min, until golden and hollow sounding when tapped.
---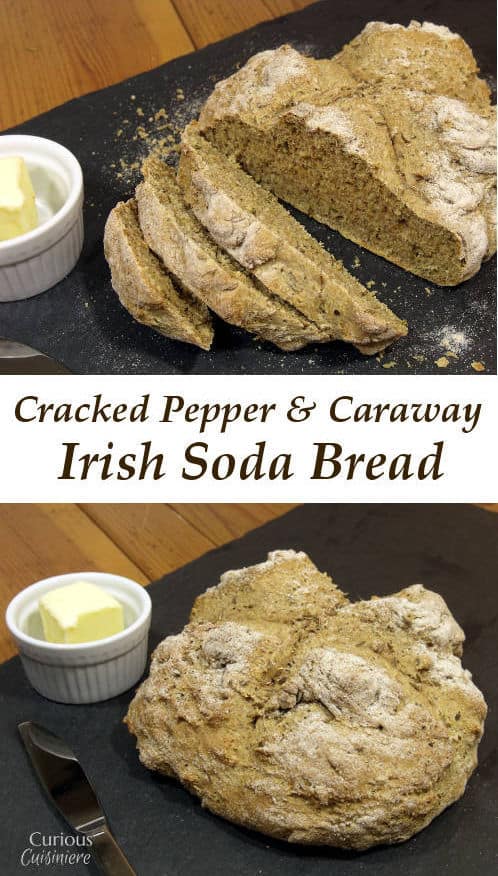 If you liked this recipe, here are some similar dishes you may enjoy!