This Swiss Muesli Recipe brings toasted, nutty goodness to breakfast. Serve it with a cup of milk and a hard-boiled egg for a protein rich way to start your day.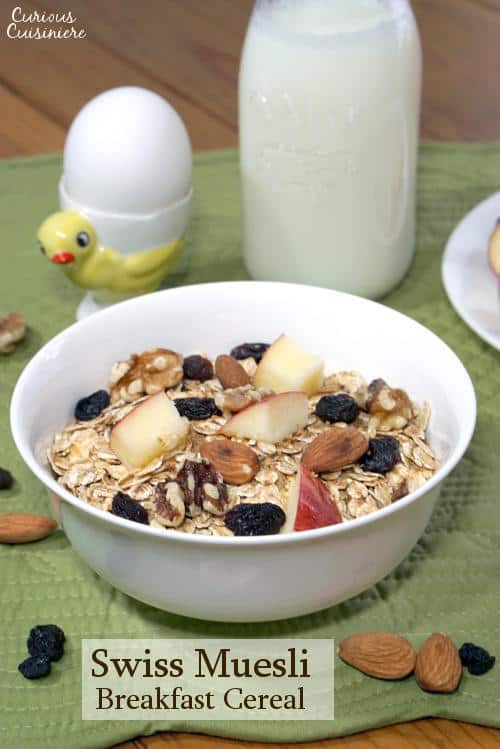 This post was sponsored by Milk Life on behalf of Influence Central.
If you look at breakfast around the world, you see a curious thing. While most Americans are content with their bowl of cereal or bagel, many other countries feature high protein foods prominently in their morning meal. There's a reason for it. Protein gives you the energy you need to get through your morning.
Many experts recommend keeping your body fueled all day long by balancing out your daily protein intake with 25-30 grams of protein at every meal. But, many Americans average around 13 grams of protein in the morning. That's why Milk Life is taking a stand to inform people of the importance of #MyMorningProtein and the way an 8 oz glass of milk can be the perfect accompaniment to a protein rich breakfast, helping you to reach that protein goal and stay more full and focused well into your morning.
So how do we get that much protein?
It might seem daunting to reach 25-30 grams of protein before noon, but when you consider that one 8 oz glass of milk contains 8 grams, you'll see that there are some easy ways to get your morning protein. And, if you look at breakfasts around the world, you'll see that increasing protein in breakfast is as simple as getting a little global inspiration.
Today we're sharing a traditional Swiss and German breakfast cereal that will get you on your way to that 25-30 gram mark.
A Traditional Swiss Muesli Recipe
Muesli (pronounced MEU-zli) is a breakfast dish originates from 1900 in Switzerland, where a physician by the name of Maximilian Bircher-Benner came up with the dish as a remedy for his hospital patients.
The original Bircher muesli was soaked overnight in water or juice and eaten in the morning with nuts, fruit, and yogurt. It gained popularity in the Western world as healthy eating trends spread. Not just for breakfast, it is commonly eaten in Switzerland and Germany as a light evening meal as well.
Swiss Muesli vs Granola
In the States, it is common for muesli to be confused with granola, but there are some key differences between the two. Muesli is unsweetened with a loose texture and no added oil. Granola, on the other hand, is baked dry after adding oil and a sweetener to achieve a crunch, clumpy consistency.
While traditional muesli was made with raw oats, we like the warm, nutty flavor that lightly toasting the oats and nuts adds. And, it is easy to toast up a big batch of oats and nuts and store them in your pantry for a quick breakfast.
Muesli can be eaten dry with milk or yogurt or it can be soaked overnight for a grab and go breakfast. Either way it is an incredibly flavorful way to get your morning nutrients and a good dose of protein.
A high protein breakfast
Oats weigh in at 5 grams of protein per 1/2 c serving. We increased the protein in our muesli by adding wheat germ, which clocks in at 2 grams per tablespoon. Adding the nutty crunch of walnuts (2 g per 1/2 oz) and almonds (3 grams per 1/2 oz) means that a serving of this toasted, nutty cereal gets you up to 12 grams of protein.
Adding 8 ounces of milk (8 grams of protein) with your cereal and a hard-boiled eggs (6 grams of protein) puts you at 26 grams total. Which makes this breakfast a great, protein rich, start to your day.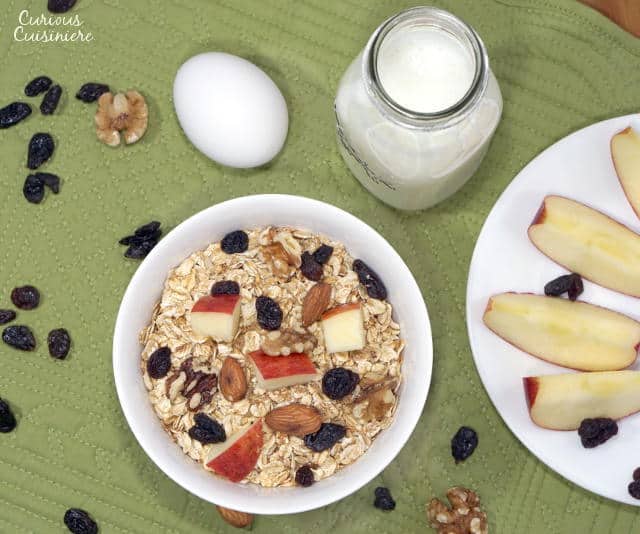 So, what are you waiting for? Jump start your mornings with milk and #MyMorningProtein. Leave a comment and tell us, how will you get your 25-30 grams?
Swiss Muesli Recipe
This recipe yields 8 (1/2 c) servings. Prepare the toasted oats and nuts ahead of time and store them in an air-tight container in your pantry for a quick, protein-rich breakfast.
Ingredients
For the Muesli Base
4

c

rolled oats

¼

c

wheat germ

2

tsp

cinnamon
For the Toasted Nuts
4

oz

almonds

(whole or slivered)

4

oz

walnuts

(halved)
To Serve
4

apples

or other fresh fruit, diced

½

c

raisins

or other dried fruit, chopped

Honey

or your favorite sweetener, optional
For Serving
Milk

(8 oz per serving)

Hard Boiled Egg

(one per serving)
Instructions
For the Muesli Base
Place the oats in a large skillet. Heat over medium heat, stirring often until the oats are fragrant and golden, 4-5 min. Remove the pan from the heat and add the wheat germ and cinnamon. Mix to combine. Remove the oats from the skillet and let cool. Store prepared toasted oat mixture in an airtight container in the pantry until you are ready to make your cereal.
For the Toasted Nuts
Place almonds and walnuts in a large skillet and toast over medium heat, stirring often, until fragrant, 3-4 min. Remove the nuts from the skillet and let cool. Store toasted nuts in an airtight container in the pantry until you are ready to use them.
For Fresh Muesli
Mix ½ cup of the toasted oats mixture with ¼ cup toasted almonds and walnuts. Add ½ diced apple and 2 Tbsp raisins. Drizzle with honey to sweeten, as desired. Pour milk over the cereal and enjoy.
For Soaked Muesli
Soak ½ cup of the oat mixture with ½ cup water (juice or milk) and refrigerate 12 hours or overnight. When you are ready to eat, mix in ¼ cup toasted almonds and walnuts, ½ diced apple, and 2 Tbsp raisins. Sweeten as desired with honey.
If you liked this recipe, here are some similar dishes you may enjoy!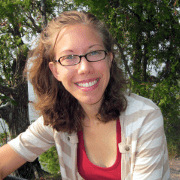 Sarah is one of Curious Cuisiniere's founding duo. Her love for cultural cuisines was instilled early by her French Canadian Grandmother. Her experience in the kitchen and in recipe development comes from years working in professional kitchens. She has traveled extensively and enjoys bringing the flavors of her travels back to create easy-to-make recipes.