Dreikönigskuchen, Three Kings Cake, may also be called an Epiphany cake. These citrus and raisin bread rolls are lightly sweet and wonderfully fluffy!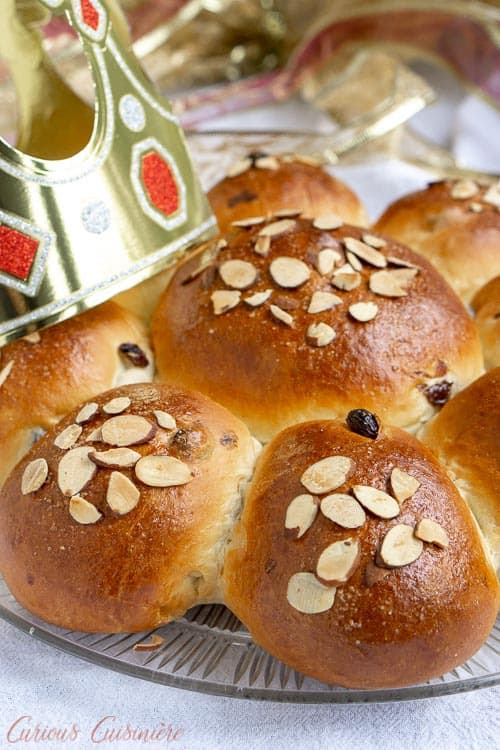 When we think of a "King Cake" most often what comes to mind is the Mardi Gras King Cake that is famous in New Orleans.
However, in many countries around the world, a "King Cake" makes an appearance a month or more before Mardi Gras for the celebration of the Epiphany on January 6th.
What Is Epiphany?
Epiphany (known in some countries as Three Kings Day) is the celebration of the day the three kings (or wise men) visited the Baby Jesus and presented him with gifts.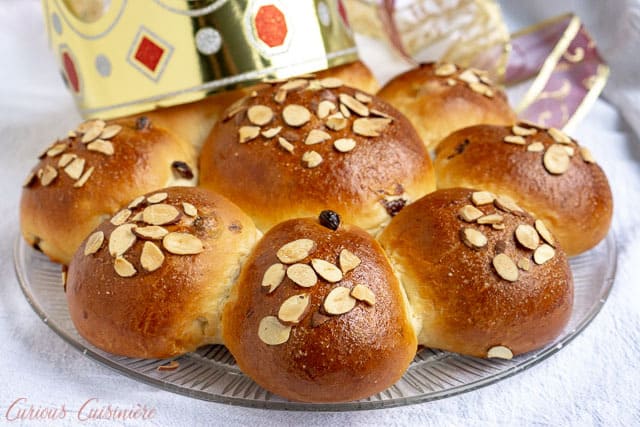 Epiphany is celebrated 12 days after Christmas, which is where the idea of the "12 Days of Christmas" comes from.
In many countries, Epiphany is the day for presents, in celebration of that being the day that the baby Jesus received gifts. In these countries, Christmas is a day of resting and celebrating a meal with family, and not so much about giving gifts.
Epiphany is an incredibly old Christian feast. It has been celebrated since the end of the 2nd century (even before Christmas began being celebrated in the 3rd century)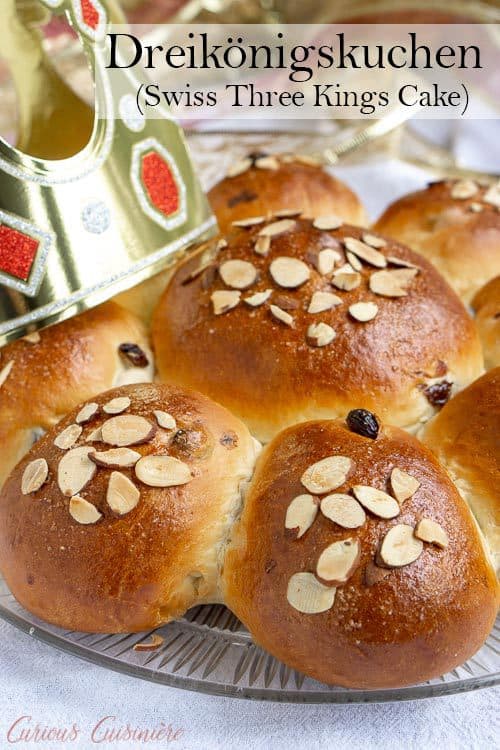 Celebrating Epiphany With Three Kings Cake
In Spanish speaking countries, you will often find Epiphany celebrated with Rosca de Reyes, an orange flavored sweet bread.
In the German speaking regions of Switzerland, Three Kings Day is celebrated with Dreikönigskuchen, literally translated "Three Kings Cake".
This 'cake' is actually bread, or rather, a cluster of rolls that are arranged in the shape of a crown.
These rolls are lightly sweetened, flavored with citrus, and studded with raisins, to make them really something special and worthy of a celebration.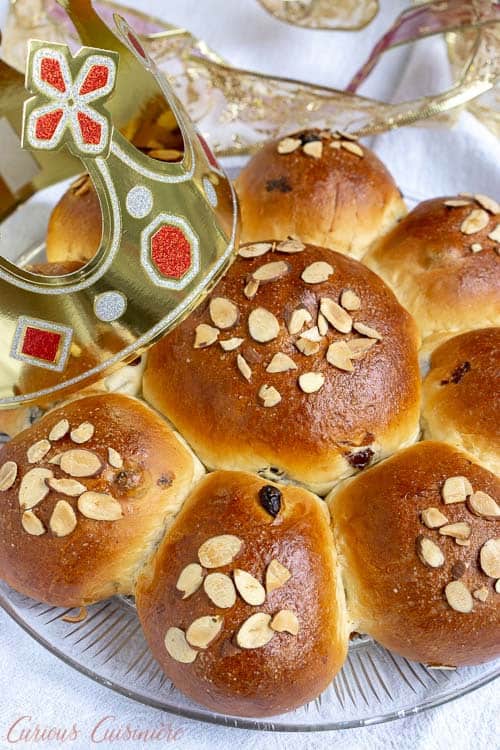 Finding The "King"
It is traditional to hide a whole almond in one of the rolls before or after baking.
The person who gets the roll with the almond inside is the 'king' for the day.
The king often receives a paper crown to wear for the day and gets special privileges like being excused from chores or choosing the activity for the day.
How To Make A Swiss Epiphany Cake
Making this Dreikönigskuchen is an incredibly straightforward process.
The dough comes together quite easily using your hands or a stand mixer.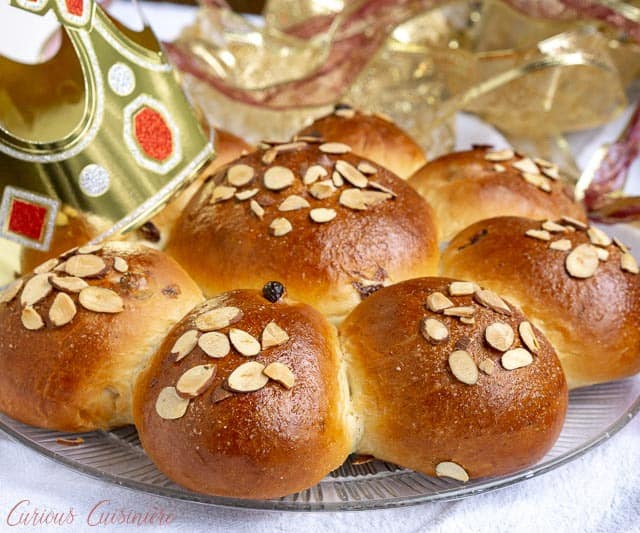 It is a classic sweet dough with milk, sugar, butter, and eggs. And, as such, should be a bit soft (but not sticky) to the touch and silky smooth after kneading.
With all the fat in the dough, it needs a longer rising time, but we found that after 2 hours in a warm, draft-free place, it had risen quite beautifully.
To shape our crown, we found it easiest to simply divide the dough into 10, roughly equal pieces. Two of the pieces get rolled together to form the center of the 'crown'. And, the remaining 8 get rolled into the rolls that are arranged around the center.
When arranging the rolls on your greased baking sheet, remember that they will expand as they rise, so you don't need to nestle them really close together. Barely touching or even just barely not touching gives the rolls a good amount of space to grow together, but still ensures that the pieces of the crown will stick together after baking.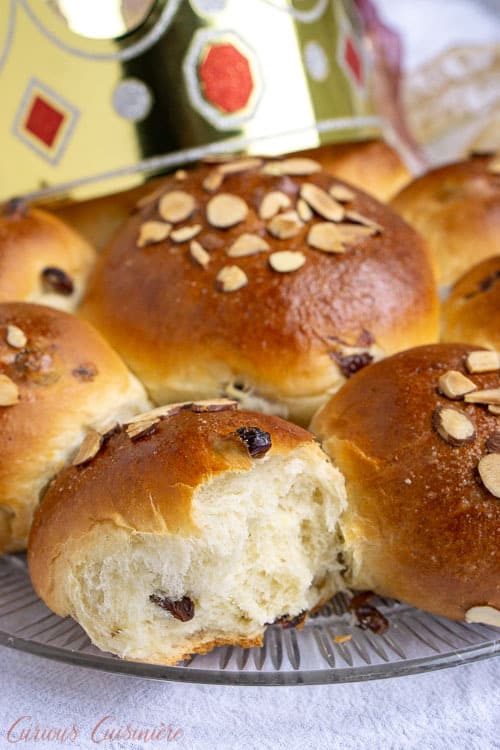 DISCLOSURE: This article contains Amazon affiliate links. These links are provided to help you find some of the more specialty products we mention in the recipe. If you make any purchase after clicking through one of our links, we receive a small commission from Amazon, at no extra cost to you. Thank you for supporting Curious Cuisiniere!
Dreikönigskuchen (Swiss Three Kings Cake)
Dreikönigskuchen, Three Kings Cake, may also be called an Epiphany cake. These citrus and raisin bread rolls are lightly sweet and great way to celebrate the Epiphany!
Yield: 1 (10 inch) cluster of rolls, 8 regular and 1 large roll

Ingredients
½

c (70g)

raisins

1

c (250mL)

milk,

warmed to 80F

¼

c + 1 Tbsp (50g+14g)

sugar,

divided

4

tsp (10g)

active dry yeast

4

Tbsp (55g)

unsalted butter,

softened

1

egg,

at room temperature

1 ½

tsp

lemon zest

(zest of one large lemon)

4

c (500g)

unbleached all-purpose flour

1

tsp (4 g)

salt

1

almond

(for the "king") (optional)
For The Topping
1

egg beaten with 1 Tbsp milk

1-2

tsp

sugar

2

Tbsp

sliced almonds

(optional)
Instructions
In a small bowl, cover raisins with warm water. Set aside until plump.

In a large mixing bowl, or the bowl of your stand mixer, mix milk with 1 Tbsp of sugar and yeast. Let stand until foamy, 5-10 minutes.

Mix the softened butter, ¼ c sugar, egg, and lemon zest in with the yeast mixture.

Mix in 1 cup of flour.

Add the salt and 2 cups flour, mixing as you add.

Drain the raisins and knead them in to the dough. Add the add the remaining 1 cup of flour slowly, mixing until a soft dough starts to come together.

Knead the dough for 10-15 minutes by hand, adding flour as necessary to keep the dough from sticking. Knead until smooth. (If using the dough hook on a stand mixer, knead 5-7 minutes, or until smooth.)

Place the dough in a clean, greased bowl. Cover with a damp tea towel, and set in a warm (70F) draft-free location to rise until doubled, roughly 2 hours.

After rising, turn the dough out of the bowl, onto a lightly floured surface, and knead a couple of times to deflate.

Divide the dough into 10 roughly equal pieces. Shape 8 of the pieces into rolls. Combine 2 of the pieces into one, larger roll.

Arrange the rolls on a greased baking sheet, with the larger roll at the center and the 8 rolls around the larger one, leaving just a little room between each roll for them to touch each other as they rise.

Brush the rolls with the egg and milk mixture. Sprinkle the top with granulated sugar and sliced almonds.

Set the rolls aside to rise, uncovered, for 30-40 minutes, until puffy.

Near the end of rising time, preheat your oven to 350F. Bake the risen rolls for 25-30 minutes, until golden.

Let the rolls cool for 10 minutes on the baking sheet before carefully transferring them to a wire rack to cool completely.

These rolls are best if eaten the day they are made, but they will stay good on the counter in an air-tight container for 3-4 days.
If you liked this recipe, here are some similar dishes you may enjoy!