If you like this dish, sign up for our newsletter for tasty, cultural inspiration in your inbox!
Swiss almond flour cookies, Basler Brunsli, boast a rich chocolate flavor, a light nuttiness, and a fun, chewy texture!

Christmas Traditions In Switzerland
In Switzerland, Advent calendars are a very popular way to count down the 24 days before Christmas. Often in villages you will find live Advent calendars, with homes or shops decorating their windows and revealing them one-by-one for 24 days.
St. Nicholas, or Samichlaus, visits bringing chocolates, nuts, and oranges to the children on December 6th. He knocks on the door (rather than coming down the chimney) and often shows up with Schmutzli (or the "Little dirty one") who is in charge of punishing naughty children.
On Christmas Eve, the Christmas tree is brought home and decorated, often with real candles, and the main Christmas meal is enjoyed, often including ham, scalloped potatoes, and cookies!
Even though they received a visit from St. Nicholas earlier in the month, the children are not forgotten on Christmas Eve. It's not a man in red, but rather Christkindli, a cherub angel representing the Christ child, who brings a presents to the children after Christmas Eve dinner.
Basler Brunsli
Cookies are definitely a staple on the Swiss Christmas table.
These Basler Brunsli cookies come to us from Basel, Switzerland.
These "Little Brown Cookies" (bruns means brown and -li signifies small) originated in the 1700s, where we have records that they were served in Basel not only at Christmas time, but for festivals and weddings as well.
Nowadays, their popularity has spread throughout Switzerland, and they are making their way into the rest of the world!
And why not?
Their unique chewy, yet crispy, texture and lightly spiced, chocolate flavor is guaranteed to make them a hit!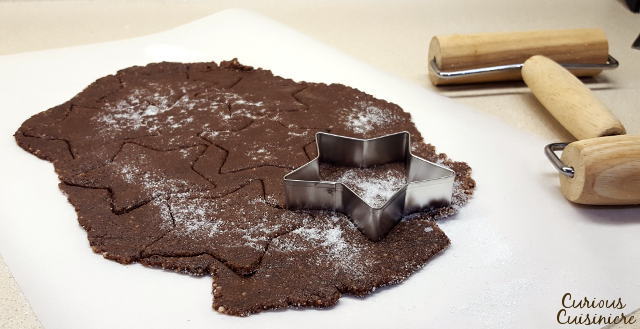 Traditional Basler Brunsli are cut out into a flower shape, but all we had on hand was a star cookie cutter. We think they look pretty this way too!
Almond Flour Cookies
One added bonus about these fun chocolate cookies is that Basler Brunsli are naturally gluten free and dairy free.
So, if you have anyone at your party who is looking for gluten free and/or dairy free options, these are a great cookie to have on hand!
Instead of wheat flour, Basler Brunsli use almond flour to give them their characteristic nutty flavor. You can purchase already ground almond flour, but if you don't have it on hand, don't worry. Our recipe has you make the flour yourself from whole almonds!

Our Basler Brunsli Recipe
We make the dough for our Basler Brunsli in the food processor. It makes grinding the almonds into flour and chopping the chocolate super fine incredibly easy.
If you don't have a food processor that is big enough to make the whole batch of dough in, then just process the almonds and chocolate separately. Just be sure to mix some of the sugar in with the almonds (it helps grind them more finely) and some of the sugar/almond mixture with the chocolate (which keeps the chocolate from clumping).
Drying Basler Brunsli
There is a unique step in the preparation of these cookies: a drying step.
We had never seen a recipe that required cookies to be left out, uncovered, overnight to dry.
But, that's the traditional way to make these cookies, so we gave it a try!
After a night of drying, the cookies baked out wonderfully, puffing just a little in the oven. They had a robust chocolate flavor with a hint of spice, and their crispy yet chewy texture was incredibly addicting!
Basler Brunsli (Swiss Chocolate Spice Cookies)
These cookies require two resting periods. The first is 1-2 hours for the dough to chill. The second is overnight to dry out the cut cookies.
Yield: 28-29 (2 1/2 inch) cookies
Ingredients
¾

c

whole almonds,

chopped

½

c

sugar

(plus more for rolling and dusting)

3

oz

bittersweet chocolate,

chopped

¾

tsp

cinnamon

¼

tsp

ground cloves

1

egg
Instructions
For the Dough
Place the chopped almonds and sugar in the bowl of your food processor. Pulse until the mixture resembles flour.

Add the chopped chocolate, cinnamon, and cloves. Pulse until the chocolate is finely ground and evenly distributed.

Add the egg and pulse until a dough ball forms.*

Remove the dough from the food processor, shape it into a ball, and wrap it in plastic wrap. Refrigerate it for 1-2 hours, until firm.
Rolling and Drying
Sprinkle a large piece of parchment paper with sugar and transfer the dough to the paper. Press the dough to flatten it slightly and sprinkle the top with more sugar. Lay another piece of parchment paper over dough. (This is so your dough doesn't stick to your rolling pin.)

Roll the dough to roughly an 1/8 inch thick.

Carefully, remove the top parchment paper and cut out cookies using your desired cookie cutter.

Place the cut cookies onto a parchment paper lined baking sheet, spaced about 1 inch apart. Reroll the scraps until all your dough has been used.

Place the cut out cookies on their baking trays (uncovered) in an out of the way place and leave the cookies to dry overnight.
Baking the Cookies
Preheat your oven to 300F.

Once preheated, bake the cookies 12-15 minutes, until slightly puffy.

When done, remove the cookies from the oven and dust them with granulated sugar. Let the cookies cool for 5-10 minutes on the baking sheet before transferring them to a wire rack to cool completely.

Store the cookies in an airtight container on the counter for 1 week.
Notes
*If your food processor is too small for the batch you are making, pulse the dry ingredients together in batches, being sure to pulse some of the sugar mixture with the chocolate to break it up evenly. Then, mix the egg in by hand in a large bowl.
DISCLOSURE: This post contains Amazon affiliate links. These links are provided to help you find some of the more specialty products we mention in the recipe. If you make any purchase clicking through our links, we receive a small commission from Amazon, at no extra cost to you. Thank you for supporting Curious Cuisiniere!

If you liked this recipe, here are some similar dishes you may enjoy!