Chewy chocolate cookies with a wonderful spice flavor from the addition of Indian garam masala. These Garam Masala Chocolate Spice Cookies aren't your average gingerbread, but they might become your favorite!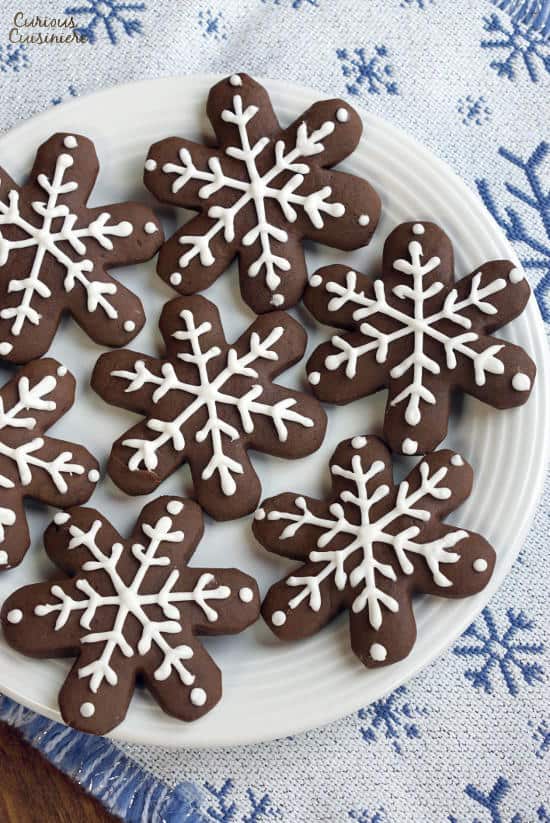 These cookies were originally inspired by this Garam Masala-Chocolate Gingerbread Cookie recipe on Food Network. We initially made them back in 2010. Fast forward a few years later and we remembered them being a fun Christmas twist on gingerbread, so we decided to make them again. But, after a few more years of baking experience, there were a few tweaks we wanted to add to make the cookies even better.
Our Adaptations To Make The NEW Garam Masala Chocolate Spice Cookies
The original recipe we used didn't rise as much as we were hoping. You see, we're soft cookie lovers over here, so the first thing we did was increase the baking soda to give a bit more of a lift. We also bumped up the amount of cocoa and garam masala to really bring out the unique flavors that we're playing with in this cookie. We also switched the sugar from brown to white, which again lets the chocolate and spice flavors shine so much more.
The result was a cookie that was a HUGE hit! These are soft and chewy with a deep chocolate flavor and a subtle spice that makes them something more than your plain old chocolate cookie. We enjoyed them plain, but who doesn't like a bit of frosting to make things extra festive this time of year!
What Is Garam Masala?
These cookies get a beautiful spice flavor from a spice mix called garam masala. The mix is commonly used in India, Pakistan, and other South Asian countries and is made up of an array of warming spices.
The exact blend can vary from region to region, but all versions toast the whole spices before grinding them together to create the blend.
Spices that you will commonly find in a garam masala mix are black pepper, cloves, cinnamon, nutmeg, cardamom, bay, and cumin.
Alone, it may not sound like all of these spices would go well in a chocolate cookie, but trust us, the blend it wonderfully balanced, lightly sweet, and the perfect warm spice blend.
How To Make Easy Royal Icing
We like to decorate these chocolate spice cookies with royal icing because it is so easy to work with. If you've never worked with royal icing before, it can be a bit intimidating though, so we recommend taking a look at this video, which we found very helpful when we were starting out. (We aren't associated with the video, we just found it packed with some great royal icing info!)
Royal icing is a wonderful cookie icing because it dries smooth and hard. Perfect if you're packing those cookies to take to a party or to give as gifts!! It starts off bright white, which makes it perfect for coloring, if you desire.
As described in the video, when you mix your royal icing, you start off with a thicker icing, that you then thin to the consistency that works best for your intended use. For these cookies, we used a consistency that piped very smoothly, but didn't run too much.
Royal icing is traditionally made from egg whites and powdered sugar, which is the recipe we provide you with below. You can also make it using meringue powder, if you so desire, but we haven't experimented much with that version, so we can't vouch for how well it works.
Honestly, these days the risk of salmonella from raw egg whites is pretty low, but if you're concerned, look for eggs that are marked as pasteurized.
Lets get baking! 
Garam Masala Chocolate Gingerbread Cookies
For best results, chill the dough for at least 2 hours (up to overnight) before rolling and baking.
Yield: 2 dozen (2.5 inch) cookies
Ingredients
1 ½

c

unbleached all-purpose flour,

plus extra for dusting

½

c

cocoa powder

1

tsp

baking soda

2

tsp

garam masala

½

tsp

salt

6

Tbsp

salted butter,

room temperature

1/3

c

white sugar

2

eggs,

lightly beaten

¼

c

molasses

1

tsp

pure vanilla extract
Instructions
In a medium bowl, sift together flour, cocoa powder, baking soda, garam masala, and salt. Set aside.

In a large bowl, cream butter and sugar until fluffy. Add the eggs and beat until light colored. Add the molasses and vanilla and beat to combine.

Add the flour mixture in two batches, mixing after each addition.

Shape the dough into a ball, divide it in half, and wrap each half in plastic wrap. Place the dough in the refrigerator for at least 2 hours, up to overnight.

When you are ready to bake your cookies, preheat your oven to 350F.

Dust your counter top with flour and roll half of the dough into a 1/4-inch thick rectangle, roughly 9x9 inches. (If the dough becomes too soft, chill it for a bit in the refrigerator).

Once rolled, cut the dough with your desired cookie cutters.

Place the cut cookies 1-inch apart on a lined baking sheet.

Re-roll the dough as necessary, until all the dough has been cut. Then, continue with the second half of the dough.

Bake the cookies for 10 minutes. (This time will keep them soft. If you like crisper cookies bake them for 12-14 minutes.)

Remove the cookies from the oven and let them cool on the baking sheet for 5 minutes before transferring them to a wire rack to cool completely before icing.
Notes
We updated this post and recipe in December 2016, with a few tweaks to make the cookie even better. Enjoy!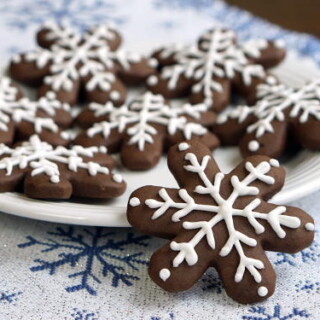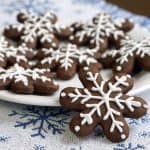 Print Recipe
Easy Royal Icing
Royal icing is by far the easiest way to decorate cookies. This easy royal icing recipe will have you decorating in no time!
Yield: 1/2 cup of icing (should decorate 2 dozen cookies)
Ingredients
1

egg white

⅛

tsp

cream of tartar

1 ½

c

powdered sugar

½-1

tsp

water
Instructions
In a medium bowl, beat the egg white and cream of tartar until foamy using an electric mixer fitted with a wire whisk.

Add the powdered sugar a 1/2 cup at a time and continue to beat with an electric mixer on medium speed until the sugar is incorporated, turn the mixture to high speed and beat it until it forms stiff, glossy peaks, 1-2 minutes.

This is your royal frosting base. Now you can thin it using the water to your desired consistency. Add ½ tsp of water at a time, mixing by hand until it is completely incorporated. To pipe decorations onto these cookies, you are looking for a consistency that is thin enough to pipe gently, but not one that will be too runny.

If you add too much water, simply sift in a little more powdered sugar and mix it well.
Notes
To flavor royal icing, use a clear extract, adding a little at a time until you like the taste.
To color royal icing, we recommend using gel coloring, dip the end of a toothpick into the gel and swirl it into a portion of your icing. Then mix well!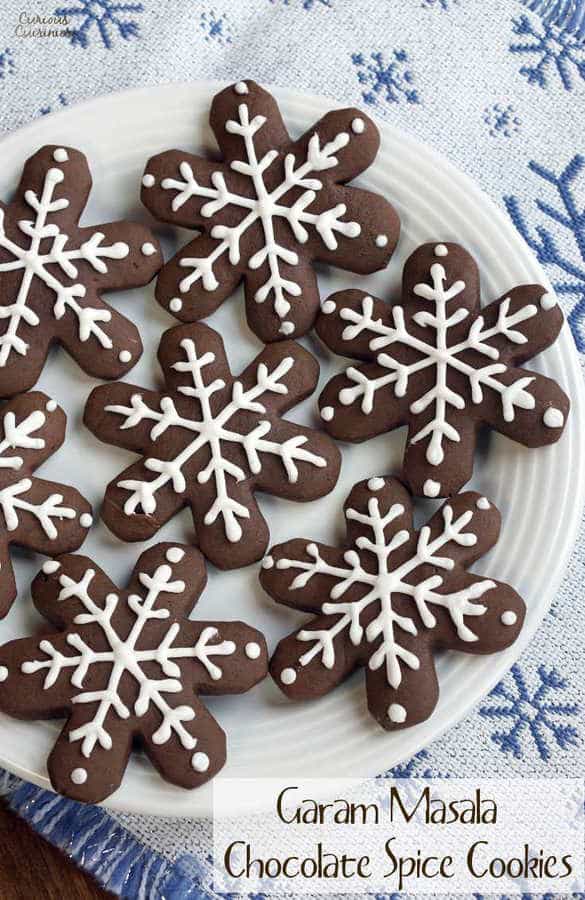 ---
This is one of the recipes from the early days of Curious Cuisiniere. We've updated our pictures since we first made it, but we've left an original here as a fun throwback and shout out to how far we've come. Enjoy!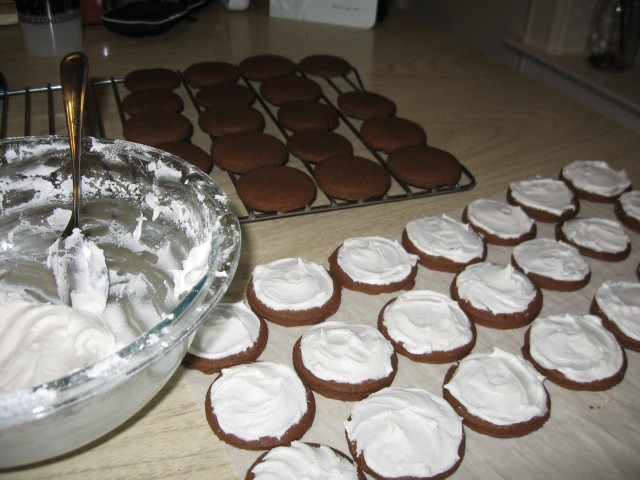 If you liked this recipe, here are some similar dishes you may enjoy!