This Venison Stir Fry is a spicy twist on your classic Asian beef and broccoli stir fry using venison meat. Don't have venison? Lean beef works just as well!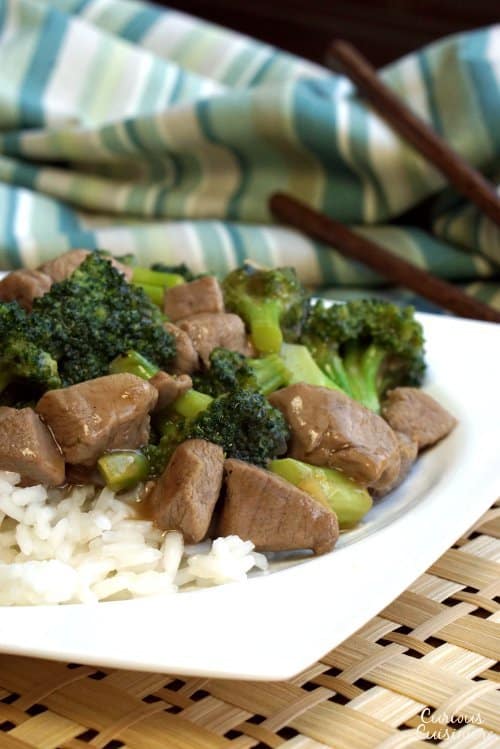 (DISCLOSURE: This post contains Amazon affiliate links. These links are provided to help you find some of the more specialty products we mention in the recipe. If you make any purchase after clicking through one of our links, we receive a small commission from Amazon, at no extra cost to you. Thank you for supporting Curious Cuisiniere!)
It is unfortunate that most of what we know about Chinese stir fry dishes comes from our westernized, Chinese-American restaurants. So many of these dishes aren't really authentic, or have been so transformed from there authentic cousin that they are barely recognizable.
Fortunately, there are some dishes that have stayed close to their origins, and "Beef and Broccoli" is one of them. Sure, there still is a difference between the authentic version and what we get from our local takeout joint, but at least we're taking a step.
Authentic Beef and Broccoli
The main difference between westernized Beef and Broccoli and authentic Chinese Beef and Broccoli is the type of broccoli that is used. To us westerners, that might sound a bit strange, but hear us out.
Chinese broccoli (gai lan in Cantonese) is a leafy vegetable that more resembles kale than what we typically think of as broccoli. It's flavor is similar to broccoli, it's just leafy.
As a fun side note, broccolini, which you may have seen in western grocery stores, is a cross between broccoli and gai lan. So, if you're looking for a more authentic Beef and Broccoli experience, try using broccolini or even kale! (But if you use kale, definitely don't par boil it!)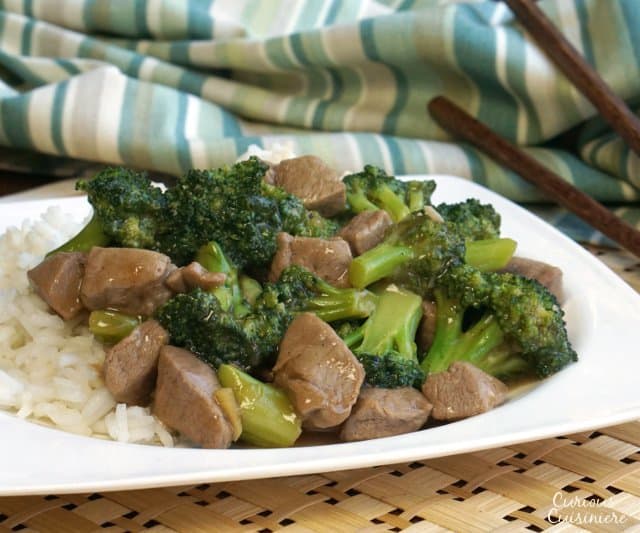 What is Oyster Sauce?
One ingredient that you'll find in authentic beef and broccoli recipes is oyster sauce.
Oyster sauce is a thick, dark brown sauce that is very commonly used in Cantonese, Thai, and Vietnamese cuisines, particularly in stir fries.
It is traditionally made by simmering oysters slowly in water until their juices begin to caramelize. Nowadays, sadly, most oyster sauces aren't made the traditional way. Rather, they are made with oyster extract, sugar, salt, and water. Sometimes corn syrup or caramel color are added in for color and thickness.
With the combination of oysters, sugar, and salt, oyster sauce is mostly savory with a hint of sweetness. It's lightly salty, but definitely not as salty as soy sauce. And, while it has a slightly fishy flavor, it is definitely more mild on the fishiness than fish sauce.
You can find oyster sauce in most grocery stores that have a well-stocked Asian section, or if you have an Asian grocery nearby, they are sure to sell it. You can also find oyster sauce online.
Can I stir fry without a wok?
While it is traditional to stir-fry in a wok, a large, non-stick frying pan will work well.
The important thing is to have all your ingredients cut into pieces that are nearly the same size.  This way, they will cook more evenly, which is incredibly important when cooking at a high heat.  If the pieces differ too much in size, the larger pieces may be under-done, while the smaller ones burn.
Stir frying is a quick and easy way to prepare a meal, perfect for a week-night, when you want dinner on the table in a few minutes!
Our Easy Beef and Broccoli with Venison Stir Fry
Yes, we're just using normal old broccoli for our Beef and Broccoli, so it falls closer to an easy, homemade version of your takeout favorite.
And, we've taken it for an extra, (super-un-authentic) twist by using some of Tim's venison meat in place of the beef.
But if you don't have venison to use, beef flank, flat iron, or skirt steak would work just as well and be much more authentic!
Enjoy!
Easy Beef and Broccoli with Venison Stir Fry
This Venison Stir Fry is a spicy twist on your classic Asian beef and broccoli stir fry using venison meat. Don't have venison? Lean beef works just as well!
Ingredients
For the Stir Fry
½

lb

venison steak

or beef steak, cut into 1 inch chunks

4

c

broccoli,

chopped into 1 inch pieces

1

Tbsp

sesame oil,

divided

2

garlic cloves,

sliced

1

tsp

fresh ginger,

diced

2

Tbsp

corn starch mixed with 2 Tbsp water

White rice,

cooked (for serving)
Instructions
In a wide bowl, mix all the sauce ingredients together. Add the chopped steak and marinade while you start the rice (for serving) and prepare the broccoli.

Place the broccoli in a large saucepan with ½ cup of water. Cover and bring to a boil over high heat. Steam the broccoli for 2-3 minutes, until brightly colored. Drain and set aside.

Heat 1 tsp of sesame oil in a large wok over high heat. Strain the beef from the marinade and add it to the wok (reserving marinade). Stir fry the beef until cooked through. Remove the beef from the wok.

Add 2 tsp oil to the wok and reduce the heat to medium high. Add the garlic and ginger. Sauté for 15 seconds. Add the broccoli and stir fry for 1 minute.

Return the heat to high. Add beef and reserved marinade to the wok. Heat until the sauce begins to simmer.

Add the cornstarch and water mixture to the wok. Stir and simmer until the sauce has thickened, 2-3 minutes.

Taste your stir fry and add soy sauce as desired.

Serve with steamed rice.
Notes
This recipe from 2013 was updated in September 2017. We made the beef and broccoli even more authentic! Enjoy! 
---
This is one of the recipes from the early days of Curious Cuisiniere. We've updated our pictures since we first made it, but we've left the original images here as a fun throwback and shout out to how far we've come. Enjoy! 
  
---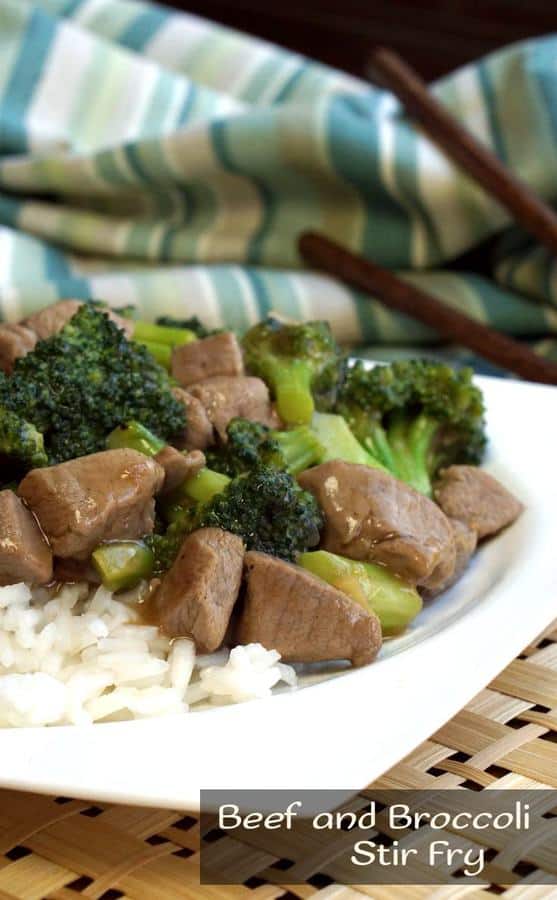 Save
If you liked this recipe, here are some similar dishes you may enjoy!