Morning oats don't have to be sweet, this Spicy Thai Savory Oatmeal Bowl brings savory Thai peanut flavors and a hint of spice together for a fun way to kick-start your day. 
Savory Oatmeal?
On a cold winter morning, nothing satisfies quite like a warm bowl of oatmeal. What we love most about oatmeal is that there are so many ways to change up your bowl to suit your mood. It never has to be boring. That's why today we're teaming up with Target and Quaker® Oats for a fun cultural twist on your classic morning bowl of oatmeal.
When most people think of oatmeal, they think of sweet additions like fruit, honey, and brown sugar. These classics are oh so tasty, but, in case you haven't heard, savory oatmeal is about to become the newest thing to rock your breakfast routine.
Really.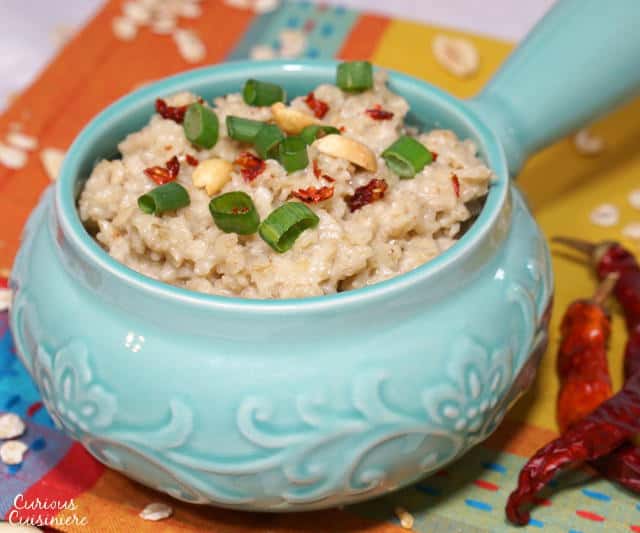 The mild and nutty, natural flavor of oats is the perfect base for creating all sorts of savory creations, with lots of potential to bring veggies, extra protein, and a little spice into your morning hours.
If you have trouble waking up in the morning, the spicy kick from Thai chilies, ginger, and garlic in this oatmeal is sure to be the perfect remedy to get your brain firing. (Pun possibly intended…)
A Thai Peanut Infusion
This fusion breakfast takes classic Thai peanut ingredients and transforms them into a beautiful breakfast dish.
First, we create a creamy, savory oat base by cooking Quaker® Standard Old Fashioned Oats in coconut milk and chicken broth. (You could easily use vegetable broth or water if you were so inclined.) The coconut milk boosts the oat's naturally nutty flavors and creates a nice smooth, creamy, and comforting oatmeal.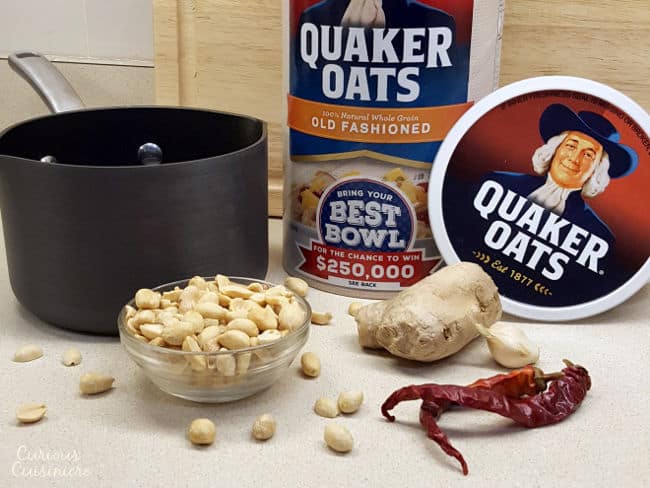 We cook the oats with garlic, ginger, and dried Thai chili flakes (crushed red pepper flakes are perfectly acceptable). The flavor of these ingredients infuses the oatmeal with a robust spiciness with a slight hint of ginger sweetness. Feel free to use as many or few chili flakes as you like, you can always mix more into your bowl, but it gets a bit tricky to take back the heat once they're in the pot.
Finally, we stir a little soy sauce and rice vinegar into the cooked oats, just to pump up the salty/sweet flavors even more.
Gotta have savory toppings!
To finish everything off, we top the bowls with a generous smattering of roasted peanuts and scallions. The scallions add a nice bright onion flavor that cuts through the thick and hearty oats. The peanuts bring a perfect crunchy contrast to the oats' smooth texture.
While we loved this bowl of savory oatmeal just as is, a fried or poached egg would be an incredible addition, perched right on top of those spicy, creamy oats. Particularly if the yolk of said egg was nice and runny.
Just imagine those spicy, soy sauce infused oats mingling with a creamy, runny yolk….
Yeah, we know you're hungry now.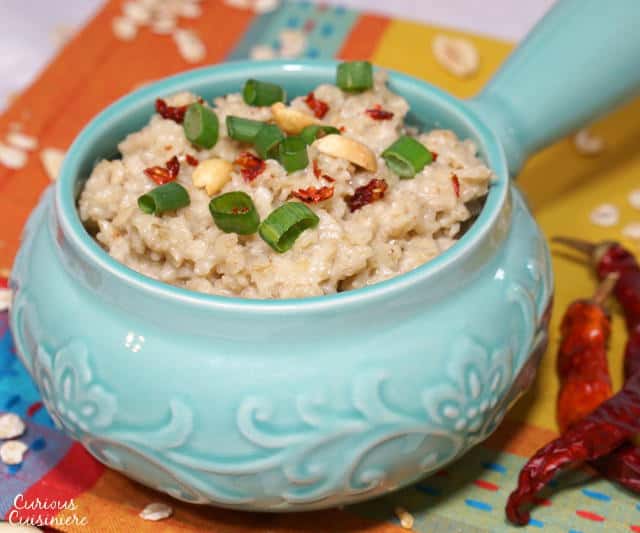 Spicy Thai Peanut Savory Oatmeal
---
Ingredients
2

c

Quaker® Old Fashioned Oats

2

c

chicken stock

or vegetable stock (we prefer low sodium)

1

c

coconut milk

2

tsp

fresh ginger,

minced, or ¼ tsp ground, dry ginger

1

garlic clove,

minced

½ - 1

tsp

dried Thai chilies

or crushed red pepper flakes, crushed

1

tsp

soy sauce

1

tsp

rice vinegar

2

scallions,

chopped (for topping)

¼

c

roasted peanuts

(for topping)
Instructions
In a medium saucepan, mix together oats, chicken stock, coconut milk, ginger, garlic, and crushed chilies (depending on your heat preference). Heat over medium high heat until the mixture begins to simmer. Reduce the heat to low and simmer the oatmeal, covered, for 5 min, stirring occasionally.

Once the mixture has thickened, remove it from the heat and mix in soy sauce and rice vinegar.

Serve the oatmeal topped with scallions and roasted peanuts.
---
Recipe Notes
If you want to get really fancy, top your Thai oatmeal with a poached or fried egg. Yum!
This post has been compensated by Collective Bias, Inc. and its advertiser. All opinions are ours alone. 
If you liked this recipe, here are some similar dishes you may enjoy!