If you love fried rice, why not try giving it a Thai flair? The concept is the same, but the flavor and presentation for Thai Fried Rice are quite different!
Thai Fried Rice vs Chinese Fried Rice
Khao phat (pronounced COW-pat), is a classic dish in Thai cuisine whose name literally translates to 'stir-fried rice'.
It is different from Chinese fried rice in that it is prepared with jasmine rice rather than regular long grain rice. It typically contains similar meats to Chinese fried rice, like chicken and shrimp, however you won't find as many vegetables in Thai fried rice as in its Chinese cousin. Thai fried rice includes only the aromatic onion, garlic, and peppers, with thinly sliced tomatoes sometimes being added to the mix.
Like Chinese fried rice, Thai fried rice does contain scrambled egg, but the egg is mixed in with the rice while still slightly runny, coating the rice grains and creating an incredibly creamy dish.
Using Fish Sauce
The sauce used to season Thai fried rice changes EVERYTHING.
And, it's due to one key player: Fish Sauce.
Let me tell you, when we first bought fish sauce to make our Crock Pot Pho, I wasn't a fan. One sniff, and you'll know why. It just didn't appeal to me at all. But, after adding it to a dish that I thought I knew the flavor profile of, WOW. This sauce transformed the flavor of fried rice. Don't get me wrong here, I love Chinese fried rice, but the fish sauce really took it to a new level with a unique depth of flavor.
I was hooked.
The Balance of Thai Cuisine
The fish sauce helps to create that beautiful balance of sweet, salty, acidic, and spicy flavors that is so prominent in Thai (and Vietnamese) cuisine. To add to the balance, Thai fried rice is commonly served with cucumber slices. The crunch is the perfect complement to the creamy rice.
And let's not forget two other key Thai flavor components that come into play here (that are pretty unique for a fried rice dish): fresh herbs and a lime wedge. That's right. When was the last time you got a wedge of lime with your fried rice? Tim was skeptical, but after one bite, lime became his new favorite fried rice condiment.
If one dish could turn your culinary world upside down (in a very delicious way), this might just be that dish.
What do you say? Are you read to give it a try?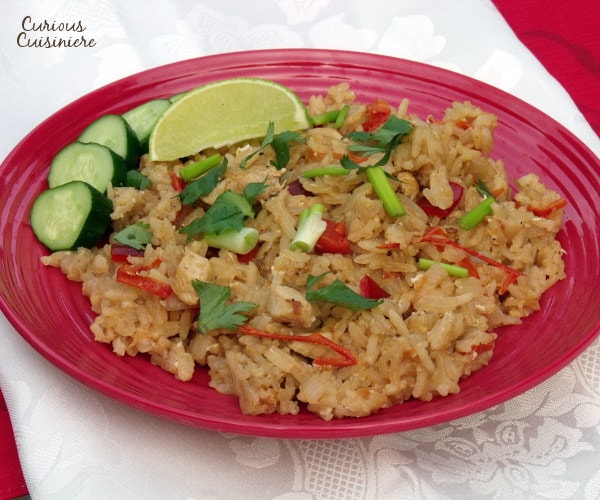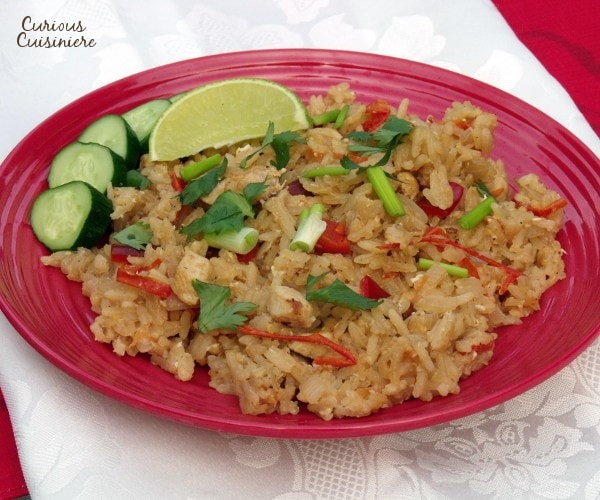 Thai Fried Rice
If you love fried rice, why not try giving it a Thai flair?
Ingredients
1

Tbsp

peanut oil

3

garlic cloves,

minced

1

red chili,

chopped (Serrano or Thai if you like it hot, seeded red jalapeno if you like it mild)

¼

lb

chicken,

shrimp, crab, or pork, chopped into bite sized pieces

2

c cooked

jasmine rice

(at room temperature)

½

onion,

diced

½

red pepper,

diced

2

tsp

fish sauce

2

tsp

soy sauce

1

tomato,

sliced thin

1

egg
To Garnish
1

cucumber,

sliced

1

green onion,

chopped

1

lime,

cut into wedges

1

handfull

fresh cilantro,

chopped

¼

tsp

ground white pepper

(optional)
Instructions
Heat the peanut oil in a large wok (or very large skillet) over high heat. Add the garlic and chilies and sauté for a few seconds. Add the chicken and sauté until cooked through, 2-3 minutes.

Add the cooked rice, onion and red pepper, and sauté for 1-2 minutes.

Add the fish sauce, soy sauce, and sliced tomato. Sauté for 1-2 minutes, mixing well.

Push all the ingredients in your wok to one side and crack the egg directly into the wok. Scramble it with your spatula and let it cook until it is just starting to set. Toss the egg with the rice mixture until the egg is cooked through.

Serve the fried rice topped with cucumber slices, chopped green onions, a lime wedge, a sprinkling of fresh cilantro, and a dash of extra white pepper (if desired).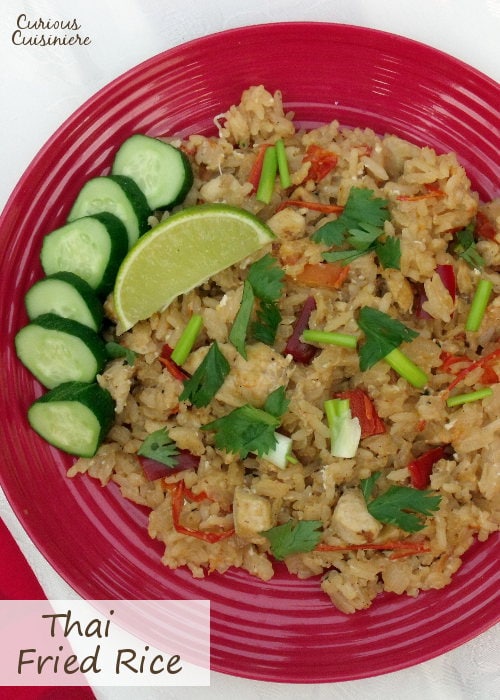 If you liked this recipe, here are some similar dishes you may enjoy!