Homemade Fried Rice is so flavorful and quick, we're pretty sure you could have it on the table before the delivery driver gets to your door. 
Homemade Fried Rice: The Perfect "Leftover" Meal
Think of fried rice as a 'leftovers' dish. It's the easiest way we know to transform leftover rice, veggies, and meat (if you so desire) into a completely new creation.
The 'leftover' part is actually quite important in this dish. I'm sure you've noticed how leftover rice can get a bit dry. Right? It's that dryness that we want for fried rice. Freshly cooked rice has too much moisture to fry properly, it will just continue to steam. Meaning, you'll have a tasty rice saute, but not that nice and slightly crisp fried rice feel.
It's common for us to make extra rice for dinner one night, just so we can throw it straight from the fridge into a sizzling wok and watch those little grains pop and snap later in the week.
Since fried rice is so quick and so satisfying, for us it has become a go-to comfort food.
Making Homemade Fried Rice: Cook in Stages
I've been guilty of trying to rush the (already quick) fried rice process by just layering ingredients in the wok, thinking, "what's the difference?"
But, let me tell you, there is a difference.
Cooking the eggs, vegetables, and rice separately allows each element to develop its own, unique flavor profile. Then, when you bring it all together, you have distinct flavors that are brought together by the soy sauce, rather than having a dish of many things that all taste the same.
Getting Crispy Homemade Fried Rice
DON'T TOUCH THAT RICE!!
While I'm getting better about it, I am a meddler. A fiddler. A 'lift the lid on the rice ten times to check if it's done yet,' kind of girl.
So, this step is hard for me.
Throw that cold rice into the wok. Mix it up a bit to coat all those grains with the hot, melted oil. Then, spread them all out so everyone gets their share of the pan, and walk away.
Well, not that far away.
But, don't touch that rice for a good 3-4 minutes. I use the time to start cleaning up or setting the table.
The rice will sputter, pop, and jump. But, that's ok! After 3-4 minutes, you can stir the rice. Scrape up any bits that are stuck to the wok (Those are crispy bits of goodness!), and then walk away again.
By leaving the rice alone to fry, you create those coveted crisp and tender grains of fried rice.
If you keep stirring, the rice cooks, but it never has time to really crisp up. And, it isn't called fried rice for nothing. There should be crispy bits!
Quick and Easy Vegetable Fried Rice
Sure, it may sound like a lot of steps here. But, we're sauteing, so each step only takes a minute or two.
We're talking 20 minutes max to some serious comfort food!
Eat it as a side dish to your favorite Asian main, like our Beef and Asparagus Stir Fry or Chicken Teriyaki. Or, serve the rice as a the main event accompanied by some Vegetable Egg Rolls.
Vegetable Fried Rice
Homemade Fried Rice is so flavorful and quick, we're pretty sure you could have it on the table before the delivery driver gets to your door.
Ingredients
2

Tbsp

sesame oil,

divided

2

eggs,

lightly beaten

2

carrots,

diced

½

c

peas,

thawed if frozen

2

green onions,

sliced

4

c

cooked white rice,

cold

2-3

Tbsp

soy sauce
Instructions
In a large cast iron skillet or wok heat 1 tsp of oil over medium heat.

Add the beaten eggs and cook, stirring constantly until firm and scrambled, 1 minute. Remove the cooked egg from the pan and set aside.

Wipe the wok clean with a paper towel (no need to wash it). Add 2 tsp of oil to the pan and increase the heat to medium high.

Add the carrots, peas, and green onions to the wok sautéing for 1 minute after each addition. Once the veggies are heated through, remove the mixture from the pan and set aside.

Wipe the wok clean with a paper towel (again, no need to wash it). Add 1 Tbsp of oil to the hot pan.

Add all of the cold rice and stir to coat it with the hot oil. Cook the rice for 5-7 minutes, stirring ONLY ONCE halfway through. (By leaving the rice alone, you will get that crispy rice texture!)

Once the rice is fried, add the soy sauce and mix to coat.

Add the vegetables and eggs back to the pan and cook for 1-2 minutes to heat through.

Taste and add soy sauce as desired.

Serve hot.
Notes
This recipe was updated in January 2017.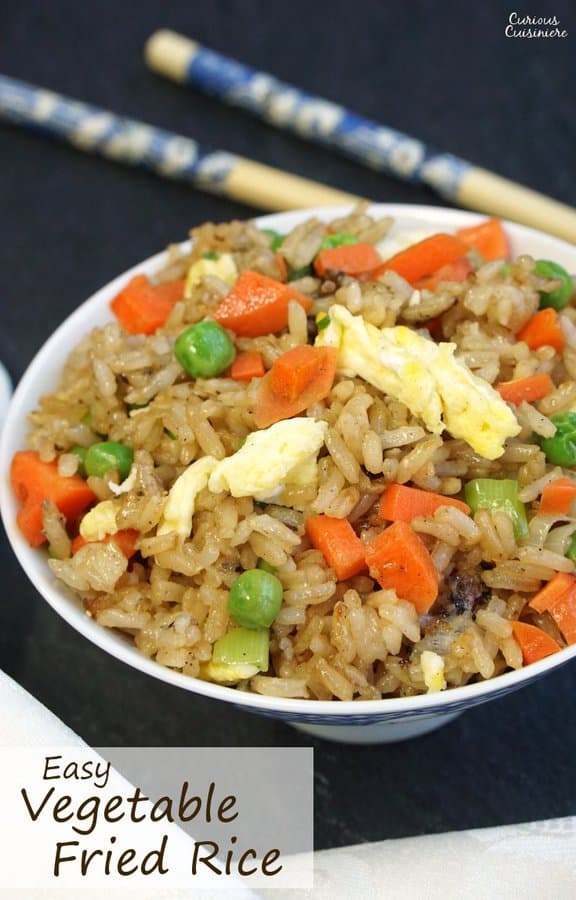 ---
This is one of the recipes from the early days of Curious Cuisiniere. We've updated our pictures since we first made it, but we've left the original images here as a fun throwback and shout out to how far we've come. Enjoy!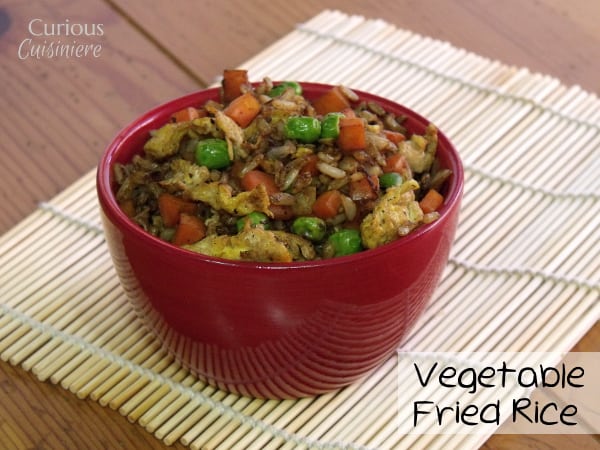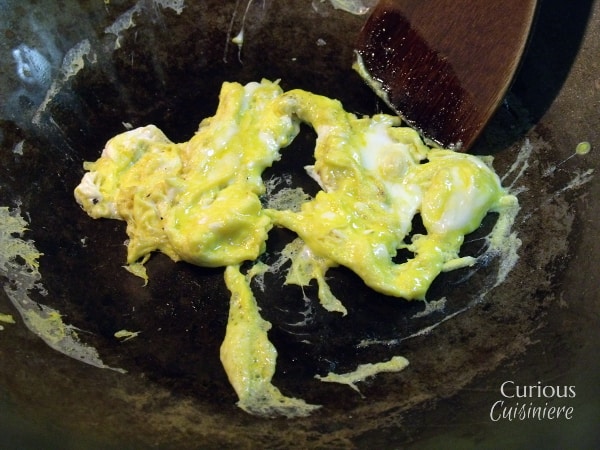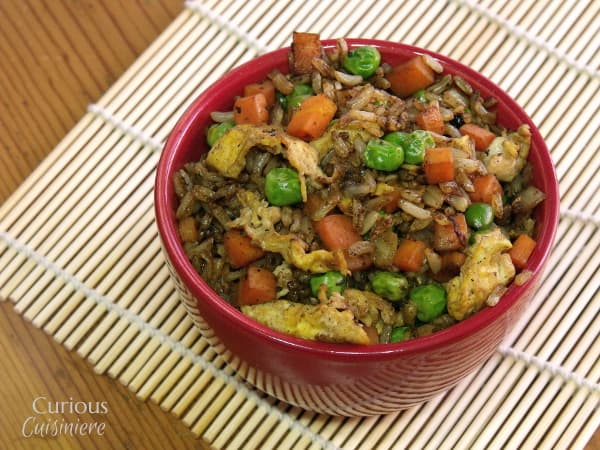 If you liked this recipe, here are some similar dishes you may enjoy!