Crisp asparagus, sweet red peppers, and tender beef strips are coated in a light, homemade hoisin sauce in this quick weeknight Beef and Asparagus Stir Fry.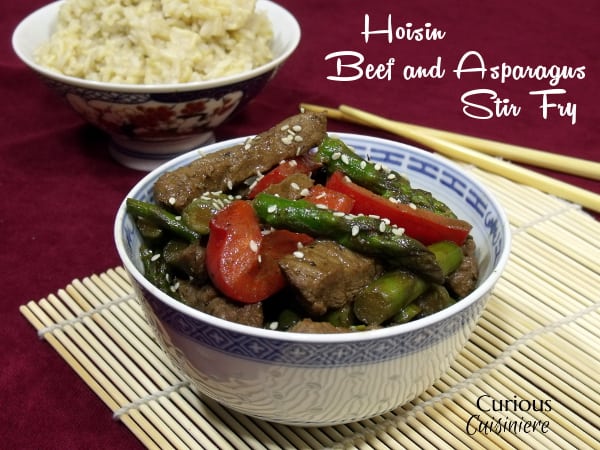 We're Growing Asparagus!
Last year we planted some asparagus root systems. It was one of our first efforts to start bringing veggies into our landscape.  About half of the roots we planted actually took, and we let them go wild so they would hopefully re-seed the area for this year.
The ground has finally thawed enough that we can start seeing the little heads poking their way through, but only time will tell if we will be eating our own asparagus this year.
However, asparagus is in season in other parts of the country, and we're even starting to see it at markets here in Wisconsin. So, at least we can get our fix until our little guys come in.
Asparagus is a powerhouse of a vegetable, high in Vitamins A and C, and a good source of folate, which promotes cell production. Like most veggies, it is also low in calories and contains no fat or cholesterol.
How To Choose Asparagus
When purchasing asparagus, look for tips that hold tightly together, and stems that are firm, yet tender. The stems should have a bit of give when you gently bend them, but should snap if bent more than a little. Any asparagus you don't use right away will keep well in the refrigerator, wrapped in a damp cloth.
Let's face it. We've all had overcooked, disgusting, asparagus.
I think that's one of the reasons so many people hate this tasty veggie.
It's a shame overcooking has ruined its reputation.
How To Cook Perfect Asparagus
Asparagus is perfect when cooked ever so slightly: a quick blanch in boiling water or light saute in a hot pan is all it needs. In 1-3 minutes, you will notice the color become vibrant, that's how you know it's done.
Which makes it the perfect veggie for stir fries.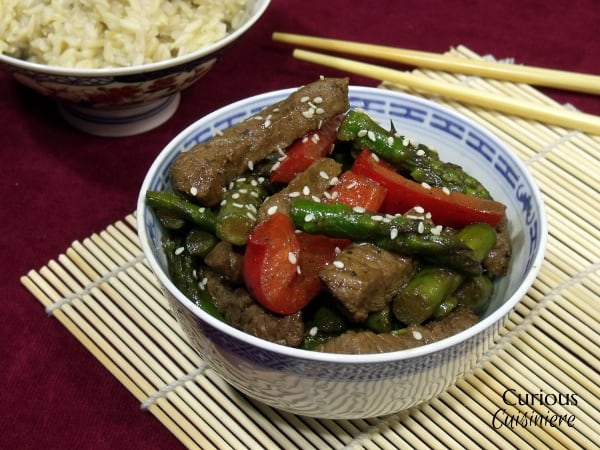 Our Beef and Asparagus Stir Fry Recipe
In this beef and asparagus stir fry, the deep beefy flavors pair incredibly well with the bright asparagus and sweet red pepper. Like we mentioned earlier, stir frying the asparagus leaves it tender and crisp, just warmed through.
Asparagus perfection!
A light coat of Homemade Hoisin Sauce give this beef and asparagus stir fry a burst of sweet and salty flavors that we instantly relate to our favorite Asian take out restaurant.
But, we guarantee you, this version is MUCH healthier than calling for takeout and is just as quick as picking up the phone!
Hoisin Beef and Asparagus Stir Fry
Crisp asparagus, sweet red peppers, and tender beef strips are coated in a light, homemade hoisin sauce in this quick weeknight Beef and Asparagus Stir Fry.
Ingredients
1

lb

strip steak,

cut into ¼ inch thick slices

½

c

Hoisin Sauce

1

tsp

oil

1

lb

asparagus,

woody ends removed, stalks cut into 1 inch pieces

2

Tbsp

water

1

red pepper

cut into strips

Salt and pepper

(to taste)

Sesame seeds

(to top)
Instructions
Combine steak slices and 2 Tbsp Hoisin sauce in a shallow bowl. Let marinade 10 minutes. (Or up to 12 hours, covered, in the refrigerator.)

Heat ½ tsp of oil in a wok or large non-stick skillet, over medium-high heat. Add the steak, and cook, stirring often, until the beef is mostly cooked through, 2-3 min. Remove steak from pan and set aside.

Add remaining ½ tsp oil to the wok. Add asparagus and sauté until the color begins to brighten 1-2 minutes. Add the remaining 6 Tbsp Hoisin sauce and 2 Tbsp water. Mix well. Cover the wok and steam for 1 minute.

Add the red pepper strips and cooked steak to the pan. Sauté an additional 2-3 minutes, until the sauce has thickened and the ingredients are heated through.

Serve hot with rice or noodles.
Nutrition
Calories:
203
kcal
|
Carbohydrates:
15.3
g
|
Protein:
25.8
g
|
Fat:
4.7
g
|
Saturated Fat:
0.6
g
|
Cholesterol:
36
mg
|
Sodium:
859
mg
|
Fiber:
3.1
g
|
Sugar:
9
g
If you liked this recipe, here are some similar dishes you may enjoy!