Take a new twist on dyed eggs with Marbled Chinese Tea Eggs. The steeping liquid gives the eggs a light sweet and salty flavor, making these no ordinary hard boiled eggs!
What are Chinese tea eggs?
In Northern China you will find Tea Eggs (or Marbled Eggs) sold by street vendors and eaten as a common snack. While they are popular year-round, the are particularly traditional to eat during the Chinese New Year festivities.
The eggs, with their golden color and design, symbolize gold nuggets. And eating them is thought to bring a little more prosperity to the new year.
Turning hard boiled eggs into Chinese marbled eggs
To make Chinese tea eggs, we start with lightly hard boiled eggs.
It is important not to over cook the eggs in this first boiling, since they will be cooked a second time as they steep in the tea.
If your eggs are cooked too much during the first round, you will find that the yolks start to turn green. There is nothing wrong with them, and they are still delicious. The color is just the result of over-cooking.
After you have your batch of lightly hard boiled eggs, you crack the shell all over by hitting it with the back of a spoon. Don't be afraid to give these eggs some good whacks with that spoon, the deeper the cracks, the more the tea will steep through and transform the egg white's color and flavor.
Honestly, we thought we had hit our eggs pretty hard and cracked them pretty well, but we found that our designs still could have been darker.
Next time!

Choosing tea for tea eggs
Traditionally, a fermented black tea called Pu-erh tea is used to make Chinese tea eggs.
This is a unique tea that is very dark and flavorful.
Here in the States, it can be tricky to find Pu-erh tea, but any loose leaf oolong tea works quite well in its place.
We prefer to use loose leaf tea for these marbled eggs, because it is more traditional. But, if all you have is some black tea bags, don't worry. You can use those too.
If you are using a tea bag, just make sure it is for a "black tea" or "oolong" that is not flavored. Earl Grey and English Breakfast teas are strong black teas, but they do have some extra flavors in there that will change the way your tea eggs taste.
How to make marbled eggs
After the initial boiling and cracking of the shells, the cracked eggs are then steeped in tea that is seasoned with a little sugar, soy sauce, and some spices.
Spices used in the tea can vary, but common spices include:
cinnamon
star anise
fennel
cloves
Szechuan peppercorns
Some recipes will call for simply using Chinese five spice with your tea to flavor these eggs. And if you have some on hand, go ahead.
For our tea eggs, we used whole cinnamon and anise, since the flavor of whole spices tends to be fresher and stronger.
Next time, we will try adding some fennel, cloves, and Szechuan peppercorns to see how those spices add more to the flavor!
After steeping the eggs in the spiced tea for 4 hours, or overnight, the eggs should be left to dry and then stored in their shells until they are ready to be eaten.
Half of the fun of these marbled eggs is peeling them before you eat them to reveal the fun pattern and designs!

What do tea eggs taste like?
These eggs have a subtle salty and sweet flavor from the steeping liquid, which lightly infuses the egg-white.
Longer steeping time, stronger tea, or more spices, will intensify the flavor and darken the designs.
Tea eggs can be eaten hot or cold, alone or with a bowl of rice.
We liked them as a snack, or even as a fun twist to breakfast eggs with a piece of toast.
Marbled Chinese Tea Eggs
The steeping liquid gives the eggs a light sweet and salty flavor, making these no ordinary eggs!
Ingredients
6

eggs

1

tsp

salt

¼

c

soy sauce

2

Tbsp

loose leaf black (oolong) tea

(or 3 black tea bags)

1

cinnamon stick

1

star anise

1

tsp

sugar
Instructions
To Hard Boil The Eggs
Gently place the eggs in a medium pot (just large enough for all the eggs to fit in one layer) and cover the eggs with 1 inch of water. Add 1 tsp salt.

Bring the covered pot to a boil over medium heat. (This will take 20-30 min.) Remove the pan from the heat and let the eggs stand for 3 minutes.

Drain the eggs and fill the pot with cool water. Continue changing the cool water until the eggs have cooled. Drain the water.
To make the Tea Eggs
Hit the hard boiled eggs with the back of a spoon to make some fairly deep cracks all over the eggshell.

Return the eggs to the same pot you boiled them in. Add enough warm water to just barely cover the eggs and add the remaining ingredients.

Bring the mixture to a rapid boil over medium high heat. (It will take roughly 10-15 min to come to a boil.) Then, turn off the heat.

Let the eggs cool in the tea mixture for 4 hours or overnight (in the refrigerator) before serving.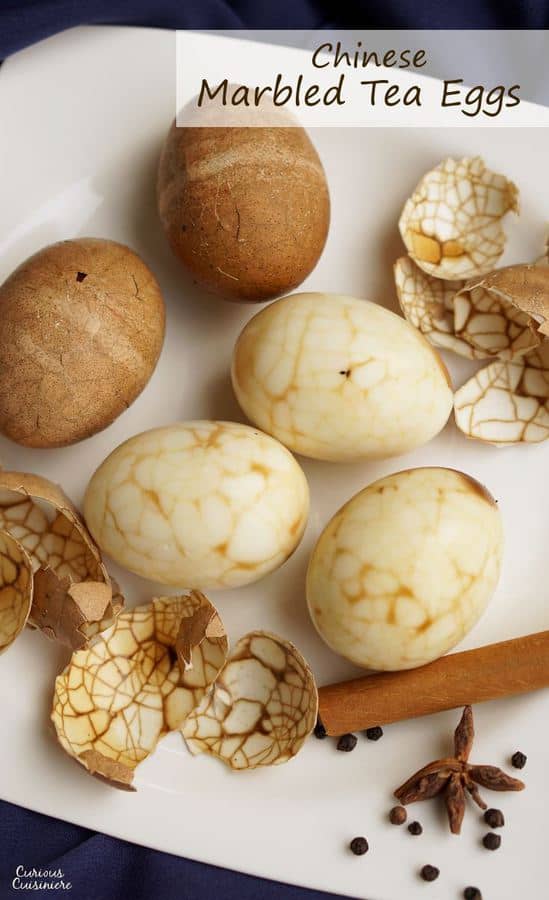 If you liked this recipe, here are some similar dishes you may enjoy!