Most people are familiar with Chinese New Year in some way, like the colorful red lanterns and parades, but do you know what is the significance of Chinese New Year and what are some of the traditional foods and ways to celebrate? Read on to find out more.
When is Chinese New Year?
The date for Chinese New Year changes each year, since the date is determined by the Chinese Lunar Calendar.
Typically, it falls in January or February, with it landing on February 5th in 2019.
Chinese New Year is also known as the Spring Festival because while it is still typically cold when it is celebrated, the worst of winter is behind us and people are starting to think towards planting and harvest.
The spring festival is actually celebrated over 15 days, starting with the Eve of the New Year and ending with the Lantern Festival on the first full moon after the New Year.
How is Chinese New Year traditionally celebrated?
Traditionally, the festival of Chinese New Year focused on praying to the gods for a good harvest and good fortune as well as honoring ancestors. It is a period to spend time with family and, in many places, traditionally you don't go out until after the fifth day of the festival, leaving the first five days to spend entirely with family.
Each day of the festivities has a traditional significance, with different beliefs and foods linked to them, although they can all vary widely from one region to another.
However, one aspect that is pretty consistent is that each year on the Chinese New Year a new zodiac animal is celebrated. There are twelve animals in the Chinese zodiac, each one is believed to have different characteristics.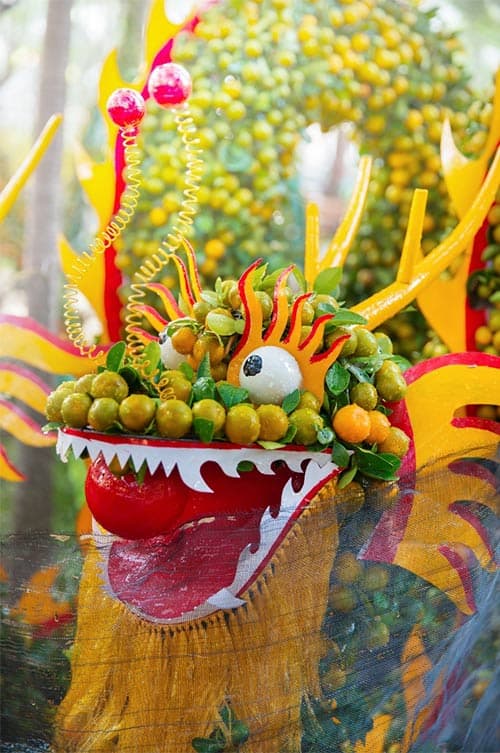 Even today, the Chinese New Year is the biggest festival in China – it's a national Holiday and stores are closed. For many internal migrant workers, it's the only time they get to go back to see their families in their home communities. As a result, it causes the largest human migration in the world.
Chinese New Year is also widely celebrated around the world within various Chinese immigrant communities across the globe. Most large cities have some kind of celebration, with San Francisco and London's being some of the best known. The celebrations in other parts of the world retain some aspects of the celebrations in China, and have also evolved to include their own traditions.
New Year myths and superstitions
For the Chinese, the New Year is believed to have started based on a legend of a creature named Nian who ate villagers, particularly children.
One version is that the creature magically stopped after an unknown visitor stayed in the village and decided to take revenge, including setting off firecrackers. Some versions of the story include the villagers hiding in their homes and offering foods to the gods and hoping for the best.
Many of the festival's traditions come from this myth.
Red is a color closely linked to the festivities, seen as a fighting color, to ward off bad luck (and monsters). It dominates the decorations, including lanterns and cutouts used to decorate windows.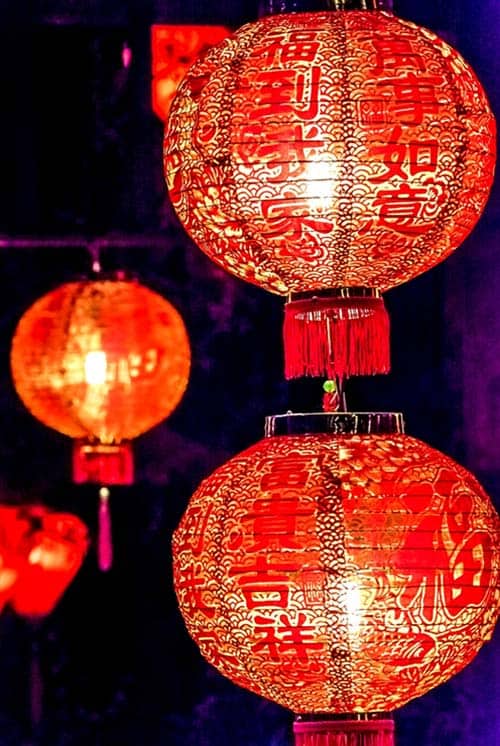 There are various superstitions that many people honor during the festivities. For example, you are not supposed to sweep or throw out garbage until the fifth day. The reasoning is you might accidentally sweep away the good luck brought by the New Year. And in case you were wondering, you would thoroughly clean the house before the New Year to get rid of any bad luck from the previous year.
Various things are considered bad luck to say or do during the festivities, like arguing, using scissors and saying words like 'death' or 'sickness'.
Chinese New Year's Eve celebrations
The first evening – New Year's Eve – is traditionally celebrated with a reunion dinner as the family is all back together.
Gifts are exchanged, but the big thing is that children receive red envelopes with money. The belief is that the red envelopes transfer good fortune from the elders to the children.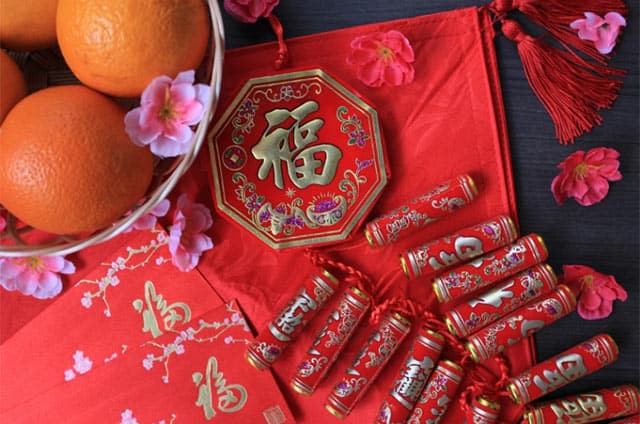 Then, people set off fireworks at midnight to ward off bad luck and monsters (linked to the story of Nian, above). Many also burn fake money to honor dead loved ones and bring them good luck in the afterlife.
It's traditional to set off firecrackers either on New Year's Eve or in the coming days to ward off evil spirits, but they are banned in various places for safety reasons these days.
In China, there is a New Year Gala on TV with various performances which is a tradition for many to watch.
Traditional Chinese New Year Food
Many of the foods eaten for Chinese New Year vary from one region to another, as well as one family to another, since dishes are passed down through the generations. However, there are a number of dishes that are common, at least regionally.
Many traditional dishes are highly symbolic, such as the shape or the sound of a food's name being like something else which is believed to bring luck.
Traditional Chinese New Year appetizers
Spring rolls get their name from the Spring Festival and are particularly common in Cantonese communities. The golden fried spring rolls are thought to be like gold bars, symbolizing wealth or prosperity.
Dumplings – Jiaozi are a particularly popular New Year food in the North of China, with another type of dumpling, jao gok, popular in Cantonese communities. Dumplings (like these vegetable jiaozi and Chinese pork and cabbage dumplings) are believed to symbolize wealth because their shape is like silver ingots (currency). You are meant to make dumplings with plenty of pleats – if they are too flat you'll be poor!
Sang choy bao, meat-filled lettuce cups, are another common appetizer. 'Sang choy', lettuce, signifies growth and prosperity.
Yee sang is a salad particularly popular in communities outside of China, including Singapore. The salad is made up of shredded vegetables, fried wontons and sometimes raw fish like salmon. Everyone stands around and tosses the salad with chopsticks. The belief is the higher you toss, the better the next year will be.
Chines New Year main dishes
The 'reunion dinner' on Chinese New Year's Eve is generally an elaborate meal, and many areas celebrate with specialty meats or seafood, like lobster or abalone. Chicken is also popular, since it is  something that any family would be able to afford. It's typical to have both meats and fish, and again many other dishes that have symbolic significance.
The fish for the New Year's Eve dinner will typically be a whole fish. It is traditional to not eat all of the fish, leaving a little for good luck. 'Yu', the word for fish, sounds like the word for leftovers.
Noodles are also a very common dish to eat for the Chinese New year, and they are often handmade. They always are left uncut, as long noodles symbolize a long life and longevity. (Some noodle dishes that may appear on tables would be lo mein, chow mein, or chow fun.)
Many families have a communal hot pot as part of the meal, symbolizing the coming together as a family to share the meal.
Symbolic Chinese New Year desserts
Most of the desserts eaten for Chinese New Year have a symbolic meaning.
Niangao (or nian gao) is a kind of rice cake particularly common in Eastern China. The 'gao' in the name sounds like the word meaning 'getting higher year on year', linking to the belief the higher you are, the more prosperous your life. It's a dense cake made with sticky rice, sugar, chestnuts and Chinese dates.
Fa gao is a kind of fermented and steamed rice cake/muffin. 'Fa' is similar to a word meaning gaining wealth, so along with the 'gao' it is doubly symbolic.
Tanguan, Chinese sweet dumplings are common in Taiwan and some parts of China. They symbolize family togetherness, since the name sounds like 'tuanyuan' meaning unity. They are made from glutinous rice flour with a sweet filling, often made with sesame seeds and sometimes ginger.
Mandarins are especially common in South China as the dialect's pronunciation of the name is similar to the word for 'luck'.
Chinese New Year / Spring Festival is full of traditions, symbolism, color and food.
It's no wonder it's a special time, both in the Chinese community and beyond!
Do you celebrate Chinese New Year? What are some of your favorite traditions?
If you liked this recipe, here are some similar dishes you may enjoy!