This recipe for the classic Chinese noodle dish Lo Mein is quick, healthy, and full of veggies. 
Asian Noodle Dishes
Chow mein, lo mein, pad Thai… could you tell the difference between them if asked? I don't know about you, but we find the breakdown of Asian noodle dishes to be quite confusing.
Truth is, in the States, we are mostly used to these dishes in the form of Chinese takeout, which transforms cultural cuisine into one big mess of, salty and sweet, American-adapted, cultural confusion.
Sure, we eat (and love) our share of Chinese takeout. But, once we realized how quick and easy most of the takeout food we love is to make at home, we have been skipping the takeout lines and opting to re-create our favorites at home. And, that's where the noodle confusion really came in. Everything from the restaurants looks (and tastes) the same!
What's The Difference Between Chow Mein and Lo Mein?
What are the true cultural differences between the dishes? We dove into some (tasty) messes of tangled noodles to find the real answer.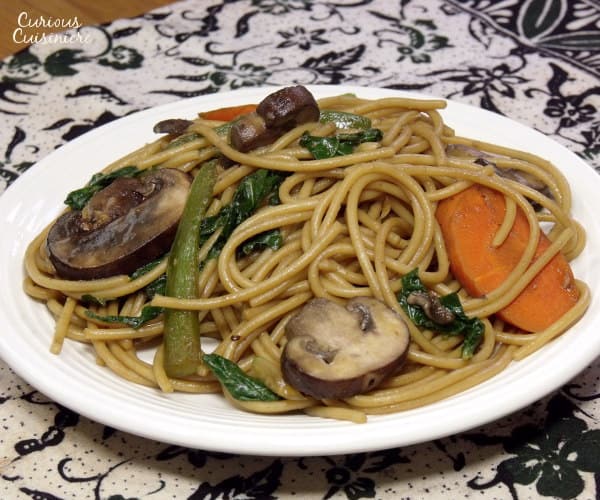 Lo Mein vs Chow Mein
Mein (pronounced mean) is simply the Chinese word for "noodles." Lo means "tossed," while Chow means "fried." So each name tells you what you need to know about the difference between the two dishes.
Both Lo Mein and Chow Mein are made with the same type of Chinese egg noodles; noodles made of egg and wheat. (These are very similar to Italian pasta.) For Lo Mein, boiled noodles are tossed with a sauce and with sauteed veggies and meat (or tofu). If you have a noodle dish that is full of veggies and coated in sauce (like the recipe we're sharing below), you're probably eating Lo Mein.
For Chow Mein, the cooked noodles are added to the wok earlier and sauteed along side of the vegetables and meat. Chow Mein is typically lighter on the vegetables, with a bigger focus on the noodles themselves. And, the noodles are more oily than Lo Mein noodles because of their extended time in the wok. Depending on the chef, the noodles could even have a slightly crisp texture.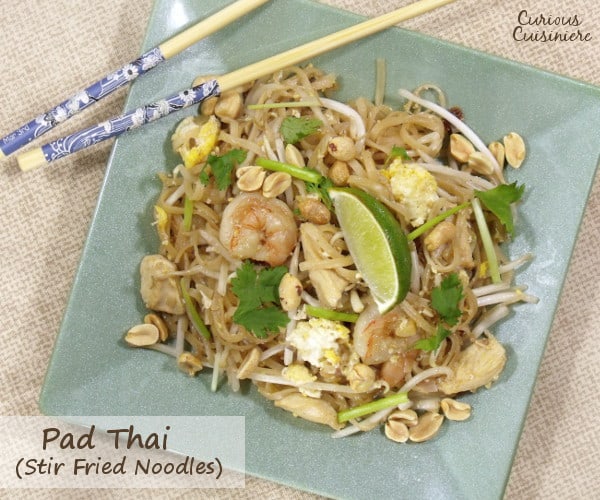 And then there's Pad Thai.
While Lo Mein and Chow Mein only vary in cooking method, Pad Thai varies in ethnicity, flavor, and noodle type.
Pad Thai is a dish from Thailand that stir fries light, rice noodles with a sauce and other ingredients. In cooking style it is similar to Chow Mein, in that the noodles are stir fried along with the other ingredients. If you really want to get technical, we'd actually call pad Thai  more of a cross between Chow Mein and fried rice.
The flavors of Pad Thai are also very different from Chinese noodle dishes, since Thai cuisine leans more to the sweet and spicy flavors of fish sauce and red chilies, often in combination with peanuts.
Curious? Check our Pad Thai recipe here.
Once you break it down, the differences don't seem so daunting, and we can see these dishes for what they really are: simple and versatile pasta dishes, no more difficult than throwing together spaghetti and tomato sauce.
Do you have a favorite Asian noodle dish?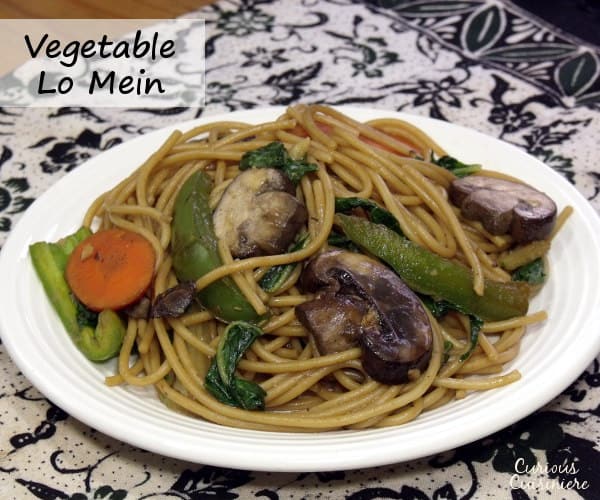 Vegetable Lo Mein
This recipe for the classic Chinese noodle dish Lo Mein is quick, healthy, and full of veggies.
---
Ingredients
8

oz

lo mein noodles

or regular spaghetti (dry)
For the Sauce
3

Tbsp

soy sauce

2

tsp

sugar

1/2

tsp

ground ginger

1/4

tsp

ground white pepper

(optional)
For the Veggies
1

Tbsp

sesame oil

2

garlic cloves,

minced

1

bell pepper,

sliced

1

carrot,

sliced into rounds

8

oz

mushrooms,

sliced

3

c

bok choy greens

or your favorite dark, leafy green (spinach, chard, kale, etc) chopped
Instructions
Cook the pasta according to the package directions. Once done, drain and set aside.

While the pasta is cooking, mix the sauce ingredients in a small bowl.

Heat the sesame oil in a large wok or (very large) saute pan. Add the minced garlic, peppers, and carrots. Saute for 1-2 minutes, until the veggies are brightly colored and fragrant. Add the mushrooms and saute for a minute. Add the bok choy (or other greens) and saute until wilted, 1-2 minutes.

Add the drained, cooked noodles to the vegetables along with the sauce mixture. Toss the mixture until everything is well coated with the sauce.

Serve immediately.
---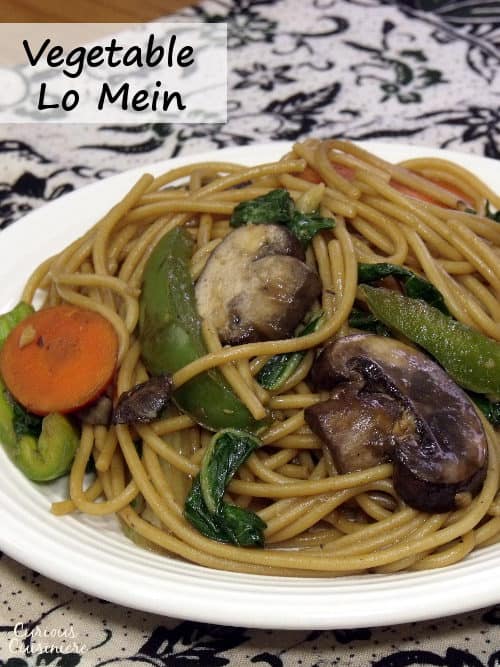 If you liked this recipe, here are some similar dishes you may enjoy!