Lo Mein is a classic Chinese noodle dish that is quick and simple to make at home. It comes together faster than you can call in an order, and this homemade vegetable lo mein is even more flavorful and definitely healthier than takeout!
What Is Lo Mein?
Lo mein is a Chinese noodle dish that you have probably seen at your local takeout restaurant.
The Cantonese word "lo mein" translates to "stirred noodles". So, at its most basic, this is a dish of noodles that are stirred together with vegetables (and sometimes a protein).
Authentic lo mein has only a thin sauce, not the thick, heavy sauce you will find in American takeout versions.
Actually, many American takeout restaurants use the terms lo mein and chow mein interchangeably.
It's quite sad because there is a difference between lo mein and chow mein that makes them two distinct dishes. In particular, lo mein is lighter, using a thin sauce and not much oil.
What Kind Of Noodles Are Used In Lo Mein?
Traditional lo mein is made using a type of Chinese wheat flour noodles, typically called "lo mein noodles". Honestly, these noodles can be a bit tricky to find, particularly if you don't live near a quality Asian grocer.
But, that's ok because you can substitute plain old spaghetti or linguine noodles and it works just fine.
Did you ever think you'd use your standby spaghetti to make restaurant quality lo mein?
I bet not.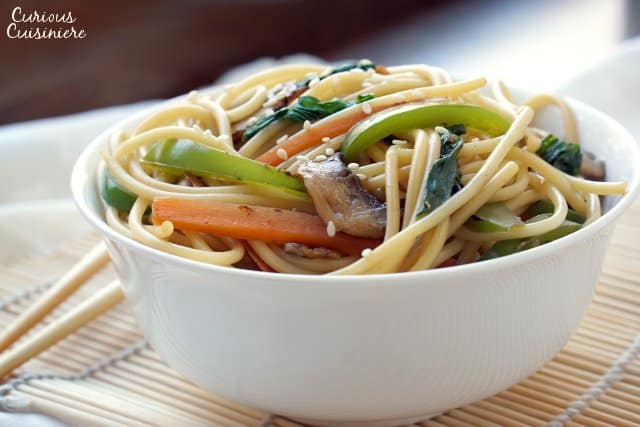 How Do You Make Lo Mein?
Making lo mein is really a simple process.
Make your pasta.
Mix your sauce.
Saute some veggies.
Add your sauce and cooked noodles to the veggies.
Toss
That's it!
The whole thing can be made in less than 20 minutes.
And honestly, if we're calling for takeout (or delivery), you know it's going to take longer than that!
Why Make Homemade Lo Mein?
Aside from cooking time, there are so many reasons to make lo mein at home.
You can add anything you want to it. ANYTHING. No more picking out the veggies you don't like or wishing they would put more of your favorites in there. You're the boss!
It's the perfect dish to clean out your fridge. Have random odds and ends of veggies hanging out in your crisper? They are about to become something delicious!
Homemade lo mein is much healthier than what you get from the restaurant. Let's face it, they load in the fat and salt because they want people to like their food. Fat and salt taste good. But they're not necessary to a super tasty lo mein.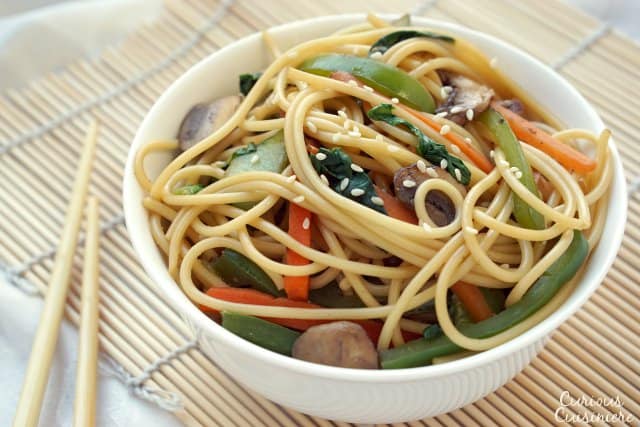 Our Vegetable Lo Mein Recipe
We like making vegetable lo mein because it's such an easy way to use up the odds and ends of veggies that we inevitably have in our fridge at the end of a week.
For this recipe, we're using carrots, green pepper, mushrooms, and bok choy.
We like adding some greens to our lo mein because of they way they fill out the dish once they wilt.
Really, we love any excuse to cook with bok choy because of its light flavor. But, if you're not a fan of bok choy, or if you have another green on hand, feel free to substitute it for the bok choy. It will give the same effect.
No mater what vegetables you choose to use, we find that the way you chop your veggies for your lo mein is something small that really adds to the dish.
By chopping the vegetables into thin strips, or match-sticks, you create vegetable pieces that mimic the shape of the noodles, meaning they mix in better and give you a more even distribution of vegetables and noodles in each bite.
And that's what we want, right? Super flavorful bites of lo mein goodness!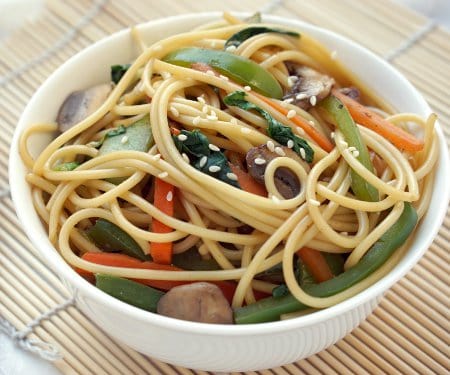 Vegetable Lo Mein
This recipe for the classic Chinese noodle dish Lo Mein is quick, healthy, and full of veggies.
Course:
Dinner, Side Dish
---
Ingredients
8

oz

lo mein noodles

or regular spaghetti (dry)
For the Sauce
3

Tbsp

soy sauce

2

tsp

sugar

1/2

tsp

ground ginger

1/8

tsp

ground white pepper

(optional)
For the Veggies
1

Tbsp

sesame oil

1

carrot,

sliced into match-sticks

1

bell pepper,

sliced thin

8

oz

mushrooms,

sliced

2

garlic cloves,

minced

3

c

bok choy greens

or your favorite dark, leafy green (spinach, chard, kale, etc) chopped
Instructions
Cook the pasta according to the package directions. Once done, drain and set aside.

While the pasta is cooking, mix the sauce ingredients in a small bowl.

Heat the sesame oil in a large wok or (very large) saute pan. Add the carrots and peppers. Saute for 2-3 minutes, over medium high heat.

Add the mushrooms and garlic. Saute for 1-2 minutes.

Add the bok choy (or other greens) and saute until wilted, 1 minute.

Add the sauce to the vegetables and toss to coat.

Add the drained, cooked noodles. Toss the lo mein until everything is well coated with the sauce and heated through.
---
---
This is one of the recipes from the early days of Curious Cuisiniere. We've updated our pictures since we first shared it, but we've left some originals here, in case you've found us in the past and are looking for that old, familiar image.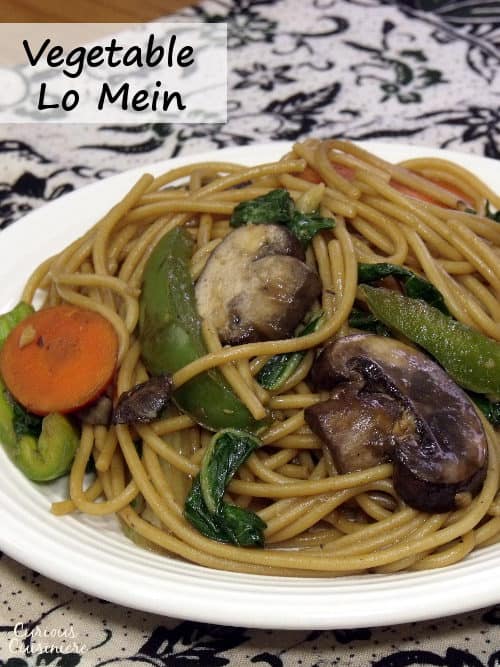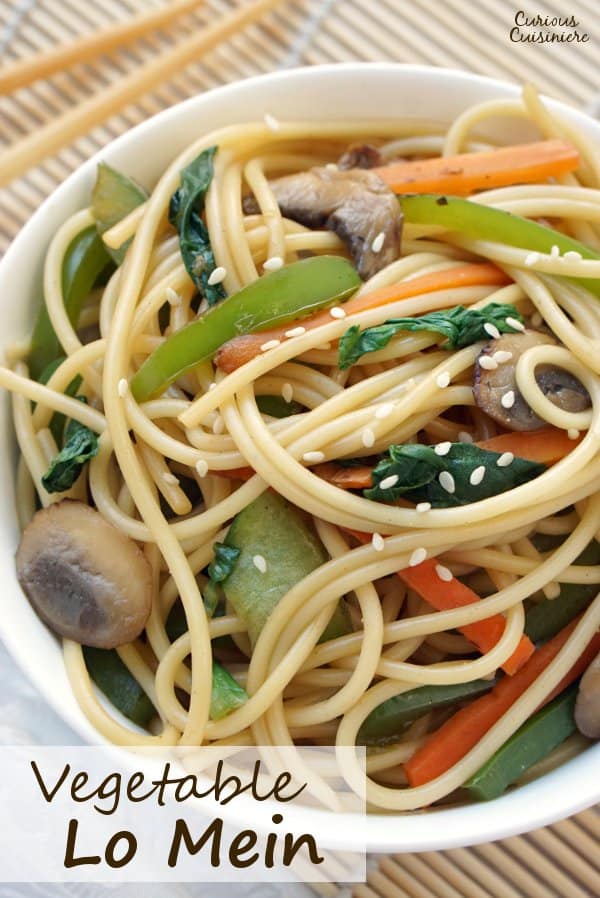 ---
If you liked this recipe, here are some similar dishes you may enjoy!