Beef Chow Fun is a Cantonese stir fry recipe using rice noodles, beef, and bean sprouts. You don't need to order takeout to have this easy, flavorful dinner!
Chow Fun: A Simple Dish
Beef Chow Fun is a cornerstone Cantonese dish with a simple composition. Chow means "to stir fry in a wok" and Fun is the type of noodle that is used, rice noodles, or Hor Fun.  This simple dish of beef, noodles, and sprouts gets its characteristic flavor and texture from two key element: the noodles and the cooking technique.
Chow Fun Noodles
Hor Fun (also spelled He Fun or Ho Fun) are the traditional noodles used to make Beef Chow Fun. These are wide rice noodles that come from Southern China. If you have an Asian grocery store close by, you might be able to find some fresh Hor Fun, which will take your dish to a whole new level.
Since we don't live near an Asian market, we used Bahn Pho rice noodles to make our dish. These noodles are thinner than traditional Hor Fun noodles, but they will have a similar consistency because they are rice noodles. They are more commonly found in the Asian section of a good general grocery store, since they are the noodles used for making Pad Thai.
How to Make Chow Fun
The most common technique for making Chow Fun is called "dry frying." In this technique, the meat, vegetables, and noodles are sauteed very quickly in an extremely hot wok. A light sauce of soy and vinegar is added towards the end of cooking and tossed just enough to coat the noodles.
The heat of the wok is incredibly important for Chow Fun. The high heat creates what is called wok hei, meaning "wok air" or "the essence of the wok." In this technique, the flavor of the heat and wok become a key part of the smoky flavor of the dish.
Because of the high heat, it is important that all ingredients be completely prepped before you start cooking the dish. And, while cooking, a constant, gentle stirring is necessary to keep the ingredients from burning.
Our Beef Chow Fun Recipe
While it may be tempting to mistake this dish for any old beef and noodle stir fry, it is very far from it. The wok hei gives this dish an incredibly smoky, charred flavor. And, the rice noodles give the dish a unique chewy texture.
Pairing Wine With Chinese Food
We enjoy Beef Chow Fun paired with a semi-dry sparkling wine (demi sec) or a light, sweet white, like a Moscato. The sweet flavors complement the light vinegar sweetness of the dish and cut through the smoky, salty, and deep flavors of the soy sauce and high heat cooking. If you're looking for a beer to sip, we'd recommend a light and crisp pale ale.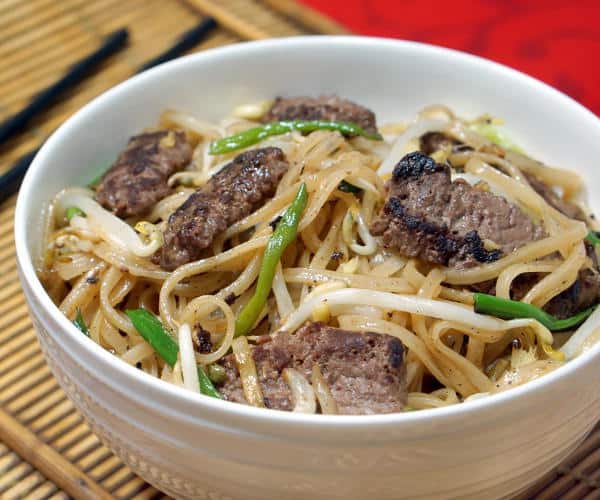 Beef Chow Fun (Cantonese Beef Noodle Stir Fry)
A tasty noodle, beef, and bean sprouts stir fry.
---
Ingredients
For the Beef
1

Tbsp

soy sauce

1

tsp

sesame oil

1

tsp

cornstarch

8

oz

flank steak,

sliced and cut into bite-sized pieces
For the Chow Fun
8

oz uncooked

wide rice noodles

or bahn pho rice noodles

4

tsp

vegetable oil

or other high heat oil

2

garlic cloves,

minced

1

inch

fresh ginger,

minced*

6

green onions,

sliced in half vertically and cut into 1 inch pieces

3

Tbsp

soy sauce

2

Tbsp

rice wine vinegar

3

c

bean sprouts,

rinsed and well drained
Instructions
Preparing the Beef
In a small bowl, whisk together the cornstarch, soy sauce, and sesame oil. Place the sliced beef in a shallow bowl and pour the marinade over it. Marinate for 30 minutes, up to 8 hours.
Making the Chow Fun
Cook the noodles according to package instructions. Once cooked, transfer the noodles to a bowl filled with ice water and let them cool. Set the noodles aside.

(Have all of your ingredients prepped and ready to go. Cooking this dish goes quickly because of the high heat, and you won't want to leave the wok unattended while you try to chop your ginger or garlic.)

Heat a large wok or skillet over medium high heat. Add 2 tsp of oil. Add the beef and sear until browned, 1-2 minutes, stirring just enough so it cooks on all sides. Remove the beef from the pan and place it in a bowl. Set the beef aside.

Add the remaining 2 tsp of oil to the wok if it looks dry. Then, add the garlic and ginger. Sauté for 10-15 seconds, until fragrant. Add the green onions and the cooked, drained noodles. Let this cook, undisturbed for 30 seconds. Add the soy sauce and rice wine vinegar. Scrape the stuck bits off of the bottom of the pan and sauté for 30 seconds, stirring until everything is coated with sauce and heated through. Finally, add the bean sprouts and return the beef to the pan. Sauté for 30 seconds more.
---
Recipe Notes
*If you don't have fresh ginger, you can use ¼ tsp dry, ground ginger. However, add it along with the noodles rather than with the garlic.
If you liked this recipe, here are some similar dishes you may enjoy!