Nutritious, delicious, homemade Ramen soup is made SUPER EASY in your slow cooker! You don't want to miss this easy and versatile weeknight dinner recipe!
Everyone's Going Ramen Crazy!
It's unmistakable the ramen craze that has hit the US recently. Ramen restaurants are popping up everywhere, and it seems like everyone we meet is singing the praises of this Japanese soup.
Wait?!? Ramen??
If the word ramen conjures up images of those cheap, packet, insta-meals that you dumped into boiling water during your college days, you're not alone. Tim had to break me of that mindset before he could even get me to think about ramen as a legitimate food source.
But, boy am I glad I changed my mind!
What is Ramen?
Ramen noodles are wheat noodles with a firm and chewy texture that originated from China. They were adapted by Japan and have found a place at the heart of Japanese cuisine.
The most common way to find them served is in a meat based broth, topped with a variety of toppings. The type of broth and toppings vary by region and family, making this an incredibly versatile and adaptable soup!
So, at its core, ramen is a bowl of noodle soup with toppings. But, those who have had a good bowl of ramen know it is so much more.
The Broth
As with any soup that has a broth as its base and main component (like Vietnamese Pho) the flavors of the broth are crucial to an excellent ramen.
The flavors of the broth vary by region with each using a different main ingredient for flavoring.
Shyoyu (soy sauce) ramen has a clear brown broth
Shio (salt) ramen is pale and clear
Miso ramen uses, you guessed it, miso as a flavoring to make a thicker, more robust and slightly nutty and sweet soup
Tonkotsu (pork bone) ramen is made from pork bones, giving it a more creamy consistency from the marrow
Curry ramen is a newer addition that is seasoned with curry
These broth types can be made using pork, chicken, or seafood broths (with the exception of Tonkotsu, which is, by definition, pork).
Traditionally, the broth for ramen can take up to 3 days to make, but we're using the slow cooker today to give that deep, complex flavor with MUCH less work!
The Toppings
Once you have your broth and noodles, it's time to get creative and top your ramen!
Common traditional toppings include:
BBQ or braised pork
Scallions
A soft boiled egg
Bean sprouts
Nori (dried seaweed)
Corn
Don't get hung up on the traditional toppings though. Ramen is a great clean-out-the-fridge meal. Have some carrots? Add them to the broth. Have some cooked veggies? Use them as toppings!
We've included some other topping options in our recipe below.
Our Slow Cooker Ramen Recipe with Chicken
Our recipe is for a basic shyoyu ramen, and we intentionally made it very versatile so you can adapt the recipe to chicken or pork, whichever you prefer.
It's incredible what work our slow cooker can do while we're away!
In this case, you just dump a few broth ingredients into the pot and let it simmer. The broth can be made in as few as 2 hours, but if you need to be gone for longer, give it up to 8 hours to deepen that flavor.
You won't be disappointed!
To serve the ramen, the noodles are cooked in the hot broth, right before serving. Then, simply grab some noodle and ladle your slow cooker broth in a bowl. Top it with your desired toppings and you're ready for a serious bowl of comfort!
Instant Ramen Noodles or Not?
We all know those packets of instant ramen noodles that are college dorm staples. These instant ramen noodles were invented in Japan in the 1950s and sold by Nissin Foods (as Cup Noodles). Other brands, like Maruchan, followed.
The big difference between these instant noodles and authentic ramen noodles (also sold as "Chinese noodles") is that instant ramen are often dried by frying, adding a lot of extra fat to your pasta. (There are versions that air dry, so if you're concerned, look for those.)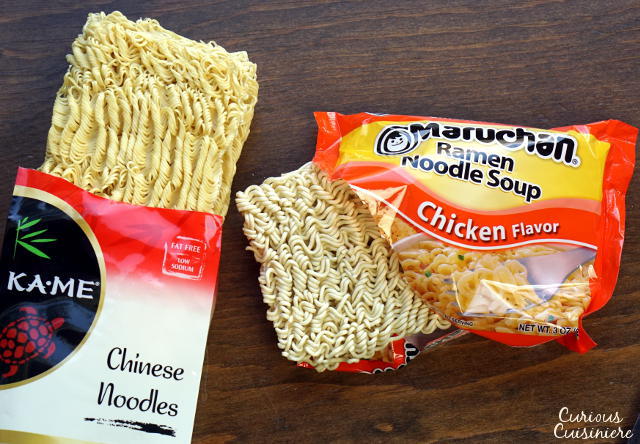 Because we were curious we decided to test out our slow cooker ramen with both instant Maruchan ramen and the ramen noodles that we found in our grocery store's Asian foods section (sold as "Chinese noodles").
The "Chinese noodles" were thinner than the instant ramen noodles to start. Surprisingly, they only needed to cook for 3 minutes, not all that much longer than the 1 minute instant noodles.
Since your broth most likely won't be boiling in the crock pot, your noodles may take up to twice as long as the package indicates to soften. So, for us, a 4-5 minute dunk in the hot slow cooker broth softened the Chinese noodles right up. And, the nice thing about these noodles is that they are naturally fat free.
The instant ramen noodles only took about 2 minutes to soften in the hot broth, making them a bit of a quicker option. But, you could definitely tell a difference in flavor and texture.
Since they were thicker, the instant noodles were a bit tougher, not nice and springy like the Chinese noodles were. Also, the flavor was definitely different. It was hard to put a finger on exactly what that difference in flavor was, but it was almost like you could TASTE the extra fat that was in the instant noodles.
From now on, if we're making ramen soup, we'll stick to the non-instant version from our grocery's Asian section. Compared side-by-side, the flavor is more delicate and the texture is just a bit more satisfying.
That being said, if we hadn't tried them side by side, we might not have really been able to tell a difference. So, we'll leave the ultimate decision up to you. This broth is SO tasty that you really can't go wrong either way.
More Asian noodle dishes
There's a reason Asian noodle dishes are so popular. They are so comforting! But you don't have to head to your favorite restaurant in order to get your noodle fix. Try making some of these popular noodle dishes at home!
Slow Cooker Ramen Soup
Classic ramen soup, made easy in the slow cooker!
Ingredients
For the Broth
1

lb

pork butt

or chicken breast

6

c

water

4

garlic cloves,

smashed

2

inches

fresh ginger,

peeled and sliced (or 1/2 tsp dry, ground ginger)

1

bunch

green onions,

white parts only, save the green parts for the topping, sliced lengthwise

¼

c

soy sauce

1

tsp

sesame oil

(if using chicken breast)
For the noodles
4

oz

shiitake mushrooms,

fresh, or sliced baby bella/cremini mushrooms (optional)

8

oz

ramen noodles/Chinese noodles

(instant ramen noodles are ok, just discard the seasoning packets)
For the Toppings (Feel free to add your own!)
Soft boiled eggs*

Bean sprouts

Scallions

Sliced

carrots

Chopped herbs or spinach

Toasted

sesame seeds

Radishes

Bok choy
Instructions
Place all the broth ingredients in a slow cooker and cook on low for 6-8 hours or high for 2-3.

When you are ready to eat, skim any fat or floating scum that might be on the top of the broth from the meat. Remove the garlic, ginger pieces, and scallions (if desired).

Remove the meat and slice or shred it, setting it aside with your other prepared toppings.

Turn the crock pot to high and add your mushrooms (if using) and ramen noodles. Cook the noodles for the time directed on their packaging, and then check them. Since your broth probably isn't boiling, the noodles may take up to twice as long as the package directs to soften.
To Serve
Place a serving of noodles into a bowl and ladle the hot broth over the noodles.

Top as desired and slurp away!
Notes
*To soft boil eggs: Place your eggs in a saucepan and cover with 1 inch of cold water. Add about 1 Tbsp salt. Cover the pot and bring the water to a boil over medium heat. Remove the pan from the heat and let stand 3 minutes. Then, submerge the eggs in cold water to stop the cooking and cool them quickly.
If you liked this recipe, here are some similar dishes you may enjoy!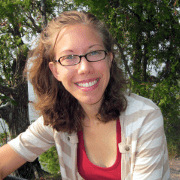 Sarah is one of Curious Cuisiniere's founding duo. Her love for cultural cuisines was instilled early by her French Canadian Grandmother. Her experience in the kitchen and in recipe development comes from years working in professional kitchens. She has traveled extensively and enjoys bringing the flavors of her travels back to create easy-to-make recipes.