Negima Yakitori are tender and juicy Japanese chicken skewers that feature a sweet and salty glaze and are grilled to perfection. Get ready to kick your next backyard BBQ up a notch!
The Art of Yakitori
In Japan, there is an art to grilled chicken kebabs.
Yakitori is the general name for a grilled Japanese chicken skewer. The word "yaki" means "fire grilled" and "tori" means "chicken". Together, you have some tasty chicken skewers which are traditionally cooked over charcoal and eaten as a kind of tapas with a cold glass of beer.
Many Types of Chicken Kebabs
As with any art form, there are many variations.
Negima – Chicken thigh and scallion

Momo – Chicken thigh

Tsukune – Spiced chicken meatballs

Torikawa or Kawa – Fatty chicken skin, grilled until crispy

Tebaski – Chicken wings

Reba – Chicken livers

Nankotsu – Crunchy chicken cartilage
And, this list just names a few. We'll be honest, while most sound quite tasty, some don't sound all that appetizing. But, it's all a matter of preference!
Grilling Yakitori
Traditionally, yakitori is cooked on a special grill. These grills are long and skinny with two long, raised grates. The idea is that the short, 6 inch, yakitori skewers can be situated over the two grates so that the chicken doesn't touch the grates, cooking the chicken evenly and without grill marks.
If you don't have a yakitori grill (We sure don't!), then you can achieve the same golden chicken by simply turning your skewers often over the hot grill.
How do you like your Yakitori?
There are two basic seasonings for yakitori: tare or shio.
Tare means that the meat is seasoned with a sweet and savory yakitori sauce. Shio  means that the meat is simple seasoned with a little salt.
Yakitori Sauce
The yakitori sauce for tare is a simple mixture of soy sauce, mirin, sake, and sugar. The sauce is brushed onto the meat during the second half of cooking. Applying the sauce this way allows it to create a beautifully caramelized layer around the chicken.
Since the meat doesn't have to be marinated in the sauce, it is very easy to make some of your yakitori tare and some shio, to suit the tastes of your guests.
Mirin and Sake
Mirin and sake (pronounced SAH-keh, not saki) are classic ingredients in Japanese cooking. Sake is a rice wine that is made using a process which more closely resembles beer brewing. Mirin is a sweet rice wine that is similar to sake, but lower in alcohol and higher in sugar. In Japanese cooking, mirin and sake are often used as a meat tenderizer and to add a punch of umami flavor. The flavors of sake and mirin are very unique and quite characteristic of Japanese cooking.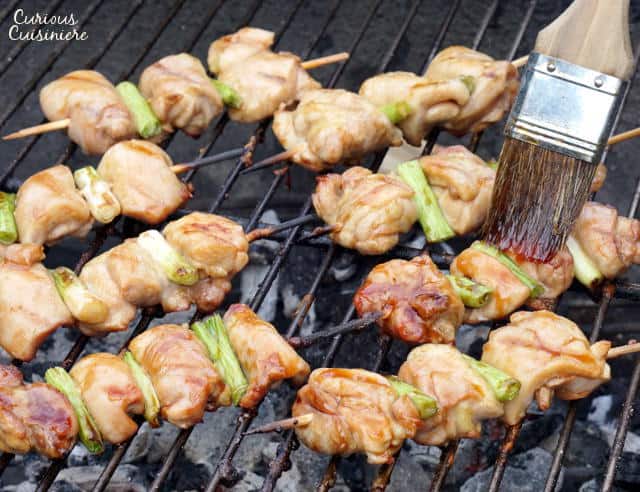 If you are looking to purchase sake for this recipe, don't worry about getting an expensive bottle. You're only cooking with it! We have found bottles that are great for cooking from $5-8. We would recommend NOT purchasing sake labeled "Cooking Sake", as this sake has added salt, which will change the flavor of your sauce.
Mirin, on the other hand, is only used for cooking, so "Sweet Cooking Sake" is an acceptable label. If you are looking to purchase mirin for this recipe, you can typically find it in the Asian section of most major grocery stores. You can also find mirin on Amazon.
Since sake and mirin are so unique, it is difficult to find an adequate substitution for them. The best substitute we have found is sherry. A dry sherry makes a decent substitute for sake and a sweet sherry can make a decent substitute for mirin.
---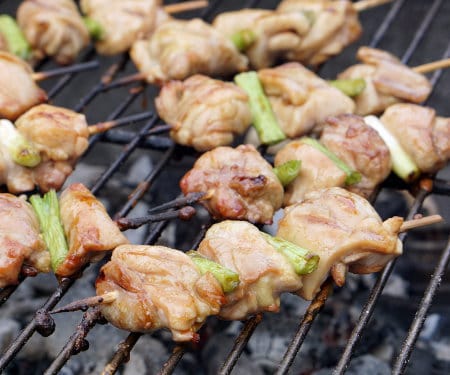 Negima Yakitori (Japanese Chicken Skewers)
Yield: 8 (6 inch) skewers
---
Ingredients
For the Skewers
8

bamboo skewers

(6 inch)

1

lb

boneless skinless chicken thighs,

cut into 1 inch chunks

5-6

scallions,

the thick bottom part cut into 1 inch pieces
Instructions
Preheat the grill to a medium-high to high heat, roughly 450F. (You should be able to hold your hand 3-4 inches from the cooking grate for only 2-3 seconds.)

Soak the skewers in water for 10 minutes.

In a small saucepan, mix the soy sauce, mirin, sake, and sugar. Bring the mixture to a boil over high heat. Then, reduce the heat to medium-low and simmer, uncovered, for 10 min. Remove the sauce from the heat and set it aside to cool slightly. Once cool, divide the sauce between two small bowls. (One we will use for brushing the raw meat, and one we will use for serving.)

While the sauce is simmering and resting, remove the skewers from the soaking water and skewer the chicken and scallion pieces, leaving a little room at each end for easy turning.

Cook the yakitori skewers over a hot grill for 2 minutes on the first side. Flip the skewers and cook for an additional 2 minutes on the second side. Flip the skewers again and brush them with the yakitori sauce. Flip the skewers and brush the second side with the sauce. Flip and brush the skewers once more. At this point the chicken should be firm and the sauce should be beginning to caramelize and create a nice glaze on the chicken.

Transfer the cooked yakitori to a platter and brush them once more with the yakitori sauce (using a clean brush and the second bowl of yakitori sauce that has not been used for the chicken as it cooked).
Fore Shio Yakitori
If you desire simple shio yakitori, simply sprinkle salt over the yakitori skewers before grilling. Grill 7-8 minutes, turning often, until the chicken is golden and cooked through.
---
---
DISCLOSURE: This post contains Amazon affiliate links. These links are provided to help you find some of the more specialty products we mention in the recipe. If you make any purchase clicking through our links, we receive a small commission from Amazon, at no extra cost to you. Thank you for supporting Curious Cuisiniere!

If you liked this recipe, here are some similar dishes you may enjoy!