Authentic Japanese hibachi steak isn't cooked over an iron griddle, like you'll find at most US "hibachi" restaurants. True hibachi is the Japanese tradition of grilling over charcoal. Read on for the history behind the confusion and our recipe for perfect Japanese steak on the grill.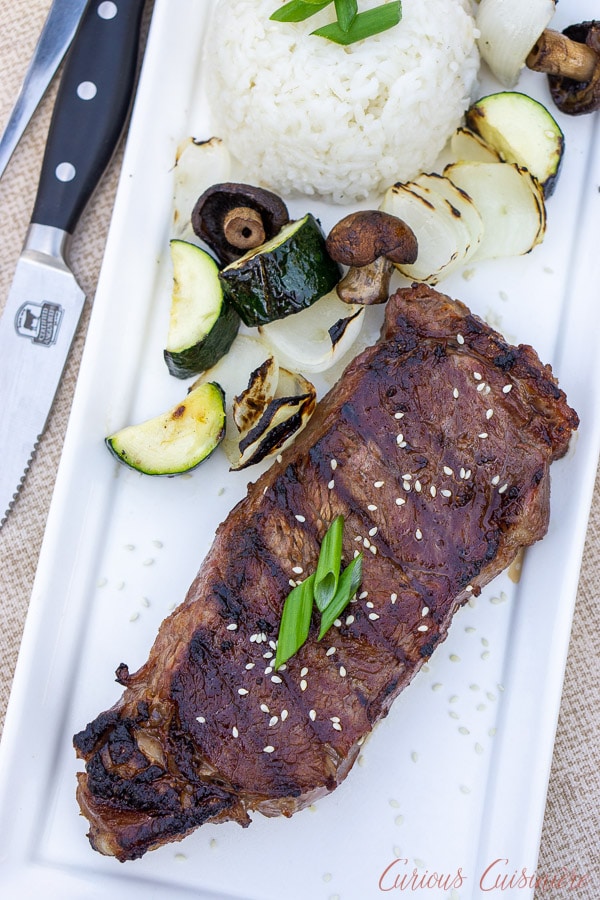 When you think about Japanese food what comes to mind? Ramen? Teriyaki? Sushi?
In the States, another thing we think of when we think about high-end Japanese restaurants is hibachi.
What is the difference between hibachi and teppanyaki?
In the States, we're quite familiar with hibachi-style restaurants.
You know, the ones where the chef puts on a show as he cooks your food on a hot iron table in front of you.
However, what we know of as hibachi is actually Japanese teppanyaki.
Teppanyaki translates to "Grilling on an iron plate". Teppanyaki restaurants in Japan are high end restaurants where the steak is cooked in front of you on and iron griddle (called a "teppan"). (Although you might not find quite the theatrics as you do at an American hibachi restaurant.)
This concept of cooking originated in Tokyo, Japan at a restaurant called Misono in 1945. (So it's a relatively new concept.) It became more popular with tourists (who were especially fascinated with the theatrics) than locals.
It was those tourists, particularly Americans, who brought it back to the States and popularized it in the "hibachi" steakhouses that we know today.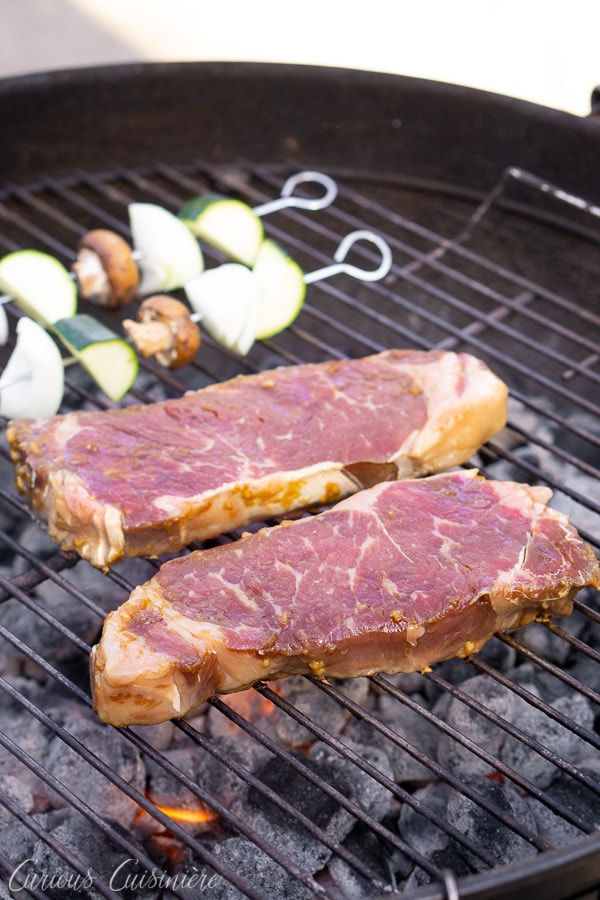 What is hibachi?
Hibachi, on the other hand is what we would call the true Japanese version of BBQ. The word hibachi literally translates to "fire bowl". The grill used for hibachi is a cylindrical or box container with an open top and a heat-proof lining. Charcoal is placed in the container and the food is cooked on grates.
Yes. Hibachi is actually the Japanese version of charcoal grilling.
Hibachi has been around Japan for hundreds of years and has historically been involved in Japanese rituals.
Funny enough, the hibachi cooking device (called a shichirin was actually first used to heat rooms in the home. Eventually it became used for cooking dishes like today's recipe and yakitori and the use expanded to street corners as well is in homes.
What is the difference between teriyaki and hibachi?
Teriyaki translates to "glossy grilled". This is in reference to the sauce that is used, which gives the meat a glazed and glossy look.
Teriyaki sauce tends to be sweeter than the sauce used in hibachi, in which soy sauce is most prominent.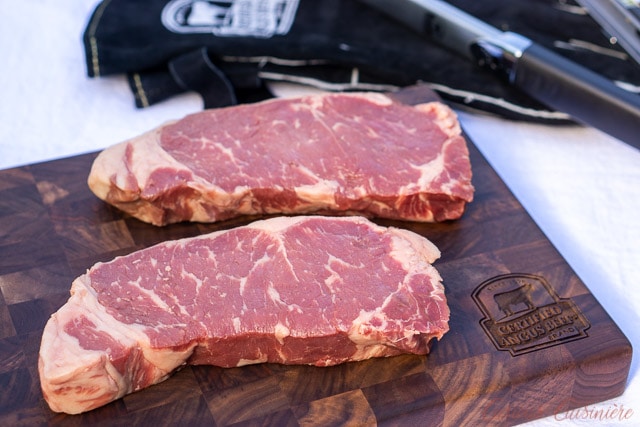 What kind of steak is best for Japanese hibachi?
NY strip is common because of good marbling. It is tender and holds up well to the heat.
When it comes to steaks, we are picky. It has to have great marbling and great flavor that we can count on. Nothing is worse than getting all excited about steaks on the grill, only to be met with a finished steak that is tough or lacks flavor.
That's why we trust Certified Angus Beef ® brand when looking for a quality steak.
You may or may not know that "Angus" is a breed of cattle. You can find Angus beef anywhere. But Certified Angus Beef ® brand beef must meet 10 specific standards for quality.
With these rigorous standards, you know that you are always going to get a consistent, quality product that you can be proud to serve your family.
In addition to providing fantastic tasting beef, we love that Certified Angus Beef ® brand works with family farmers and ranchers. So, when you look for that Certified Angus Beef ® brand logo, you can be confident that you're supporting family businesses as well.
You can locate your local Certified Angus Beef ® brand retailer or purchase steaks online and have them shipped to your home.
Certified Angus Beef ® brand Steakholder Rewards™
Certified Angus Beef ® brand has a new and exciting program called Steakholder Rewards™ where you can earn fun prizes for your Certified Angus Beef ® brand purchases simply by scanning your receipt. Join now!
What seasoning is used in authentic hibachi?
Hibachi steak lets the steak shine with minimal seasonings. Much of the flavor comes from the caramelization (mallard reaction) when the meat is cooked at a high heat. That's why it is important to start with a hot grill. This will sear the steaks nicely and help them to develop a nice crust.
As far as other flavorings, Garlic, ginger, sesame seeds but mostly soy based.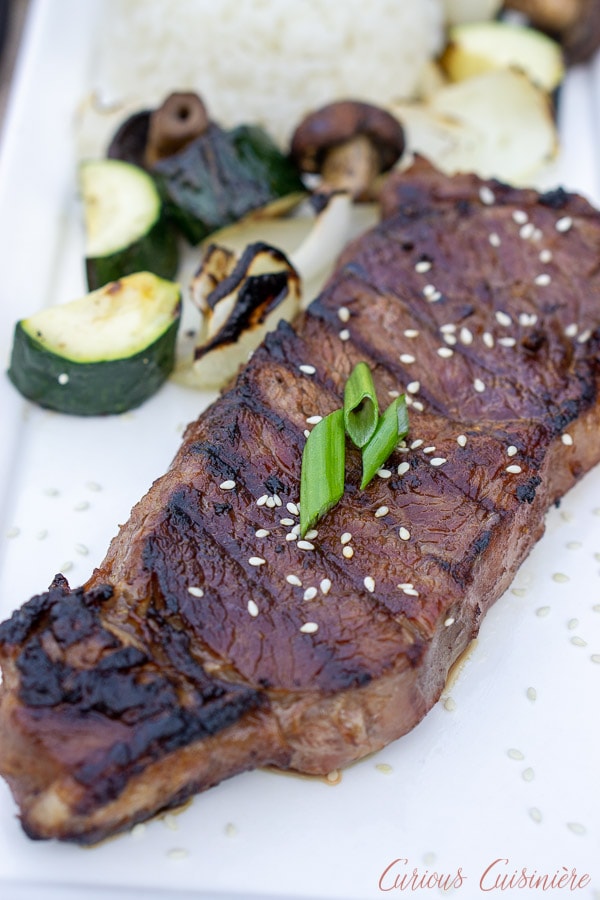 What to serve with hibachi steak?
We like to serve this hibachi steak with white rice and grilled vegetables.
Grilled onions, mushrooms, and zucchini that have been brushed with a mixture of oil and soy sauce are a great accompaniment.
If you want to get really fancy, grill up some shrimp to go along with your steak for a full blown hibachi surf and turf!
Yield: 3 servings
Japanese Grilled Hibachi Steak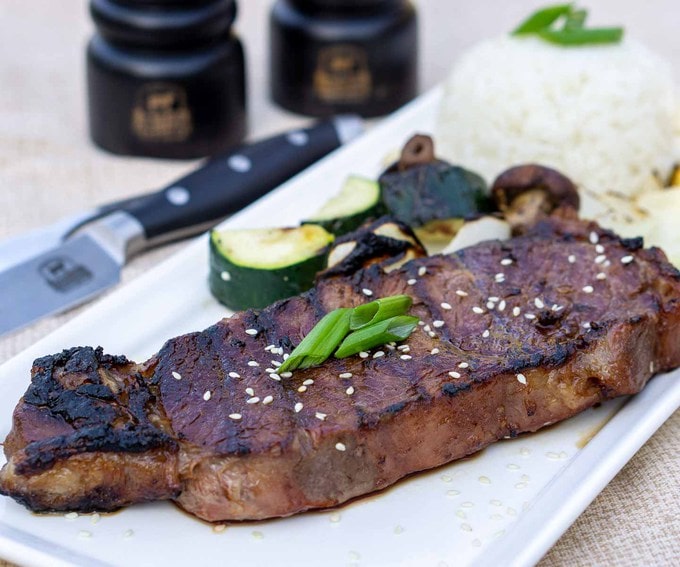 Traditional Japanese hibachi steak is cooked over a charcoal grill, not an iron griddle. Bring authentic hibachi grilling to your next backyard cookout!
Ingredients
2 cloves garlic, minced
1 inch ginger, grated
1 tsp sugar
3 Tbsp soy sauce
1 Tbsp water
1 Tbsp oil
Sesame seeds and scallions, for garnish
Instructions
In a small bowl, mix the garlic and ginger with the sugar, soy sauce, water, and oil, until the sugar has dissolved.
Place the steak in a tight-fitting dish with high sides (or a zip-locked bag). Pour the marinade over the steak, turning to coat. Marinade for 30 min, while you preheat your charcoal grill.
Preheat your charcoal grill to high heat (roughly 450F). (You should be able to hold your hand 4-5 inches from the grates for 2-4 seconds.)
Once your grill grates are hot, remove the steaks from the marinade and grill for 2 minutes per side, turning once gently with tongs.
When you think your steaks are done, test the internal temperature with an instant-read thermometer. You are looking for an internal temperature of 130F for medium rare or 140F for medium. (The internal temperature of your steak will rise around 5 degrees while the steaks rest, bringing them to the correct temperature for each doneness listed.)
Remove the steaks from the grill and let rest for 5 minutes before slicing.
Top with sesame seeds and sliced scallions, if desired for serving.
Serve with white rice and grilled vegetables.
Nutrition Information:
Yield:
3
Serving Size:
1/3 of recipe
Amount Per Serving:
Calories:

284
If you liked this recipe, here are some similar dishes you may enjoy!